Given how popular the Hammerli 850 AirMagnum was for years and years, Umarex was under a lot of pressure when designing its successor. The new 850M2 has everything you love about the 850, plus some upgrades! Both .177 and .22 calibers have 8 shot magazines that cycle smoothly with the operation of the side bolt. Get ready for an impressive 200 shots per one 88 gram CO2 cartridge! The 850M2 features a 1/2" UNF threaded muzzle so you can add your favorite moderator or compensator.
Umarex 850M2 Features:
Powered by (1) 88g CO2
Up to 200 shots per cartridge
Rugged synthetic stock
Three picatinny accessory rails located on stock fore-end
Hooded fiber optic front sight
Adjustable fiber optic rear sight
2-stage adjustable trigger
11mm dovetail for mounting optics
8-Round magazine
Side Bolt Operation
1/2"x20 threaded barrel for moderator
Specs
Manufacturer

Umarex

Caliber

.177

Velocity

750 fps

Condition

New

Ammo Type

Pellets

Action

Bolt-action

Barrel Style

Rifled

Fire Mode

Repeater

Gun Weight

5.73

Overall Length

40.94

Barrel Length

23.62

Loudness

3-Medium

Magazine Capacity

8

Mechanism

CO2

Rail

11mm dovetail

Safety

Automatic

Front Sights

Fiber Optic

Rear Sights

Fiber Optic

Shots per Fill

200

Trigger Adjustability

Two-stage adjustable

Trigger Action

0

Use

Plinking & target practice

Warranty

1-year limited warranty
Reviews
Average Customer Review
5.0
5.0
2 Reviews
5.0
By Todd
USA
June 16, 2020
I put a bipod on it. Gotta love those picatinny rails. Love shooting this gun. Thinking seriously about picking up a Umarex Forge when they come out.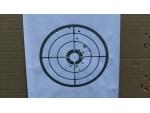 Pros
OK, since I can't edit my first review, I have to do a second. I have had this rifle for a few months now and continue to be impressed with it. I don't even like shooting it at 25 yards any more because it is just too easy. At 50 yards, two mil dots down it is dead on. At 100 yards I go 6 or 7 mil dots down. Am using the JSB Exact Jumbo 14.3 grain domes. I tried the Crosman Premier 14.3 grain hollow point domes and those (I am talking 50 yards here) tended to go high and to the right and I do mean consistently. They worked great at 25 yards, but I don't shoot that any more--unless the range I go to is full and I can't get on the 50 or 100 yard lanes. So, it's the JSB's on 50 and 100, and probably about any other pellet will work on lesser shots. Pic is of my target today--started on my 165th shot on a Umarex 88 gram CO2 cartridge in 80 degree weather. The high ones were a result of me actually aiming high on purpose. Everywhere but the bullseye! Target is 6 inches tall.
Cons
Like I mentioned previously, the plastic magazines scare me but are holding up so far. Spare magazines are brutally expensive, and for some reason shipping is expensive, too! One company charges 8 bucks to ship a single magazine. Its a freaking racket. Still waiting on the aluminum magazine to come out.
5.0
By Todd
USA
May 22, 2020
For 300 bucks it was well worth the money. Shoot it like you stole it!
Pros
Liked everything basically. I now have over 200 rounds put through it and haven't had a problem. Added a UTG4x32 scope and am hitting nickel sized groups at 25 yards consistently--using Crosman Premier domed hollow points--which was the only non-pointy .22 pellets Walmart had at the time. Ordered up some JSB Exact 14.3 gr domers as proscribed in some YouTube video. The gun came with a tin of Excite flatheads and they basically shot the same as the Crosmans. Gun also came with two 88 gram Sig Sauer CO2 tubes and I am still on the first on! We'll see how far past 200 it goes. Trigger is adjustable and good. Comes with a plastic, friction fit cheek riser which yeah, plastic, but seems to work okay. Bolt cycles smoothly. All in all I feel good about the purchase and am having loads of fun with the rifle.
Cons
2 plastic magazines came with the gun, and yeah, plastic? Not sure how long those will last but until they fail I won't complain too much. Replacement mags seem to be out of stock everywhere and are EXPENSIVE.
Q&A
Question?
Login to ask someone who bought this product.
Will pointed pellets work with the magazine on this riffle? Pellets like the pointed Haendler & Natermann brass tipped ones? Thanks
asked Ron from USA
How does the action work; is it "load/insert the magazine, work the bolt, release the automatic safety and fire"?
asked Dennis from USA
Dose the Depot sale the Moderator or compensator
asked Bill from USA
What supressor do I need for this gun?
asked Jerald from USA
1/2" UNF threaded muzzle
Mark from USA
Does this use the same magazines as the Hammerli 850?
asked Johm from USA
No. The magazines have been redesigned for the M2.
Mark from USA
Hi, I already own the Hammerli 850, which I purchased from you. Would you kindly explain which are the upgrades offered by the new, 850M2? Thanks!
asked Jose from USA
The gun is not different internally. The stock and muzzle have been altered.
Mark from USA