Jumping on board to the line of multi-shot gas piston air guns, Umarex has developed the Synergis. Released to great fanfare at SHOT Show 2019, the Synergis combines the multi-shot piston driven rifle with an underlever, giving it unbelievable accuracy. Using a 12 round magazine and a TNT gas piston power plant, the Synergis is capable of shots up to 1000 fps. Included is a 3-9x40 scope to maximize its effectiveness.
Umarex Synergis Air Rifle Features
Underlever
TNT Gas Piston
Synthetic Stock
Patented RapidMag cartridge system utilizing a 12 shot magazine
Fully Shrouded Barrel
Metal Lockdown Picatinny Mounting Rail
2 stage trigger, non-adjustable
3-9x32 scope and mounts included
2 magazines included
Specs
Manufacturer

Umarex

Caliber

.177

Velocity

1000 fps

Condition

New

Ammo Type

Pellets

Action

Underlever

Barrel Style

Rifled

Fire Mode

Repeater

Gun Weight

8.00

Overall Length

45.50

Barrel Length

18.50

Loudness

3-Medium

Magazine Capacity

0

Mechanism

Gas-piston

Rail

Weaver/Picatinny

Safety

0

Front Sights

0

Rear Sights

0

Shots per Fill

0

Trigger Adjustability

Two-stage non-adjustable

Trigger Action

0

Use

Small game hunting/plinking

Warranty

3-year limited warranty
Reviews
Average Customer Review
2.5
2.5
6 Reviews
1.0
By Walter David
USA
June 30, 2020
It only lasted for 4 magazines before it self destructed. It seared pellets, required scope(s) to shimmed to get on paper, then it wouldn't hold zero and finally locked up and couldn't be cocked when loading the 5th magazine. Returned to Umerex, FYI... UPS charged $50.00 to ship it... Don't buy this gun... A reviewer on YouTube tried three guns before getting a good working gun... I wish that I saw that video before I bought one.
Pros
The price for a under lever that should be more accurate than a break barrel was main reason I bought one
Cons
Adjustable trigger and better quality
1.0
By Derrick
USA
June 25, 2020
Verified Purchase
I was really excited to get a magazine-fed underlever but then I was greatly disappointed hopefully they figure it out.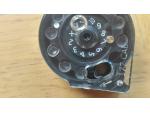 Pros
Cocking effort wasn't hard felt good in the hands
Cons
Mine was defective I had to send it back it would not load pellets every time you cocked the gun and it went to load another pellet it would either chop the pellet into pieces and jamming in the barrel or cut the magazine up and jam it in the Barrel. I tried both magazines that came with it and they both did. I'm not sure what was wrong times that it did fire it was nice but there was times where it didn't fire at pellet and dry fired because it didn't load a pellet or only loading a piece of it .
buy it!
Pros
The 12 shot magazine makes for quicker follow up shots. very accurate.
Cons
big no cocking indicator
5.0
By Mike
USA
February 20, 2020
Pros
I have this gun and I LOVE it !! I always wanted and underleaver and this one fit the bill !! GREAT GUN !!
Cons
NOT a thing!
1.0
By Ron
USA
November 25, 2019
Verified Purchase
I bought a fixed barrel rifle in hopes of better accuracy and this gun is very accurate. I fired 20 rounds (10.5 grain 177 pellets) to get the scope sighted in and was hitting a group of about the size of a quarter. Then after about 35 rounds the scope would not hold center and shots going all over the target. Most scopes that are part of a "package deal" aren't very good so that was no surprise. But then the magazine began causing problems - There is nothing to hold the magazine in place. If you cock the gun with the magazine toward the ground, typical position for a right handed shooter, the mag will actually fall out of the gun. Other times the pellets have sheared off and jammed the rifle barrel as well as shearing off a portion of the magazine causing it to bind and miss feed pellets, causing even more jamming problems. If you trash the scope that comes with it and buy a good one, and you forget the magazines and just load it as a single shot with a pair of tweezers or needle nose pliers, it is an accurate rifle...but it's not worth it to me. I'd return this one for a refund if I could.
Cons
Heavy Hard to cock Magazines fall out Miss feeds pellets Shears off pellets and jams barrel Scope won't hold center No sights
3.0
By David
USA
November 18, 2019
Verified Purchase
I returned this gun. always wanted an underlever - seemed to shoot okay (but not great) after alot of fiddling with various tweaks to artillery hold. never got this as accurate as my diana ntec 340 or hatsan 95 (or even my ruger impact max or umarex forge). so i returned it. it is quite front heavy and takes alot of effort to cock this gun. same TNT piston as the impact max (and umarex forge) which i really like, but cocking those break barrels seems far easier than this underlever and they are more accurate for me.
Q&A
Question?
Login to ask someone who bought this product.
what size cleaning rod do i buy. how long is the barrel ?
asked JOE NUBILE
how loud is it?
asked William Ross