Jumping on board to the line of multi-shot gas piston air guns, Umarex has developed the Synergis. Released to great fanfare at SHOT Show 2019, the Synergis combines the multi-shot piston driven rifle with an underlever, giving it unbelievable accuracy. Using a 12 round magazine and a TNT gas piston power plant, the Synergis is capable of shots up to 1000 fps. Included is a 3-9x40 scope to maximize its effectiveness.
Umarex Synergis Air Rifle Features
Underlever
TNT Gas Piston
Synthetic Stock
Patented RapidMag cartridge system utilizing a 12 shot magazine
Fully Shrouded Barrel
Metal Lockdown Picatinny Mounting Rail
2 stage trigger, non-adjustable
3-9x40 scope and mounts included
2 magazines included
Specs
Manufacturer

Umarex

Caliber

.177

Velocity

1000 fps

Condition

New

Ammo Type

Pellets

Action

Underlever

Barrel Style

Rifled

Fire Mode

Repeater

Gun Weight

8.00

Overall Length

45.50

Barrel Length

18.50

Loudness

3-Medium

Magazine Capacity

0

Mechanism

Gas-piston

Rail

Weaver/Picatinny

Safety

0

Front Sights

0

Rear Sights

0

Shots per Fill

0

Trigger Adjustability

Two-stage non-adjustable

Trigger Action

0

Use

Small game hunting/plinking

Warranty

3-year limited warranty
Reviews
Average Customer Review
2.5
2.5
13 Reviews
5.0
By Barry
August 15, 2021
DON'T KNOW WHY EVERYONE SEEMS TO GIVE BAD REIIEWS, THIS THING KICKS BUT FOR POWER, i'LL BET i COULD GET A DEER WITH IT IF IT WAS .22 CAL.
Pros
NO PROBELMS LOADING SO FAR, AFTER 4 MAGS!!:)
Cons
WOULD LOVE THIS IN A .22 CAL.
Worst gun purchase ever for me!! Can hit the broad side of a barn but that is about it as far as accuracy. Bench rest grouping at thirty yards is eight inches! Should be the size of a quarter at that range. Seriously thinking of driving over it to erase the memory of a bad buying decision.
Pros
Lots of power
Cons
Accuracy is very bad! Needs a longer barrel for so much power. Spring gun recoil is a scope killer
2.0
By Richard
June 29, 2021
Purchased this on June 21, 2021 and already had to call Umarex USA with complaints (June 28, 2021). My issue that I'm currently experiencing is when pellets are loaded into the breech (through the magazine) they are getting stuck and unable to shoot through barrel. This issue started immediately (after unboxing) with one of the magazines, and after around 200 shots, this issue is starting with the second magazine. I called Umarex USA, talked to Colton and hopefully we'll get this issue figured out and fixed. Do I feel as though I got a good deal on this purchase at just over $180? Nope! I am pretty disappointed at this point and wouldn't recommend it to anyone. Maybe I'll be able to update and re-score this review in the near future as it appears that Umarex is attentive to my complaint, but time will only tell.
Pros
Composite stock, fixed barrel, quality made (receiver, stock, lever, barrel & shroud and rail) and power.
Cons
Scope is junk! Magazines are junk! Trigger is not adjustable and pretty hard on the pull!
5.0
By Taylor
April 5, 2021
Pros
hits solid and also varry tuff
Cons
better scope
1.0
By Eduardo
USA
February 2, 2021
Verified Purchase
Get something else worst pellet gun ever owned don't trust all Youtubers
Pros
None
Cons
First shot was a squib backed it out second and third OK low on power though after that every other shot would get stuck in barrel
1.0
By don
USA
January 26, 2021
Verified Purchase
Do not waste your money on this , I have been a shooter for a long time , this is the most disappointing purchase ever made. airgun depot, umarex, would not even answer my inquiries on this, sits in the box a reminder to buy from your local dealer.
Pros
none ,got 3 shots out of it, magazine failed, 2nd mag made one complete cycle failed on re-load
Cons
evidently major design flaw in loading system
3.0
By Wendell
USA
January 16, 2021
Pros
The mag loader, easy to cock
Cons
Right now I have 2 pellet jammed in the gun and I can't get them out...Looks like I'm out $150.00 Its real easy to load more than one pellet. When it was working it was a pretty good gun
1.0
By Walter David
USA
June 30, 2020
It only lasted for 4 magazines before it self destructed. It seared pellets, required scope(s) to shimmed to get on paper, then it wouldn't hold zero and finally locked up and couldn't be cocked when loading the 5th magazine. Returned to Umerex, FYI... UPS charged $50.00 to ship it... Don't buy this gun... A reviewer on YouTube tried three guns before getting a good working gun... I wish that I saw that video before I bought one.
Pros
The price for a under lever that should be more accurate than a break barrel was main reason I bought one
Cons
Adjustable trigger and better quality
1.0
By Derrick
USA
June 25, 2020
Verified Purchase
I was really excited to get a magazine-fed underlever but then I was greatly disappointed hopefully they figure it out.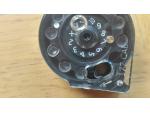 Pros
Cocking effort wasn't hard felt good in the hands
Cons
Mine was defective I had to send it back it would not load pellets every time you cocked the gun and it went to load another pellet it would either chop the pellet into pieces and jamming in the barrel or cut the magazine up and jam it in the Barrel. I tried both magazines that came with it and they both did. I'm not sure what was wrong times that it did fire it was nice but there was times where it didn't fire at pellet and dry fired because it didn't load a pellet or only loading a piece of it .
buy it!
Pros
The 12 shot magazine makes for quicker follow up shots. very accurate.
Cons
big no cocking indicator
Q&A
Question?
Login to ask someone who bought this product.
recommended pellet
asked Danne from USA
what size cleaning rod do i buy. how long is the barrel ?
asked JOE NUBILE
You need a .177 Cal. or .22 Cal. cleaning rod 19.50 inches long. What caliber airgun do you have? The barrel is 18.50 inches long for both.
Force Recon-USMC from USA
how loud is it?
asked William Ross
3 medium!
Force Recon-USMC from USA
Has anyone out there bought a -synergis . If so , please give a review of the pros and cons . Thanks kindly , Ross
asked Ross from Canada
Is the scope any good or do you have too replace it ?
asked Ross from Canada
Does anyone have info on cocking effort yet?
asked Matthew from USA
Arm effort is about 30 to 35 Lbs. for each shot.
Force Recon-USMC from USA
What type/brand of scope comes with it? Is there an option to purchase it without the scope?
asked Mike
Comes as bundled .
Stanley from USA
Does this rifle come in 22 calaber
asked James Browner
Yes, in .177 and/or .22 Cal.
Force Recon-USMC from USA
how hard is it co cock about how much effort in lbs does it tak?
asked Gary
About 30 to 35 Lbs. of arm pressure. Remember, use short flat nose pellets!
Force Recon-USMC from USA
How many times do you have to pump it for each shot?
asked Harold from USA
One time of 30 to 35 Lbs. of arm pressure for each shot. Remember, use short flat nose pellets!
Force Recon-USMC from USA