Whether it's a fully integrated electronic security system or a bit more of a DIY effort, we all have our own idea of what it takes to protect our family and homes. Well, we think the DIY type is a bit more interesting so, in an effort to celebrate the creative survivalist spirit, we've compiled a gallery of redneck home security systems – a group of folks that have created their own sense of security.
THE OBJECTIVE: To Protect this Fine Redneck Penthouse
Of course, in order to necessitate the use of a full-blown redneck home security system, you'll need a suitable redneck home to make it all worth while. Can we suggest this luxury high-rise penthouse? Not only does this "loft" styled home have two entrances (front and back access) and a state-of-the-art load-bearing foundation (one cross beam), but also the silver finish is an extremely contemporary look.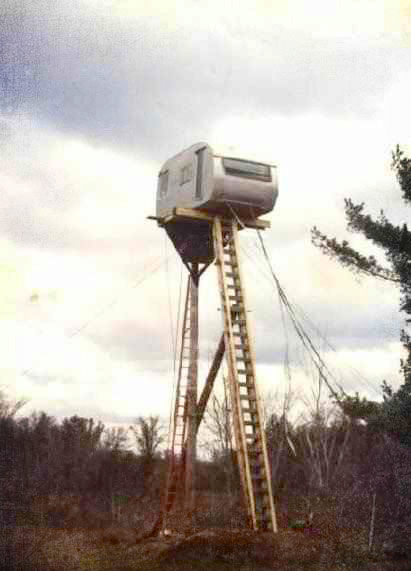 THE EQUIPMENT: The list of the DIY security measures necessary to protect your upscale home and the many valuables and investments within.
Bring out the Big Guns
When it comes to protecting his home, this Joe Diffie look-alike isn't just concealing a subtle handgun, or even a hand cannon like a .44 Magnum. Nope, this fella brings truth to the statement, Guns don't kill people, people with mustaches kill people.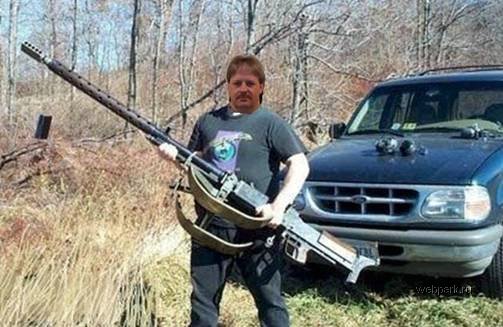 The Great Wall of Trash and Tires
When it comes to keeping people out of your home, some would use a gate, some would use an electric fence and some would even go as far as a mote filled with alligators – but not the Rednecks. Nope, they've chosen The Great Wall of Trash and Tires to both create a barrier, as well as, demonstrate that they have nothing of any worth to be stolen.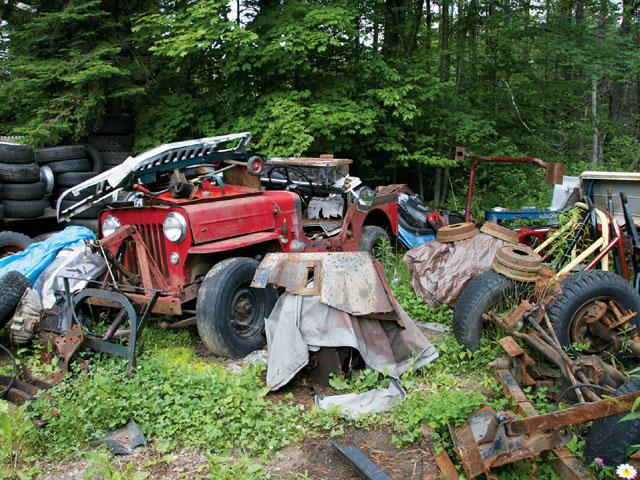 A Written Warning
Our guess is that the owner of this establishment has been knocked-off one too many times and has decided to deliver a preemptive message to
any would-be intruders. Enter at your own risk and don't say you weren't warned!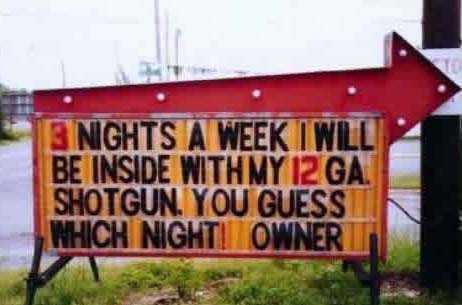 The New ADT
Anyone can pay thousands of dollars per year to have an ADT Security Systems installed and monitoring your home around the clock but, for a
fraction of the price, Allan, Dave and Timmy can do their part to keep the perimeter secure. Hell, they'll even throw in a Cletus for free.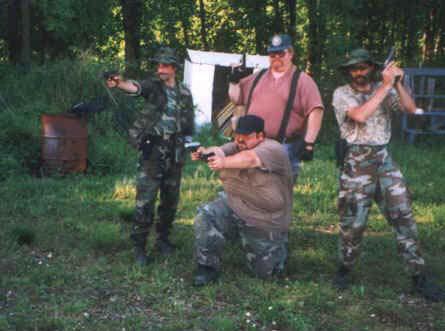 The Patrol Car
If you own the kind of house or property that requires a mobile security system to patrol the perimeter, you might want to look to this visionary
as an example of greatness. Not only would this mobile machine gun take out any lone intruder, but we're thinking an entire militia if pressed.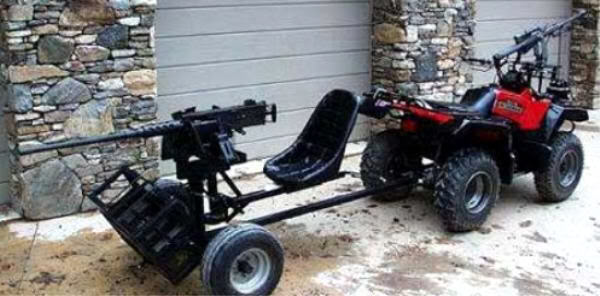 The Redneck Scarecrow
When it comes to warding off unwanted animal intruders, a simple scarecrow has been known to work wonders but with this rednecktacular
invention, the innovative hick has found a way to ward off other rednecks. By propping up a riding lawnmower, he's hoping the blades will plant a
seed of fear in those that are getting a bit too close for comfort.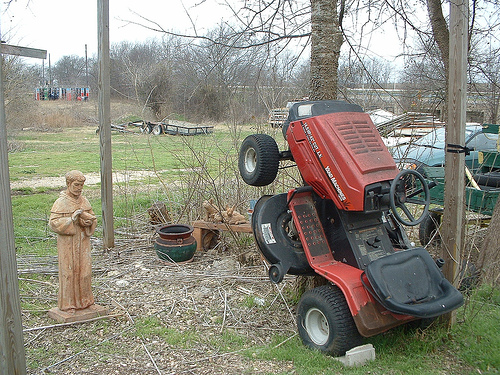 The Airsoft Militia
As we all know, it's not the size of the dog in the fight, it's the size of the fight in the dog. That said, you don't need a 8-foot rifle like Joe above to protect your home – like an army of bees, you can always sting an intruder a couple hundred times with a relentless barrage of airsoft fire. Let's be honest, no man, no matter how tough, would walk through a wall of plastic BBs and pellets!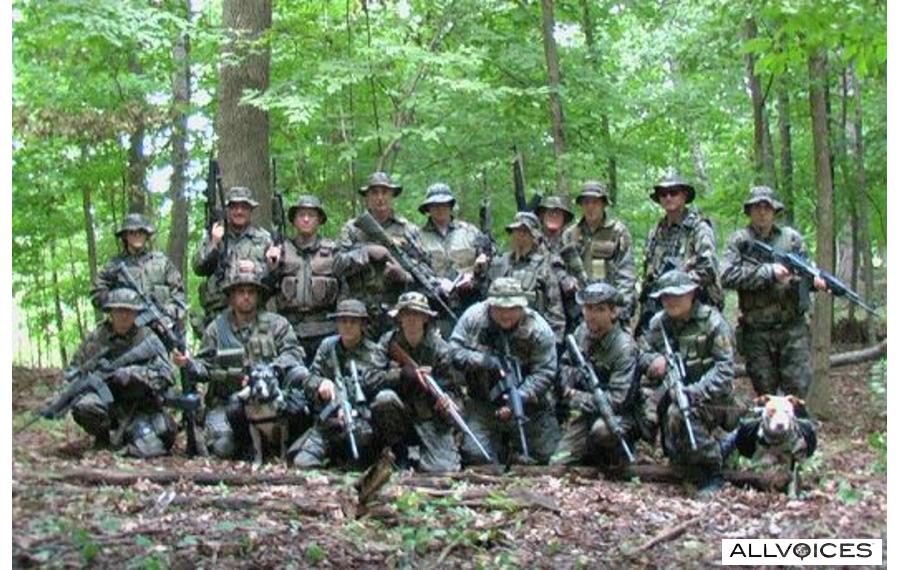 The Shooting Messenger
Although this written notice takes an informative tone that sounds a bit more like a Surgeon General's Warning than it does a cold-blooded killer,
the overall message is just as clear. Don't tread on me!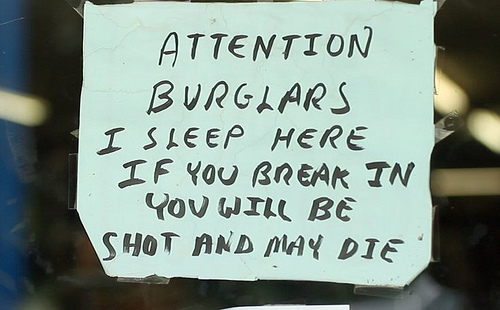 Beware of Dogs
Of course, when electronics and firearms have failed, you can always look to man's best friend for a little home protection. Between the smellers, the yippers, the listeners and the muscle, if you pick the right breeds, you can use their innate strengths to have all of your bases covered.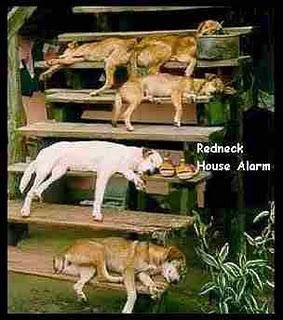 Beer Can Noise Trap
If the intruders have ignored your signs, managed to bypass your Great Wall of Trash and somehow snuck past the guard dogs, they'll never suspect this crafty noise trap. Even in pitch black, once they hit this field of beer-can-land-mines, they're cover will be blown for sure. Clank ClankClank!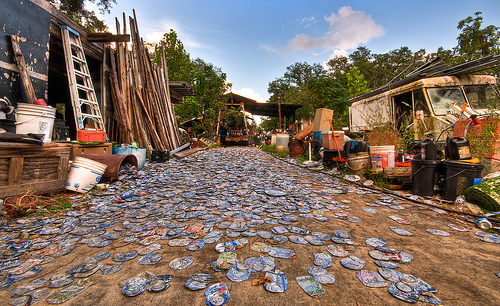 Ummmmm?
We understand how the bikini underwear and the collection of handguns might scare off a couple of intruders but we're not quite sure where the Guitar Hero guitars come into play. Our best estimate is that he's trying to
say, Don't mess with me … I'm tough and talented!