When we first started the "Give Back" contest, we were only planning on giving away one airgun, but over the course of a few weeks that all changed. We received hundreds of stories from people experiencing pain, a difficult time in their lives, loss of a job and more. The entries came from husbands, wives, grandfathers, brothers, sisters & cousins all over the US.
We couldn't give a gun to everyone who deserves it, but here are the entries that changed our minds from giving one gun to giving many:
Runner Up: The Rock Star
"My son Ayden has been diagnosed with Malignant Brain Cancer. He has had surgery to remove the Tumor and now going through a year plus of Radiation and Chemo to keep it gone. The surgery put him in a wheelchair, makes him see double and right side of his face is paralyzed. In the six months since the surgery, he has gone from the wheelchair, to a walker and now walking on his own. It's not pretty, but he can functionally get around.
Ayden loves guns. We have recently got him an air pistol and a iron sight bb gun. He loves them and we love that it's helping him with his fine motor control having to concentrate on getting good scores on the targets to help with his recovery and incentive to focus on his fine motor skill recovery. A scope rifle would be an awesome next step."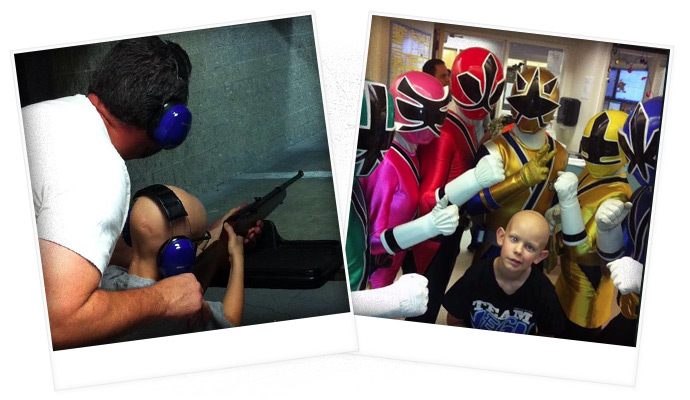 Ayden not only loves guns, but he loves rocking out! We were moved by Ayden's story and decided to send him a Crosman 1077 air rifle and a scope. We hope for a speedy recovery for Ayden and wish him all the best. Head over to Aydens Place to learn more.
Runner Up: The Husband Who Doesn't Give Up
"My husband has had such a difficult time since 2005. He was so active and involved in many activities. In '05 he was diagnosed with ulcerative colitis, a gastrointestinal disease, and he went from active to bed ridden. His colitis was so bad that he couldn't physically leave the house. In '08 we encouraged him to sign up for major abdominal surgery to cure him.
The surgery was a major success, with minor complications that was followed by more surgeries. During all of this he was able to earn his Masters degree. When everything was looking up, he was diagnosed with a-femoral necrosis of the hip, caused by the many awful meds he took in '05-08. He just went through major hip surgery on his right hip in the hope that the procedure would help him be active again. The recovery was difficult, physically and psychologically."
Jessica then went on to explain how her husband, David, was unable to walk, work and socialize. Unfortunately for David his struggles aren't over, but we were moved by Jessica's story, and how much her husband David has endured. So we decided to send send him a Benjamin Trail NP Hardwood air rifle.
Runner Up: An Organization Helping Improve Young Lives
"My wife and I operate a counseling center that deals with children that have been emotionally and sexually abused. We had both worked for this agency for several years and when we took over, it was in really bad shape. With the help of some faithful employees and the grace of God, we decided to push forward. For a couple of years it was touch and go. Every employee had to endure times that saw no paychecks, but we were all focused on helping those kids."
"We are having a fundraiser on November 3rd and I would love to have the opportunity to auction off this air rifle. The proceeds of the fundraiser will be used to offset the costs of providing counseling to those individuals that could not afford it. You would be helping several individuals rather than just one."
We were excited to hear all that Mark and his wife are doing. To help with their fundraiser, we sent their organization a Refurbished Ruger Airhawk air rifle to auction off.
The Winning Entry: An Outdoorsman Who Perseveres
Tim W. from Ottawa, Kansas shared Matt's story with us:
"Matt, is an avid hunter and outdoorsman was the quarterback at Ottawa University football team located in Ottawa, KS. The nationally ranked Braves were relying heavily on Matt's QB skills and leadership to lead them to a possible national title. This dream of Matt and the University came to an abrupt end when a tragic accident occurred in summer football camp. Matt was weight training with his offensive lineman when he slipped doing box steps and over three hundred pounds came crashing down on his shoulders. His spine was broken and severely dislocated, stretching his spinal cord. Emergency surgery was performed to realign his damaged spine but the severity of the injury left him permanently paralysed from the waist down. His dream of a national championship never to be realized."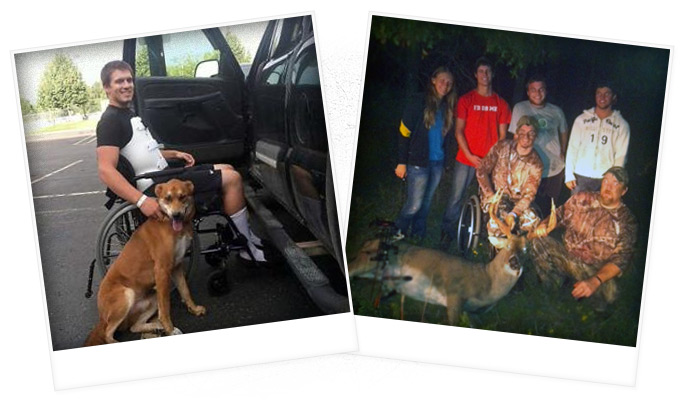 "He is now currently at Craig Rehabilitation Hospital in Denver, CO where he is learning life skills to enable him to become self sufficient. But, being who he is, he's already gone on several trout fishing expeditions and other outdoor excursions sponsored by the Hospital. Matt's courage and determined spirit will not keep him from his love of the outdoors. My familiarity with Matt's situation is because my daughter has been dating him for the last three years. Together they have gone on numerous hunts. Duck, deer, dove, rabbit. You name it and they hunt it together. You see, it was my daughter that managed to push Matt's wheelchair down to the creek while trout fishing. She wanted him to get as close to the trout as she could push him."
Matt is back home now and right before we contacted him he shot a nice buck with his bow! We wish Matt all the best and choose him as the recipient of the signed Gamo Bone Collector air rifle.
Lastly, we think we have an awesome customer base! The entries we received were moving and we were encouraged by everyone who wanted to give someone close a boost to morale. We hope to do this again in future and to learn all about our latest contests be sure to follow us on Facebook.
Happy Shooting!