Here at Airgun Depot we've always been opposed to sending out simple emails on days like Memorial Day and Veteran's Day that simply convey a sentiment of thanks. This is just not good enough for a day that is meant to really honor those who have served and protected our freedoms. So instead, we have come up with a way to actually honor and help our Veteran's with more than just the lip service of thanks.
From time to time we offer those who follow us via email as well as socially discount off coupons. A common amount is 10% off. But this weekend is different. For those so inclined, we want you to Get 5 and Give 5. Meaning instead of getting a full 10%, you'll receive 5% off. But the other 5% of the sale will be donated. To be clear, not just "5% of profits" like so many companies do to make it sound like they're being more generous than they actually are, but 5% of the full retail price of your purchase. Just use Coupon Code VETERANS5 at checkout and you can make a difference.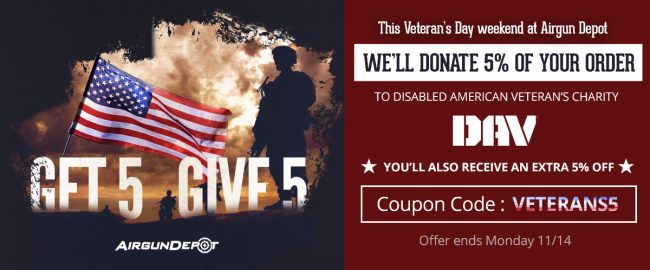 We hand selected a fantastic Veterans organization to send these proceeds to. One that runs their organization the right way so the money will be used correctly. You see Airgun Depot has a veteran on our staff, a remarkable man who not only served, but suffered an injury in the line of service. We'll let him tell you in his own words why we decided to work with the Disabled American Veterans organization (or DAV for short):
"The Disabled American Veterans (DAV) was formed in 1920 by Robert Marx in Cincinnati, Ohio, in response to the lack of support that World War I veterans were receiving from the Federal Government.  The vast majority of these vets were either blind (from chemical warfare), deaf, or suffered from mental illness, which later was determined to be Post Traumatic Stress Disorder (PTSD).  In total, about 204,000 service members were wounded in WWI.  The DAV supported these vets, and future vets getting ready to separate from active duty, with educational benefits and transitional assistance to the civilian world.
Today the DAV is an accredited tax-exempt  501(c)(4) charity that has a network of 88 National Service Offices, 38 Transition Service Offices, 198 Hospital Service Coordinator Offices, and state-level departments in every US state and major territory.  They are there to assist veterans with transitioning from military life back to civilian life, assist with enrollment in the Department of Veterans Affairs, and to ensure every service member receives all the Federal and State benefits that they are entitled to.  I will be forever grateful to the DAV for the top level assistance they provided for me after serving eight years of active duty in the Marine Corps. They helped me navigate the bureaucratic hoops one has to jump through with any Federal program and ensured that I received the benefits that my service entitled me including healthcare, education and a VA home loan. Even with the countless man hours that went into assisting me, not once did the DAV ask for any type of reimbursement from me or any other veteran, nor do they expect any veteran to pay for their services. They truly are one of the few organizations that I have dealt with that doesn't seem to have an underlying motive. Their only motive is to ensure that all American veterans are afforded every opportunity to find their place in the civilian world."
– Justin Hamilton, Airgun Depot Website Editor
So there you have it. In light of the upcoming holiday season where all retailers, ourselves included, will shift their focus to putting together sales, promotions, and marketing to sway your hard earned dollar; this is a weekend where you can not only enjoy the shooting sport of airguns, but also help a Veteran in need. Get 5 Give 5. Hopefully, this is something that is a resounding success and can become a tradition each Veteran's Day in order to really say thanks.
To learn more about the DAV click here.