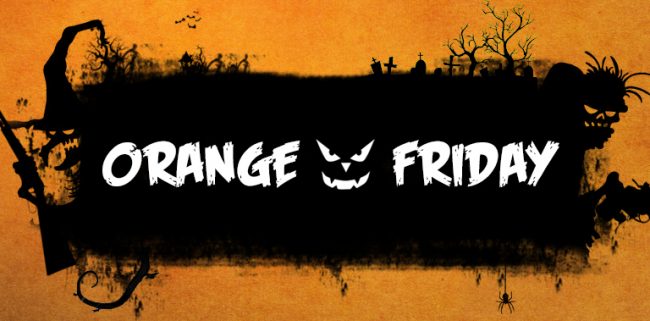 What's that, you haven't heard of Orange Friday yet? Don't you know that Orange Friday is the new Black Friday as Airgun Depot beats up the Airgun manufacturers to get killer one weekend only sales on airguns. Okay, I did this last year and didn't get fired so I figured that I would give it a go again and give you all a sneak peak at some of the killer deals that are coming up this Orange Friday. The deals we have going this Orange Friday will be some of our best of the year and it all starts 10/28/16! These are just a few of my favorites, but there are many, many more to come so make sure that you are subbed to our email list to get all the deals. No need to wait till Black Friday, Orange Friday means you can get a good jump on your holiday shopping, or if you're like me, get a little something for yourself.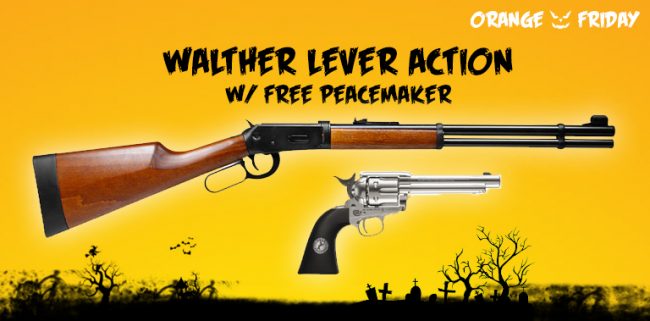 Seems like westerns have made a little bit of a resurgence lately with the recent remake of The Magnificent Seven as well as HBO's TV series based on the 1973 film by the same name, Westworld. With cowboy movies on the rise, we have a great deal on some cowboy guns that you western fans are going to love. We secured a shipment of Walther Lever Actions that are sure to please any cowboy shooter, but to sweeten the deal we are throwing in a free Umarex Colt Peacemaker Pellet Pistol with purchase. Yup, you heard me right, get a classic cowboy rifle and pistol all at once. And since both shoot pellets, you won't have to deal with separate ammo for each gun. This is one of the best deals we have had all year and they are sure to go fast! We have also got some great sale pricing on some remanufactured Peacemakers alone (BB versions). Don't let the term remanufactured scare you off either, these have been refurbished by the factory and still carry a warranty, so all you save is a ton of cash. So if you have been looking to get a couple for your gunfighter rig, now is the time. If Jesse James is more your style we also have sale pricing on the Schofield CO2 revolvers. We have wild west fans covered this year for Orange Friday.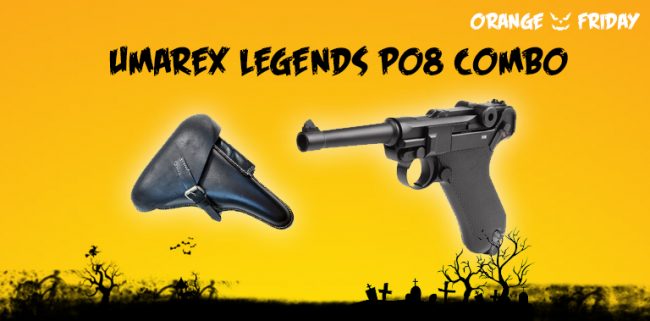 If you have watched any of our episodes of Under Pressure on YouTube you have heard me talk about my love for Military Surplus and antique firearms, I also love replica airguns because they can help fill in holes in my collection without costing an arm and a leg. Well, to add to the realism we have brought in a line of reproduction military holsters that are sure to take your collection to the next level. P-08 Lugers, P-38's, 1911's and Webley's will all find homes in these incredible looking reproduction holsters. If you already have some of these replica pistols just peruse the holsters, but for even more savings get one our new (and exclusive to Airgun Depot) combos of a replica pistol and a replica all leather holster that has been reproduced from actual antique holsters. If you want a way to take your collection to the next level, here you go. These holsters are just plain awesome!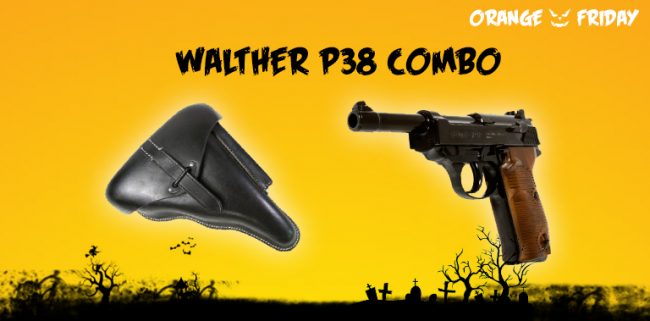 CO2 rifles are by far some of the most popular plinking guns and we have some great deals on both the QB Series single shots, as well as Hammerli 850 bolt action repeaters. We can't get enough of CO2 guns here at AGD, they are great for target practice, teaching youngsters to shoot, or re-kindling a love of shooting sports for trigger pullers of any age. Check out some of our best deals of the year on CO2 rifles because these will go fast. If PCP's are more your style we have also got great pricing on the .177 caliber Walther Dominator. Essentially a PCP version of the Hammerli 850 Air Mag CO2 guns, the Dominator has seen popularity with paper puncher and field target shooters alike. Jump on them now and save big time!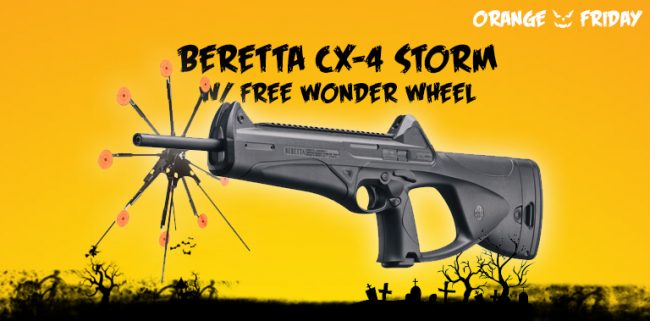 The Wonder Wheel target is seriously our favorite, I kid you not that we have about 5 of them in our shooting range. They are so much fun to line up and go head to head to see who can knock them down the fastest. We have found that multi-shot repeating CO2 guns dominate all the competition when it comes to Wonder Wheel shooting contests so this Orange Friday we are offering a free Wonder Wheel with the purchase of the already sale priced Beretta CX-4 Storm rifle (seriously, these CX-4s were priced to move from the manufacturer and in true Airgun Depot fashion we're passing on the savings to you!) This fast-firing CO2 gun is a great plinker, and together with the Wonder Wheel target you'll have hours of fun. Get one for you and one for a friend and you can have some great shooting contests!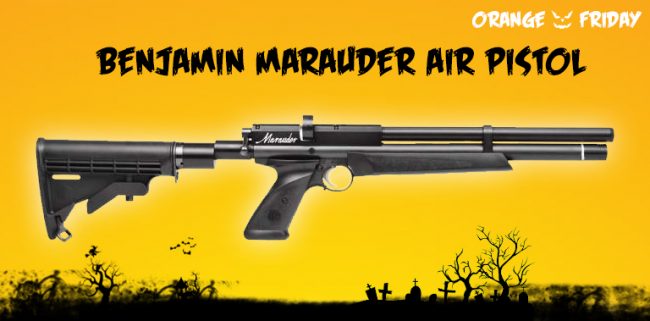 I reviewed the Benjamin P-Rod earlier this year and it is one of my favorite compact air gun setups. Perfect for throwing in the car for some quick hunting trips and really handy for packing around the woods. We've got a special deal on all our P-Rod configurations. Everything from our P-Rod pump combo (perfect for first time PCP buyers) to our personal favorite, the AR-15 stock equipped P-Rods turning this powerful PCP pistol into an awesome little carbine. If you have been waiting to get your hands on a PCP this year, this is a fantastic opportunity to get into one of the best and most reliable PCP's on the market. Plus since it's Halloween you get a free Crosman Zombie Field Target to go with it, awesome I know!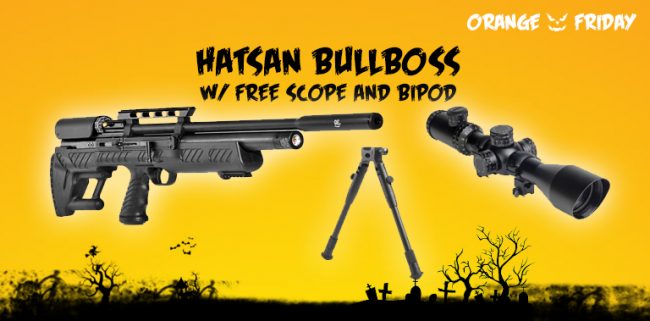 Speaking of PCPs, Hatsan makes some of our favorite air rifles here at AGD. Accuracy, power, and value really make Hatsan guns stand out from the crowd. We are really excited to offer sale pricing on the Bullboss, Gladius, AT-44 QE models and the BT-65 QE guns. Not only are they on sale but they will also include a free Optima scope and bi-pod (well… except the Wood AT44 since it doesn't have a bi-pod rail). These packages will give you everything you need to start stacking pellets with one of these highly accurate Hatsan PCP's and are sure to move quickly so this is a deal you'll want to jump on fast before they are gone. High quality, European air rifles on sale and with a load of freebies, what's not to love?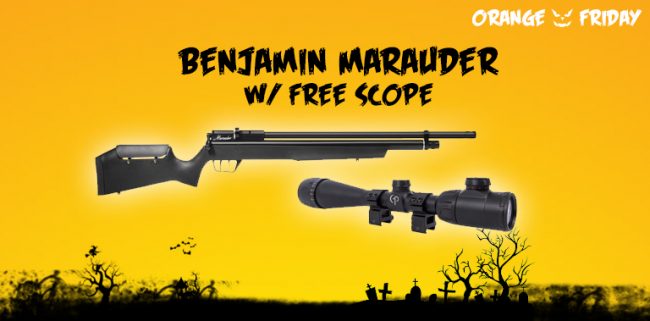 We've got your other favorite PCPs covered as well. Everything from a free reactive targets to go along with new hot items for us like the Gamo Urban (moderated PCP at just $399.99!), to a new Benjamin Maximus Pump combo that gets you a hand pump with the Maximus PCP for under $330, or go with a classic and pick up a Benjamin Marauder and get a free 4-16×40 scope and rings to mount to it. I'd go on but gotta leave you with some curiosity about what else we have cooked up for you this weekend!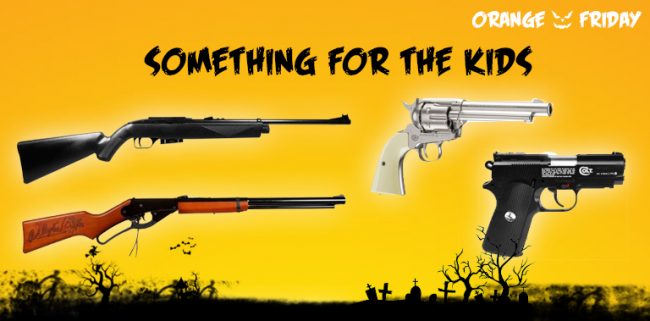 Last but certainly not least, we have some great deals for the youngsters in your clan this Orange Friday. From the Red Ryder to Crosman CO2 repeaters you're sure to find something to please the young and young at heart in your life. We'll even let this one slip, we're putting Red Ryders on sale at just $19.99, take that Wally World! Make sure to check out all the great deals this weekend, and remember, these deals are all going live this Friday 10/28/16 so don't fret if you don't see sale pricing when you click on the links! Oh crap, just forgot, I didn't even mention the deals we have on some great break barrels (including some German made RWS airguns!). But I think I hear my boss walking around outside my office and I better just get this published on the website before he decides to censor me! Just check back Friday to see everything. (Maybe I'll still be here unless the boss man doesn't like that I let the cat out of the bag…)