In only a matter of time the zombie race will emerge, ready to hunt, kill and dominate. You can't stop them from coming, but you can stop them from winning. Follow this guide and maybe, just maybe, you'll make it through alive.
Step I: Lock and Load
Recent scientific research reveals the best way to kill a zombie is to destroy its only source of life–the brain. Using powerful airsoft weapons that specialize in zombie elimination, you can take-down ghouls of any size with one shot to the head.
For long-range accuracy, the R71 Zombie Eraser Tactical Airsoft AEG Rifle gives you a 500 round BB reservoir, ensuring no zombie escapes your sights. But if you find yourself in a more intense moment of attack, the Paper Shooters Zombie Slayer Kit provides protection with the perfect combination of speed and precision.
Last but not least, don't even think about conquering the ZAP without the Zombie Eliminator, your all-around reliable pistol. A quick-release 16 round clip on a CO2 powered, 400 fps, heavyweight pistol is a natural fit for any battle with the undead.

TIP:
If at some point the battle spins out of control, Airguns will help you slow things down. The
Gamo Viper Express Shotgun
deploys a three-shot burst of steel BBs, guaranteed to stun your predators. Or, take the high-tech approach with the Benjamin Rogue .357 Cal ePCP Air Rifle, a revolutionary weapon with an LCD screen that will throw any zombie off your scent.
Whether you're taking the killshot or slowing down an army, the right equipment will make you a fierce opponent for your undead competition.
Step 2: Get Acquainted
What's the matter–you've never seen a flesh-hungry corpse before? Don't be caught off guard. Surviving the Apocalypse will require a keen sense of awareness and the ability to see the undead before they see you.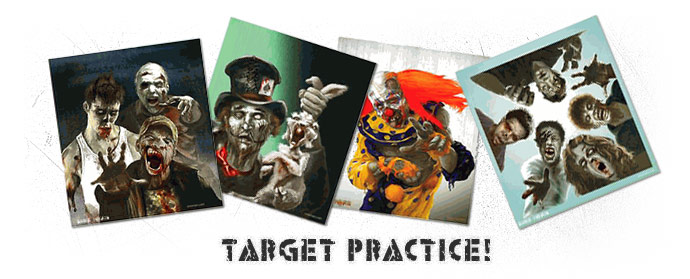 Study the glow of their zombified eyes, prepare yourself for the gruesome sight of their melting skin and train yourself to keep cool when they're lurking nearby. Zombie target practice will give you the confidence you need to face each beast with a steady hand and a brain-splitting shot.
Step 3: Get Into their Mutilated Minds
To defeat a zombie, you need to think like a zombie. Their overpowering hunger for flesh and blood will lead them to hot-spots like cities, but it won't take long for dense areas to become quarantined. Get comfortable with surviving alone in the woods, because the only way to avoid infection when humans are few and far between will be to wait for our undead friends to turn to the next best thing–animals. When they begin to wander into the dark forest, be there ready and waiting to eliminate.
Ghoul Luck.