Before Shot Show 2020, we felt that arrow shooting airguns were a complete waste of time. But, having spent a few minutes with each of Umarex's new arrow airguns, we immediately came to love both of them! In this article, we'll explain both products and hopefully convince you to add one, if not both of them, to your airgun collection!
The two new arrow shooters from Umarex USA are more efficient, more accurate, easier to shoot, and more fun but each of these airguns fill different needs.
Quick Specs
Air Javalin
CO2
88 or 90 gram Cartridge
Shots per fill: ~20 Shots
Includes 3 170gr arrows
300 FPS
34 FPE
The Air Javelin is a CO2 powered arrow airgun that shoots short, lightweight arrows fitted with standard field points. The field points can be swapped out with the Umarex "Blood Bug" broadheads, specially designed for the Air Javelin arrows.
Air Saber
PCP
3,625 PSI (250 BAR) Fill Pressure
Shots per fill:~25 Shots
Includes 3 375gr arrows
500 FPS
208 FPE
The Air Saber is a PCP powered arrow airgun that propels full size and weight arrows with incredible accuracy. It delivers a level of lethality unrivaled by any other airgun at its price point. The Air Saber is sold as a kit with arrows and a specialized optic. You can also purchase it with just the arrows and add your own optic or red dot. Either way, this airgun offers fun and serious hunting chops.
Air Javelin
As mentioned above, the Air Javelin runs on CO2, specifically the prefilled 88 or 90-gram CO2 bottles.  These deliver about 20 or more shots based on the ambient temperature.  In short, shooting the Air Javelin is addictive.  It's lightweight and has an adjustable stock, making it perfect for younger shooters or shooters with a smaller frame.  It's effortless to operate and hits the mark every time.  It ships with open sights and three arrows to get you started.  If you want to use an optic, the Air Javelin has a weaver rail on the top.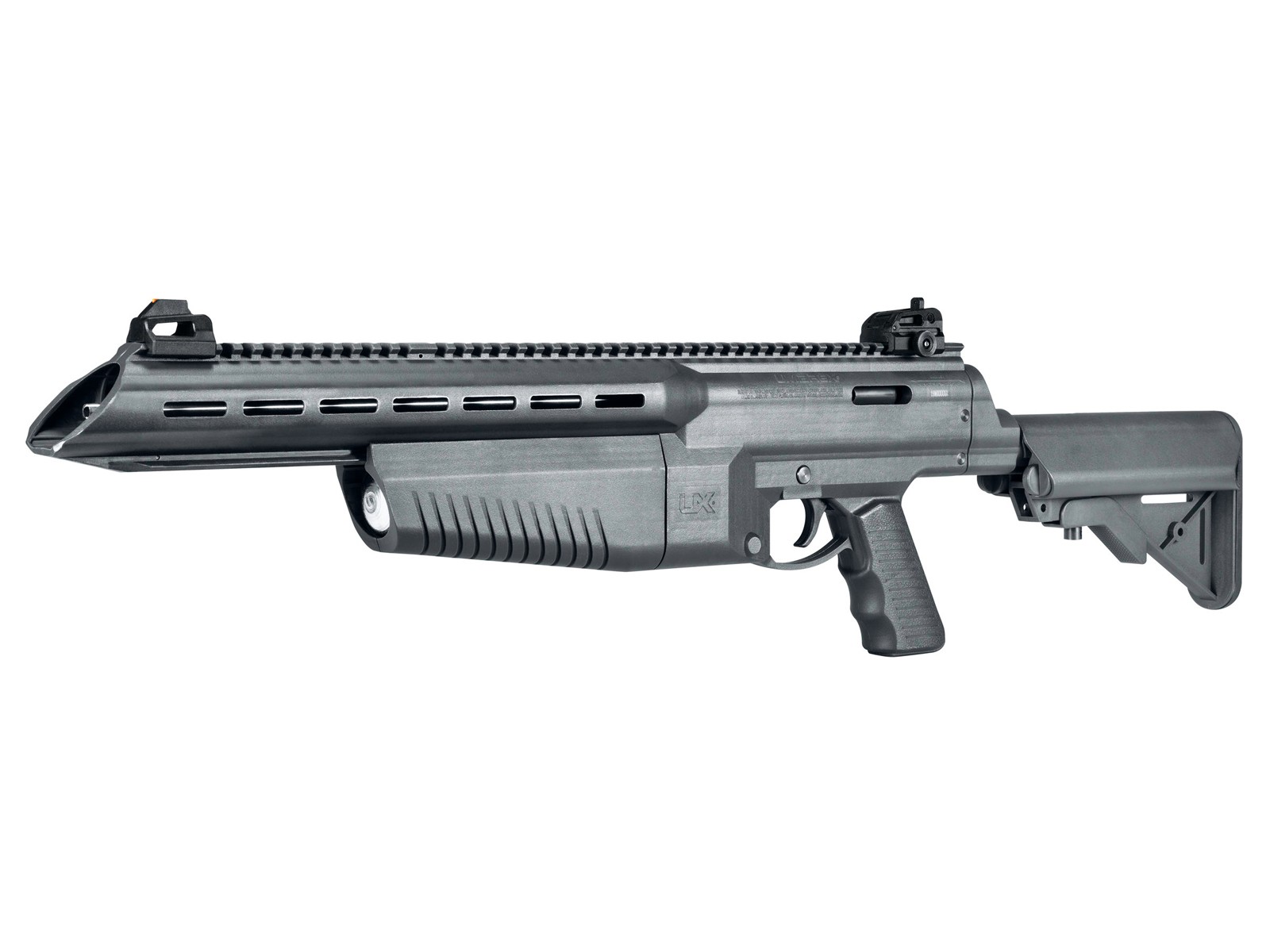 Performance puts the Air Javelin pushing a 170-grain arrow around 300 FPS. While that's only about 34 FPE, when you add a Blood Bug broadhead, you have something that can take down pests like coyotes and even small hogs at close range.
Where the Air Javelin shines is at just having fun in the backyard. Make sure you have a proper backstop and then just have fun. What's cool is that first walk down to the target to retrieve your arrows. As you get back to the bench and sit back down to shoot, you realize, "Hey, I could sit here and do this all day!"
Air Saber
The Air Saber, while still an arrow shooter, is meant for an entirely different function. You can certainly sit at the bench and target shoot. And yes, it's just as addictive as the Air Javelin, but that's not what the Air Saber is all about.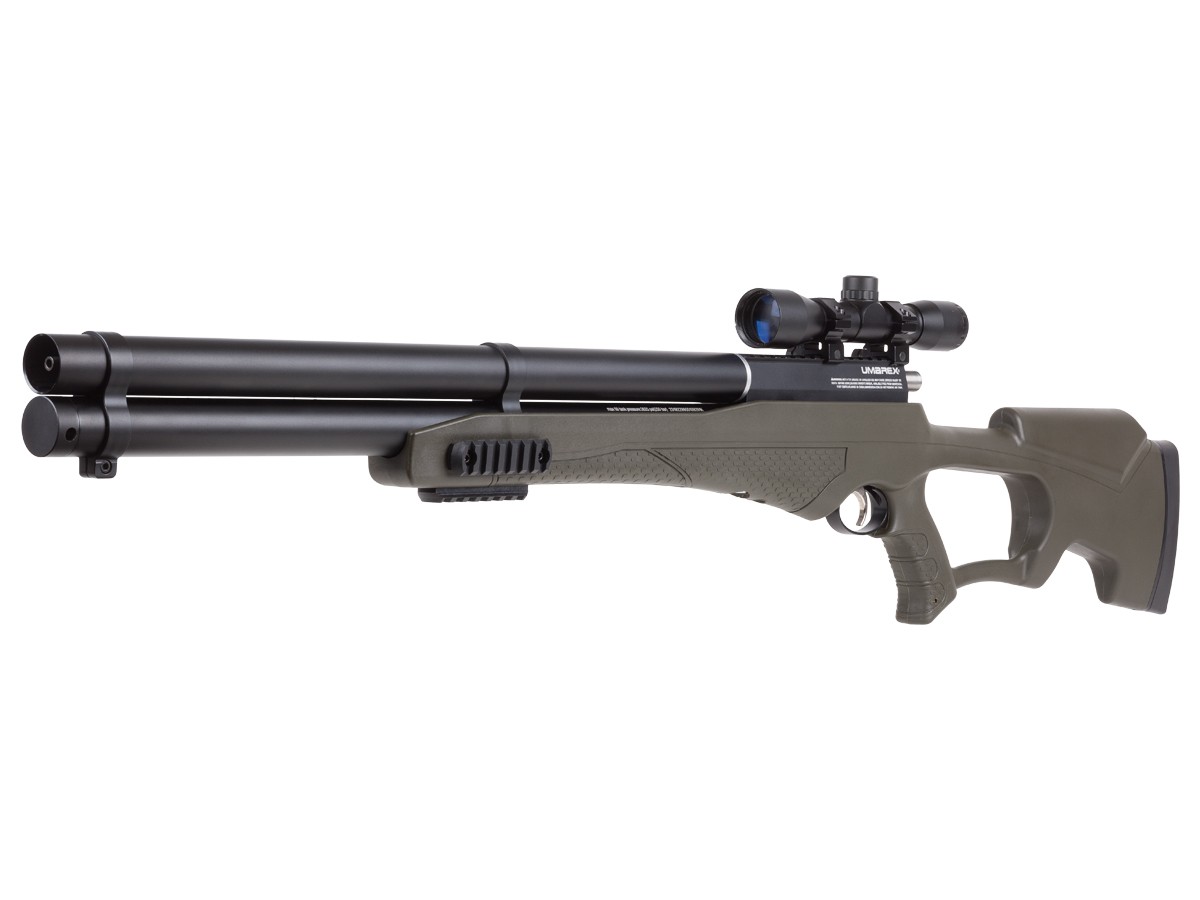 The Air Saber is about hunting plain and simple. Where legal, the Air Saber is probably the most lethal airgun you can bring to bear at its price point. Sending 375-grain arrows at your target at speeds close to 500 FPS is no joke. Hitting game with razor-sharp broadheads at that velocity is lights out as long as you put the shot where it counts.
While the power and velocity are impressive with the Air Saber, its accuracy takes folks over the edge. Sitting at the bench, looking downrange at your target, it's hard to imagine that the arrow flying from the end of the airgun could drive right up the tailpipe of the last arrow you sent downrange. But, you'd be wrong! It's counter-intuitive, intentionally aiming off target, but if you are target shooting with the Air Saber, we'd recommend you pick a different aim point for each shot.
Wrapping Up
We started as staunch critics of all things arrow airguns, but after spending some time with these new guns from Umarex USA, we're all in! They deliver a new facet to the sport and make it fun and easy to enjoy some back yard trigger time using the same arrows over and over again. They are fun to shoot and also functional for those who want to go that route. Long live the arrow airgun!