In 2012, we held our first "Give Back" sweepstakes and gave away a signed Gamo Bone Collector air rifle along with several other air rifles.  We received hundreds of entries that time and we decided to do it again, but with a little twist. This time, we wanted to honor two Veterans who have sacrificed their time & family to put everything on the line.
We reached out to our customers to nominate two deserving veterans to win either a Hatsan 1000X Vortex Gas Piston .25 Caliber or a Crosman MTR77 Nitro Piston® Air Rifle .177 Caliber. After several days, we received over 200 entries from every branch of service. We couldn't thank those who nominated someone enough! While we honor ALL of our Veterans for the sacrifices they made, in the end we could only pick two of them. Here are their stories…
The Distinguished Major
Annick shared with how her husband has served for more than two decades:
"My husband, MAJ (P) D.G. Moore, has provided service to the US Army for 24 years. A graduate of Norwich University, Iraqi war veteran and decorated service man who was disabled during OIF-1. He has shot expert in both rifle and pistol qualification on all military ranges during his long and distinguished career."
She went on to share how Maj. Moore is "a reloader, military rifle range instructor/primary trainer" favoring his "RWS .22 target 'springer' rifles" that help him keep his edge.  We're grateful that Annick shared her husband's story and are thankful for his service.  To honor Maj. Moore, we are going to be sending him the very fun Crosman MTR77 Nitro Piston® air rifle, mounted with a scope, a hard shell case, targets & ammo.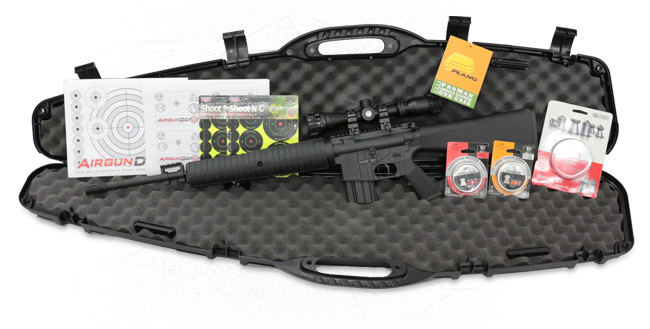 The Scout Leader
Henry shared a little bit about his friend and fellow scout leader:
"My buddy Howard Goldman is a great guy! He served our great country directly after high school by joining the Navy. When he returned, he became a Mailman/Letter Carrier for the US Postal Service. He was in this role for several years and decided that he wanted to do more of a service for his country and became a police officer with the City of Phoenix Police Department in Phoenix, Arizona."
Henry went on to share how Howard became a leader when his son joined the Cub Scouts and quickly "took our  meetings and outing to 'the next level' by introducing Gun Safety, sport outings that involved using BB and pellet guns and taught our Den and Troop the importance of spoofing. He also started an annual TURKEY SHOOT that is still one of the most loved and attended activities in our Troop."
We appreciate Henry sharing Howard's story with us and how he continues to teach boys how to use firearms safely.  We wanted to honor Howard by sending him a Hatsan 1000X Vortex air rifle in a hard-shell case with targets, ammo and a mounted scope.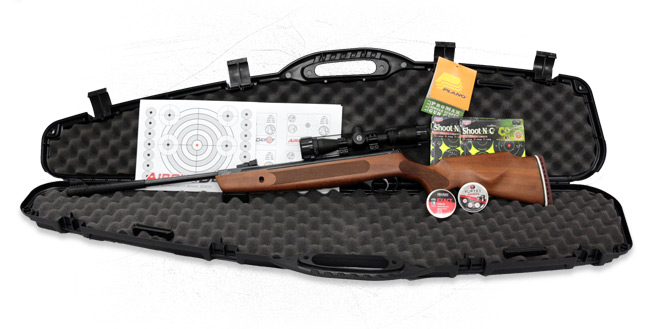 We were only able to give two Veterans a free air rifle, but we honor all of  those who have sacrificed so much for our freedom.
Thank You
for your service!
We couldn't have done it without the folks from Crosman, Hatsan, RWS, JSB & Birchwood Casey for chipping in some products.  A big thanks to our very own airgun expert and blogger, Rick Eutsler the brains behind the majority of articles in the University, for mounting and sighting the scopes and recommending these great combos.
Lastly, our customers are awesome! We received hundreds of entries from people wanting to honor a Veteran. We couldn't have done it without you guys.  We hope to do this again in future and to learn all about our latest contests be sure to follow us on Facebook or sign up for our newsletter where we also send you exclusive discounts and deals.
Happy Shooting!