In this two-part series, we'll take a look at a pretty important question. With a limited budget and accuracy being the most important goal, is it better to spend more on the gun or the scope? In the past, this wasn't even a question. You'd put the money into the gun because to get maximum accuracy, you'd need to invest in the gun first. Today, with so many exceptional entry-level airguns, is this the smart choice?
Let's look at gun over glass first.
Our budget for this project is going to be $1500. For this, we need to get our airgun, put on an optic, and then see what we get for accuracy at 50 yards. Maxing out our budget on the airgun, we are choosing the poplar stock Air Arms S510 XS in .25 caliber. At $1200, we need to find an optic under $300. We want a quality but affordable optic, which puts us looking at the Hawke Vantage IR line. The 4-16×50 AO MD IR fits the bill at $220. That pretty much uses our budget with a little room to spare. Now, let's look at the gear.
Air Arms S510 XS, .25 Caliber
Air Arms has been making superior quality airguns for years. The S510 model has been around a long time and remains their top-selling airgun. The XS model, recently released, incorporates a regulator into the venerable S510 lineup. Additionally, there's a five-way power adjust on the side. These upgrades make the S510 one of the best airguns you can buy under $1500. It has a fully adjustable match-grade trigger, buttery smooth side lever, and heirloom quality craftsmanship. The bottom line is that it's a fantastic looking and excellent shooting airgun.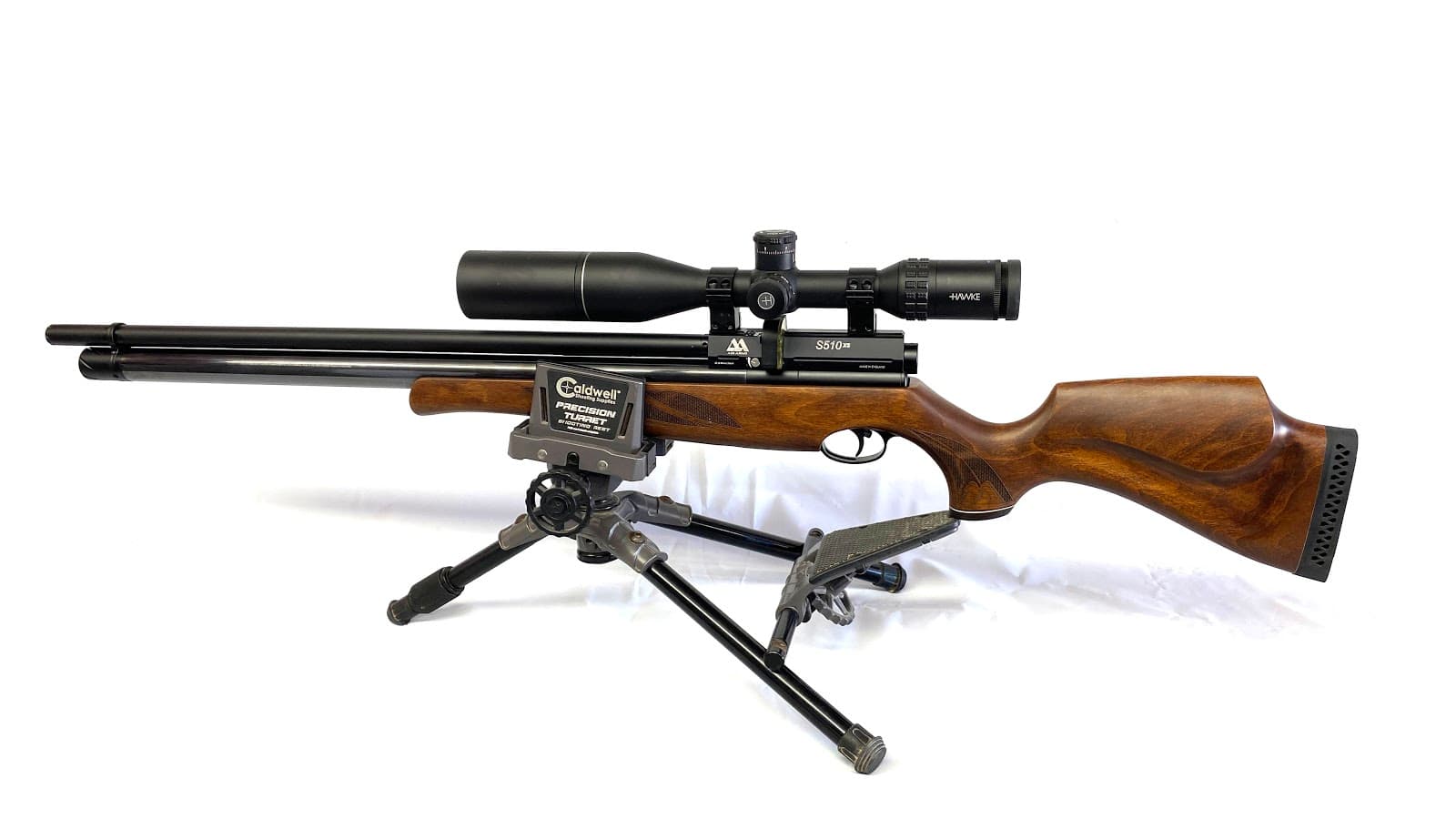 Hawke Vantage IR 4-16×50 AO MD scope
Hawke Optics is known for its high quality to price-point ratio. You get a lot for your money when you choose Hawke optics. The Vantage IR AO MD line features an etched glass, illuminated, mil-dot reticle. It has a one-inch aluminum chassis and a front adjustable parallax that goes down to 10 yards up to infinity.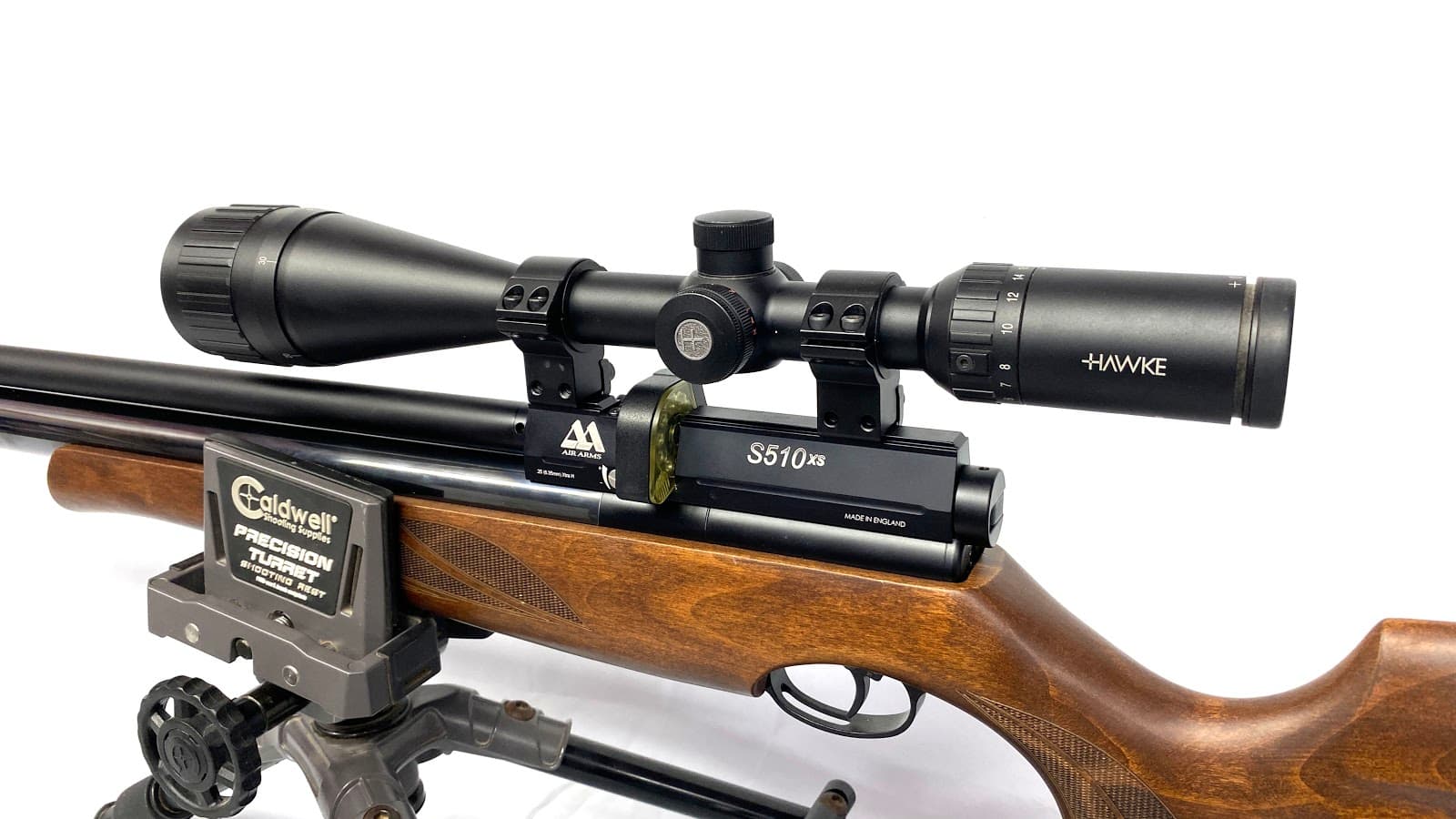 Let's put it all together.
The S510 comes with an 11mm rail. While we'd love to use medium mounts to get the scope closer to the bore, with a 50mm objective and needing to clear the magazine, we'll need to use high two-piece mounts. With the scope mounted and ready to go, let's get it aired up and send some rounds downrange.
Airing up the S510 models can be accomplished via a proprietary fill adaptor. It has a 1/8 BSPP threaded end, so adapting to a more standard male foster connector is very easy. We are using the Hill compressor for topping off our airguns. Without getting too far off-topic, if you are looking for an excellent personal compressor for topping off your airguns, look no further. The XS version of the S510 fills to 250 bar, easily achieved in just a few minutes with the Hill Compressor.
Testing & First Shots
From the moment you pull the cocking lever on the Air Arms S510, you know that you are working with a top tier airgun. It's tough to explain the experience in words. You need to feel it to understand it. The build quality is just that good.
The range was a bit breezy today with gusts shifting directions.  This certainly made things challenging. After our initial sight-in, we shot four five-shot groups averaging a CTC of under .86 inches.  Having spent a lot of time shooting the S510, I expected at least better than 1″ at 50 yards and that's what we got.  I do believe it can do better.  Having shot better groups in the past, we wonder, are the larger than expected groups a result of an affordable optic, the particular batch of pellets, or just our pull of the trigger during testing? Let's talk about part 2 of this series and then work out how to deliver a definitive answer.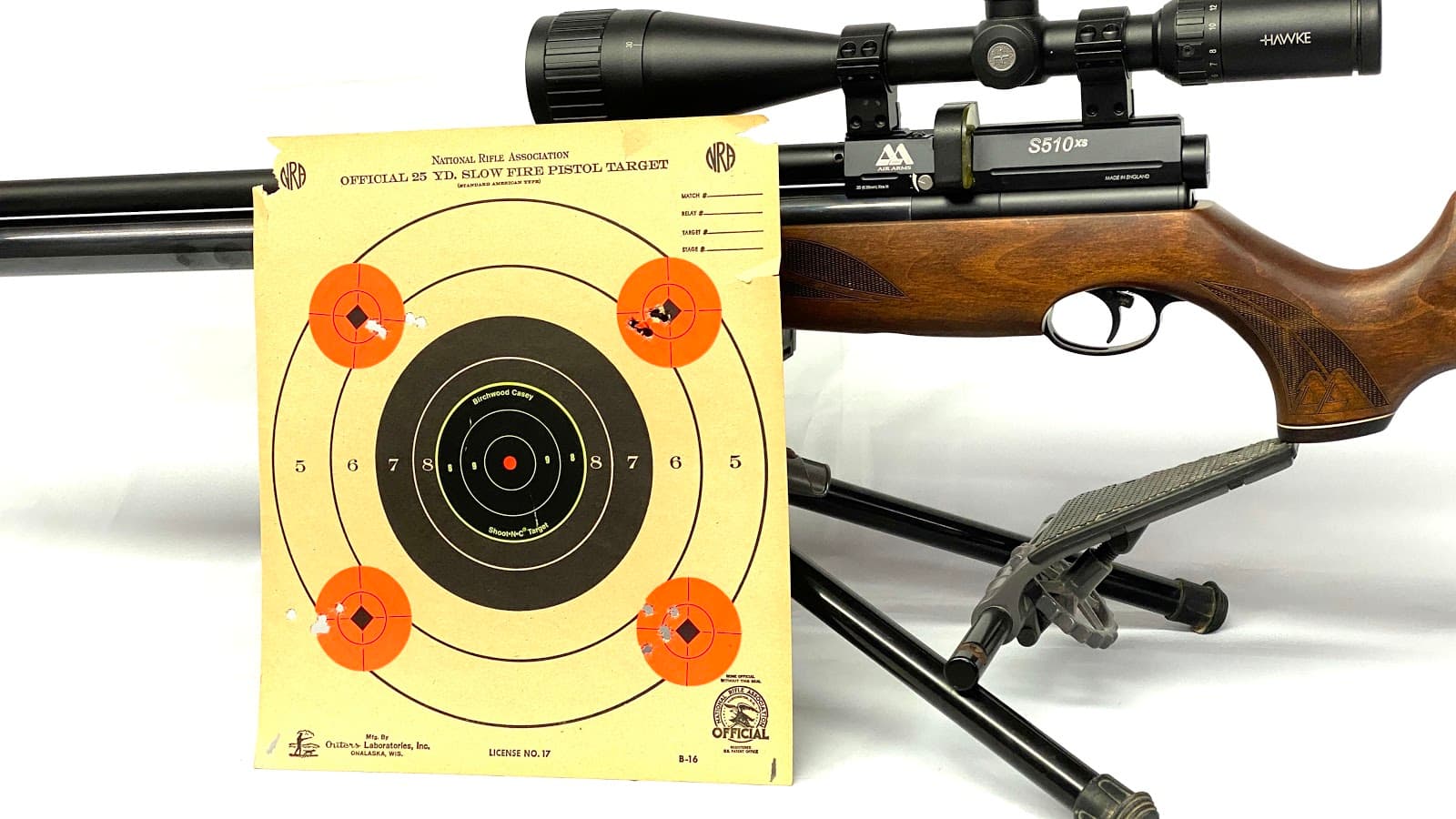 In Part 2…
We will jump ahead a bit for Part 2 so that you know what to expect. The outcome we'll save to the very end, so be sure to keep reading. For this part of the test, we'll be switching to an affordable airgun but maxing out on the optic. We are going to stick with a .25 caliber airgun and use the new Hawke Sidewinder FFP 30mm WA SF 4-16×50 scope. Hawke's New Sidewinder FFP is an exceptional optic that comes in at around $720, leaving us $780 still for our airgun. I've chosen the .25 caliber Benjamin Armada at $662, bringing us to a total of $1382.00. That leaves a little room for scope mounts, some pellets, and maybe some other accessories.
How will it stack up? Stick with us for part 2 and find out.