Want to become a better handgun marksman? CO2 replica pistols have been a mainstay in the airgun industry for decades and are perfect for honing your skills. Recently companies have enhanced their usefulness with all manner of items that help shooters use them in new and exciting ways to train.
It starts with the gun.
With names like SIG, GLOCK, and Springfield Armory creating 1-to-1 replicas of their most popular models, shooters have more options than ever to match the perfect CO2 replica pistol to their carry weapon. Many of these models have blow-back, simulating slide movement and recoil, large-capacity drop free magazines that house the valve and CO2, facilitating quick mag changes on the go. Additionally, they all have the same switchology and the same weight and feel of the real firearm. You are essentially getting the same feel in function, just without the "bang" and cost of live ammo.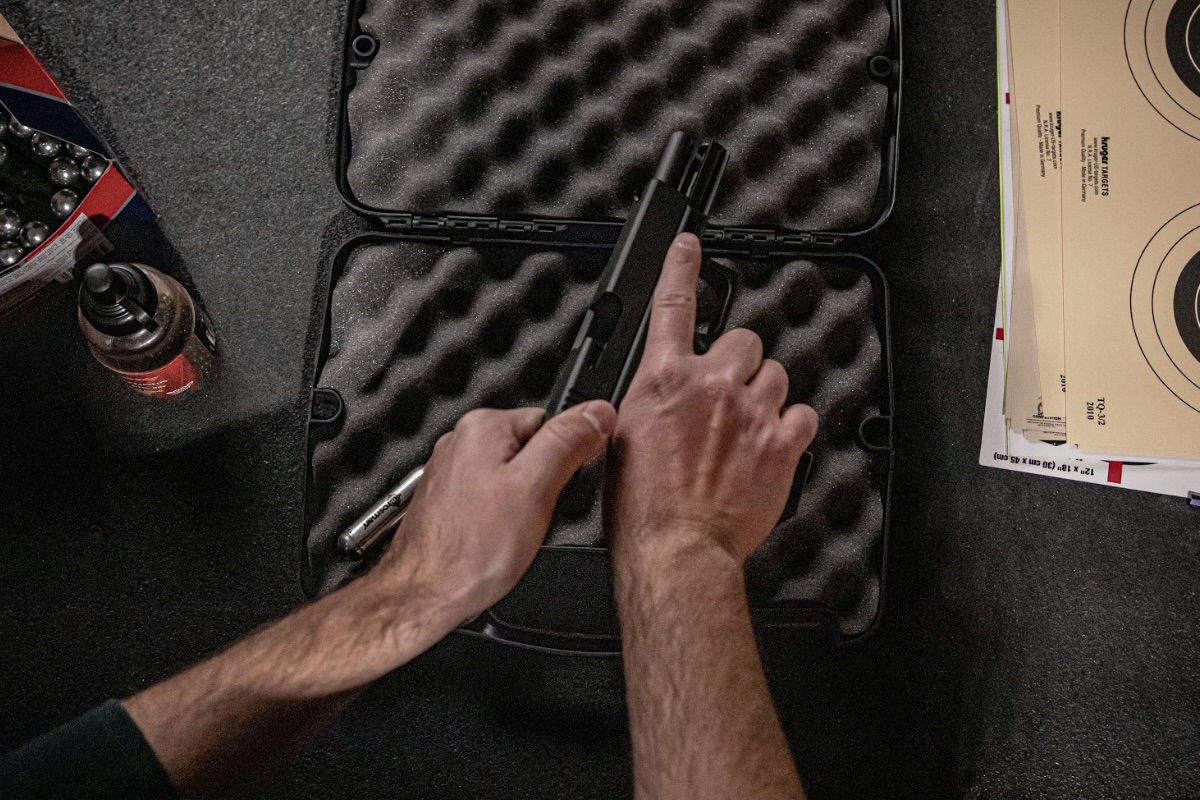 Picking the Right Ammo
Steel targets, like the Air Venturi Cowboy action targets, are a great way to practice quick target acquisition, speed drills, and other competitive and tactical disciplines. They provide audible feedback so that the shooter does not have to see the hole in the paper; instead, they can hear the impact and keep their focus on the specific training at hand. There has always been a drawback to this and CO2 replica handguns. Most of the replica guns use steel bbs, and shooting steel bbs at steel targets is a real "no-no" due to ricochet and potential injury.
Fortunately, some real advancements in traditional BB ammo make this all a thing of the past. The H&N BBs are lead BBs that are copper coated. The copper helps keep their shape true while under pressure in the magazine. When they impact steel or a similarly hard object, they deform and drop rather than ricochet. They are also heavier and have proven to be more accurate in some replicas, which is a bonus.
Another new BB is the Dust Devil, which goes the other direction. It's lighter and frangible. So when it hits a hard object, it turns to dust on impact. These BBs fly up to 20% faster than standard BBs, getting them to the target just a little quicker than the competition. They may not be as accurate, but for steel target training, they hit the mark.
Perfect Pistol Training Partner
All the guns mentioned above, SIG, GLOCK, and Springfield Armory, all utilize molded tactical holsters. The same holster you use for your carry weapon will work with these new CO2 training pistols. Now you can use all the same gear you would typically use with your live-fire weapon, right alongside your CO2 airgun. Additionally, accessories purchased with your CO2 may work with your firearm. This cross-platform usability is excellent for shooters that want to train and get the most from their gear.
Beyond Pistol Training
While we've spent most of this article talking about pistols and various training aids surrounding them, we don't want to leave our long gun shooters. Long-range shooting is a real challenge for many reasons. The biggest is simply the acreage needed to be able to train out to 1000 yards. What can you do with an airgun to improve? There's a ton of great options.
The military cracked this nut a long time ago. If you want shooters to shoot long range and don't have a "long range" to train on, then just make the targets a lot smaller. If you want a challenge, take some of the 12″ Shoot-N-C targets from Birchwood Casey and put them on a target board at 100 yards. Then take your favorite air rifle and try to put all your shots into one of the smaller circles. You'll find it's a lot harder than it looks in the movies or Call of Duty.
Long-Range Rifle Training
If you are a long gun shooter and want to get better, then here's some essential gear you'll want to check out, starting with the rifle.
Look into PCP air rifles over spring, co2, or pump pneumatics. They will give you the best accuracy and range and most closely simulate shooting a traditional firearm. Prices start as low as under $200 and reach well over $2000. If you are just beginning, something like the Umarex Origin may be perfect. If you've got a bunch of cash and want to go more high end, then something like the Air Arms S510 Ultimate Sporter or Ataman M2 may be a great choice.
There are hundreds of options, so don't be afraid to call us to pick the perfect gun. That's what we are here for!
Once you have your gun, you'll need a scope. As with picking a rifle, there are hundreds of options. Our general rule of thumb is to find a scope that's about half the value of the gun you've chosen. You can always go a different route, but that's an excellent place to start. The new Hawke Vantage WA SF line of scopes packs a ton of features into a great price point.
If you are bench shooting, then some sort of rest will be in order. You may go for a set of bags or something more stable like a lead sled. Maybe a simple bipod is all that you'll need. Regardless, don't forget about this critical piece of equipment. It could make or break your groups when shooting long range.
So much gear so little time!
We've touched on many subjects in this article and covered a lot of ground.  The reality is, we've barely scratched the surface of all the gear that can help you with your training to become a better marksman.  So if you are feeling overwhelmed with all the possibilities, don't panic!  Give us a call here at Airgun Depot, and one of our folks will be happy to help you find the perfect combo for your needs.
Please note: CO2 replica pistols and airguns can be dangerous. Please treat any airgun like a firearm and implement safe shooting habits.