So before we even start to answer that question, let's lay down a few ground rules. We're only going to consider airguns that are commercially produced and readily available. So while there may be an exotic, custom-built airgun running hydrogen-producing 2000 FPE, if it's not commercially produced and sitting on store shelves, it doesn't count.
It's also very important to note that what may be the most powerful airgun today, may not be the most powerful tomorrow, as this market is changing every day. So, before we start, let's do just a little background. Big bore PCP airguns, which is what we are talking about here, have been around for hundreds of years. Yep, not decades, but centuries. Additionally, the technology that makes them go, is still the same today as it was those centuries ago.
There have been a lot of advances in materials, manufacturing, and design, but the basic concept is exactly the same. You have a reservoir full of air. You have a valve that when opened, usually by striking it with a hammer, lets air out pushing the projectile down the barrel. This is how all "guns" basically work. The only difference between an airgun and a firearm is the "fire" part of it.
The most powerful airgun today…
At the time of writing this article, the most powerful airgun you can buy is probably a tie between the Hatsan Piledriver and the AirForce Texan with the carbon fiber bottle. Each of these guns is delivering between 600 to 800 foot-pounds, depending on whether you choose the .45 caliber of .50 caliber version and what lead you are going to feed it. This is really a staggering amount of muzzle energy coming out of a mass-produced, off the shelf airgun.
Before we start, we haven't done extensive testing with either of these guns. However, we're very familiar with both brands and their reputation for sticking to the facts about what they produce for muzzle energy. While this may not always be the case with other airgun makers, we're confident that what you see on paper with both these guns, you'll also see on the bench.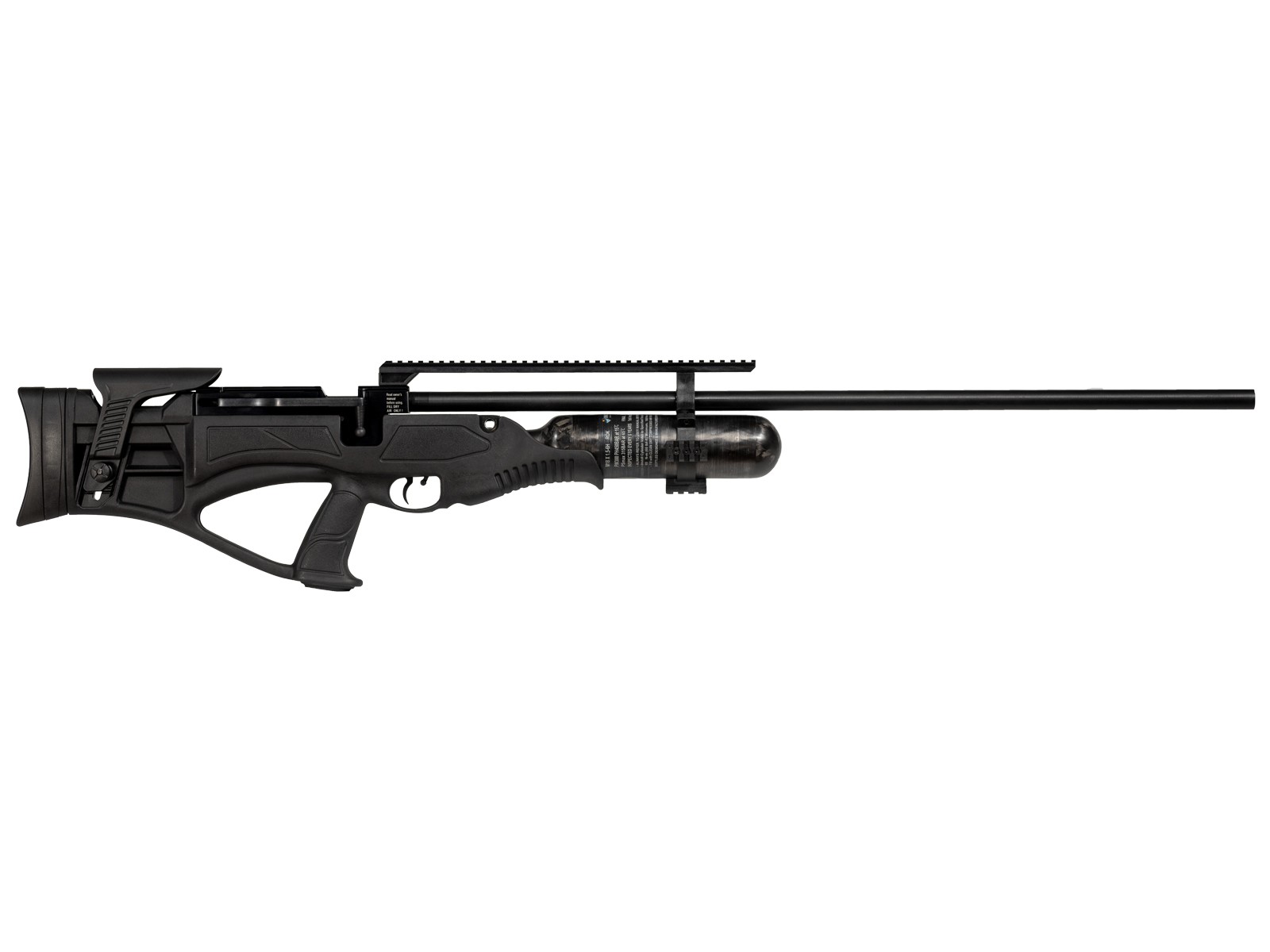 How Powerful is the Hatsan Piledriver?
This is a single shot rifle available in both .45 and .50 caliber. The 480cc carbon fiber bottle takes up to 300 bar (4350 psi) and delivers a number of powerful and accurate shots before you see a change in your point of impact. It's built off a bullpup design with a side lever action. It weighs in at 10 pounds and uses a synthetic stock. If you would indulge me just for a moment, while the convention may seem to be "bigger is better" i.e. .50 is better than .45, we would like to argue the fact that the volume of available ammo options in .45 is probably 5 to 10 times what you will find in .50 cal. So unless you NEED that extra bit of energy you may get with the .50, you may find that the .45 is more versatile because you'll have a lot more in the way of ammo options. Also, the .45 will deliver a few more accurate shots before needing to be refilled.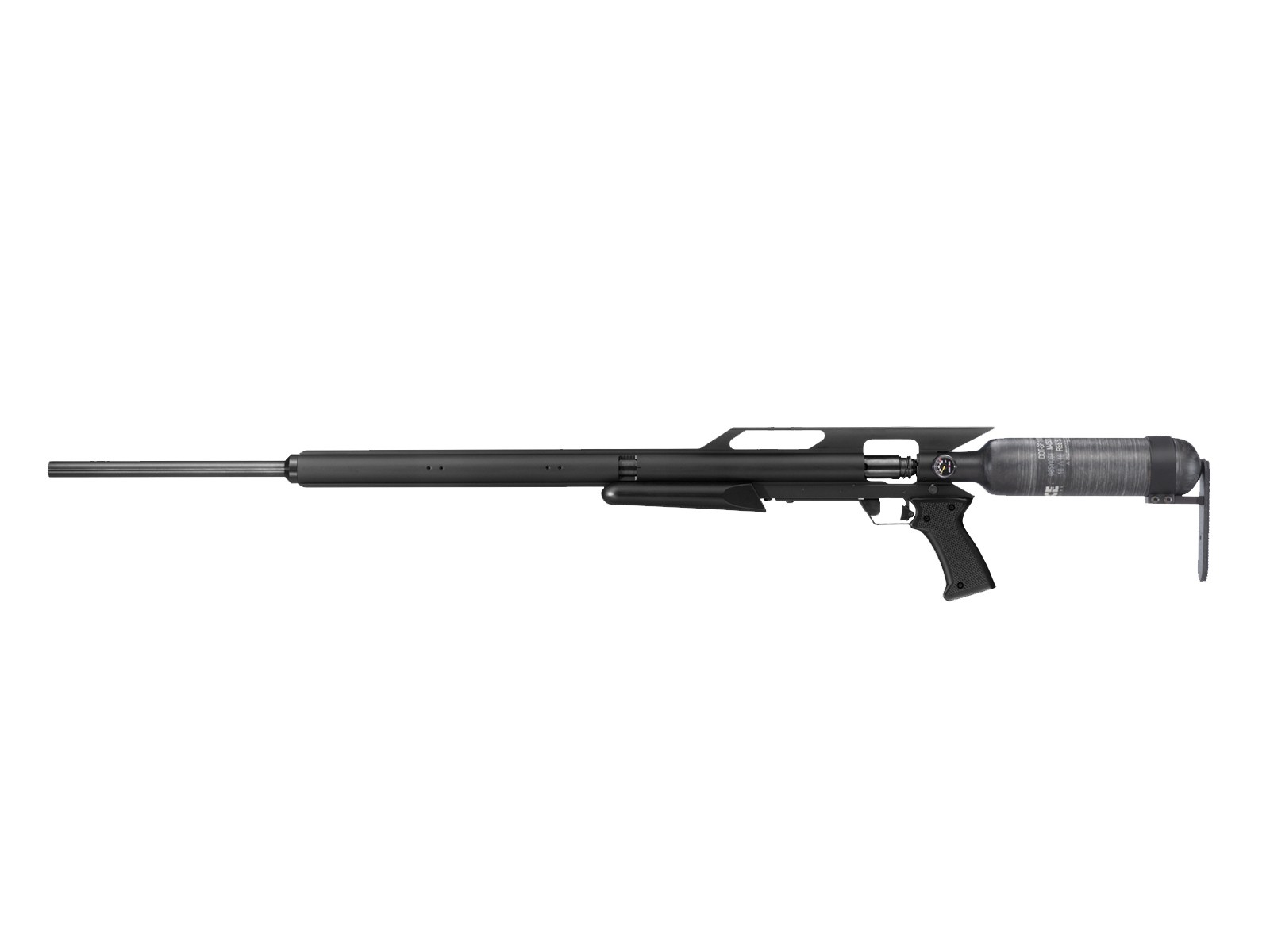 How Powerful is the AirForce Texan with a Carbon Fiber Bottle?
There are many things that look the same on paper when you compare the AirForce Texan to the Hatsan Piledriver. They are both single shot, both have carbon fiber bottles, both are available in .45 and .50 calibers and both say they can deliver up to 800 FPE. But that's about the end of the similarities. The design, materials, overall construction and how they make that power is very different. Where the Hatsan Piledriver is 10 pounds, the AirForce Texan is a fraction over 6 pounds. The Piledriver uses a traditional "bottle forward" design which means that the air has to make a 180 degree turn to drive the pellet out the barrel. This design is very inefficient as the path of least resistance is how you'll get the most power with the least amount of energy.
By contrast, AirForce utilizes the bottle as the stock, incorporating an inline valve design. When the hammer hits the valve, the escaping air is perfectly in line with the bore with a direct path to propel the bullet out the barrel. This is how the Texan is able to produce up to 800 foot-pounds with only 250 bar (3625 psi) vs the 300 bar required by the Piledriver. This is actually important if you are filling your airgun from a tank vs direct filling from a compressor. With a lower required PSI, you'll get a lot more use out of your 4500 PSI carbon fiber tank, only needing to top back off to 3625 PSI, as you'll only ever put into your gun what you have in your tank. Once your tank drops below what you need in your gun, you'll have to refill your bottle.
Either Option Delivers Massive Power
Both airguns are very similar for performance so if you had to choose between the two, it would down to your personal preference in design and possibly even brand loyalty. Without a doubt, however, both manufacturers are pushing the boundaries of what modern big bore airguns can do. It's a brave new world out there for airgunners and it's changing by the minute. Right now, these are fighting for King of the "Most Powerful" airgun hill.
If you are like us, we bet you can't wait to see what comes next, so jump in and have some fun!