Walther makes some exceptional firearms. The airgun variants, created and imported by Umarex USA, are licensed replicas of these precision handguns. This article will compare and contrast two of the most popular models on our site, the Walther PPQ and the Walther PPS.
Let's start with what's the same about both Walther air pistols. They are both powered by CO2 and are chambered in .177 caliber. They are each mostly composite and shoot semi-automatic. From here, things start to vary.
Walther PPS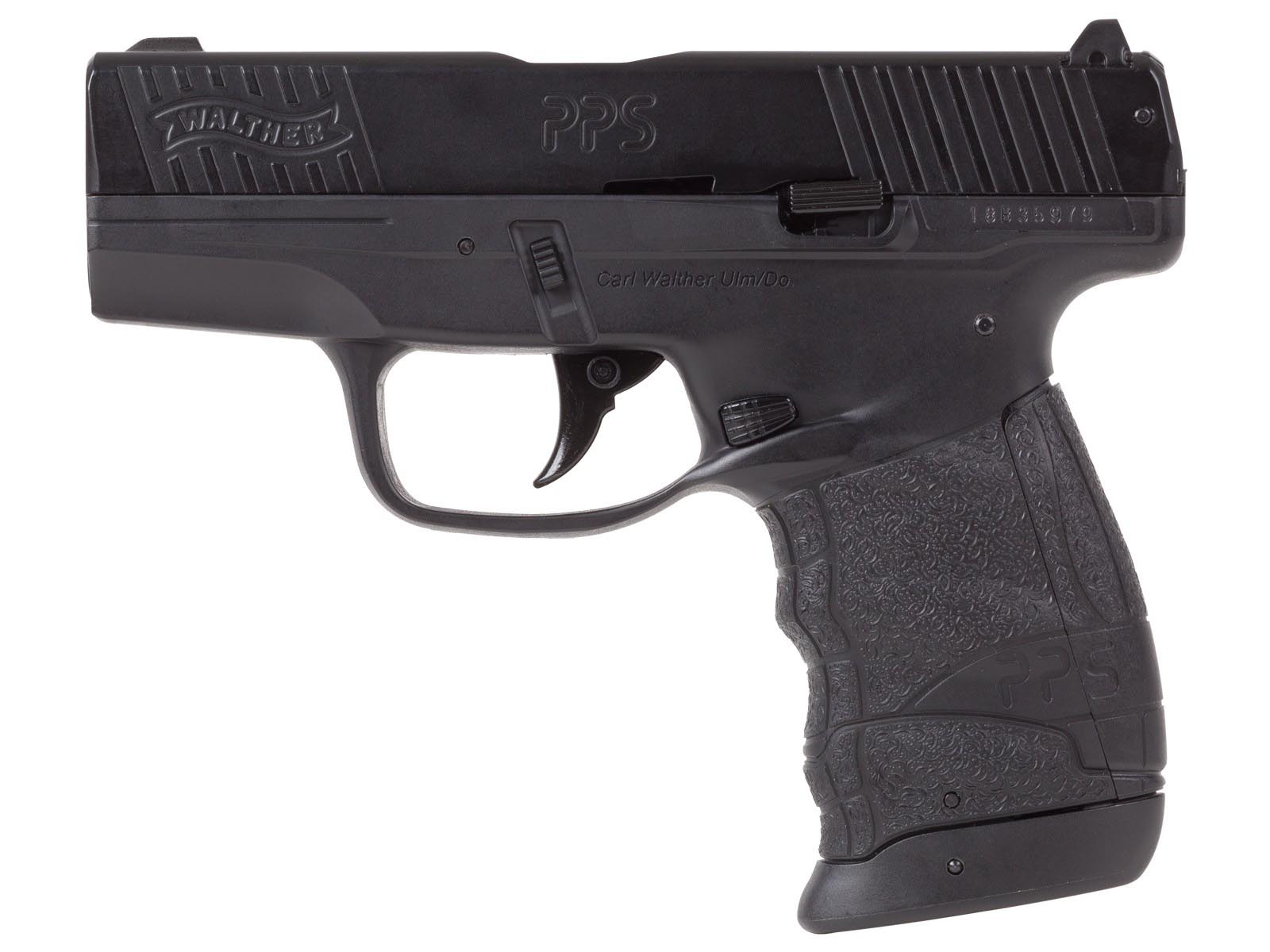 The Walther PPS is an ultra-compact, semi-automatic BB pistol. It fires from an eighteen-round spring tension magazine stored in the grip. It's 6.3″ long with a barrel length of 3.34″ and a weight of only 1.25 pounds. It has a smooth bore barrel and can fire precision ground BBs up to 390 FPS at the muzzle. It has fixed rear sights with a fixed front blade sight. The Walther PPS is not a match precision gun but rather something suited for learning combat accuracy in close quarters.
This gun's overall weight and feel are ideal for personal handgun training, where you want to learn quick target acquisition, fast follow-up shots, and precise trigger control. In addition, it has a firm blowback that simulates firing a live firearm. The blowback action generates some felt recoil that you'll have to manage if you want to see repeatable accuracy. Fortunately, it's not very loud, which means you'll be able to train in a wide range of areas such as indoors, in your back yard, etc. As always, make sure that you're being safe, and adhering to local laws and ordinances, should they apply.
Walther PPQ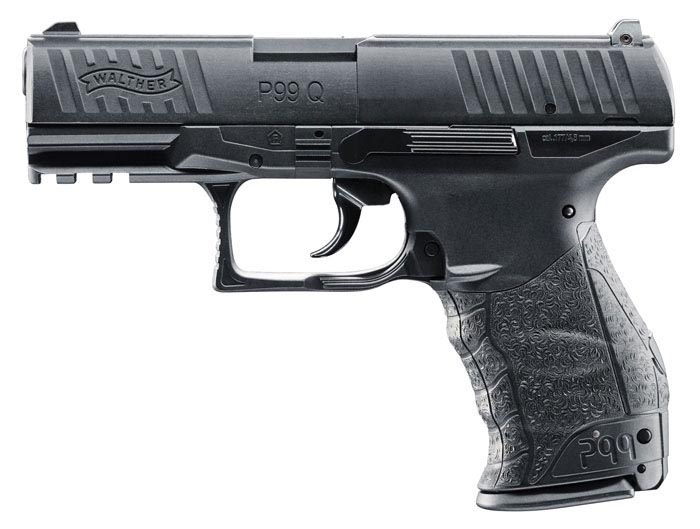 While the PPS is a compact semi-automatic BB pistol, the Walther PPQ is a little larger and heavier. Its overall length is 7″ with a 3.9″ barrel and weight of 1.37 pounds. It also has a very important trick up its sleeve. It has the option to shoot pellets. The PPS shoots BB's from a spring-fed stick-style magazine, where the PPQ uses eight-shot rotary clips.
Additionally, the PPQ is optimized for additional accuracy with pellets and has a rifled barrel vs. the smooth-bore barrel of the PPS. The heavier pellets, combined with the rifled barrel, equates to better accuracy on target.
The Walther PPQ BB gun does not feature blowback, so there's little to no felt recoil. The system shoots double action only and has a heavier trigger pull than the PPS. As with the PPS, the PPQ has fixed rear sights and a fixed front blade. Again, this is not your 10-meter match precision style airgun, but rather an airgun that can help you train for close-quarter situations where speed and point shooting are more important than precision.
The PPQ shoots projectiles at up to 360 FPS and should get more usable shots over the PPS as it does not need to use any CO2 to run the blowback system. It's a great option for those looking for an air pistol that brings the best of both worlds to the table.
Need Help Deciding?
Both the Walther PPQ and Walther PPS are great airguns with some stark differences. While they have some similarities, they will suit the different needs of airgunners based on the shooting preferences. If you would like to learn more about these or other Walther Airguns by Umarex USA, please visit the links in this article. Or, never hesitate to give us a call at Airgun Depot. We are always here to help.