Not too long ago there were maybe one or two options for those wanting to sling arrows from an airgun. Basically, there were the FX and a few more homemade guns here and there.  Then came the Benjamin Pioneer Airbow.  Built from the ground up to propel proprietary arrows at speeds far surpassing the average crossbow, the Pioneer Airbow put extreme accuracy, power, and range in the hands of anyone who could point it downrange, and did so at a very compelling price point when compared to top tier crossbows.
Today that market has really opened up, but why?
There are a lot of good reasons for propelling arrows with airguns, specifically if you want to bring extreme hunting lethality to bear.  When you take a crossbow into the woods, tipped with broadhead as sharp as a razor, you can drop just about anything in range.  You are not delivering a hydrostatic shock, you are driving a knife into the vitals of your target with the intention of bringing it down as quickly as possible. Sure you can get a budget 150-pound draw crossbow, but you get budget build performance and accuracy.
If you want something that really gets the job done, you're going to be spending upwards of $600 and possibly a lot more.  Now imagine if you could deliver more power, more range, and more accuracy for a fraction of that price?
That's where this new breed of arrow shooting airguns comes into play.
Which Way to Go?
There are basically 2 ways to approach shooting arrows from an airgun.
One is to build arrows that work in existing PCP airguns.  That's exactly what Air Venturi did with their Air Bolts.  Driving over 500 FPS from the Seneca .50 cal airguns.  At around $99 for 6 arrows, this low-cost solution really delivers and it's not just for .50 cal airguns either.  They are available in .35, 45, and .50 caliber.  If you have a PCP with a compatible barrel length, you can already be shooting these and taking big game with ease.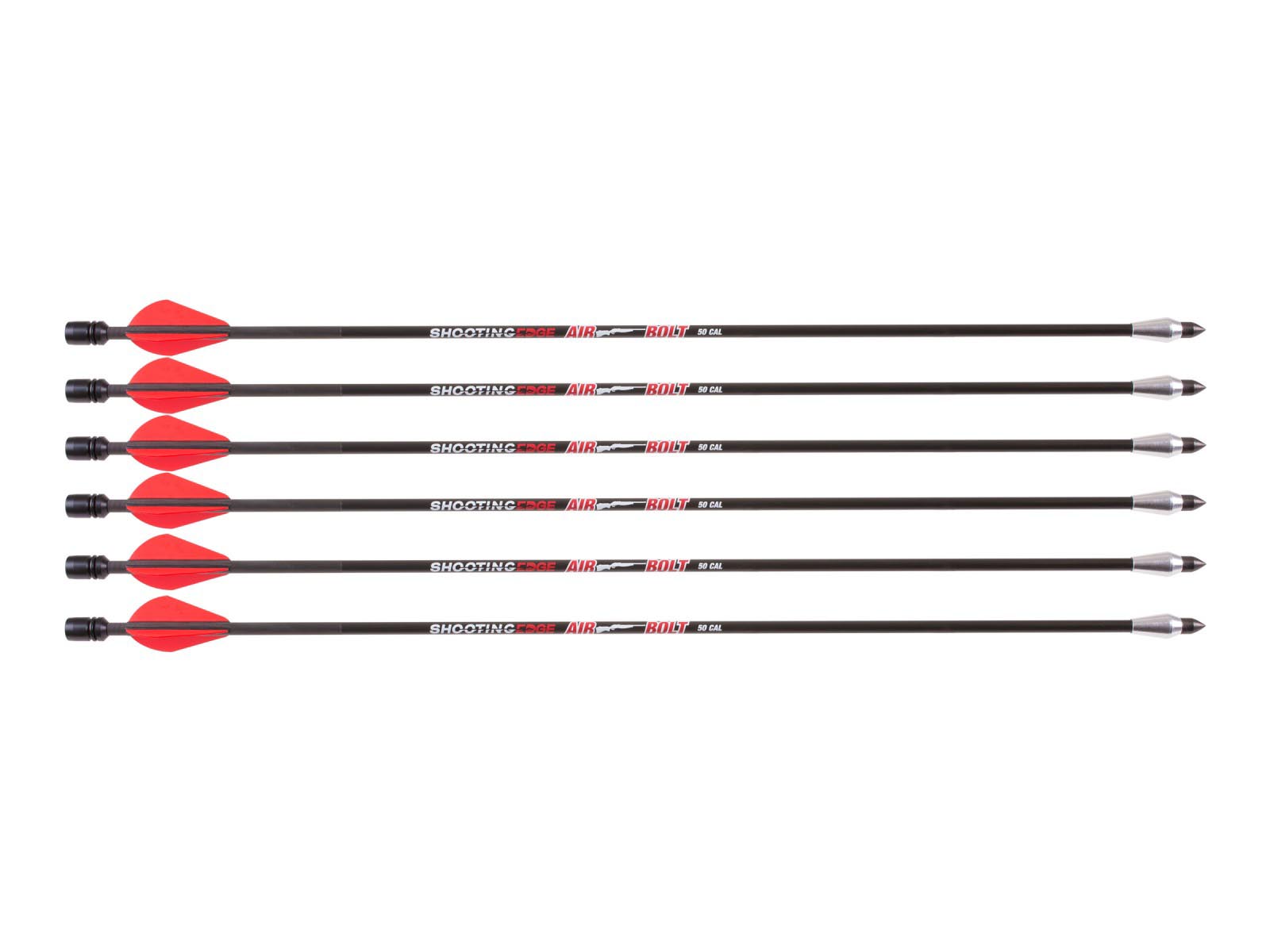 The other direction is to build a gun and then sell proprietary arrows with it, much like the Crosman Pioneer Airbow. Both have their advantages and disadvantages which may be a great topic for another article.
The newest kids on the block are a pair of arrow shooters from Umarex USA. They've taken the second approach building airguns that use their propriety arrows.  But they also added a whole new twist.  Sure they have the Air Saber, an extremely affordable PCP that pushes a 250 grain bolt with 100 grain tip (field or broadhead) at around 450 FPS, but they took a look at the market and created something very different as well.  This year (2020) they launched the Air Javelin.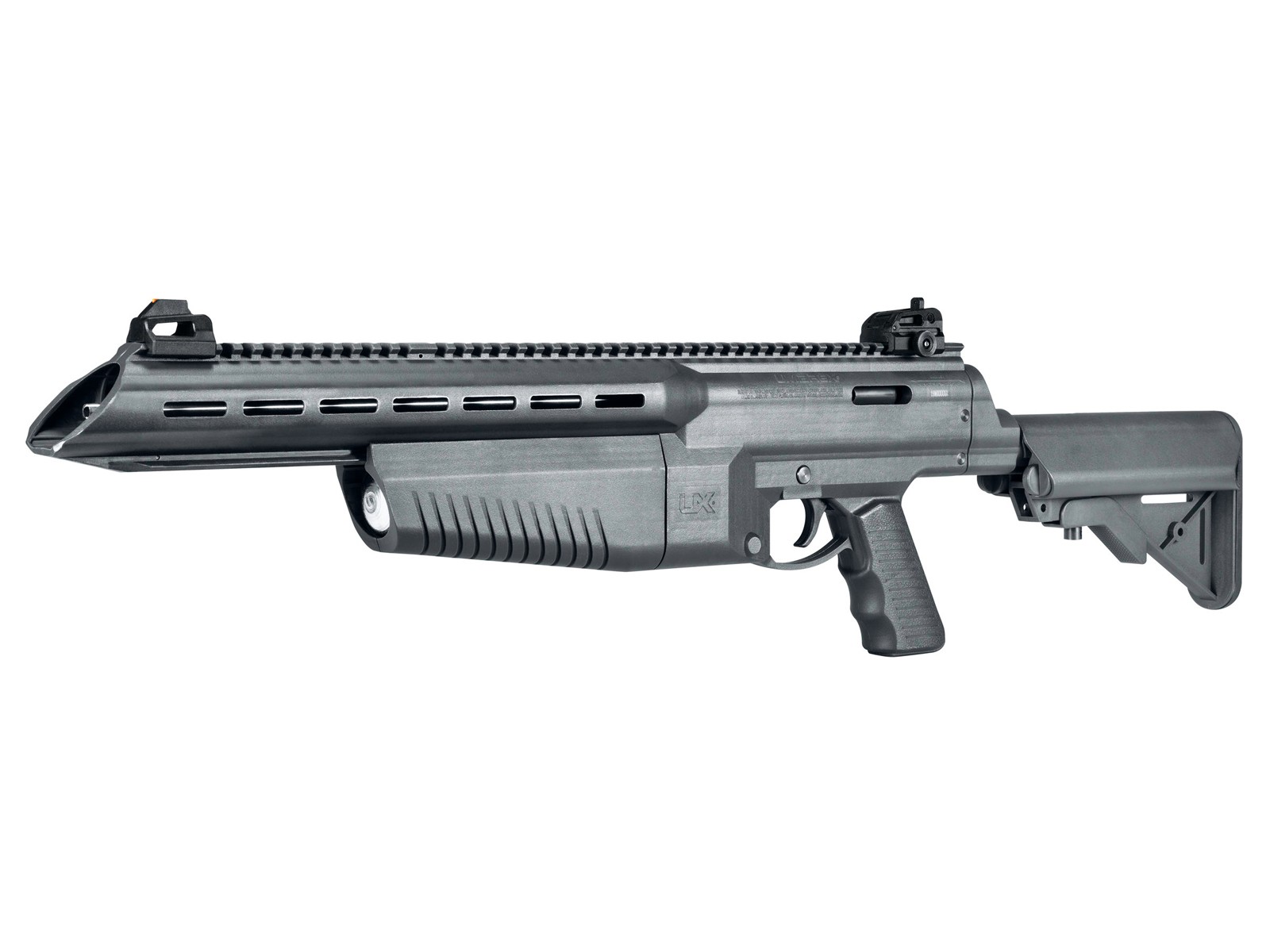 This CO2 powered airgun shoots a smaller, lighter bolt that can also be equipped with a special small game broadhead.  The Air Javelin is addictively fun to shoot just as a target shooter. But that's not all it's good for.  Developing about 34 foot-pounds shooting a 170 grain bolt around 300 FPS, the Air Javelin is also a great small-to-medium game gun for those who really want a challenge.  
Why Not a Crossbow?
So the question continues, why not just get a crossbow if you want to shoot arrows?
For some that may be the right answer. But, if you like to target shoot a lot, or want something lighter, more affordable, more powerful, and frankly, just really cool, then an arrow shooting airgun may be a perfect choice.  Perhaps the biggest advantage is in the simplicity.  You are essentially just shooting another gun. 
No strings, no harsh cocking and decocking methods or mechanical devices to just be able to take a shot.  Simply charge it with the high pressure gas required (air or co2), load your arrow, cock the rifle, and take your shot.  To take another shot, just repeat the process.
More and more shooters are finding that these new arrow airguns are really fun to shoot, with a serious practical side if you want to take them that way. And, you can do it all at a very affordable cost.
Want to learn more about what's out there? Just take a look at our site, or better yet, give us a call and we'll be happy to walk you through your options.