The new TalonP Carbine was developed as a collaboration between Airgun Depot and AirForce Airguns in order to fill a void in the market, where a compact, light, and accurate carbine was needed. The Talon P Carbine features everything that was great about the original Talon P, but with an added baffled moderator and included buttstock. Capable of consistently accurate shots, this is a must have for whenever you're in the field or for backyard pest control.
AirForce TalonP Carbine Features:
Pre-charged pneumatic
Single-shot
Bolt-action
11mm dovetail (no open sights)
12" barrel
2-stage trigger (adj. for position only)
Adjustable buttstock (up to 4.75")
Baffled Moderator
Textured grip
213cc tank
3000 psi max fill pressure
Adjustable power wheel
Up to 30 shots on low power & up to 12 shots on high power
Specs
Manufacturer

AirForce

Caliber

.25

Velocity

900 fps

Condition

New

Ammo Type

Pellets

Action

Bolt-action

Barrel Style

Rifled

Fire Mode

Single-shot

Gun Weight

3.44

Overall Length

23.25

Barrel Length

12.00

Loudness

5-High

Magazine Capacity

0

Mechanism

Pre-charged pneumatic

Rail

11mm dovetail

Safety

Automatic

Front Sights

none

Rear Sights

none

Shots per Fill

0

Trigger Adjustability

Two-stage non-adjustable

Trigger Action

0

Use

Small game hunting/plinking

Warranty

Lifetime limited warranty
Reviews
Average Customer Review
4.8
5.0
6 Reviews
5.0
By mike
USA
April 24, 2020
Verified Purchase
As stated above I purchase the ring lock kit with lock gun. I started with the .123 diameter transfer port. In 25 Cal with 25.4 grain pellets at a power level of 10, I was getting over 800 ft per second. With an astronomical shot count. Buy one go have fun.
Pros
Good agronomics, easy to change Barrel calibers. I purchased the ring lock kit with this gun making power levels infinitely adjustable. It's a fun gun to shoot.
Cons
Not much there to dislike. It could be a little more backyard friendly but if you linre the baffles in the silencer with a suitable material it does quiet it down some
4.0
By Cheng
USA
January 26, 2020
Verified Purchase
This is a solid built quality and powerful little airgun.It's light weight and easy to carry around.Dropped a squirrel right on the spot at 25 yards on my first shot after sight in.Set the power anywhere from 6 to 8 will shoot good using JSB King 25.39gr. and JSB King Heavy 33.95gr. at approx.20 yards.The sound level is back yard friendly on low to medium power( from low to about 8) even though I can hear high pitch sound in my ear but down range is quiet just have someone stand down range and listen to it.The only complain is ...the gun can not be uncocked.Once you load it you have to shoot it away.Due to high power for such a little gun not too many good shots strain.Image below is at approx. 20 yards.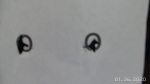 Pros
Accuracy,powerful,mean looking little airgun.
Cons
The gun can not be uncocked.
5.0
By MICHAEL P.
January 26, 2020
Airforce airguns are most gun for the money.
Pros
Made in America.
Cons
None
5.0
By joel
USA
January 9, 2020
shoots realy fast
Pros
metal
5.0
By steve
December 26, 2019
Verified Purchase
Q&A
Question?
Login to ask someone who bought this product.
Is this Talon legal to have or to be order to California? Use for California squirrel hunt.
asked kenny from USA
I have a .25 cal Airforce Condor SS and I just recently bought the new Talon P Carbine . Is the Talon P carbine as quiet as the Condor SS ? Is it more or less quieter ?
asked Robert from USA
The Talon P will be louder.
Mark from USA
How long is the 11mm rail?
asked Rabbi Moshe from USA
Does this one have a spin-loc. If i want to change the barrels?
asked ada from Netherlands (Holland)
The airtank on the Talon P is a spin-loc.
Mark from USA