Barra Cowboy Series 1866 Features
Multipump pneumatic (1-10 pumps)
Shoots BBs and pellets
50-BB reservoir
Shoots pellets one at a time
Bolt action
Gold-colored receiver, barrel band and buttplate
Manual safety
Open sights
Specs
Manufacturer

Barra

Caliber

.177

Velocity

800 fps

Condition

New

Ammo Type

Pellets

Action

Bolt-action

Barrel Style

Rifled

Fire Mode

Repeater

Overall Length

39.00

Barrel Length

20.00

Loudness

3-Medium

Mechanism

Multi-pump pneumatic

Rail

No

Safety

Manual

Front Sights

Blade & Ramp

Rear Sights

Adjustable

Trigger Adjustability

0

Trigger Action

Single-Action

Use

Plinking/Fun

Warranty

30-day limited warranty
Reviews
Average Customer Review
4.3
4.5
3 Reviews
4.0
By Pete
August 14, 2020
Again cannot stress how quiet this thing is, in both firing and the pumping. Great for indoor plinkers or people with tiny pests to control. I am worried about how well it will hold up, but so far so good.
Pros
So far seems to shoot fairly well (only about 12 shots in so far), strangely more powerful than I was expecting, it balled up a squirrel at 10 yards no problem. What nobody seems to mention thought is how quiet it is! It makes a Crossman pumpmaster sound like a shotgun by comparison! Exceptionally quiet and smooth to pump. Very nice in those regards.
Cons
I just wish they would sink a little more money into it. Some areas of it feel so cheap. I'd happily pay 50 bucks more, for a supped up better version of this. With a metal receiver that's been painted to look brass etc. What I'm trying to say is that the concept is there, they just need to execute it a little better.
5.0
By Jed
USA
July 23, 2020
Verified Purchase
I use a sheepskin butt pad to prevent slippage inside my shoulder while aiming because the butt cap is slippery. I unscrewed the butt cap and filled the hollow stock with DAP vinyl spackle. This added 18.7 ounces of weight to the stock and improved the balance of the rifle.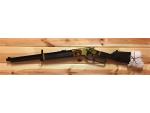 Pros
The price is low and deceiving because it is a much better air gun than the price suggests. Very accurate. I'm hitting 1/2 inch to 1/8th inch groups regularly, freestanding with 8.18 gr H&N pellets from 30 feet. Great looking! The cocking lever is cast steel and easy to pump 10 times but I only need 3 pumps from 30 feet to be accurate. The gold plastic receiver, butt cap and forearm band are strong and look like metal. The rear sight is adjustable for elevation and windage and easy to use. It weighs about 4 lbs. 10 ounces. Rifled octagon barrel! The stock and forearm are plastic and look and feel all right.
Cons
After several shots (hundreds) the hammer, which is the safety when pulled back, wears and falls down by itself. To fix this I slid a piece of leather lace in the space under the hammer when cocked to keep it from falling.
4.0
By Charles
USA
February 20, 2020
Verified Purchase
Pros
Good price
Cons
should be made of metal
Q&A
Question?
Login to ask someone who bought this product.
What's the muzzle energy on this particular rifle?
asked Stephen from USA
What is the the rifle made out of?
asked Thomas from USA
How many pumps do you have to do for the 800 fps ?
asked Treyvin from USA
Is the bolt plastic or metal ?
asked Joseph Anthony
Is this real brass or just god colored plastic ?
asked Joseph Anthony
Is the reciever metal or plastic?
asked Robert from USA
Effort and number of pumps per shot? Quality of components under use. Thanks Considering buying at least three for older grandkids.
asked Martin gavriloff
Which company builds this rifle? Thanks...
asked Rolf