The Beeman Chief II with synthetic stock is an upgraded addition to the popular line of Beeman airguns. Reaching speeds of up to 1000 fps in .177 and 830 fps in .22, the multi-shot repeater offers you a perfect way to get started with small game hunting, pesting, plinking, or target shooting.
This air rifle will give you up to 100 shots per fill in .177 with a full 3000 psi (206 bar) air cylinder, and you'll get quieter shots than with similar air rifles because the barrel features a moderator. You also won't have to worry about your hands slipping from sweat or bad weather, because the forearm and grip are textured. Plus, there's a rubber buttpad to give you better control and more comfort, and you can add sling swivels to the holes in the front of the forearm and rear of the buttstock.
For sighting your shots, this airgun gives you an adjustable rear two dot fiber optic sight and a fixed fiber optic front sight. To increase your precision, mount an optic of your choosing onto the 11mm dovetail rail.
If you're in the market for an air rifle from a trusted manufacturer that won't break the bank to use for pesting, plinking, and small game hunting, get a Beeman Chief II with synthetic stock at Airgun Depot now.
Beeman Chief II, Synthetic Features:
PCP
Repeater
Bolt action
Black synthetic stock
Max velocity: 1000 fps (.177), 830 fps (.22)
2 stage adjustable trigger
Moderator
Fill pressure: 3000 psi (206 bar)
12 shot magazine in .177 / 10 shot magazine in .22 (includes 2)
Up to 100 shots per fill (.177)
Rubber buttpad
11mm Dovetail
Fixed fiber optic front sight
Adjustable two dot rear sight
Male QD Fill Fitting
Textured forearm and grip
Holes in forearm and buttstock for sling swivels
Overall length: 39"
Weight: 6.8 lbs.
Specs
Manufacturer

Beeman

Caliber

.177

Velocity

1000 fps

Condition

New

Ammo Type

Pellets

Action

Bolt-action

Barrel Style

Rifled

Fire Mode

Repeater

Gun Weight

6.80

Overall Length

39.00

Loudness

3-Medium

Magazine Capacity

12

Mechanism

Pre-charged pneumatic

Rail

11mm dovetail

Safety

Manual

Front Sights

Fiber Optic

Rear Sights

Fiber Optic

Shots per Fill

0

Trigger Adjustability

0

Trigger Action

0

Use

Small game hunting/target practice

Warranty

1-year limited warranty
Reviews
Average Customer Review
4.3
4.5
6 Reviews
4.0
By Sean
December 13, 2021
Verified Purchase
Hello all and thank you for taking the time to read my review, ill keep it to the point. This was my first pcp "bb" gun but not my first pcp (air saber. You grew up in the 80's and want a rifle that shoots arrows like one of the villains in the movie "hard target"? Look no further) so I already had a powered pump. This is a negative ill talk about later. Let's get to it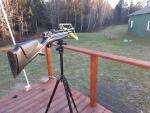 Pros
*Powerful: this is not your ol red rider. It will go through a pallet top board at 10 yards. Think about that. *Sights: I like the factory Sights and who ever at the factory dials them in did a great job (soda can at 70 yards 3k psi first shot from the gun).
Cons
*Bolt loading mechanism: there have been many dead trigger attempted shoots from this gun. The bolt will go far enough back to grab another pellet but not to cock the gun. Its also not smooth but I'm also comparing this to a real rifle bolt action so your mileage may vary. *Fill port: I have a powered pump that is from China. It works great. The problem is that there is not enough space for the pumps filter by this guns "suppressor" with out buying a longer length of pcp line to attach to keep the filter away from the gun
5.0
By Burk
USA
July 14, 2021
Verified Purchase
All I can do is say good bye springer. Always disliked "artillery hold"
Pros
Not too hard to fill with 4 stage hand pump. Great accuracy with open sights provided. Trigger easily adjusted to fit my preference. Just scoped it and very pleased. Likes 18gr or heavier pellets. Looking forward to trying slugs. Look forward to this winter.
Cons
Nothing as of now. Maybe bundle it with a decent scope and mounts
5.0
By Brian
April 15, 2021
Verified Purchase
This is my first PCP, and I feel like I could not have made a better choice.
Pros
There's a LOT to like about this rifle. It's a very economical way to make the jump from break-barrel to PCP. The rifle is light, it has a great sight picture and I found it to be very accurate right out of the box. It's so much fun to shoot with the open sights that I am indefinitely putting off any plans to add a scope. The rifle is relatively quiet. The lack of any recoil is a pleasant change from my gas piston break-barrel, which, though I enjoyed, I now think I will shoot a lot less now that I have this rifle.
Cons
The bolt action is a bit tricky. It's easy to pull it back far enough to feel like you've cycled another pellet from the rotary magazine but not far enough to cock the rifle. It's the one and only thing I wish was a little more solid about this otherwise rock solid rifle.
5.0
By Owen
March 18, 2021
Verified Purchase
all in all. For the price, and all things concidered, I'm kinda in love with it. Its a sleek, lightweight .22 hunting rifle and all around plinker. Something i can teach my kids how to shoot. I'm new to airgunning. Like I used to have a pellet gun as a kid. But nothing like what's out there nowadays. And This is just my second Pcp rifle. I also have a really nice .25 Armada and a few co2 guns including a qb78s and crosman2240. but this is definetly a nice addition to my collection. Its super light weight, powerful, and deadly accurate, I can't wait to get it out in the woods and see what it can do. I'm hooked on pcp guns now.
Pros
Right out the box its an extremely powerful air gun. Its very lightweight with the light synthetic stock and very accurate when you put a nice scope on it. I'm a fan of a light up hunting scope with an adjustable green hunting laser. I put one on all my guns and it gives me insane accuracy, all I have to do is set my distance and then I can pretty Much just use the laser and select my shots. At 25 yards with this I'm driving all my shots right in a tight one hole group. I love how you can simply adjust the power from an Allen screw located right in the cap. And even with the suppressor on full power this thing barks. I got the .22 version to start and I'm splintering a half inch thick plywood pallet. On full power I'm getting about 4 or 5 full magazines before I have to refill. And once I find the sweet spot and get a chronograph ill be able to really fine tune it to get the most shots for power. its easy to reload and I love the single pellet trays it comes with. All in all. loving it
Cons
there are a few little things that could be better. Like the bolt pulls pretty hard, if you don't rack it hard enough, and you have a magazine in its pretty easy to accidentally strip another round. The stock is super light but almost feels a little flimsy and toy like toward the buttstock. But that's just the lightweight polymer and hollow buttstock. Even high end hunting rifle stocks are like that nowadays, It is pretty rugged though still. and there's no real place to attach a bipod. which is okay though, because its just a solid hunting rifle and its so light you don't need the bipod to get a good shot. The safety is hard to set as well if you have the gun cocked. I find its easier to set it to safe then rack the bolt. And the trigger pull is a bit hard. Especially when you crank the power. That's just because of all the pressure you're putting on the spring. and all in all this is a brand new gun and a lot of these kinks will just get better with use over time as I break it in.
Had my girlfriend purchase this for my daughter. Many of the gun reviews said great gun for starting out kids with. My belief is it would be provided they are strong enough to pull the bolt back. And to support the rifle. This one will get a custom made stock and a bipod to help things out. I have turned the hammer spring almost all the way out. This has made it a little easier to pull the bolt back. The other plus to this is it quieted it down and extended the shot count. Down side is it took most of the power away. Would I buy again? Probably if it were for a 10+ year old. Price is good performance is good. Shot count is not going to be what they say at the setup out of the box. They never are. Don't take this as a bad review. Just things everyone shou!d know before spending your money. I am a very blunt person and tell it the way I see it. I will most likely take the bolt out and clean it up a bit and see if that helps
Pros
Open sights worked well. Power was good. Accuracy out of the box was good. Hitting a tennis ball at 10-15 yards with first shots straight from the box. Not cleaned just filled and shot. Not a bad gun just not what a lot of the reviewers made it out to be, as far as size and weight. Fit and finish are good. Like where the gauge is. Stock seems durable and solid enough. Magazine is easy to fill.
Cons
The bolt is miserable very difficult for smaller shooters. Gun feels much heavier than expected. Don't care for the gap between the shot tray and the receiver housing. Pellets fell in there a couple times. Had to take out the tray turn the gun over and shake it to get the pellet out. Also if you have a compressor with the filter connected to the quick connect the moderator gets in the way. As for the moderator it might as well not be there for as much good as it does. Not backyard friendly.
4.0
By Steve
March 11, 2021
On a budget and want a PCP and step up from .177? Go for it. It'll be a good value as long as it holds up a couple of years - and right now I see no reason why it won't.
Pros
Purchased to replace a sadly dysfunctional (after several years of fun use) broken Benjamin Discovery. Stock nice (mine is wood) and overall good quality if not quite as nice as my old Benjamin - for the price I have no complaint, it's quiet (like the suppression) and about as powerful so will get the job of killing/chasing off squirrels and protecting the chickens done (it'd kill a fox but more likely mame if not hit perfectly). My Chief II came with 2 magazines, some Allen-wrenchs and a de-gassing tool, pleasant surprise. I have yet to add a scope. Sights needed adjustment (not too hard but no instructions) but were all I needed to get on target and explode chicken eggs with gamo diablo 1g flat heads every time at 30 feet (seated, resting gun on a rail). Good value for money.
Cons
Took me a while to figure out how to load the rotary magazine, the instructions are accurate but could be written much better. first time I have had a magazine, love it). Seems to quickly run down from 2000 to 1000 PSI after only 20 shots but that's enough unless wanting to do some extended plinking for fun. The barrel and suppressor overhangs making it a little hard to attach the air fill line. Made in China :(.
Q&A
Question?
Login to ask someone who bought this product.
Where does one purchase the pcp tanks? Walmart, Amazon, or elsewhere? I am new to air rifles and wanted this one for target practice. I saw two rats eating wild birdseed in my yard that was placed for ground birds like doves.
asked Alan from USA
I am new to pcp rifles. Can anyone please tell me how many joules this rifle is, I have found some pellets that requires the use of 7.5 joules or less, I know very little about the world of pcp air rifles, But I want to learn as much as I can, These have replaced my break barrel air rifles for hunting.. Thank you for your help
asked David from USA
Could you install a bipod in this rifle?
asked Eduardo from USA
I think the only place to mount one would be on the air cylinder under the barrel, But I would not recommend that. It could cause a leak or even injury to the shooter or bystanders.. I am not a professional on air rifles But I do understand what high air pressure can do.
David from USA
I'm New to pcp air compressors and rifles and was wondering if all high power air compressors that say they are for uses with air rifles and scuba tanks have an end compatible with this air rifle. Thank you for your help.
asked David from USA
I have found out what I need to know about this question.. Thanks
David from USA
I'm new to pcp air rifles , I have bought a new high power air compressor and was wondering What other attachments are needed to air up the rifle. Thank you for your help.
asked David from USA
I have found out what I need to know about this question as well. Thanks
David from USA
Can I used any air compressor to filled it
asked Dustin from USA
No you need a compressor that exceeds 3000 psi. They make them in electric and hand pump which can give you a good cardio workout while filling the air rifle to 3000 psi
Eric "Rollo" from USA
How do you get air to the rifle
asked Romulo from USA
With a high power air compressor or a hand pump that is built to deliver the high air pressure needed to operate the rifle, about 3000 psi
David from USA
can you deliver here in the philippines?
asked georgson from Philippines
I think you should ask customer service for the answer to your question. Sorry but unless someone else is on here from the Philippines and bought one we would not have an answer
David from USA