The Beeman Commander blends good looks and performance together in a budget friendly package that is just about ready to shoot right when you unbox it. This kit includes a 4x32 scope, so all you need is a fill source for this 3000 PSI max fill PCP and you'll be slinging lead in no time. Boasting up to 100 shots per fill in .177 and up to 80 in .22 cal, the Commander leaves very little to be desired. The handsome hardwood thumbhole stock handles like a dream and the included sound moderator keeps your shooting backyard friendly. Just fill up the 3,000 psi air cylinder, load a 10-shot magazine and send rounds downrange at reported velocities of up to 1,100 fps in .177 cal. and up to 1,000 fps in .22 caliber. If you're a hunter, target shooting, or just in the market for a good entry level PCP, the Beeman Commander combo should be at the top of your list. Get yours at Airgun Depot, today!
Beeman Commander Features:
PCP
Bolt action
Repeater
3,000 psi reservoir
Up to 100 shots per fill in .177 cal., 80 in .22
Max velocity: 1,100 fps (.177), 1,000 fps (.22)
European hardwood ambidextrous thumbhole stock
Rifled steel barrel
Integrated sound suppressor
10-shot rotary magazine
Manual safety
Rubber recoil pad
Fiber-optic sights
Beeman Model 5013 Scope Specs:
4x fixed magnification
32mm objective
1" tube
1/4 MOA click value
Dimensions: 2.7"W x 2.6"H x 14"L
Includes two-piece mount
Specs
Manufacturer

Beeman

Caliber

.177

Velocity

1100 fps

Condition

New

Ammo Type

Pellets

Action

Bolt-action

Barrel Style

Rifled

Fire Mode

Repeater

Gun Weight

10.05

Overall Length

43.00

Barrel Length

24.50

Loudness

3-Medium

Magazine Capacity

10

Mechanism

Pre-charged pneumatic

Rail

Yes

Safety

Manual

Front Sights

Fiber Optic

Rear Sights

Fiber Optic

Shots per Fill

100

Trigger Adjustability

0

Trigger Action

0

Use

Plinking & target practice

Warranty

1-year limited warranty
Reviews
Average Customer Review
4.7
4.5
6 Reviews
3.0
By Mark
USA
May 12, 2021
Verified Purchase
Seriously, if the single shot mechanism was designed better, I'd love this gun. I wish there was a more affordable rifle like this one. PCP is the way to go.
Pros
I really liked this rifle right out of the box. My first PCP and it was awesome. I like the power, the fact that you don't have to cock a lever every time you want to shoot. It was easy to sight in with the scope. Very accurate. I hit the bullseye very easy at 50 yards. Small groupings.
Cons
When you shoot this as a single shot, it is easy for the pellets to fall backward into the "bolt chamber" . They can roll down inside the gun to where there must be a seal of some kind and block the gun from getting enough power for the next shot. If you are lucky, you can turn the gun up side down and shake the pellet out. However, I purchased and returned two of these guns for this reason. The last gun started to leak air from the main air tank. I assume that a pellet I couldn't retrieve got stuck somewhere inside the gun and somehow compromised the system.
5.0
By Christopher
USA
March 27, 2021
Verified Purchase
Additionally, PCP is my airgun future. I like my accurate single shot Beeman QB78-Deluxe - CO2/.177 It's limited compared to PCP vs CO2. Cost for CO2 and when that seal fails, it just blows more than my pocket. Benjamin Marauder is more accurate and quiet compared to the Beeman Commander, but cost 4 times as much. Very happy with both. The Commander is excellent for the $$$ and plinking fun.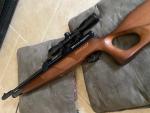 Pros
Pros: PCP budget friendly - Just awesome accuracy shot after shot with the fiber sights or with old man eyes using a scope. She has some "pop" to the sound as it launches. Another "pop" when you hit a metal plate or spoon target. The pellets energy forces itself upon said target. Yet, she is definitely backyard friendly. !5 to 50 yards is accurate with power so far. The wood stock is poetry for this heavy set stout rifle. The grip is perfect for steady shots while in a posture or prone position. The tray for single shot works well for slugs too. Also, from Airgun Depot - Umbrex Ready Air. The Commander likes 2870 psi. (manufacture claims 2900 psi max) with 80 shots to be deployed before needing recharge.
Cons
Cons: Long time to pre-order, nearly 6 weeks. COVID - maybe, it finally arrived. :) The Beeman Commander reload magazines are flaky. The originals are far easier to reload. I understand the reason for upgrade, to have dead load at end of 10 shots. Discharging air with no pellet kinda blows. I had 2 of 4 that would not align correctly due to a defect in magazine. Airgun Depot sent replacements. The center screw on magazine would protrude when compressed to insert into slot of gun chamber, keeping it from aligning and jam pellet when you tried to load chamber.
5.0
By James
USA
March 26, 2021
Clipping baffle when first got it, few rounds (100) down range it cleared its self up. Contacted Beeman they wanted me to return it for repair, but once it cleared up on its own I kept it :) . Use the scope, sights work but suck.
Pros
Bang for the buck. Hitting same spot 50+yards. Pest control fore sure.
Cons
Heavy, needs synthetic (lighter stock) that is adjustable. This platform would be great in a bullpup design to pull weight in to you. Would love to see one in 25cal.
5.0
By Ronnie
March 19, 2021
Verified Purchase
Please someone else review this rifle I'm curious but sure it's a home run
Pros
Update after 500 shots I can say that this is an amazing deal
Cons
The bolt pops up every shot but I'm picking
5.0
By Ronnie
February 28, 2021
Verified Purchase
If you're not willing to take the pcp plunge with this quality an a decent scope for just over 200$.sorry 219$. Then you're missing the best part of airguns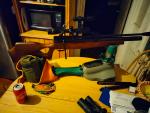 Pros
I just received it today but I'm totally impressed the look the feel are amazing I just shot 40 shots n will update but this is pretty nice rifle shooting accurate
Cons
None yet
Q&A
Question?
Login to ask someone who bought this product.
Hola hay envio para colombia ? gracias
asked Jesus from Colombia
Where did you get your pump for your PCP rifle
asked Randall from USA
Is there need for another bracket on barrel and is it available for the guy that thinks it needs one
asked David from USA
Can sound moderator be removed and cover ring sold and gun still be fired accurately?
asked David from USA
Slugs ??
asked David from USA
Can the compressed air Cylinder be removed (like Hatsans) and exchanged in the field? Can we buy extra cylinders? I don't see in accessories.
asked George from USA
how do you fill the chamber with air
asked Michael from USA
Very expressive high pressure pump electric or hand
David from USA
What do you fill the air up with? A hand pump or compressor? If a compressor, how large does it have to be...
asked Richard from USA
What product can or should i use to repair the finish on the stock of my Commader?
asked Kevin from USA
can I use my home compressor to fill it?
asked Hecson from USA
No, the average shop compressor doesn't reach the PSI requirements to fill the cylinder of a PCP rifle, you'll need a specific high pressure compresor or hand pump.
Kevin from USA
where do you buy a compressor, and how to fill it
asked Don from USA
Is this a pump or CO2 rifle
asked Pablo from USA
Neither, It's a precharged pneumaric "PCP" rifle.
Kevin from USA
where do you buy a compressor
asked Bobby from USA
can I use my home compressor to fill it?
asked Dave from USA
howdoyoufillit
asked wayne from USA
what pump do you recommend for this rifle? I'm trying too stay on a budget.
asked Jackson from USA
Where is this made?
asked Armsbearer from USA