The Benjamin Armada just might be one of the most accurate repeating air rifles available today. That's because the technology- barrel- sound suppression and trigger are based on the proven Benjamin Marauder air rifle. If you're one of the shooters who's complained about airguns not having enough rails- the Armada has more than enough Picatinny rails. Add all the gear you want to get the job done. Since the rifle with scope- mount and bi-pod weigh a bit over 10 lbs.- attach a sling so it's easier to carry in the field. Filling your Benjamin Armada air rifle to no more than 2-600 psi (179 bar) may deliver the most precision. We recommend trying different fill levels between 2000 and 3000 psi to determine the optimum fill level for your rifle. Each gun is different. A chronograph is the best way to determine optimum fill levels for pre-charged pneumatic's (PCP's). Most PCP's require 2-900-3-000 psi air pressure. You can run your air gun on high-pressure air from 2-000 to 3-000 psi by making the adjustments shown in the owner's manual.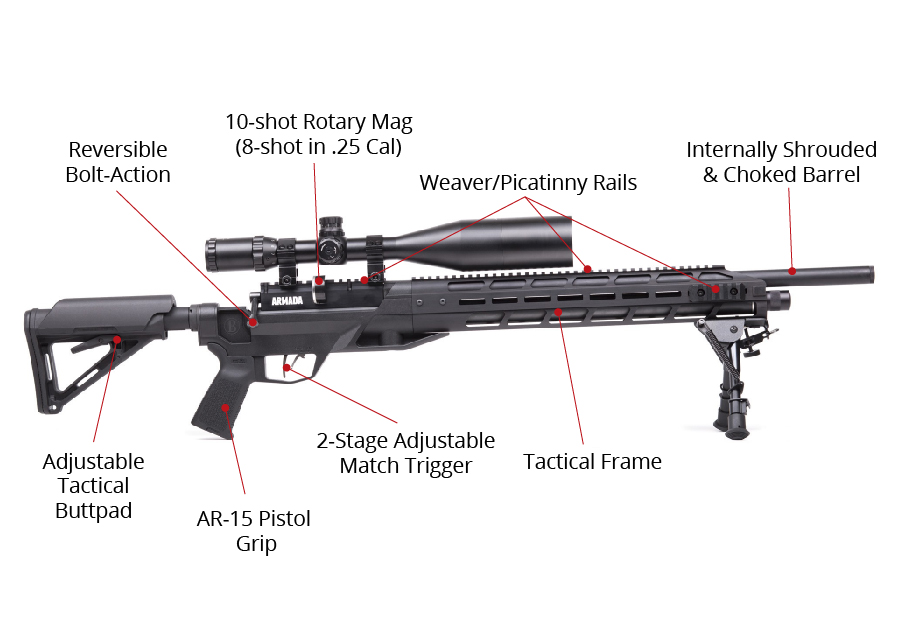 Benjamin Armada Air Rifle Features
Pre-charged pneumatic
10-shot repeater with auto-indexing feature (8 shots in .25)
Bolt-action
AR-compatible airgun
Uses compressed air: 2,000 to 3,000 psi (make adjustments as shown in the owner's manual)
Can be adjusted for different velocities
Internal shroud makes this a VERY quiet gun
Choked barrel delivers superior accuracy
2-stage adjustable match trigger -- and the trigger is metal!
Raised aluminum breech for easier loading of circular magazine
Machined receiver with 5" of Picatinny rail space
AR-15 pistol grip and telescopic buttstock
Sling-ready (there's a sling slot in the buttstock and a sling attachment point where the bi-pod is mounted)
Ambidextrous stock
Built-in air pressure gauge (manometer)
215 cc air reservoir
30+ shots per fill (in .22 caliber)
Can be dry-fired
20" barrel
7.30 lbs. (10.40 lbs. with scope and bi-pod)
Air reservoir ends with a male quick-disconnect Foster fitting for fast refills (requires a female Foster quick-disconnect adapter to fill from a scuba tank or hand pump)
Includes degasser,* depinger, bi-pod (adjustable from 6" to 9"), 4-16x56 AO scope with 4" sunshade and co-witness rings; also includes 2 unmounted rails that are in the same bag as the owner's manual
*As of April 2, 2015, Crosman no longer includes a degasser, however some guns may still have them in the box.
Scope specs
4-16x magnification
56mm objective lens
Mil-dot reticle
10 yards to infinity parallax adjustment
28 oz.
15.5" long
Includes 4" sunshade and Weaver/Picatinny co-witness rings
Bi-pod specs
Folding legs
Spring-loaded extendable legs
6-9" height
Metal with rubber feet
.80 lbs
Specs
Manufacturer

Benjamin

Caliber

.22

Velocity

1000 fps

Condition

New

Ammo Type

Pellets

Action

Bolt-action

Barrel Style

Rifled

Fire Mode

Repeater

Gun Weight

7.30

Overall Length

42.80

Barrel Length

20.00

Loudness

2-Low-Medium

Magazine Capacity

10

Mechanism

Pre-charged pneumatic

Rail

Weaver/Picatinny

Safety

Manual

Front Sights

none

Rear Sights

none

Shots per Fill

30

Trigger Adjustability

Two-stage adjustable

Trigger Action

0

Use

Hunting

Warranty

5-year limited warranty
Reviews
Average Customer Review
4.4
4.5
12 Reviews
5.0
By TRENT
USA
November 16, 2020
Verified Purchase
Pros
This is my first pcp and I love it i gor it in the .25 call and i love the scope that it comes with it 10/10 i would recomend
Cons
a little heavy but it makes up for it for being quiet
4.0
By Geoffrey
USA
October 29, 2020
Verified Purchase
This was my first air gun purchase. One of the reasons I bought this air gun was it was made in the USA. I was a little disappointed to find that the scope and the stand were made in China. I try not to give any of my money to China these days for obvious reasons. I thought the whole package was made in the USA. I would have paid more for a quality non-China scope and stand. I buy USA first, then any other country but China, and if necessary, then China.
Pros
Very Accurate, Quality build rifle.
Cons
A bit heavy but manageable, Not all included components are made in the USA.
4.0
By Shane
USA
November 23, 2019
Everything that I read, I found it impressive and a great weapon for home defense as well as small game in a snap. Cheers, Shane. 🇨🇦
Pros
As I said the flexibility of the weapon with various rails, scopes and a Pressure gauge to help the Operator use the weapon in "Best Case Scenarios"
Cons
Only some models carrying a degasser is saddening.
5.0
By Seth
USA
June 27, 2019
This is a great starter to mid level airgun. Plenty mods available on the market especially from hillairgun.com
Pros
Accuracy - less than 1 inch at 50yds with jsb exact king 25.39 Comfortable Not to loud can put a modorator on it Aftermarket parts available
Cons
Heavy - this is not a walk and hunt rifle. This is a shot from benchrest or prone
5.0
By Mike
USA
November 6, 2018
This is my 2nd. Armada! First is a .22 and this one a .25 cal.. Sweet shooting rifle . The only thing that I had trouble with is the scope !! I don't know if it was the mounts or the scope but I had a hard time getting it zeroed !! I had to SHIM it in the back and the left side to ever get it on! Other than that over all a GREAT gun !
Cons
Scope was a lot of trouble to get zeroed !
5.0
By charles w shaffer
USA
January 29, 2017
I have a few brake barrels and this is my first pcp I vet got a hand pump but them bought a fill tank much better I love this thing use it for Varmint telling you its a beast at 60 yds. its almost unfair I use the H & N Baracuda Hunter great for my use and the hollow point too 27.47 gr the light do fine but tend to ark a little and don't hold a steady pattern ok for plinking but not when it counts .
Pros
on target looks great feels good nice trigger pull scope clear and steady see pic at 50yds.
Cons
little heavy to tote for long time better set up and wait
5.0
By Paul
August 24, 2016
This PCP air rifle from Benjamin is awesome. A friend of mine has the Benjamin Marauder, which has the same internals, loved how the Marauder shoots and the Armada shoots just as great!
Pros
Great air rifle! A bit heavy of a gun ( 10.5 pounds or so ), but I like heavier rifles for more stability. Easy to put everything together and the Magpul M-LOK makes it an awesome looking piece!
Cons
None that I can think of, other than it will require taking more parts off just to get to the velocity adjustment. I probably will not adjust the velocity as it chronographs out of the box at 800 fps and drops from 3000psi to 2650psi over 8 shot magazine with 26-28gr pellets.
5.0
By Gregory
USA
May 27, 2016
I was interested to see the oddly wide range of reviews for this rifle. It is obvious that every gun is a bit different and no two people will have an identical experience but my experience with it over the last 9 months has been very positive. Accuracy? Mine hit the same spot at 25 yards using H&N Barracudas with both the Hunter Extreme and Round Nose pellets. I have also run Benjamin domes with very similar results. Not quite as "same hole" accurate as my Hatsan AT44-QT in .22, but it hits with considerably greater power. With more pellet testing I may get the same accuracy as the Hatsan; it certainly feels like it will get there. The scope (I bought the package deal) did require shimming in order to get enough elevation but I had the same issue with my Hatsan. At the end of the day what matters is are you having fun shooting and do you hit what you aim at. In the case of the Armada that I received the answer is absolutely yes! While I did discover a few minor annoyances (like the standard butt stock feels a bit sloppy but it shoulders secure so no big deal), over-all the rifle feels well made and stable. I've never had an issue cycling the bolt, although the Benjamin pellets are definitely tighter in the breech than the H&Ns, and never had any kind of magazine failure. It is heavy and I anticipated that it would be from other reviews I watched on-line. I did shoot it off-hand a few times and it balances further back than the Hatsan, which is very front heavy, but is not centered enough to make it a comfortable off-hand shooter IMO. But, off a rest it is a tack driver for me out to 30 yards and I suspect that is only the edge of its effective range. I just haven't had occasion to shoot it farther out yet. The only caution; if you are going to use it for pest control as I have been doing this Spring (overrun with ground squirrels) be very aware of the field behind your target. At the distance I've been shooting (average 25 yards) even with the H&N hollow points every single head shot has been thru-and-thru hitting the material behind the target with considerable remaining energy. With the 31gr round nose pellets it will keep going a long way, so be aware. And if you are one of the unfortunate folks who somehow got a lemon in this rifle, send it back to Benjamin or find a qualified airgun smith to fix it because you are missing out on a PCP rifle that is a pure pleasure to shoot.
Pros
Accurate. Powerful. Shoulders perfectly and has very natural ergonomics. Clean consistent trigger action with no adjustment needed unless you are doing very serious target shooting. Not as pellet sensitive as most of the break barrels I've owned. Undeniable "cool factor" in the look and ability to mount add-ons in just about any configuration you might want.
Cons
Heavy for off-hand shooting but the weight is not as much of a deterrent to shooting it off hand as the fact that with a large scope the balance is just a too far forward. A bug-getter or red-dot might change that balance enough to make it an acceptable stand-up gun but it is so much fun to shoot off the bi-pod that I will never find out if that would make a difference. Hopefully another shooter will comment on this in the future.
i have had my armada in .22 for about 6 months now and over 1000 rounds down range. at first i had some trouble finding that magic pellet, however it shot every crosman pellet respectively. if i was shooting 20m or less, its a laser. my armada LOVES polymag shorts. single hole groups at 30m all day long and touching clover leafs at 50 yards. polymags were all i shot until i started to run low and wanted to plink and save the polymags for hunting. i heard of people washing pellets, so i tried something i do with my centerfire bullets, i coated a whole tin of premiers and a tin 19g barracudas in eezox, rolled them around in a paper towel and then let them dry. both shot just as good as the polymags after that, which before i would not have tried to take a squirrel with either of those rounds. anyway, off to buy a .25 armada now. also, i had no issues with airgun depot. a++
Pros
-very accurate -picatinny + m lock makes it very dynamic -i haven't found a pellet that isn't acceptable for hunting, after washing them in eezox.
Cons
heavy for off hand shots. build those stability muscles up!
2.0
By Bonifacio
USA
February 7, 2016
I got my new Benjamin armada .25 cal last Black Friday sales. I am very much disappointed. It works ok at first but later on it jam up the pellets using the the magazine. At first I though it was the size of the pellets but it turns out to be the tip of the barrel at the rear end causing the pellets to be deformed blocking the barrel while cocking the airgun. I tried smaller pellets but same problem comes up. Using it with single pellets without the magazine works ok. I bought two extra magazines resulted with the same problem.
Q&A
Question?
Login to ask someone who bought this product.
is this the new model? or the older version ?
asked ANDREW from USA
Does it comes with a case?ammos? And how big the kick for this gun
asked Junfeng from USA
No case or ammo. Comes in a brown box. There is virtually no recoil in small caliber PCP airguns, which is partly why they are so easy to shoot accurately
Val from USA
I want to buy the 25 cal armada just want to know how it shoots out to 50 yards. Also can you upgrade the barrel
asked Rodney from USA
Shoots beautiful out to 100+ yrds with the right ammo and optics. I am striking matches and splitting toothpicks at 100 yrds
Tony from USA
What Pump Would Work with this? A buy link would be appreciated
asked Tyler from USA
Can this Rifle use flip up sights ? what about the height ?
asked Scrambler82 from USA
Yes. But not if a scope is attached
Tony from USA
Can this rifle use hard sights ? Flip-Ups, standard open sights, anything other than a scope !
asked Scrambler82 from USA
What is the range with this?
asked Duane from USA
I am getting groups of .5"-1" at 108 yrds
Tony from USA
bonjour et pour airgun depot quel document faut il fournir
asked philippe from France
Le client doit s'informer auprs des autorits locales des documents ou permis requis.
Mark from USA
bonjour quelle sont les regles pour la france et les taxes
asked philippe from France
There is no way for us to know all the restrictions on international orders. That is your responsibility as a customer. Il n'y a aucun moyen pour nous de connatre toutes les restrictions sur les commandes internationales. C'est votre responsabilit en tant que client.
Mark from USA
Can i need a permit or a licence for buy this gun and this is a Canada spipping
asked Louis-Philippe from Canada
We can not ship the Armada to Canada.
Mark from USA
Does it come with 2 mags or just one?
asked Felix
Gostaria de sabet se envian para o brasil.e qual seria o valor e segurança de recebimento do profuto
asked Ederaldo from
How does a 2 stage trigger work? Which trigger final fires? If front trigger pulls first, which way do you push/pull it? Is it adjustable?
asked Pat