The Benjamin Armada just might be one of the most accurate repeating air rifles available today. That's because the technology- barrel- sound suppression and trigger are based on the proven Benjamin Marauder air rifle. If you're one of the shooters who's complained about airguns not having enough rails- the Armada has more than enough Picatinny rails. Add all the gear you want to get the job done. Since the rifle with scope- mount and bi-pod weigh a bit over 10 lbs.- attach a sling so it's easier to carry in the field. Filling your Benjamin Armada air rifle to no more than 2-600 psi (179 bar) may deliver the most precision. We recommend trying different fill levels between 2000 and 3000 psi to determine the optimum fill level for your rifle. Each gun is different. A chronograph is the best way to determine optimum fill levels for pre-charged pneumatic's (PCP's). Most PCP's require 2-900-3-000 psi air pressure. You can run your air gun on high-pressure air from 2-000 to 3-000 psi by making the adjustments shown in the owner's manual.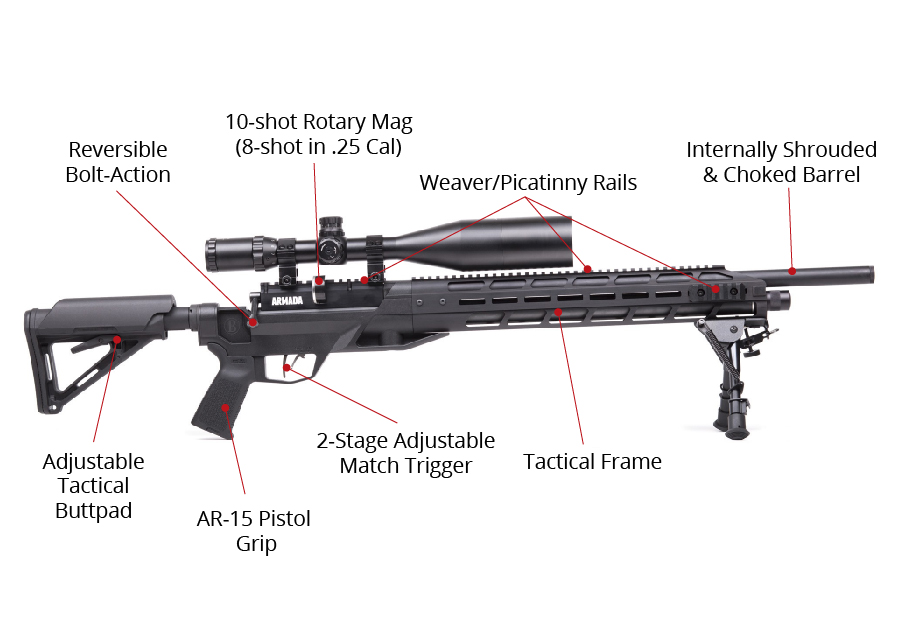 Benjamin Armada Air Rifle Features
Pre-charged pneumatic
10-shot repeater with auto-indexing feature (8 shots in .25)
Bolt-action
AR-compatible airgun
Uses compressed air: 2,000 to 3,000 psi (make adjustments as shown in the owner's manual)
Can be adjusted for different velocities
Internal shroud makes this a VERY quiet gun
Choked barrel delivers superior accuracy
2-stage adjustable match trigger -- and the trigger is metal!
Raised aluminum breech for easier loading of circular magazine
Machined receiver with 5" of Picatinny rail space
AR-15 pistol grip and telescopic buttstock
Sling-ready (there's a sling slot in the buttstock and a sling attachment point where the bi-pod is mounted)
Ambidextrous stock
Built-in air pressure gauge (manometer)
215 cc air reservoir
30+ shots per fill (in .22 caliber)
Can be dry-fired
20" barrel
7.30 lbs. (10.40 lbs. with scope and bi-pod)
Air reservoir ends with a male quick-disconnect Foster fitting for fast refills (requires a female Foster quick-disconnect adapter to fill from a scuba tank or hand pump)
Includes degasser,* depinger, bi-pod (adjustable from 6" to 9"), 4-16x50 AO scope with 4" sunshade and co-witness rings; also includes 2 unmounted rails that are in the same bag as the owner's manual
*As of April 2, 2015, Crosman no longer includes a degasser, however some guns may still have them in the box.
Scope specs
4-16x magnification
50mm objective lens
Mil-dot reticle
10 yards to infinity parallax adjustment
28 oz.
15.5" long
Includes 4" sunshade and Weaver/Picatinny co-witness rings
Bi-pod specs
Folding legs
Spring-loaded extendable legs
6-9" height
Metal with rubber feet
.80 lbs
Specs
Manufacturer

Benjamin

Caliber

.22

Velocity

1000 fps

Condition

New

Ammo Type

Pellets

Action

Bolt-action

Barrel Style

Rifled

Fire Mode

Repeater

Gun Weight

7.30

Overall Length

42.80

Barrel Length

20.00

Loudness

2-Low-Medium

Magazine Capacity

10

Mechanism

Pre-charged pneumatic

Rail

Weaver/Picatinny

Safety

Manual

Front Sights

none

Rear Sights

none

Shots per Fill

30

Trigger Adjustability

Two-stage adjustable

Trigger Action

0

Use

Hunting

Warranty

5-year limited warranty
Reviews
Average Customer Review
4.4
4.5
20 Reviews
1.0
By Scott
USA
September 25, 2023
Verified Purchase
Pros
Thought it was a good gun, but it doesn't hold air and it shoots crooked. I checked everything try to cite it in and it still shoots crooked.
5.0
By Jeramy
USA
July 29, 2023
Verified Purchase
Got the .25 Cal thinking I would be able to defend my sheep from the feral hogs that have been attacking them. Needless to say I have pushed back the Beasts and got some food out of it ( Lamb flavored Bacon) LOL. 40 Yards Head Shot.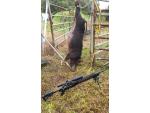 Pros
Powerful, Super Accurate, Quiet, and Best of all No Paperwork (not a firearm).
Cons
Heavy.
5.0
By Adam
April 3, 2023
Verified Purchase
I shot my .22 caliber metal silhouette targets and it does hit hard! Very satisfying sound when hitting them at 50 yards too! Very satisfied to have gone with the Armada as my first PCP airgun!
Pros
Great trigger and it shoots a nickel sized group at 25 yards with Crosman Premiere 14.3 gr pellets. The Center Point scope isn't bad for this platform. I like the ability to customize it with off the shelf AR parts.
Cons
Definitely a heavy rifle but it shoots so well that I don't mind. Buttstock and grip provided are mil-spec per the instruction manual. Adjustable buttstock is loose / wobbly as prior comments have noted. I had planned to change it out for a stock that has a better cheek weld and rubber pad anyway.
5.0
By Chris
USA
December 30, 2021
Pros
What a shooter! Once I got this dialed in 5here was no stopping it. I am shooting starlings at 50 to 70 yards with a 2 mil drop between the two. I have 5 PCP's including an FX but this is my go to gun. It's a bit heavy but that 's helps with stability. Be sure to match the right pellet to this gun.
Cons
A bit heavy,
5.0
By Chris
USA
December 12, 2021
Pros
What a super gun! I have the .22 and I am hitting starlings out to 80 yards. The accuracy of this rifle is amazing. I have 5 PCP rifles and this is my go to when I am not having to move around. It's a bit heavy. If you can only afford one gun, I would say buy this one. It's also super quite.
Cons
A bit on the heavy side.
3.0
By Doug
USA
June 21, 2021
I got the .25 cal and live it, everyone that sees it is like holy $4!t thats an air gun. My 1st shots sighting in the scope did a lot of damage. For safety reasons I mounted a 1/2" cement backer board and a 1/2" piece of composite siding to my 3/4" thick wooden fence. It cleared all 3 layers and lodged into a small tree trunk. I am amazed at the accuracy of this beautiful gun.
Pros
Almost everything. It is so quiet for a .25 cal.
Cons
I keep spending more money for extra stuff to trick out the gun. LOL
5.0
By Joe Gerken
April 29, 2021
Squirrels are taking over my property and my trusty break barrel broke. I decided to enter the world of PCP air rifles and won't be going back. I once thought reviews stating single ragged holes at 30 yards were exaggeration. I was wrong. This Armada that I purchased is excellent. I like everything about it. Ordered it from Airgun Depot and it arrived a week later. Everything was double packaged (excellent) and I received everything I needed to get shooting. I immediately went to Turners for an AR style scope mount and a Magpul stock. Clamped a Nikon scope on the mount and was ready to go. Took 7 shots to zero the scope at 20 yards. Once zeroed, proceeded to spit pellets into one hole about the size of a dime. Moved back to 30 yards and had the same result. I ran out of daylight so the testing will continue today. I have no doubt that the accuracy will be outstanding at longer distances. As always, Airgun Depot was excellent to deal with and shipped my order the same day. Thanks AGD.
Pros
Looks, power, build quality, low noise, accuracy
Cons
Included stock rattles a bit. It's completely functional, but it rattles.
5.0
By TRENT
USA
November 16, 2020
Pros
This is my first pcp and I love it i gor it in the .25 call and i love the scope that it comes with it 10/10 i would recomend
Cons
a little heavy but it makes up for it for being quiet
4.0
By Geoffrey
USA
October 29, 2020
This was my first air gun purchase. One of the reasons I bought this air gun was it was made in the USA. I was a little disappointed to find that the scope and the stand were made in China. I try not to give any of my money to China these days for obvious reasons. I thought the whole package was made in the USA. I would have paid more for a quality non-China scope and stand. I buy USA first, then any other country but China, and if necessary, then China.
Pros
Very Accurate, Quality build rifle.
Cons
A bit heavy but manageable, Not all included components are made in the USA.
Q&A
Question?
Login to ask someone who bought this product.
Can the barrel be replaced with a 700mm or a 800mm barrel.
asked HARRY from USA
best pellets for hunting and the best for target?
asked craig from USA
Is the scope first focal plane or second focal plane?
asked Joshua from USA
I read on different boards that on the earlier models stock is not aligned with the barrel and this makes zeroing in your scope difficult. Also, anyone have any issues with the pressure gauge? A friend of mine had his gauge broken right out of the box.
asked Xavier from USA
What are the best ammo use in this rifle?
asked Sean from USA
In .22 cal, I recommend the JSB Exact Diablo Jumbo Heavy 18.13 gr. As well as the Air Arms Diabolo Field 16 grain pellets as my most accurate. The JSB 18.13 are almost impossible to get ahold of tho, so Ive been sticking with the Air Arms Diabolo Field 16 grains. They work quite well.
John from USA
Would a air venturi g9 pump work on this Benjamin armada
asked William from USA
Yes, I have an Air Venturi G9 pump that I use to fill my .22 Armada.
John from USA
Is there a suppressor available for this model?
asked John from USA
This model is integrally suppressed. There are seven removable baffles in the barrel held in by a screw cap at the front. You can shoot this either suppressed or unsuppressed out of the box.
David from USA
Good evening, how many shots can be made with a single charge of a .25 caliber.
asked Marco from USA
You should expect 8 good shots from this rifle when you charge to 3000 psi. Since this rifle does not have an air regulator, you will have variances in pellet velocities as the pressure in the air reservoir drops. I installed a Hill Air regulator and I get 12 consistent shots per charge now.
Robert from USA
is this the new model? or the older version ?
asked ANDREW from USA
Mine was the new model. Degassing tools are no longer furnished, nor required to bleed off the air in the air reservoir now.
Robert from USA
Does it comes with a case?ammos? And how big the kick for this gun
asked Junfeng from USA
No case or ammo. Comes in a brown box. There is virtually no recoil in small caliber PCP airguns, which is partly why they are so easy to shoot accurately
Val from USA
I want to buy the 25 cal armada just want to know how it shoots out to 50 yards. Also can you upgrade the barrel
asked Rodney from USA
Shoots beautiful out to 100+ yrds with the right ammo and optics. I am striking matches and splitting toothpicks at 100 yrds
Tony from USA
What Pump Would Work with this? A buy link would be appreciated
asked Tyler from USA
I purchased a Yong Heng 4500 psi compressor to fill the tank in about 2 minutes from 0. From 2000 psi to 3000 psi takes about 30 seconds. The Yong Heng compressors can be found on eBay and Amazon for under $300.
Robert from USA
Can this Rifle use flip up sights ? what about the height ?
asked Scrambler82 from USA
Yes. But not if a scope is attached
Tony from USA
Can this rifle use hard sights ? Flip-Ups, standard open sights, anything other than a scope !
asked Scrambler82 from USA
What is the range with this?
asked Duane from USA
I am getting groups of .5"-1" at 108 yrds
Tony from USA
bonjour et pour airgun depot quel document faut il fournir
asked philippe from France
Le client doit s'informer auprs des autorits locales des documents ou permis requis.
Mark from USA
bonjour quelle sont les regles pour la france et les taxes
asked philippe from France
There is no way for us to know all the restrictions on international orders. That is your responsibility as a customer. Il n'y a aucun moyen pour nous de connatre toutes les restrictions sur les commandes internationales. C'est votre responsabilit en tant que client.
Mark from USA
Can i need a permit or a licence for buy this gun and this is a Canada spipping
asked Louis-Philippe from Canada
We can not ship the Armada to Canada.
Mark from USA
Does it come with 2 mags or just one?
asked Felix
Gostaria de sabet se envian para o brasil.e qual seria o valor e segurança de recebimento do profuto
asked Ederaldo from
How does a 2 stage trigger work? Which trigger final fires? If front trigger pulls first, which way do you push/pull it? Is it adjustable?
asked Pat