The Benjamin Armada just might be one of the most accurate repeating air rifles available today. That's because the technology- barrel- sound suppression and trigger are based on the proven Benjamin Marauder air rifle. If you're one of the shooters who's complained about airguns not having enough rails- the Armada has more than enough Picatinny rails. Add all the gear you want to get the job done. Filling your Benjamin Armada Magpul air rifle to no more than 2-600 psi (179 bar) may deliver the most precision. We recommend trying different fill levels between 2000 and 3000 psi to determine the optimum fill level for your rifle. Each gun is different. A chronograph is the best way to determine optimum fill levels for precharged pneumatics (PCPs). Most PCPs require 2-900-3-000 psi air pressure. You can run your air gun on high-pressure air from 2-000 to 3-000 psi by making the adjustments shown in the owner's manual.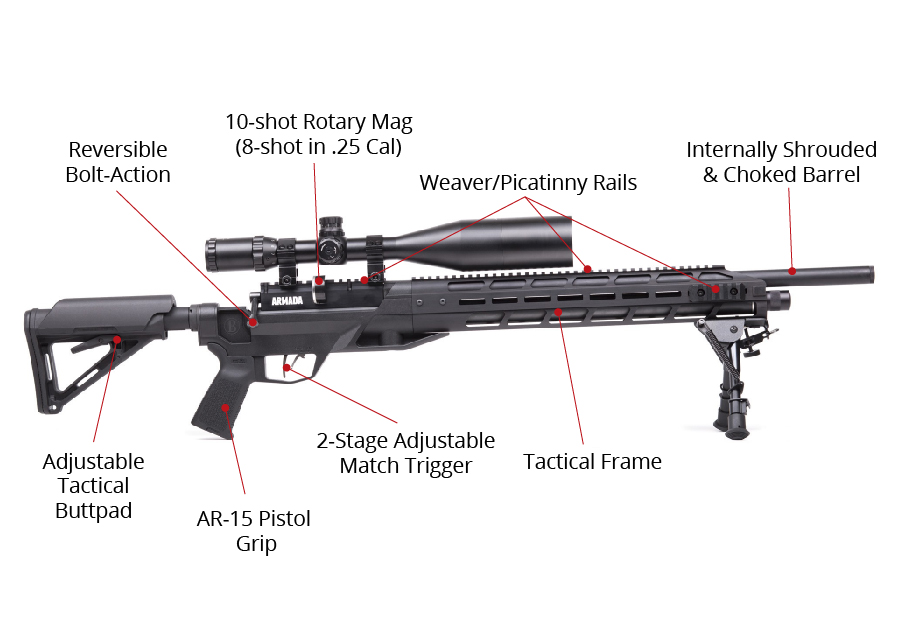 Benjamin Armada Air Rifle Features
Precharged pneumatic
10-shot repeater with auto-indexing feature (8-shot in .25 caliber)
Bolt-action
AR-compatible airgun
Uses compressed air: 2-000 to 3-000 psi (make adjustments as shown in the owner's manual)
Can be adjusted for different velocities
Internal shroud makes this a VERY quiet gun
Choked barrel delivers superior accuracy
2-stage adjustable match trigger...and the trigger is metal!
Raised aluminum breech for easier loading of circular magazine
Magpul M-LOK slotted all-metal handguard with 15" of Picatinny rail space
Machined receiver with 5" of Picatinny rail space
AR-15 pistol grip and telescopic buttstock
Sling-ready (there's a sling slot in the buttstock and a sling attachment point where the bipod is mounted)
Ambidextrous stock
Built-in air pressure gauge (manometer)
215cc air reservoir
30+ shots per fill (in .22 caliber)
Can be dry-fired
20" barrel
7.30 lbs. (10.40 lbs. with scope and bipod)
Air reservoir ends with a male quick-disconnect Foster fitting for fast refills (requires a female Foster quick-disconnect adapter to fill from a scuba tank or hand pump)
Includes degasser-* depinger and 2 unmounted rails that are in the same bag as the owner's manual
Officially licensed rifle for the Magpul M-LOK modular accessory system
*As of April 2- 2015- Crosman no longer includes a degasser- however some guns may still have them in the box.
Specs
Manufacturer

Benjamin

Caliber

.22

Velocity

1000 fps

Condition

New

Ammo Type

Pellets

Action

Bolt-action

Barrel Style

Rifled

Fire Mode

Repeater

Gun Weight

7.30

Overall Length

42.80

Barrel Length

20.00

Loudness

2-Low-Medium

Magazine Capacity

10

Mechanism

Pre-charged pneumatic

Rail

Weaver/Picatinny

Safety

Manual

Front Sights

none

Rear Sights

none

Shots per Fill

30

Trigger Adjustability

0

Trigger Action

0

Use

Hunting

Warranty

5-year limited warranty
Reviews
Average Customer Review
4.8
5.0
10 Reviews
Buy a compressor and a 2L air tank. Fill tank on compressor and then use air tank to fill rifle. My shoots best with H & N Barracuda Match 4.5mm/.177 cal 10.65 pellets. I have a 6x24 x60 scope and laser (green) mounted on lower Picatinny
Pros
Very Accurate and reliable.
Cons
Nothing at all !
5.0
By Scrambler82
USA
September 21, 2022
I found this gun to be a superior quality build, fitment is the best. I started with open sights and did well enough, went to the Scope... unstoppable, if you can see, it you can shoot it.
Pros
Shooting at 70 yards and taking down small varmints no problem. Easy to fill air tube access and with a Pressurized air tank. Magazines fill easy and mount in gun easy. Add on furniture a plenty... Mag-Pull accessories... easy installs. Adjust easily. With a scope deadly, open sights works well too !
Cons
Heavy, not sure how to reduce the weight. Magazine could be larger, 20 rounds would be nice.
5.0
By Paul Hertensen NON SHIPPING
USA
November 24, 2021
I would buy another one just like it
Pros
It's everything they say, love this gun but I have an issue with it that needs repaired but can fine where to send it to get fixed Was using one slug that worked without any issues, fired 0ver 500 rounds with no issues until I changed out slugs, it jammed and ever since it will not load any slug correctly, I think so Ming got moved. We're can I send to get fixed?
Cons
Nothing
5.0
By Richard
USA
March 26, 2021
Get the upgraded barrel if you want more to be slightly more accurate ... Stock ones good dont be fooled
Pros
I have this gun in .177 and I suggest getting the upgraded barrel.. Well worth it . This gun shoots very well and on point 75 yard to 100 . Best pcp gun I own
Cons
Nothing
4.0
By Jimmy
USA
October 6, 2020
Love the styling , great looking . Quick follow ups , works as advertised , accurate , got the 22 , love the abilty to take follow up shots just by cycling the bolt . Get more than 3 mags of shots between refills , have to get two more mags , lol . Got to follow my own advice , checking for leaks and such , so going to do that soon , marauder and pioneer rebuild guides will walk me through the process . Happy hunting !!!
Pros
ar compatable platform , put all your toys on , make it yours !!!
Cons
leaks , easy enough to fix , check where its leaking air , front or trigger , go online and follow instructions ,
5.0
By Jared
USA
June 10, 2020
Benjamin Armada is really something. After shooting over 1000 pellets I'm more than satisfied. It holds up perfect with dead shot accuracy and power. The weight and heft is great. Love the look! I recommend getting an extra mag or two.
Pros
Nearly everything!
Cons
It'd be nice if the stock was a little higher end but no big deal, easy to change out!
5.0
By Carlton
USA
February 11, 2020
I have both .25 & .22. Very light weight, extremely accurate, relatively quite. I have no negatives Re: this rifle. Highly recommend.
5.0
By Francisco
USA
January 24, 2018
This update is to show just how versatile the Benjamin Armada really is. Here is my build with an Steyer AUG bullpup stock.
Pros
Versatile fun fun fun!
4.0
By Christian
USA
February 19, 2017
This was my first airgun purchase. I am very happy with it. The .25 is a great pellet size. I have been using it for rabbit control at between 35/75 yards. Plenty of power. Accurate and packs a punch. It's what I needed. Fills well with a hand pump.
Pros
Accurate with the green mountain barrel. Good energy at distances up to 100 yards. Looks really nice with the tactical body kit.
Cons
A bit heavy. Being unregulated it's shot count is low. I get only about 12 really good shots.
5.0
By Francisco
USA
December 28, 2016
I am a Native/Hispanic American Desert Storm Veteran, and have been shooting and hunting for over forty five years. I purchased this PCP rifle from Airgun Depot thru Amazon Prime, and the Benjamin Armada, .25 cal is by far the best PCP air rifle that is in my collection. I have hunted game such as a large coyote, two wild turkeys, a porcupine, and several jack rabbits, squirrels, crows, and feral cats. I use H&N Baracuda .25 Cal, 31.02 gr - 200 ct bought here at Air Gun Depot. If the "chase" is your use, get the .25 cal. If your use is target shooting, get the .22 cal.
Pros
Price, velocity, accuracy, and FPE. With the AR platform it is very versatile. Easily fill the 215cc reservoir with a high pressure hand pump. The perfect 2nd Generation Benjamin M-Rod on the "chase" in the wilderness, field, ranch or farm! I believe that it is as good as the Benjamin Rogue, .357 cal... or better with the AR platform.
Cons
A bit front end heavy with the addition of a scope, forearm grip and bi-pod. I am going to purchase another Benjamin Armada, .25 cal, and convert to a bull pup stock. I also need to build a stronger pellet trap, for it has been torn to shreds by my Benjamin Armada, .25 cal!
Q&A
Question?
Login to ask someone who bought this product.
Is the Nikon prostaff 3-9/40 compatible with this rifle
asked Cristian from Mexico
By Francisco, Do you own a Benjimen 357 cal and if so is there any positive over 22, 25 ,357? Does the 22 have a lasting longer air or are they all the same? What Tribe are your from?
asked Gerald from USA
How many pumps with a hand pump to fill to capacity ?
asked John from USA
Size of the Armada's Stock's Mounting Tube - BTAP22 ?
asked Scrambler82 from USA
What's in the box ?
asked Scrambler82 from USA
Depending on which kit you buy, the standard Armada comes with the rifle, detachable bipod, 1 magazine, collapsible stock, a Center Point scope, 30mm rings, and a sun shade.
Robert from USA