The deep, rich bluing and the stockwork are reminiscent of fine European air rifles...but you'll be paying a lot less than what you'd spend for one of them. You will lack nothing with this air rifle. Get it. Shoot it. Enjoy it. You'll be the envy of your airgunning friends. If you're just venturing into PCP guns, get this gun! You'll be hooked for life. It's not just the fact that it's remarkably accurate. But it's got a spectacular trigger. One that you usually find on much more expensive guns.
Upgrades from the original version of the popular Benjamin Marauder:
Factory-installed depinger changes the sharp "ping" to a dull thud
Improved valve (increases the number of shots: .177/.22=32 shots, .25=16 shots)
Trigger moved back for better hand position
Reversible bolt for left- or right-handed shooters
Simplified the breech design for assembly, service and to provide a more stable platform for larger scopes
Benjamin has done everything right when it comes to filling this gun because the quick-disconnect is an industry standard. You'll never have a problem finding a way to fill your gun with air.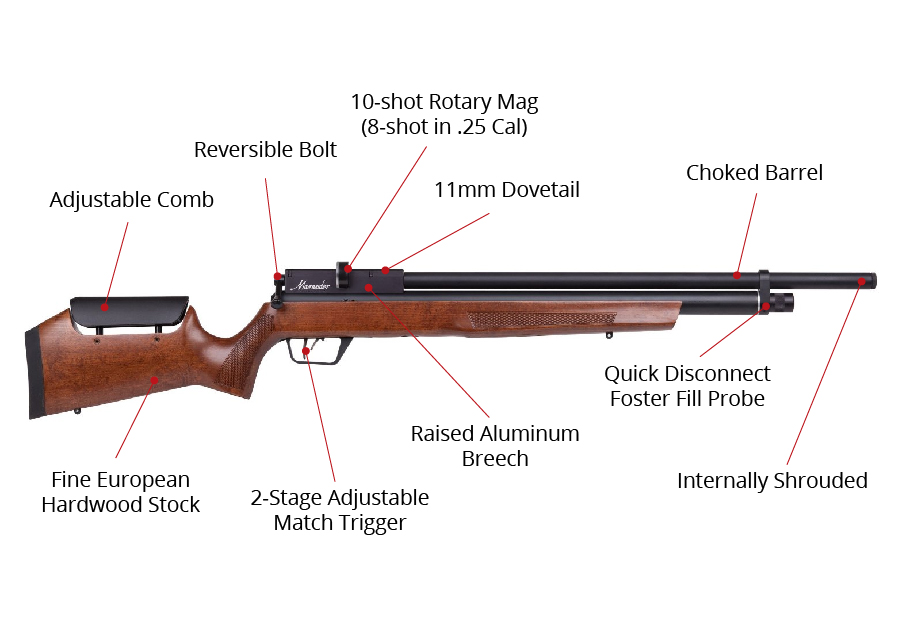 Benjamin Marauder Air Rifle Features
10-shot repeater with auto-indexing feature
Choked barrel delivers superior accuracy
2-stage adjustable match trigger
Raised aluminum breech for easier loading of circular magazine
Built-in air pressure gauge (manometer)
Manual Safety
*The owner's manual does not show the correct weight and length for this rifle. **The gun arrives with the bolt set up for right-handed shooters. If you're left-handed, the bolt can be moved to the other side.
Specs
Manufacturer

Benjamin

Caliber

.177

Velocity

1100 fps

Condition

New

Ammo Type

Pellets

Action

Bolt-action

Barrel Style

Rifled

Fire Mode

Repeater

Gun Weight

8.20

Overall Length

42.80

Barrel Length

20.00

Loudness

2-Low-Medium

Magazine Capacity

10

Mechanism

Pre-charged pneumatic

Rail

11mm dovetail

Safety

Manual

Front Sights

none

Rear Sights

none

Shots per Fill

32

Trigger Adjustability

Two-stage adjustable

Trigger Action

0

Use

Small game hunting/target practice

Warranty

5-year limited warranty
Reviews
Average Customer Review
4.8
5.0
33 Reviews
5.0
By Bill
February 12, 2023
Verified Purchase
had a break barrel you can't even compare it
Pros
love this gun, 30 yard can group on a dime even a beautiful gun to look at.
Cons
you have to pump it up
5.0
By David
December 31, 2022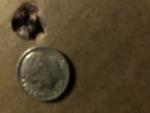 Pros
This is one of the best air guns Ive owned. It is extremely accurate, very quiet and has no recoil. At 40 yards it will group all pellets in the same hole smaller than a dime. The accuracy remains pretty good on out there as well and is very predictable. If you use a scope that has graduation marks for elevation. My last gun was a break barrel and trying to hit a quarter size target at 30-60 yards was a crapshoot as the elevation would change from shot to shot. So far the most accurate ammunition Ive used is H&N barracuda match. The very heavy pellet seems to be less affected by Crosswinds, or anything like that. The only drawback that I can see is that the gun is fairly heavy. No problem just buy a sling and throw it over your shoulder. Id also recommend buying a compressor they're only $100 or so more than a hand pump and will make life much easier.
2.0
By George
October 29, 2020
For the money I paid, I expected less issues. This is my second Marauder. I had to send the first one back as it leaked when filled.
Pros
Good looking rifle. It is as quiet as they have advertised it.
Cons
The charging handle sticks and it grabs when it cocks the rifle. The magazine does not fit well. Could be the lothan barrel binds the magazine making it unusable
5.0
By Brandon
November 6, 2019
This gun exceeded my expectations.
5.0
By Bob
January 24, 2019
The rifle is out of this world accurate! After cleaning to bore and checking for any bolts and screws. Finding everything in perfect order, I filled the reservoir to 3000 psi. First group of five duplicated the test target sent with the rifle (all in one hole). Needless to say that got my attention. Used the JSB18.13 and first group was at 10yds. After a bit of gleefully jumping around, I fired two five shot groups at 30 yds. More jumping around! First group went into target at .255 with the second group producing .262. I purchased this rifle to squirrel hunt with and I believe we have that issue covered with rifle. I used no special procedures to produce these results as it was cold and I threw a boat cushion on top of the bench and went to work. Trigger pull is fantastic, gun is so quiet it left me wondering if it had actually fired on the first shot (it did) stock looks great. Really cool part, it arrived one day earlier than stated. Thanks to Air Gun Depot for their excellent service in processing this order. WOW. Purchasing one of these Marauder's has only made me wonder why I haven't ordered the .25 cal. yet.
Pros
The gun works! Period!
Cons
None
5.0
By Greg
USA
December 30, 2018
Got a good barrel! Came with a target supposedly shot at the factory, so I guess they may have solved that occasional bad barrel problem. This 22 shoots as well as my 25. Can't wait to bag a hog with this beauty. Nice wood, and consistent groups. Sub 3" at 100 yards. 1" at 50 yards. One hole groups at 40 yards. Except for cleaning the barrel it's like it came right out of the box. I'm using a 3-12 bug buster, but may swap to a larger objective lens scope. This has the accuracy for a 4-16X50 scope. Soda cans at 100 yards are no problem. Even laying down with only the bottom showing. Loves 18 grain pellets. This is an excellent rifle shooting as well as some much more expensive rifles.
Pros
Price. Excellent magazines. Very consistent shooting for a non regulated gun. Mine is very accurate. Love the wood stock.
Cons
Could come with a single shot tray.
5.0
By Gerald Sequeira
USA
December 15, 2018
My first Marauder is a second generation .22 synthetic stock model which was also my first PCP. I fell in love with that rifle right away. Quiet, nice smooth trigger and super accurate for it's price point and pretty easy to maintain. This rifle, .177 is all that and more the accuracy is approaching my FX wildcat but not quite there, considering the cost difference, that says a lot ! The trigger on this Marauder is very good out of the box. I,ve installed a Hawke Sport HD IR 4-12x50 the same scope on my .22 Marauder, which works very well. I like the look of the wood stock but it's awfully slick not to thrilled with it so I've upgraded it to a Boyds Grey Laminate stock with an adjustable check piece which makes this gun look beautiful and perform awesome !!! I also up-graded my older .22 Marauder to a crosman camo synthetic which is much nicer than the original black synthetic unit and it feel's better than the wood stock on this gun very happy with that. Love this gun and if your looking at going into PCP this is the best gun to start off with. I'd get the synthetic version and upgrade.
Pros
PRICE for what you get is fantastic, as stated above it's very accurate, super quiet, excellent adjustable trigger, easy to maintain if you have a some basic tools and you know how to use them. My .22 Marauder loves H&N Barracuda Match pellets and that's all I've used in this gun so far with great results. The Lothar Walther Barrel is fantastic !!
Cons
My only complaint is the wood stock is very slick, this is a fairly heavy gun and the stock just makes me feel like I'm going to drop it. I'm not a sling guy which would be a good idea for hunting on this rifle. I up-graded to a Boyds stock so for $240 problem solved and what an awesome solution it is !!
I pulled this out of the box and literally shot one hole groups. Amazingly quiet, accurate and well made air rifle. For those that are trying choose between .22 and .25 some say the .25 is more accurate since the barrel is made by another company and is more accurate than the .22. Part of this misunderstanding comes from pellet quality. Essentially all .25 pellets are premium or match grade quality. there is more variation in .22 pellets. Once you identify the right pellets for your Marauder, you will find that the .22 is every bit as accurate.
5.0
By matt
USA
January 4, 2018
I got a .25 synthetic Marauder a year before, and was so impressed with everything, I HAD TO give it a sibling! I then ordered this .22 with wood stock when I saw the amazing $75-off instant discount! New gun ended up being $375... with a good scope on it...$500. I am so far as equally satisfied with its simplicity, accuracy, quality, quietness...etc. I like the trigger. It's not german engineered, but it is light, smooth, and predictable. I put a BSA 4-12x40 scope on and after a few shots, it is extremely accurate using standard inexpensive Crosman hollow points, or I like the "Pirranhas" because they just do an extra little number on the squirrels in the backyard! The gun is accurate and quiet which are my two main considerations. I live in a popular neighborhood in a large city, and I don't want to alert anybody about my potentially controversial but necessary activities in my back yard. Squirrels are my main target, (they are out of control!) and you wouldn't believe how many bleeding-heart, fuzzy-animal-loving-snowflakes that there are! Also, hanging out with anything that appears to be a gun these days tends to cause huge alarm with anyone who watches the news! ANYWAYS! Yes. The sound of the pellet hitting my little grey nemesis(es) makes more sound than the gun itself! Most of my shooting is up to about 75 yards, and this gun is spot-on every time. Limited only by my own hold or strategic position that I can quickly take...those buggers don't stop moving unless they're hiding from someone else! I think that the .22 is better for me and this environment because .25 can sometimes be a bit much for a squirrel. The air range I stay in is from 2900psi down to 1200 or so, I can get 50+ good shots. The action feels smooth and firm. All in all, this has become my go-to gun because it will so reliably get the shot done... and have the option for fast follow up shots!
Pros
Great gun for "work" and also for "play"
Cons
It is so productive with it's ability to harvest bushy-tailed tree-meat, I'm running out of targets!
5.0
By David
USA
November 1, 2017
Accurate out of the box! I bought three extra clips and can usually empty 4 with one fill up on this gun. If you read reviews on this gun, you'll probably hear about the trigger. It is perfect!! Groups at 10 yards are dime sized with Crosman Premier Domed. 25 years slightly larger than a quarter, but many shots go through the same hole. Yes, it is heavy, but I pretty much bench shoot (I don't hunt much at all). For hunting I use the Woods Walker with stock. I have 2 Marauders rifles and two of the pistols (woods walker and regular). Three I purchased brand new, and this one I purchased refurbished. I WANTED a refurb as I trust Airgun Depot to have it tuned and ready :) All my Marauders besides the woods walker arrived perfect. I had to tune the woods walker trigger a bit and it seems to have occasional issues firing, but overall is an absolute pleasure to shoot. I figured the refurb would have he trigger tuned properly and have all the seals in place / hold pressure and I was correct. I guess I mean to say that if I had an option to send every gun I buy to Airgun Depot to have it "tuned", I would do so. Plus, the refurb is a bit less! I'm definitely keeping an eye on the refurb pcp offerings in the future.
Pros
Best trigger in the $400-$500 range that I've found. Very accurate out of the box. Quiet! Good number of shots per fill - I usually get 32-40 before filling in .22 and a few more with my .177.
Cons
Heavy if you plan to carry it - I would get a sling.
Q&A
Question?
Login to ask someone who bought this product.
will the PCP rifles work with any high pressure gas like CO2 or do they require just regular high pressure air.
asked Gary from USA
There are a handful of Dual fuel CO2-compressed air guns. Co2 operates at righr around 1100 PSI. All PCP guns operate at 2000-4200 PSI. Most at 3000 PSI
Mark from USA
Is the .177 gun regulated?
asked Richard from USA
No. Only the FT model is regulated
Mark from USA
What barrel does this one come with
asked Grtgonzo
is this version also regulated?
asked JEFF from USA
best pellet to use in a marauder .22 cal
asked jake spencer
Hey everyone, this could be a stupid question but I need something for closer range critters (squirrels, groundhogs, etc.). Is a red dot scope able to be attached to this, or iron sights? Has anyone done this with this rifle already?
asked Doug
Red dot will attach with no problem. Iron sights no, there is nothing on the shroud to attach a front sight and even if there was, shrouds are usually not stable enough for a sight. Red dots are a good choice
LESLIE from USA
What do they mean by "up to 80+ shots" ?
asked David Nemecek
How many times would you pump the hand pump to charge this?
asked Harper Jason
70-80 from zero
Leonid from USA
good scopes for marauder .25
asked Jeremy from USA
Any scope that you like will work. I like Discovery scopes, they're cheap and work well for me and I own 5 of them from their cheapest to their best
LESLIE from USA
Can the Benjamin Marauder be filled from a Pancake Style Electric Compressor? If so, what adaptors would I need?
asked Ric Kalman
No way. Even the best and biggest shop compressor doesn't produce more than 150 psi. You need 3000 psi.
LESLIE from USA
No, most garage/construction compressors only push around 150psi. You need high pressure compressors 4500psi or Scuba tanks that you have to get filled at a Scuba shop or a sportsman store that fills scuba tanks. You can also use a PCP hand pump, but your in for a workout! Look on Amazon and Ebay, you can find a decent PCP compressor for around $300
Everett from USA
is the Benjamin. marauder still made in the USA Jan 2019?
asked Michael from USA
What does chocked barrel mean?
asked Ted from USA
Would you purchase another one for yourself or say one of your children?
asked Ted from USA
How loud is this pcp and how many shots per fill ?
asked dave chandler
Is this combo in .22 the regulated Gen 2 Marauder?
asked Christian from USA
This gun is regulated right?
asked Apek
Would I need to get a scope for this? Thanks!
asked Matt
DoesThe air venturi carbon fiber tank comes whit fill station?
asked Roque from USA
How many refills will the Buddy bottle give?
asked Dwayne Derrick
Can you get the Benjamin Marauder Wood Hunter Combo that is regulated?
asked John
Just curious if anyone knows why the .177 cal is $50 more than the .22 cal?
asked Artie from USA
In 25 caliber what is the average shot per Gun fill you get
asked sam from USA
Is this the orginal version or the upgraded version?
asked Charles from USA
I have a Muzzle loader scope stored away. Can that be used for this air rifle?
asked Alex
How many fills from the Air Venturi 90 cu in carbon fiber tank?
asked Tom
How many pumps from a hand pump does it take to air this rifle up.. Is it better if I buy a tank
asked Tony from USA
Good afternoon.i wish to know if you can ship this item to my country (GREECE).I can not find in the shipping countries GREECE so I can not proceed to check out.Thank you, I am waiting for your answer
asked ÃÅÙÑÃÉÏÓ from USA
how do you get 3000 pounds of air pressure in tank with air commpresser that pumps 175 pounds of pressure
asked craig
Is the .22 cal marauder made in the US?
asked Gabe
Yes, all Marauders are US made.
Scott from USA
recommend a scope for hunting rodents
asked Lloyd
Utg true hunter or centerpoint 4-16-40. Both ao scopes and they come with mounts. I have both on Benjamin pcp guns. They are very good at any price.
Lawrence from USA
what kind of scope for field target competition?
asked Jim
If you are competing in Hunter Class, The ZOOM must be 12X or lower. For AAFTA class you can use any zoom. Side Wheel focused scopes are popular because they allow finer adjustments due to the larger diameter. If you are a casual FT shooter, no need to drop a ton of coin on a scope. A CP is fine. If you want to stay at the top of the leader board, then you're going to have to shell out some dough on a Sightron, Nikko, or other better quality scope. Accurately ranging is 1/2 the challenge. Cheap glass doesn't do as good a job as high end glass in that area.
JohnnySuperDad
If they let you than utg or centerpoint ao. for the money they are very good and durable.
Lawrence from USA