The Benjamin Marauder created PCP fans worldwide as one of the most popular PCP airguns on the market. Never complacent, the folks at Benjamin created a regulated Marauder, the Marauder Field and Target Edition. Now shooters can get more shots out of their Marauders than ever before! Using an all-new regulated system, the Field and Target delivers 80+ shots, more than double the shot strings of the original Marauder. These shots hit speeds up to 850 fps in .22. The 3000 psi cylinder incorporates a quick-disconnect fitting so you'll never have a problem finding a way to fill your gun. Load up the cylinder and your 10 round rotary mag, and blast away at targets with the precision of a field target rifle. The Field and Target keeps the excellent 2-stage adjustable metal trigger of the original Marauder. Benjamin's attention to craftsmanship has resulted in a rifle that shoots as good as it looks. A walnut checkered stock with adjustable comb has all the quality you'd normally see in higher-end European airguns. Ditching the 11mm Dovetail rail in favor of a long Weaver rail allows for even more optics options. With a balance of top-notch features, power and accuracy, the Marauder Field and Target Edition builds on the Marauder's legacy as a premium PCP, without a premium price-tag.
Benjamin Marauder Field And Target Features:
10-shot bolt action repeater
Uses compressed air: Up to 3000 psi
On Board Regulator provides long and consistent shot strings
Features a new, redesigned barrel
2-stage adjustable match trigger...and the trigger blade is metal!
Raised aluminum breech for easier loading of circular magazine
Weaver/Picatinny scope mounting rail
Turkish Walnut stock with adjustable comb and checkered forearm (stock stain may be lighter or darker than shown in our images)
Reversible bolt -- switch from right to left side
Built-in air pressure gauge (manometer)
Full length barrel shroud for quiet shooting
Air reservoir ends with a male quick-disconnect Foster fitting for fast refills
Includes one magazine and sling swivel studs
Specs
Manufacturer

Benjamin

Caliber

.22

Velocity

830 fps

Condition

New

Ammo Type

Pellets

Action

Bolt-action

Barrel Style

Rifled

Fire Mode

Repeater

Gun Weight

8.20

Overall Length

43.00

Barrel Length

20.00

Loudness

2-Low-Medium

Magazine Capacity

10

Mechanism

Pre-charged pneumatic

Rail

Weaver/Picatinny

Safety

Manual

Front Sights

none

Rear Sights

none

Shots per Fill

80

Trigger Adjustability

Two-stage adjustable

Trigger Action

0

Use

Small game hunting/target practice

Warranty

5-year limited warranty
Reviews
Average Customer Review
4.1
4.0
16 Reviews
5.0
By Johan
September 9, 2023
Verified Purchase
If Benjamin was really on their game, they'd either fix the design/production issues that cause a lot of these guns to leave the factory with leaks and sub-par finish work, or own up to it and offer a tinkerer's tuning kit with a degasser and the necessary instructions, small tools, seals, and lubricants to do the finish work that honestly should have been done before it was boxed up for shipment. They should also talk to Quality Control and make sure that the rifles being packed up are at least clean. While my rifle appeared to be new, there were sticky splotches in the finish of the stock, especially around where a tester would hold it, and the shoulder pad was actually DIRTY, with brown dirt inside and out. The fitment of the adjustable cheek riser is also shoddy. ... All that said...this is an airgun with GREAT bones, and with a little TLC it becomes something special. Off a bench or around the yard, you can't really ask for much more.
Pros
This is a well-designed, serviceable, reasonably adjustable, very quiet, and accurate PCP air rifle for a reasonable price. Despite the warranty warning that you are not allowed to disassemble the rifle...unless you get lucky, that's the first thing you will have to do, but that process itself is rewarding. Out of the box, I filled mine up twice with a hand pump, got about 80 good shots through it and watched the rest of that hard-earned hand-pumped air leak out of it overnight. So, I tore it down completely, refinished the stock, replaced the seals, re-lubricated the whole thing, and ended up with an absolute gem of a tack driver.
Cons
I have several gripes, but they are all manageable - except the weight. If you are looking for a lightweight hunter to carry around all day, this is not it. Other issues are leaks, quality control and finish level out of the factory, instructions (or lack of), a surprisingly cheap trigger guard, an initially rough bolt action, and an overall disappointing initial buyer's experience. Leaks: the air tank tube has several cutouts in it for the pressure valve, hammer interaction, screws and the like, and each of these cutouts is unnecessarily SHARP edged! They destroy seals during any but the most careful assembly, and careful assembly is not what Benjamin is doing. As an engineer, I would mandate deburring of these cutouts, inside and out, prior to assembly. At the very least, deburring just the pressure gauge port would probably fix most of these customer leaks. I'm running out of characters, but next I'd talk to the factory. My rifle arrived poorly finished and dirty.
2.0
By Rox
July 29, 2023
Verified Purchase
Far bigger and heavier than I ever would have imagined for a .22. I'm disappointed - mostly in myself for not handling this air rifle before purchasing. This is the downside of buying online. Seeing an item, and handling it are 2 different things! I strongly recommend handling this air rifle before purchasing it. It is so heavy that I don't expect to ever use my $650 door stop!
Pros
Looks good
Cons
Big and Heavy!
4.0
By Richard
USA
February 6, 2023
Verified Purchase
Difficult to believe mine passed a 72 hour leak test.
Pros
Accurate regulated PCP at a reasonable price made in the USA.
Cons
Better QC, still working with Benjamin customer service to sort out leaking gauge mount.
3.0
By Jeff
USA
August 12, 2022
Verified Purchase
Final thought, the MRODS are great rifles mounted on Pop Cycle sticks. Buy one and get a custom built stock!
Pros
The receiver, barrel, action, and triggers, are great straight out of the box. I must have drawn a great air system, as it had 3000 psi on the dot. The air gauge, reads the same as on my air compressor. Through in a temporary scope, and certainly the worst scope I have, but immediately on paper at 25 yards. Two more shot for zero, and immediately putting shots hole in hole for a couple of ten shot mags. Right now Crosman Premier.22 cal, 14.3 grain hollow points are all I have to test, as the only other .22 is a break barrel.
Cons
Crosman / Benjamin, don't waste your time and money on fake test targets. The one hole in the target sent with my rifle could not have even been made with a .177 cal let alone .22. The stock has gouged and missing wood on one side next to the air cylinder. What ever country is being used now, China / Turkey, its a serious hack job, but I will live with it until I have a custom Boyds Gunstock made for it. The cut out cheek riser doesnt even line up well. I have Chinese Les Paul guitars that are 100% better fit and finish than this wood stock at 1/4th the price.
I did a ton of research on this for close to a year before purchasing. I was concerned about the reviews from others of the air rifle not holding air and needing to be sent back. This was not the case for me. Everything (minus the five (5) shot target enclosed) was top notch. Shipping, Rifle, Accuracy, & Velocity Consistency. A three (3) shot string went as follows: First Shot - 843, Second Shot - 860, & Third Shot - 852. So the average there is 851.67. Not too bad for an advertised 850FPS air rifle! This was done with just under 3,000psi in the tank. Anyone on the fence....just do it! I'm beyond thrilled with this air rifle.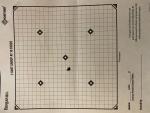 Pros
Right out of the box I was impressed. Came double boxed & the standard Benjamin box inside the first box had more than enough shipping Styrofoam to ensure the rifle would make the journey unharmed. The stock was beautiful. I'd read that they come in varying shades & this one was perfect. The air rifles are now shipped with 0psi in the tanks. But there is an inspection form that said the gun was tested & held air for 72hrs before shipping. There was also a target in the box with five (5) shots @ 10yds. I'm extremely skeptical on this though as the target is almost surely a .177 target based on the size of the hole & there is no Ammo/Caliber/Grain or Tested By: information filled out. I checked the gun/fittings/etc, mounted my 3x9x44 Optic, filled the air rifle up to just a tickle under 3,000psi, & started shooting. Two (2) shots to zero at 20yds and then the following 28 shots were pretty much variants in the same hole easily covered by a nickel. Super impressed with the accuracy!!!
Cons
Nothing about the air rifle itself. I'm just let down that they would ship a five (5) shot group target of a .177 and say it's for this .22 when it clearly is not a .22 size hole. Picture of target attached. You be the judge.
5.0
By Cameron
March 23, 2022
It's worth trying different ammo as some shoots way better than others for me. Crossman domed and pointed seem to be best for me.
Pros
Next level airgun for me. It's my first pcp and I could not be happier. I have not experienced the quality issues mentioned in other reviews. Mine came with 3k psi in the tank so I know it holds pressure well. This gun is very very accurate. I got the lothar barrel and I'm shooting single jagged holes at 25-30. Aside from the weight, which is surprisingly heavy, I would not change a thing. It pumps easily, shoots hard and quiet, and drives tacks. I haven't even had the heart to shoot any squirrels yet as it just seems too easy. They won't have a chance. Also, I had a question on the operation of the gun when I first got it. I called and got a patient and thorough explanation from AD. Well done all around.
1.0
By Donald
USA
February 22, 2021
I suspect Benjamin may have a problem. I returned the first rifle as per my review 02-06-2021. Wouldn't hold air out of the box. The rifle received as a replacement held air perfectly for three weeks. It began to leak and got progressively worse. when it went into it's box for return it was losing dropping to 1600 psi from a 3000psi fill in 24 hrs. Too bad. I f this thing would hold air it would check all the boxes. Crosman may have a problem. Be very wary. on a positive note AD has been exceptional to work with throughout. One star Crosman, five stars Airgun Depot.
Pros
Accurate, made in USA,
Cons
I would produce one that would hold air.
5.0
By Donald
USA
February 6, 2021
The first rifle I received didn't hold air. AD was wonderful to work with in obtaining a replacement. Ten days after I called them with the problem I received a-rifle-that-does-hold-air. I mounted a Leupold VX-Freedom 3-9 EFR on Weaver medium mounts. Mounted perfectly. You guy's can have your 50mm objectives (or larger!). With the scope mounted close over the bore I've got a true 2" point blank to 25 yds. with 14.3s. 3/4 inch groups @ 75. When Leupold's custom shop gets back to work I'll send the scope to Oregon for an MOA reticule. Crosman 14.3s run 816 fps, 24 ES for 60 shots from a 3000 PSI charge. Long strings of 814 to 818 FPS. JSBs shoot at about 765. I only shot 10 for group and 5 over the Chrony. This Crosman barrel shoots amazingly well! Four out of the seven mags I originally received worked flawlessly. AD immediately shipped three more magazines. I now have six functional mags and four I can fix until I break them. If anybody out there wants a shooter, buy one.
Pros
Accurate, whisper quiet, accurate, shoots CPHPs and CPDUM 14.3s almost as well as JSB Exact 18.13s, accurate. Walmart has CPHPs @ $650 per 500.
Cons
An adjustable regulator would be nice.
5.0
By Stacey
USA
July 1, 2020
The Marauder is my first PCP air gun. I purchased the field and target in 22 caliber. I highly recommend this rifle. Prior to buying the Marauder, I was unhappy with the noise and accuracy of my break-barrel, gas-piston rifle. I was looking for a rifle that was quiet and accurate with a Picatinny rail. I mounted a Leupold 2-7x33 scope. I'm now able to shoot 1/4" groups at 20 yards with the JSB Jumbo Heavy Diabolo pellets, 18.13gr. The rifle is also very quiet as advertised. I am now able to take squirrels/chipmunks at 20 yards with complete confidence and without disturbing the neighbors. I purchased the hand pump at the same time as the rifle and both have worked flawlessly. I have tried two other pellets for hunting: JSB Diabolo Hades (15.89 gr) and the H&N Barracuda Hunter Extreme (18.52 gr). Both pellets expand well. I am able to shoot the same point-of-aim/point-of-impact with the JSB Hades and JSB Jumbo Heavy. The H&N pellet groups low relative to the JSB pellets.
Pros
Accurate - this rifle is as accurate as your scope and set up allow. I'm getting 1/4" groups at 20 yards. Quiet - I measured 85 dB up close, and 73 dB about 10 yards away Picatinny Rail - allows for more options for optics Adjustable Comb - a big plus for proper scope alignment Trigger - measured 1lb first stage and 2lb second stage Hardwood Stock - high quality, heavy at 8 lbs Swivel Studs - plus for bi-pod and sling, sling is necessary for field carry
Cons
Rifle does not come with a single-shot tray
Q&A
Question?
Login to ask someone who bought this product.
Can the buyer switch the bolt to left hand?
asked Don from USA
Is the regulator adjustable?
asked Stephen from USA
Does the F&T come with a picatinny or weaver mounting rail?
asked Richard from USA
Weaver/Picatinny scope mounting rail. It accomodates both.
Mark from USA
Does the field and target come in synthetic
asked Jorge from USA
No. Only in a wood stock.
Mark from USA
Why would I want the higher price barrel? If there's a reason I'll buy it. If not, what's the point?
asked Tim from USA
I updated my Gen2 SYNROD .22 with a LW barrel and it's much less pellet picky than the original Crossman barrel. I understand the quality on the newer Crossman barrels is good, but for me the LW barrel was night and day better (< 1/2" groups at 30 yards with a variety of pellets).
Steve from USA
If you are asking that question, then you don't need or warrant the Lothar Walther barrel...stick with the Crosman barrel.
Joseph from USA
LW barrels have a well deserved reputation for accuracy. Some customers prefer that quality edge. The Crosman barrels do shoot well. The F T model is regulated. That is the major difference.
Mark from USA
Is the Field and Target rifle recommended for hurting or should I buy the Hurting Marauder instead?
asked Ed Green
what are the lowest ring size that can be used with 30mm scope
asked Glenn
I am living in India can I import this gun
asked A.V PATTERSON SURESH
Hi folks, seriously looking to purchase this gun in synthetic; I need to know if I can get this gun pre-tuned for about 900 FPS and approximately 35 FPE and not sacrifice accuracy. I really would like to have this shop tuned ready to go for long distance (50-100yd hunting) out of the box when I receive it. Any thoughts ? -Dave
asked dbrowning
Get a different gun
Jeffrey from USA
I would like a single shot trey. Are they available for sale some place
asked John broe
If you have access to a 3D printer there are models for the .177 and .22 trays on Thingiverse.com. I printed one for my .22 and it works/fits great.
Steve from USA
How can I tell if the Marauder I will buy is the regulated model?
asked Alberto from Philippines
Does the end piece at the end of the barrel unscrew?
asked Casey from USA
How do you charge this rifle?
asked Dave
Does this Rifle in .22Cal have a Lothar Walther Barrel?
asked Gary from USA
does the .22 call come with a Walther Barrel?
asked Gary from USA
Does the .22 cal have a Walther Barrel?
asked Gary from USA
i thought this rifle was regulated, am i wrong to assume that it isnt? or does it come regulated.?
asked Brad
When will a black synthetic version of this Field and Target be available for purchase?
asked Evo