How do you make a great gun even better? You listen to the customers and do what they asked! In this case, that's adding a synthetic stock to one of the most popular precharged pneumatic rifles made today. Crosman listened and not only put a synthetic stock on the Benjamin Marauder, but they gave it a vertically adjustable comb, too. You'll get a lot of powerful shots that will let you rid your backyard of pesky birds and critters. Don't worry about noise scaring your prey or alarming the neighbors...it's one of the quietest air rifles ever made.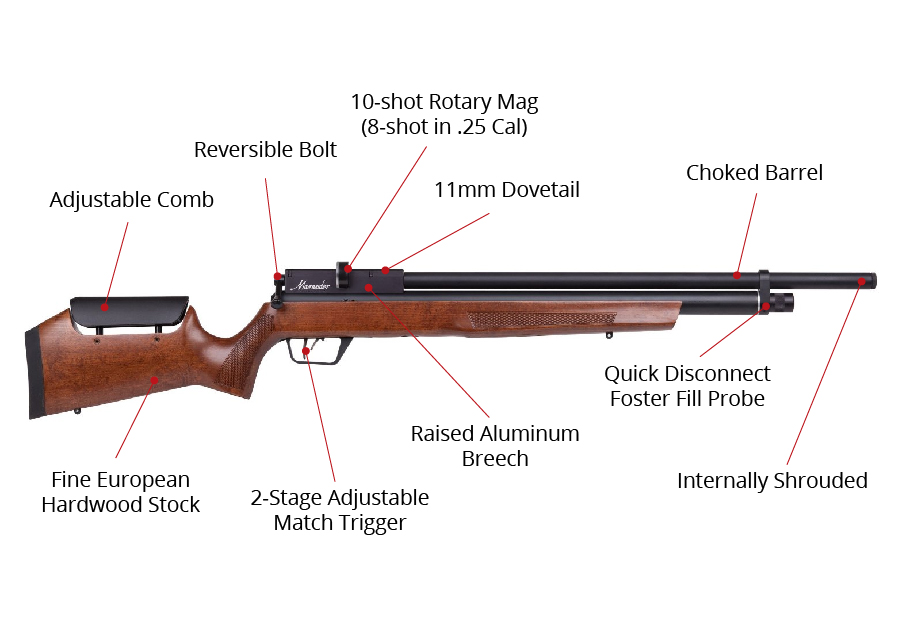 Features:
10-shot repeater with auto-indexing feature
Single shot tray available for this caliber
Improved valve and a depinger
Can be adjusted for different velocities
Internal shroud makes this a VERY quiet gun
Choked barrel delivers superior accuracy
2-stage adjustable match trigger...and the trigger is metal!
Trigger is moved back for more comfortable hand positioning
Raised aluminum breech for easier loading of circular magazine
11mm Dovetail Accessory Rail
Ambidextrous synthetic stock with vertically adjustable comb
Built-in air pressure gauge (manometer)
Uses compressed air up to 3,000 psi *
215cc Air Reservoir
Gun comes set at 2,500 psi air fill; to fill to 3,000 psi
Air reservoir ends with a male quick-disconnect Foster fitting for fast refills (requires a female Foster quick-disconnect adapter to fill from a scuba tank or hand pump)
Includes: .22 Cal Synthetic Marauder, 10-Round Magazine, Sling Swivel Studs, and Benjamin Pump
*The owner's manual states you can fill the gun with air or CO2, but that is incorrect. Please fill your gun with high-pressure air only.
Specs
Manufacturer

Benjamin

Caliber

.177

Velocity

1100 fps

Condition

New

Ammo Type

Pellets

Action

Bolt-action

Barrel Style

Crosman

Fire Mode

Repeater

Gun Weight

12.00

Overall Length

42.80

Barrel Length

20.00

Loudness

2-Low-Medium

Magazine Capacity

10

Mechanism

Pre-charged pneumatic

Rail

11mm dovetail

Safety

Manual

Front Sights

none

Rear Sights

none

Shots per Fill

32

Trigger Adjustability

Two-stage adjustable

Trigger Action

Double-Action

Use

0

Warranty

1-year limited warranty
Reviews
Average Customer Review
4.8
5.0
45 Reviews
4.0
By Ricky
June 23, 2023
Verified Purchase
Would definitely recommend a .22/.25 size just cause its a bigger round. Takes around 225-275 pumps of air to get to 2500-3000 psi and the hand pump works great easy connection. Would recommend/prepare to buy a scope especially if you are hunting(iguana) with it. There are no iron sights on it. At 2800 psi it will go through 3 inches of wood for a .177 caliber
Pros
Gun is durable I can hit a 3 inch paper circle with all 10 shots from 25 yards out
Cons
It has a 11mm rail and most scopes are 20mm so I had to buy a attachment piece. And I wish it came with a scope. Has no iron sights.
5.0
By Joel
USA
July 9, 2021
With the hammer preload and stroke set to max and a 3000 psi fill, I chronographed 14.3 grain lead crossman hollow points at 1015 fps which is 32 foot pounds. The trade off is it uses a lot more air per shot, about a 65 psi drop in tank pressure per shot. I mainly use for pest control, so I want extra power. Headshots on pigeons sound like firecrackers when they hit, louder than the gun itself. I really don't mind pumping to fill the gun, it only takes about 60-85 pumps to refill from 2000 to 3000 psi which only takes about 5 min. This is my first pcp rifle, I've had it about a year now and I couldn't be happier. I wish I would have ventured into pcp air guns sooner. Super accurate, highly adjustable for efficiency or power, and durable.
Pros
Stock design feels natural when holding and aiming. Trigger is smooth, light and breaks clean. Still very quiet even when set to full power.
Cons
I don't really like the finish on the barrel and cylinder, but it is durable and non reflective. Magazines are a bit awkward at first but you get used to them.
5.0
By Aren
USA
February 21, 2021
I'm leaving the review mainly for airgun depot as in my experience, they were a pleasure to work with when I needed to return the airgun. But Don't get me wrong, the bejamind was a wonderful gun and accurate as hell and would get it again.
Pros
Power, ACCURACY
Cons
Heavy
5.0
By John316
October 24, 2019
Overall, I am impressed with the power and accuracy of the gun. I get pretty small groups at 35 and 50 yards with good power. e.g. hitting a metal spoon at 35 yards seriously deforms it. It is pretty heavy so I try to use a rest when squirrel hunting but have taken some with off shoulder shots too. I pump it when it drops to 2000 psi--it is a bit of a workout to get to 3000 psi but not too bad. Easily get 60 or more shots for that 1000 psi.
Pros
Accurate Good power Lots of shots per 1000 psi
Cons
heavy stock looks dorky
5.0
By dean
February 8, 2019
Very accurate with jsb exact heavy 33.9 gr pellets. Also h and n barracuda 31 gr shoots well. Feeds well out of the magazine. Good gun.
5.0
By Kevin
USA
January 21, 2019
Gun shoots great right out the box great for small game ir target shooting I recommend getting a bottle with it to save time on pumping picture below is 8 round group at 70yards
Pros
Everything
Cons
Barrel could be supported better
5.0
By Rick b.
June 10, 2018
This gun is accurate as heck and great fun to shoot. It's a bit of a workout to pump it up but, I enjoy the exercise. This package is well worth the money and airgun depot has great support.
5.0
By Edward L.
May 26, 2018
Instructions were good, operating and setup. This was the first PCP style air gun I have owned, and it worked as expected. I had 2 spring caulk rifles before and both destroyed the scopes I had for them. The new air gun has no recoil and has all the power needed for dispatching critters even large woodchucks. It is very quiet a small twang as air recharges for next shot. I charged cylinder up to the recommended 3000#. It was very easy with the three stage manual hand pump that came with it. I am testing to see how long and how low I can go. So far I would say I have gone thru 150 plus pellets and the pressure is just below 2000# on the gauge. Still is very accurate and has the power to do the job. Very pleased with the performance.
Pros
Many +'s
Cons
None
5.0
By Michael
USA
March 29, 2018
I only started airgunning recently, starting off with an ultra inexpensive Crosman 1077, which uses small CO2 powerlets. Within weeks I was already modifying the 1077 with bulk co2 paintball tank adapters to get more shots and consistency, sound reductions, and other tweaks. I got bit by the airgunning bug rather quickly and my modifications all pointed towards the PreCharged Pneumatic experience. PCPs offer all of the consistency, accuracy, and volume of shots that I was looking for that I could not get out of a CO2 platform. I went with the Benjamin Marauder "SynRod" with hand pump so that I could get to shooting immediately. No additional purchases necessary (yet). The Marauder hands down delivers on all of my expectations and then some. Out of the box, the accuracy and shot grouping is phenomenal. No POI shifts or significant droop, like what I experienced with CO2. Trigger pull and feel is excellent and predictable. In .177 it is absolutely quiet except for the twang/ping of the air tube. Loads of adjustments for trigger pull and valve pressure to make fine adjustments, which satisfies the tinkerer and tuner inside me. Since the Marauder platform is so widely used, there are tons of mods available and my 3D printer will be getting some use customizing this rifle. I'm a larger guy at 6'0 and 240 lbs so the hand pump is not a problem. About 90 very easy pumps to 2000psi which is suitable for low pressure plinking. I incorporate pumping with the handpump with performing excercise, not unlike the motions for doing bodyweight squats. With the pump as close to my body's center, keep back straight, bend at the knee, arms locked to exert body weight on handlebars, primarily using glutes and thighs to raise and lower body weight, with abs for stabilization. A tidy workout with shooting as the reward. Looks a little goofy, sure, and you use more muscle groups in the process, but it works for me and I feel like I got a good exercise in, rather than just doing physical busywork. Proper form is a must-- if you try pumping the handpump while hunched over-- I wouldn't be surprised if someone threw out a disc. This Marauder combo is a great entry point into PCP and I'm looking forward to years of enjoyment out of it.
Pros
Accurate Consistent Highly Tunable Lots of support for modifications
Cons
This rifle isn't particularly heavy, but it is very bulky. Would like to see Crosman/Benjamin offer a wider variety of stocks with differing ergonomics.
5.0
By Ben
November 24, 2017
For anyone looking to get into PCP shooting, I would highly recommend this combo. You will need to buy or provide the optics and make sure to get a set of high scope rings to provide for proper clearance. Lastly, I read some reviews that accuracy wasn't the greatest but I've had no issues. It does like some pellets better than others but it's pretty consistent for the most part.
Q&A
Question?
Login to ask someone who bought this product.
Which scoop recommended?
asked Octavio from USA
What is the weight of this gun? An accident left me unable to hold a standard rifle or shotgun. I'm looking for a lightweight dependable air rifle that can take out a coyote. 5 pounds give or take.
asked Michelle from USA
Weight 7.3 lbs. You will need a 25 cal gun to take out coyotes.
Mark from USA
can u put a bipod on this rifle
asked jesus
this gun is product of what country?
asked brian
So when an air compressor isn't available, how long does it take to fill with the hand pump? How much effort?
asked Jay
How many shots per fill?
asked walter
35-40, (3000 down to 2000psi
Steve from USA
Depending on the caliber, you get more with a .177 than a .25. my .25 cal gets about 24 consistent shots before pressure drop causes group sizes to open up. A .177 & .22 should get more shots.
Sidney from USA
have you had any issues with the pump,,,, from the reviews i read some of the pumps have had some problems , in that case , would a hill pump be the way to go? and worth the money
asked jerry from USA
I have the Hill pump its three years old, and it is very well made. Mine charges three different PCP and works flawlessly. The desiccator is a great feature for humid climates. Highly recommended
Henry
how long can you leave this gun under pressure once pressurized? what size scope mounts tall ones?
asked Denis
It's best to always have psi. in it to keep the seals tight against the sealing surfaces per. the book. Medium height rings are what I tried. Anything shorter and the (.25 cal) magazine won't fit and hit the scope. Mine has a 3-12 x 44 Hawke Varmint SF scope with med. 1", 3/8" dovetail rings. That's as short of rings as I could go. A 5mm allen wrench will fit between the objective and barrel, so a 50mm obj. may fit with them. I don't have one to try. I'd bet a 50 would fit if the objective wasn't adjustable. "too fat"
Rodd from USA
As far as scope mounts question, it's worded odd so idk, but you can always leave it pressurized it's bad to not have it at at least 1500 psi in it during storage preferably under 2500 tho during long stints, but u could leave it fully pressurized for long periods with no issues.
Dustin from USA
Can you fill with an air compressor with the correct fittings?
asked Rick
No, not a standard shop air compressor they are low PSI most are (120 to 150 PSI) a Marauder PCP takes 3000 PSI. You can fill with a scuba compressor or scuba tank. The Benjamin hand pump works will also its made for high PSI.
Brian from USA
no, it takes a special air compressor to reach 3000 psi. standard air compressors only go to about 200 psi.
John from USA
If I was to by a scope and attach it to the marauder what kind of rings would I use, I'm new to scopes and need a little advice.
asked Brandon
first decide on what diameter scope tube you want (typically 1" or 30mm), then purchase scope rings with a 11mm dovetail base and the appropriate sized rings for the scope you picked. If getting a scope with a front objective smaller than 40mm I'd go with low or medium mounts, if larger than 40mm go with medium to high mounts.
John from USA
Thinking on getting this pcp rifle worried about pumping up pressure is this a problem
asked Ricky
It will take about 250 pumps to get the gun up to 3000psi the first time. This will take you about 20 minutes because you will time to rest. Once the gun is used and drops down to 2500psi, it will take you about 35 pumps to get it back to 3000psi. It takes about 10 pumps just to match the pressed in the pump to the gun. If takes a good amount of pressure to lift and press down on the pump. A good workout for your abs.
Kirk
Great rifle.super accurate.I have absolutely no issues getting rifle up to pressure.I get approximately 30 shots without loss of zero at 25 yards.I am very pleased with rifle
Michael from USA
Ok...so here is the deal. I was worried about the same thing when I was contemplating buying a Marauder. When you read some of the other reviews, they make it sound like an unbearable task, like running ten miles nonstop. In reality, its not hat bad. The first time you fill the tank is a bit of work as you need to fill from 500 psi to 2500 psi. Still not that bad tho. After that, each time you fill you only need to go from 1500 to 2500psi...half of the work. I can fill my gun in the time it takes to smoke a cigarette...about 5 mins. hahahhhah. The truck is to pump slowly. Allow 1 sec. when the pump reachs the top of its stroke...and a sec. When it reaches the bottom. Also, try to make each stroke in a smooth fluid motion. This will allow the pump to completely fill with air and then transfer ALL of the air inside of it, to the gun s reservoir. It will also keep your pump in tip top shape. Remember, this is a high pressure system and going crazy with the pump will cause it to over heat and blow out a seal, not to mention it will take for ever to fill your gun beacuse you are not transferring all the air on each pump. Long story short...I love my marauder and dont mind pumping it up at all. Just remember "slow and steady...wins the race". Good Luck with your decision. P.S. : The guys at air gun depot are awesome. Got my gun super quick...they shipped it the day after i ordered it. Only place I would consider buying another M-Rod.
The Tin man
Nope, not a big deal. Pic get about 35-40 shots a charge which is plenty for me
Brandon from USA
No, not really it takes about 100 or so strokes with the hand pump, it depends on your guns PSI when you start pumping. I use a scuba tank to fill my Murauder normally because it so easy and fast. It's a sweet gun my did leak air pretty bad when new but a little Teflon tape around the gauge fixed the problem. I will shoot down to about 1200 PSI before I normally refill, I hope this helps.
Brian from USA
How many pumps with the hand pump does it take to charge the Marauder? Can a nitrigon tank be purchased from an industrial supply to fill the Marauder? Does the Marauder come ready to mount a scope?
asked Dennis
My marauder came prefilled with 2000 psi in it's air tank. It takes to me about 63 pumps to reach the maximum of the 3000 psi. We can fill the marauder's air tank with any certified (to 3000 psi or more) tank with the apropriate regulator, but, since i don't use either such a tank , i can't tell more about this. Yes it does.The only think is to consider the size of the objective lens of the scope and the dove rail aw well. Rings must be medium size to high, for a scope with lens over 50mm and made for 11,5 mm rails.
SPYRIDON from Greece
The 1st time you fill the Maurader's cylinder to full pressure it will take about 15 minutes of pumping using the hand pump. That is somewhere in the neighborhood 200 pumps. Subsequent pumps, after 18-20 rounds down range, takes about 5 minutes. This is based on my experience with the .25 Maurader. As far as a nitrogen tank I am not sure but I know you can grab a scuba tank and an adapter or purchase a portable refillable tank. They are also high pressure electric pumps on the market
Richard from USA
75 pumps or so to get up to 3k pounds. Nitrigon will work but air from a standard scuba tank cheaper and better, And YES this is scope ready with a picatiny rail. Love my rifle,
Kyle from USA
Hello, is it possible to mount a forward scope in the scout configuration? That is a long eye relief scope.
asked Dan
HI, SORRY MY ENGLISH ISN'T GOOD ENOUGH AND I MAY DIDN'T UNDERSTOOD YOUR QUESTION.... I USED A 6-25 X 56 SCOPE ON MY MARAUDER AND THE ONLY PROBLEM I HAD TO DEAL WITH , WAS THE HIGHER SCOPE RINGS I HAD TO INSTALL ON THE GUN'S MOUNT. NOW, IF YOY NEED TO PLACE THE OPTICS FORWARD, MAY YOU HAVE TO TAKE A LOOK AT THIS ACCESSORIE (PHOTO). I'VE BOUGHT SOME FROM THE CHINESSE DX STORE (DEAL EXTREME). TAKE CARE THE DOVETAIL SIZE REGARDING TO YOUR SCOPE/AND THE ELEVATION.... MUST BE FROM 11 MM DOVETAIL TO 11MM OR 11 MM TO 21 MM,ALWAYS DEPENDING ON YOUR SCOPE'S RINGS.
SPYRIDON from Greece
when are you expecting delivery of these air rifles? [exact date]
asked stephan
Stephan, Thank you for your question. Have been told that this particular item will be back in stock on November 4th. We are anticipating this item to be in stock then. Hopefully that answers your question. Sincerely, Airgun Depot Customer Care Team
Scott from USA
hi! I'm french..., i want to know if i can buy it!? is there a special procedure for foreigners. thanks
asked laurent
Laurent, Please contact our International Shipping Department at [email protected]. They can answer any questions you might have. Sincerely, The Airgun Depot Customer Care Team
Scott from USA