The Crosman Mag-Fire Extreme air rifle is the most versatile option in the Mag-Fire lineup. It's a multi shot breakbarrel repeater that gives you quiet shots and a mounted scope, so you get a package that gives you accurate shots right out of the box, without breaking the bank. It reaches speeds up to 1300 fps in .177 and 975 fps in .22 with alloy pellets, giving you the power and precision you need for pest control, small game hunting, and plinking.
You'll enjoy shots that are quieter than competing rifles because of the QuietFire sound suppression technology featured on this rifle, and there's also an AR compatible pistol grip. Plus, the Nitro Piston Elite technology is an improvement on older versions of nitro pistons and gives you higher performance with less cocking effort. You also get smoother and quieter cocking, longer life, and consistent results even in cold weather. And you can leave it cocked for longer because there's no metal spring to damage.
You get a crisp and predictable trigger pull with the 2 stage adjustable Clean Break trigger on the Mag-Fire Extreme, and the 10 round (.22) or 12 round (.177) low profile multi shot magazine means you won't have to reload as soon as you do with other similar rifles. The Picatinny scope rail has a CenterPoint 3-9x40 AO scope mounted on it, and you also get an adjustable rear sight and a fixed front blade sight.
If you're in the market for a breakbarrel air rifle that gives you fast and quiet follow up shots plus the power and convenience you need for plinking, small game hunting, or pest control, get a Crosman Mag-Fire Extreme at Airgun Depot now.
Crosman Mag-Fire Extreme Features:
Nitro Piston Elite powerplant
Breakbarrel
Repeater
Max velocity (alloy/lead): 1300 fps/1000 fps (.177), 975 fps/800 fps (.22)
Gray all weather synthetic stock
Low profile design
Multi shot 12rd (.177) or 10rd (.22) magazine
QuietFire sound suppression technology
2 stage adjustable Clean Break trigger
AR compatible pistol grip
Picatinny scope rail
Adjustable cheek rest
Adjustable textured rubber buttpad
Manual lever safety
Sling mounts
CenterPoint 3-9x40 AO scope
Weight: 9.06 lbs.
Specs
Manufacturer

Crosman

Caliber

.177

Velocity

1300 fps

Condition

New

Ammo Type

Pellets

Action

Break barrel

Barrel Style

Rifled

Fire Mode

Repeater

Gun Weight

9.06

Overall Length

45.50

Barrel Length

15.00

Loudness

2-Low-Medium

Magazine Capacity

12

Mechanism

Gas-piston

Rail

Weaver/Picatinny

Safety

Manual

Front Sights

Blade

Rear Sights

Adjustable

Shots per Fill

0

Trigger Adjustability

Two-stage adjustable

Trigger Action

0

Use

Small game hunting/plinking

Warranty

5-year limited warranty
Reviews
Average Customer Review
3.8
4.0
6 Reviews
3.0
By Damon
June 28, 2023
Verified Purchase
Pros
Once sighted in, its as fun as can be.
Cons
Buy extra magazines. Theyre cheaply made, fall apart, and if ever you forget and try to cock the gun again after it already is, it destroys the magazine.
1.0
By Scott
April 27, 2023
Verified Purchase
This thing was terrible out of the box and only got worse the more I shot it. I just sent it back today for a refund. I would not recommend it to anyone. I wasted serval hours per day over 5 days and hundreds of different pellets trying to get it to shoot accurately. Once I tested and discovered it was shaving pellets the gun was a lost cause. It is also unpleasant to shoot due to the recoil and it is kinda loud. The magazine was fragile and broke the first night I was shooting it and no longer would index properly. The gun cannot be used as a single shot as you need to use tweezers to load pellets into the breech. This gun is poor quality, inaccurate and expensive all rolled up into one. Do not buy!
Pros
The repeating function (in concept) is really great.
Cons
Where do I start? Inaccurate, heavy recoil, vibrates, pings in your ear, the magazine is not reliable, the auto loading mechanism kept sticking, it shaved each pellet causing inconsistency and inaccuracy, the scope maxed out in windage and elevation as the gun shoots high and to the right.
5.0
By Will
November 13, 2022
Keep your barrel clean( 1 x a year) & clean and light oil your pellets, (RMC silicone oil) accuracy is a must!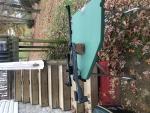 Pros
Good gun, from the easy loading clips, to the adjustable comb, & a bottle cap splitter, accuracy is a 10 with this gun I put a pinty 4x16x40 on mine
Cons
Make sure you clean the barrel right out the box ,to get the machine oil , and any debris out ,
5.0
By Frank
USA
September 12, 2022
Verified Purchase
Pros
Dead rats at 50'. Very accurate with the iron sights.
Cons
Just as heavy as my M1 Garand.
I'll have to ditch the Center Point and upgrade to a better scope that holds center point. Maybe sound suppressor will quiet with more shooting. A slight disappointment from the Diamond back overall expectations.
Pros
I like the looks, style, and heavy feel of a solid pellet rifle. Never have a problem with break-barrel repeating loader. Sound was much louder than expected after shooting the Crosman Diamondback .22.
Cons
Optional extenysion of rear stock. Better suppressor for sound. Easier loading of repeat loader. Better scope (very difficult to hold center point; not consistent with groupings at 15-20 yards). Have a Center Point scope on the Diamondback and it is fine without any hassles.
5.0
By Luther
USA
May 1, 2022
Pros
Comfortable grip, great trigger, comfortable feel. Awesome amount of power
Cons
If not careful you can pinch yourself while breaking the barrel. Rails for bipods would be great
Q&A
Question?
Login to ask someone who bought this product.
Does below freezing temperature affect this gun?
asked Carter from USA
How many times do you have to cock it for maximum FPS?
asked John from USA
This is a single stroke break barrel.
Adam from USA
Q. Cocking effort in LBS. Please
asked Keith from USA