The Dan Wesson Model 715 Pellet revolver is finally here. Finished in a handsome gun metal gray, which has the perfect balance of darkness and shine. This is a highly detailed replica based on the original .357 Dan Wesson 715-VH6 firearm. Known for its heavy barrel with vents on top. The heavy front barrel is deceptive in that it's actually quite balanced in hand. From the one-piece 6-inch heavy barrel, complete with vent rib with threading for mounting accessories, to the Hogue rubber grip. If you don't want to tighten an optic to the silver finish barrel, you can pick up the picatinny/weaver rail accessory instead. The grip shell has a built in tool for tightening co2. Dan Wesson revolvers became legendary as the preferred choice of serious revolver hunters and competition shooters because they were extremely well made and accurate ? pick up a Dan Wesson 715 airgun and you get the same feeling of exceptional quality and precision craftsmanship. The 715 is everything you want it to be!
Dan Wesson 715 Pellet Revolver Features
CO2 powered
Hogue Imitation Rubber Grip
Integrated tool for tightening CO2>
?Dan Wesson? Full Metal Engraving
Realistic Weight & Balance
Includes Speedloader and 6 Shells
Specs
Manufacturer

Dan Wesson

Caliber

.177

Velocity

430 fps

Condition

New

Ammo Type

Pellets

Action

Revolver

Barrel Style

Rifled

Fire Mode

Repeater

Gun Weight

2.30

Overall Length

11.73

Barrel Length

2.50

Loudness

4-Medium-High

Magazine Capacity

6

Mechanism

CO2

Rail

No

Safety

Manual

Front Sights

Blade

Rear Sights

Adjustable for windage & elevation

Shots per Fill

90

Trigger Adjustability

0

Trigger Action

Double-Action

Use

Plinking/Fun

Warranty

90-day limited repair warranty
Reviews
Average Customer Review
4.5
4.5
17 Reviews
1.0
By John
USA
February 18, 2023
Verified Purchase
Pros
Does not work. The cylinder will not advance to the next round. I have to rotate the cylinder manually. It has something to do with the rounds jamming, since if no rounds are put in, the cylinder rotates normally. At least one previous reviewer had this same problem and I should have taken his advice and not bought one of these. Firing this gun even once as a quality control check would have indicated it doesn't work. Very disappointing poor quality.
Cons
Make a gun that functions. That's the point of making a gun.
Do not buy this revolver. As I said, the cylinder doesn't line up with the barrel. On single action I can pull back the hammer and the shells prevent the cylinder from rotating fully into position. I have to turn it a little more manually (with my hand) to line up the cylinder with the barrel. Then it fires ok. Double action, forget it. The pellets get shredded or jam the gun. It does this only with shells in it. No shells and the cylinder works fine. It's like the rubber piece inside rubs the shells too hard and prevents the cylinder from turning all the way. Has to be a manufacturing defect. It does this with the included shells so it's not an after market shell issue. I included a photo of what it does to pellets. Also, you have to decide if you want this as a pellet gun or dart gun. Even the dart description says they are for smooth barrel guns only. This gun has a rifled barrel and the darts and steel bbs will destroy the rifling.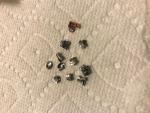 Pros
Looks cool!
Cons
The cylinder doesn't line up with the barrel properly and shreds pellets. Read comments below.
5.0
By Yusuf
USA
October 5, 2020
I would respectfully recommend that a clear and concise owners manual/pamphlet with more details, especially for loading the CO2 Cartridges for first time users
Pros
Outstanding, One of the Best CO2 Pellet Revolver on the market
Cons
NONE
5.0
By boristemchenko
USA
October 3, 2020
This is an excellent pellet revolver and one day it will need to have it`s seals and "O" rings replaced. After many days of searching the Internet I finally found a vendor who has the required seals. Order the "ASG Dan Wesson Replacement Parts Kit for DW 715 Seals O-Rings Airsoft 18754". The DW Airsoft gun and the DW 715 Pellet gun are basically the same except for the calibers and I believe they use the same seals. Do your reasearch before you buy; "Maysto" is located in Cambodia: https://www.maystorec.com/index.php?main_page=product_info&products_id=795850
Pros
The action is smooth; just as powerful and accurate as my Umarex S&W 586-6, weight, balance and fit and finish are excellent.
Cons
I wish the gun had a full 6 inch rifled barrel. I will be installing one such barrel shortly; it`s fairly easy to do if you have a Crosman 6 inch barrel and know someone who has a lathe to reduce the diameters of the barrel ends.
5.0
By Howard
USA
July 12, 2018
Purchased this as part of the Dart Board Combo and could not be happier with the way this gun shoots pellets. Have not tried the darts yet but soon. From 15 feet, this is dead accurate. Weight is nice, and gun feels comfortable in the hand. Went through appx 80 rounds before the air cylinder said enough. Also have the 4 and 2.5, so will be providing feedback for them also. Speed loaders worked flawlessly as well.
Pros
Weight, Accuracy, Ease of loading air cylinder
Cons
None so far
5.0
By james
USA
June 27, 2018
I bought this as a birthday gift for my son in law and it exceeds all expectations.
5.0
By Dan
USA
November 21, 2017
This revolver is an excellent replica of a .357. Anyone who invests in this pistol will be glad they did. Beautiful finish, looks good, shoots well and accurate. An excellent addition to anyone's collection.
5.0
By Scott
USA
August 17, 2017
awsome looks, great shooter ,very accurate,this is a must get
5.0
By Thomas
USA
July 13, 2017
I investigated the Dan Wesson 715 for nearly a year, reading reviews both on Air Gun Depot site as well as those on the Internet...and, today my 715 6" Pellet Revolver arrived. WOW, handles superbly, weight same as real version, cylinder is tight with minimal play, ease of pellet loading. Living on my ranch I have many opportunities to shoot various calibers, but they can be costly. This .177 Pellet is perfect for practicing trigger pull and sight alignment. For those on the fence thinking about the Dan Wesson 715...think no longer, contact the fine staff @ Air Gun Depot and place your order!!!
Pros
Realistic feel, ease of loading both pellets and CO2, accurate out to 15 yards, and the Hogue style grip is fantastic!!!
Cons
Hex key for CO2 should be fixed for a more positive feel (similar to that of the Colt Peacemaker tool), I opt to you my own tools. Sights should be all metal!
5.0
By JOHN
USA
June 15, 2017
"715 6" Pellet Revolver provides major improvements over it's predecessor. The cartridges may be loaded with both BB's & Pellets eliminating need for additional BB cartridges.
Pros
Improved seal between barrel and cartridge. Self contained Allen wrench for installation of CO2 vs flimsy plastic coin turned screw. Authentic appearance of the Dan Wesson 715.
Cons
The High quality of manufacturing and weight this pistol is so close to the real thing, it could an "Open Carry Permit" if displayed in public.
Q&A
Question?
Login to ask someone who bought this product.
What is the truligger pull? I saw one person claim it was about 12# ? With my arthritic hands it would be an issue.
asked Jim from USA
Could i use the ANT kit to hpa this gun?
asked Tyler from USA
What pellet shells will fit this revolver?
asked Angelo from USA
AGD-A6691 $39.99 and AGD-A7721 $12.99
Mark from USA
I purchased the 6" model of the 715 and want to under mount a UGT LS268 Red Combat Laser. What adapter do I need to mount this laser ?
asked Terrence from USA
ASG Accessory Rail for Dan Wesson Model 715 Airguns can be purchased in silver and black. You can find it on the Internet, or on Amazon. The rail permits mounting devices (red dot sight, laser) on the top and on the bottom of the gun.
Bruce from USA
There are no mounts available that will allow a under barrel mount for a laser. The mounts would have to be custom made.
Mark from USA
Product listing says double action. Can it be fired single action too as with the original?
asked Melvin from USA
Does it come with real dart board not just paper
asked John
Can you shoot darts from this gun?
asked Tom Dee
Not recommended as it will destroy the barrel rifling. Get the bb version of this gun, it has a smooth bore.
Gary from USA
Are the darts reusable?
asked Bobby from USA
If not damaged, yes.
Gary from USA
Do you put a pellet behind the dart or just push the dart in as far as it will go
asked Bigdaddy
Load only the dart.
Gary from USA
will this revolver shoot .177 cal BB's as well?
asked Arthur from USA
It will, but you will damage the rifled barrel. I would get the bb version if you plan on using bb's.
Gary from USA
in the one i got the inner barrel consists of two parts. the actual rifled part is made of steel and only about 2.5 inches long. on top of it there is an unrifled aluminium adapterbarrel just a plain pipe. - can another owner confirm this ? it is a shame that ASG claims it got a 6inch barrel making the buyer believe the revolver got a 6 inch rifled barrel when it actyally is only a 2.5inch rifled barrel that connects with a slightly loose fit to an aluminium pipe. how is this setup supposed to deliver decent grooping ?
asked Karl
For the limited range of co2 it does very well. I have the 6" and the 4" pellet versions and they are very accurate indeed. Stay under 8 grains on the pellets and it works just fine.
Gary from USA