Rain down a shower of lead with the Diana Stormrider!
Diana has been a leader in the airgun industry since 1892 and the Stormrider marks the company's first foray into budget-friendly PCPs—and they've really created a real contender! With repeating shots, great features, and a no-frills design, the Stormrider is sure to create a new generation of PCP shooters.
The first thing airgunners will note is the sturdy and sleek design of the Monte Carlo beech stock. With a unique checkering on the grip and forend, shooters should have no trouble finding a secure hold. The stock is only 1.5 inches thick, so airgunners young and old can easily maneuver its lightweight 5lb body.
Airgunners get into PCPs for their ability to fire shot after shot and the Stormrider does not disappoint. Simply load up the magazine and slide it into the breech where it clips into place magnetically. With 9 shots in .177 and 7 in .22, cycle to a new round with a quick flick of the bolt action. Once you charge up the 200 BAR (2900 psi) cylinder you can send rounds downrange at 1,050 fps (.177) and 900 fps (.22). Additionally, if you want to shoot one shot at a time, a single-shot tray is included. To sight up your shots, use the included open sights or mount your own optics to the 11mm dovetail rail.
If the price point has held you back from diving into PCP shooting sports, the Stormrider is sure to please with its price point and reward the shooter with features that hold up to Diana's standard.
Diana Stormrider Gen 2 Air Rifle Features
PCP
Bolt-action
Repeater
Up to 26 FPE in .22 / 20 FPE in .177 with lead pellets
Up to 900 fps in .22 / 1050 fps in .177 with lead pellets
Manual safety
Two-stage, adjustable trigger breaks at ~3 lbs
Checkered beech stock
Raised cheek piece for right-handed shooters (stock still usable for left-handed shooters)
Fully adjustable rear sight
11mm dovetail
Integrated manometer (pressure gauge)
200 BAR/2900 psi fill pressure
9 shot magazine in .177 / 7 in .22
Includes fill probe with male quick disconnect fitting
Includes rotary magazine and single-shot tray
Specs
Manufacturer

Diana

Caliber

.177

Velocity

1050 fps

Condition

New

Ammo Type

Pellets

Action

Bolt-action

Barrel Style

Rifled

Fire Mode

Repeater

Gun Weight

5.00

Overall Length

40.50

Barrel Length

19.00

Loudness

2-Low-Medium

Magazine Capacity

9

Mechanism

Pre-charged pneumatic

Rail

11mm dovetail

Safety

Manual

Front Sights

Blade

Rear Sights

Adjustable for windage & elevation

Shots per Fill

40

Trigger Adjustability

0

Trigger Action

0

Use

Small game hunting/target practice

Warranty

1-year limited warranty
Reviews
Average Customer Review
4.2
4.0
34 Reviews
5.0
By Rajveer
USA
September 17, 2023
Verified Purchase
Pros
I like this gun very perfect aim and smooth shooting
5.0
By Raymond
USA
June 20, 2023
Verified Purchase
This is my favorite rifle of all, even including rimfire and center fire.
Pros
I got the .22 one. I like it so much I am tempted to buy it again in .177. Light light light, very nice birch stock, I get quarter size groups at 50 yards bench rest. usually. And there is plenty of power. If you are gunning for starlings, it is devastating against them. I scoped mine with a cheap 4x30 Simmons. Easy to fill. It's way less work to shoot this than to shoot a multi-pump pneumantic like my old Crosman 2100, which I also love.
Cons
I guess a barrel band would make me feel better ... as it is I handle this thing very carefully, like the precision instrument that it is. Others say, "Hey, this IS afloating barrel, like an FX, so stop complaining". Since mine is working well, I don't install the barrel band I bought. I'm not sure what "floating barrel" really means, lets face it.
Just like a normal rifle.
Pros
Love it as you advertised.very accurate.
Cons
HARD to pump up.thought at first not taking air. Have to use body weight to get any pressure in gun
5.0
By Marcelene
USA
December 10, 2022
Verified Purchase
If you are on the fence on buying this in my opinion this is the best rifle by far for under $500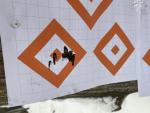 Pros
I normally dont leave reviews but I am so impressed with this rifle that I feel I have to. I have several other rifles including a dragonclaw and a high end hatsan. I would rate this gun right up there with my best guns. The accuracy is amazing ,its light weight,and the sound is so quiet that I wasnt even sure it was working properly til I shot a pellet through a 1x4 board. It literally sounds like a stapler Picture is from 35 yards. .
Cons
Would like if they would include 2 magazines.
4.0
By LESLIE
USA
July 23, 2022
All in all the Stormrider Gen2 is a good buy. It has enough power and accuracy for hunting small game - rats, squirrels, rabbits, Quiet enough for backyard plinking. Price has gone way up. (So has everything else). I recommend the gen2 with the wood stock because the pressure guage is located under the stock rather than on the end of the pressure tube. This is a better arrangement if you want to add a regulator
Pros
Light weight and easy to operate. Seems to hold air very well. My .177 sits in my enclosed porch for eliminating squirrels that come to my bird feeder. It is only shot a few times a week and it always has enough air to do the job. I bought my gen 2 on sale with the regulator which has been very consistent from day 1. I get 20 regulated shots with CPUM 10.5g pellets at avg 876fps and extreme spread 16fps (that's less than 2%). Capable of sum MOA accuracy at short range - definitely good enough for headshots to 20-25 yards.
Cons
Magazines are not great quality. Some mags affect accuracy. Single shot tray is very accurate. So buy extras mags. I had one mag that consistently jammed on the 7th shot.
5.0
By Harold
January 15, 2022
Pros
Quite, light, adjustable trigger, magazine and price
Cons
Absence of barrel band
4.0
By Alan
November 28, 2021
Pros
For my needs, this has just the right balance of size, weight, power, accuracy and price. I have a Stormrider .22 paired with a 2-7x35 Hawke scope. I shoot pests at 10 to 20 yards with a near 100% shot to kill ratio. It's dialed in. Shots at that range are lethal to groundhogs and rats, without fail. I have it ranged for 40 yards with a dime sized spread. In short, it fits my need for power and accuracy. I prefer a lighter, smaller, and more refined rifle over bigger, more powerful ones. I started with a Benjamin Trail XL, which was more like a sniper rifle in need of a tripod. Great for target shooting at 100 yards. Not my thing. Judge for yourself whether the price is justifiable. I figure I saved way more than that not having to hire pest control.
Cons
My model doesn't have a regulator. You can get one on the aftermarket. The 7 shot cassette is awkward to learn and somewhat teensy for man hands, but it works, and I like having a backup shot just in case. Should ship with the second barrel band, for added durability.
5.0
By Gregory
USA
June 24, 2020
This is an entry level rifle. The barrel alone on my AA S510 XS costs more than this rifle, so make your expectations appropriate to what you are buying. As an entry into the PCP gunning sport, it is a great choice. You can definitely get better rifles if you want to spend a few hundred dollars more but that is true of everything. Also, this is a great youth rifle. Light and easy to shoot. So here are a few things in other comments that annoyed me. First the floating barrel; so what? Somehow people new to the airgun world who do not understand the dynamics of airgun design get all twisted over a floating barrel. Um, Hello! Take a look at virtually every FX rifle, the gold standard in long range competitions. Notice anything? Floating barrels. The harmonics are tuned for that barrel to float. Second, loading wad cutters. No rifle that uses a spring operated rotary magazine will cope well with wad cutters. They are intended for short range competition and single loading.
Pros
I used an airgun store and sold many Stormriders, bot 1st and 2nd generation. I am writing this review because of what I believe is a lot of bad information in other reviews, mostly from new shooters who clearly did not understand the rifle. The rifle, at the price point, is probably hands down the most accurate and user friendly PCP on the market. Easy to fill with a hand pump, super light weight and the 2nd gen with the improved suppressor are very quiet. The photo I've included is two 1st gen Stormriders. The blue one was a custom build I created for my wife who wanted something light and with a shorter LOP for herself. So in addition to being a great entry level PCP yo can see that the rifle can be modified to fit your desires if you have the skill.
Cons
I never had an issue with any of the Stormrider triggers but it would be nice if they would charge a few more dollars and use an adjustable 2 stage trigger. The magazine does have, in my opinion, a bit too much spring tension and at least one gun I tuned had a breach that was just tight enough that I decided to lap it after which it was smooth operating.
1.0
By Carlos
USA
February 29, 2020
Get the Gamo Urban .22 . This rifle is not good. Dont waste your money on it.
Pros
If you want a junk rifle this is it.
Cons
Better barrell construction were pellets are loaded so they dont get stuck and deformed. Better breech and bolt system so it wont get stuck so much. Better bolts so they dont loose thread so quick. Better fill valve cap so it wont leak so fast.
4.0
By CARLOS
USA
February 17, 2020
I added a Hammers 6x32AO compact scope and still very light air rifle. If you install 2 small dovetail to weaver adapters on the 11mm rail when you install the scope you will not have to remove the rear sights. We will update this review later on .
Pros
Super Light weight. Nice lookin pcp rifle. Very small but easy to aim with it. Accurate for first 14 shots with JSB 15.89gr pellets at 25yrds. Backyard friendly. Budget friendly. Magazine worked ok. Single tray worked ok but loading pellets is difficult with big hands . Bolt mechanism is not smooth. Trigger is ok.
Cons
100cc tank is too small for use with heavy pellets. Shot 21 shots zeroing the scope. Noticed that the last 7 shots dropped down from dead center to one dot low for 3 pellets and the other 4 pellets two dots down. Zeroing distance was 25yrds using JSB 15.89gr pellets. Noticed also the cocking and loading of pellets was not smooth. Had to use some force to pull back and to push in the pellets.
Q&A
Question?
Login to ask someone who bought this product.
can you mount a tri-pod to this gun ?
asked George from USA
Is the Diana Stormrider Gen 2 Cal .177 come in 495 fps?
asked Raymond from Canada
You would have to do an unsupported modification to decrease your .177 cal rifle to 495 fps, and this mod would be pellet specific.
Raymond from USA
Can you use a c02 tank to fill
asked Gary from USA
No. Co2 tanks aren't high enough psi.
Raymond from USA
Please specify if the Wooden Stock version of this rifle is Gen2 or Gen1 ... You state Gen2 for the synthetic stock version, but not this one. Thank you, Robert Volpe
asked Robert from USA
Yes, this is a Gen 2 rifle.
Adam from USA
Is the gen2 real wood ?
asked Orlando from USA
Yes, it's birch. It's really nice if ya ask me.
Raymond from USA
Is the stock real wood?
asked Orlando from USA
Can I use my own Pancake roofing compressor for these PCP rifles?
asked Ric from USA
Only if it pumps up to 3000 psi
LESLIE from USA
Can a pressure gauge be added to the wooden stock model like the synthetic stock model has?
asked John from USA
Yes, I did, So I have two gauges -one for fill pressure one for reg pressure
LESLIE from USA
Can I use CO2, to charge this rifle?
asked Christopher from USA
No. CO2 only produces 900 psi. You need 2900 psi.
LESLIE from USA
Airgun Depot's photos of the Stormrider show the front sight in one instance directly above the muzzle on the muzzle brake. Another photo shows it several inches back at what is likely the end of the rifling. Is this perhaps a difference between the .177 and .22 models? Either way the one above the muzzle appears to be problematic for the rear sight to have sufficient elevation.
asked John from USA
The older model we sell as refurbs have a muzzle brake w/sight on top. The Gen II model has a effective moderator that mounts in front of the sight on the barrel. That is the difference in the guns. The sights work well on both models.
Mark from USA
I see a mention of a "barrel band" for this air rifle .. but I cant see it on the website. Where is it listed?
asked Bernie from Canada
Which is the best pellet for this pcp air rifle?
asked CARLOS from USA
Every airgun different, eve in the same make and model. Variations in bore diameter, barrel harmonics, etc. Testing different pellets is needed even in the most expensive airguns. My Stormrider works best with the cheap Crosman pellets - lucky me
LESLIE from USA
what is the best type of .22 for squirrel or rabbit
asked Jacob Simpson
PCP. This one works fine
LESLIE from USA
Can this rifle air tank be charged with an air compressor
asked Daniel Johns
Probably not the one you already have in your garage. Gun requires 2900 psi
LESLIE from USA
is there a dust cover for the air port. I understand if this get clogged over time it may cause serious damage to the rifle.
asked Manuel from USA
Yes, it has a rotating dust cover
LESLIE from USA
Did AG stop selling the 9 round magazine? I thought of giving it another try, after chucking the one it came with into the woods out of frustration.
asked George from USA
It is very apparent that none of the owner, / reviewers went through Sniper / Marksmanship School! I, we, are trained and schooled in "barrel lash/whip" . If you look at long-range sniper rifles/target rifles the barrel will NOT touch the stock/handguard. This allows the barrel to whip and return to the same place each time it is fired!
asked Force Recon-USMC from USA
How do you pressurize the reservoir?
asked William Huntley
Hi, is this the gen 1 or gen 2 ? Diana Stormrider KC
asked Kevin Crosby
Has anyone found a .22 pellet that loads smoothly every time? jd
asked John D from USA
These guns have feeding problems. In many cases the problems are resolved by polishing the "lead" at the breech end of the barrel. In some cases a bad magazine is the problem. Any gun in this price range (under $200 -$1000) will have some issues. If you are not a tinkerer, expect to spend big bucks to get what you are looking for. I had to do a little work on mine and it is working well. One out of my four mags was bad. Mine is a .177 and I think these mags may be worse than the .22
LESLIE from USA
can it take down a raccoon or beaver
asked chase smith
That will probably never happen. Stick with rabbits, squirrels, starlings and rats
LESLIE from USA
The $199.99 is the Gen 2 version ? Thank you for your answer
asked jorge a martinez soto
Can anyone please let me know if this gun is legally allowed by government?
asked Shekhar Chhetri
Is the larger diameter on the muzzle a suppressor or just a weight?
asked Art
Suppressor and it works well
LESLIE from USA
I'm rilly curious to know if i can get a bicycle tire pump setup for this and if so what is it called and were do you recommend i buy it?
asked Zack
High pressure pumps are available anywhere from $100 to $300, Here. PA, Amazom, etc
LESLIE from USA
stupid question, but how does one re-charge a PCP air gun? Break barrel is becoming cumbersome for this 73 yr old trying to keep the locl squirrel population in check.
asked David Carnahan
Hand pumps are very hard to use. Electric pumps are very expensive and/or unreliable. A CO2 rifle is easy and may be close to the power level of many break barrels. My first (of many) airguns was a CO2 powered .22 Benjamin QB78D. Beautiful, very accurate and good for squirrels out to about 20-25 yards.
LESLIE from USA
I have da 22 i use a 39$ handpcp pump and in less than 25 i wasable to fill itto 20 bar but a small leak in da intake port any advice and howvmuch is 20 on rifle cus on pump it saya ×3000 but i ben gointo 2000
asked 'shyne
Doe anyone know what the average maximum distance shooting a .177 average pellet and being accurate?
asked Clifford Villados
In the .177 caliber model, what is the shot count per fill roughly? I'm wondering whether I will have to bring the pump with me when I go out hunting for the afternoon, or if it can stay at home instead.
asked nate from USA
I get 14-15 shots per fill on my regulated Stormrider .177. I refill mi
LESLIE from USA
Is this gun worth the money. Seems cheap for a pcp . realistically how accurate is this weapon at 40 yds
asked Michael Lum
Where is this made?
asked Sam
Can I change the barrel from .177 to .22 cal?
asked Hans
Where is this gun manufactured?
asked Deano
What's different with current model versus Gen 1?
asked Leslie from USA
will it be better to use 0.177 or .22 to kill rabbits?
asked swredtfg
What's the difference between this and the Gen1 ?
asked Leslie Schaub
what are the differences between this newer version and gen 1? thanks.
asked David Lee
What is different in a Gen 1 gun and the one not designated as Gen 1?
asked John from USA
I recently purchased the Diana Stormrider airgun/pump combo. After mounting a scope and shooting a few times, the scope rail became loose and rocks from side to side. I've tightened all visible screws with no improvement. How can I tighten the rail so that it does not move?
asked Betty Perry
I can remove the rear sight!?
asked Felix Maganda
how hard is it to pump up to full capacity
asked bill
Will a scope interfere with the rotary magazine >
asked Dave
First of all...I bought a stormrider in November. Love the gun ! My problem is mounting a scope. The video review mentioned that the rear sight was removable...HOW? Ive removed the side screw and the screw from the bottom of the stock...I thought that would do it...I was wrong ! What's the secret to removing it ? Oh and looking at the scoped picture you are showing now makes me ask ...where did you get that front mounting ring ? Any help would be appreciated. Thanks.
asked GEORGE STUHLER
There's a screw on top of the sight.
Orlando from USA
looking at buying this gun is the pellet loading area made cheep do you think it loads hard thank you
asked jeff
can the air tank be filled to full capacity with a 12 volt air compressor that has a 350 psi capacity.
asked cliff
Is this rifle made in China? if not what country is it made?
asked Gary from USA
Does the mag get in the way of the sites
asked Olen
How many shots can be done in single fill?
asked soban yousaf
How does this compare to the marauder? Does it have a foster fitting, and is it available in synthetic
asked Bmack
Does the muzzle break come off? Also what is the outer diameter of the barrel?.
asked gregg from USA
Can I use a regular compresser to charge this. By regular compresser I mean an automotive one used by mechanics
asked Anthony from USA
Diana may have put their name on it but... This is a PR900W made by Shaoxing Snow Peak Airgun Factory in China.
asked Billy from USA
What is velocity of 22 cal.
asked Mike
Is the .22 caliber accurate to at least 75'?
asked Michael Robertson
do I need a pump for this? and If I do how much is a new one
asked dennis
Can the 22 Diana stormrider be regulated Can a Diana stormrider be regulated 9
asked Steve
How do you fill the chamber with air without using an air tank?
asked Nick
Can a pop air rifle be stored with the reservoir pressurized without harming it? Specifically the Diana Stormrider.
asked Gary
I am going to buy this gun soon. Which has a larger shot count, the .177 or .22?
asked E.x.
I am a lefty. does it come configured for a lefty
asked chip
how many shots can you shoot on a charge shooting .22
asked wesley from USA
Does the pump come with the dryer?
asked Michael R from USA
How much Will it cost with silencer and scope combo
asked Steve
What country do these guns come from
asked Roy from USA
Will the pump get it to the pressure you need to shoot and how long does it take to pump it to the max? and it worth the price?
asked Tom Banks
How many shots per fill in .177?
asked Waldemar from USA
What pump does this rifle require ?
asked Paul from USA
What is the country of manufacture?
asked ram from USA
can you put a scope on this gun
asked Sionan
Price magazine
asked Julio from USA
Can you fill a Diana Stormrider with a pump?
asked Norman from USA
How many good shots it can make per single fill at 200 bars?
asked Felix Lemuel Jurao
are there any power adjustments? Hammer spring or transfer port or something similar?
asked Brad from USA
I would like to have a catalog before to buy this item, maybe in the future I can fixed. Can I recive this catalog?.
asked Carlos R. Vigil
Why isn't a air tank included with this rifle?
asked Larry from USA
Can a pump be used to fill air reservoir? I like PCP idea but the air tanks and other are more expensive than the air guns.
asked Frank from USA
where is it made ?
asked Bill from USA
How is the 2900 psi charged?
asked Charles
Where is the new Diana made?
asked Dean from USA
the price is great,BUT all the ancillary stuff !!!
asked richard from USA
Anyone have a review on the accuracy of this gun
asked Alan
Where is made ? Germany
asked Miguel from USA
What do you need to charge up the 2900psi chamber? Does the gun come with it or do you sell it? How much is the charger?
asked Jeffrey from USA
Is the Diana Stormrider able to accept an optical scope? If yes, does the Diana Stormrider come with a mount for a scope. Is a combo alternative offered for the Stormrider?
asked Russ from USA
It goes without saying that Diana will sell a million of these. It also goes without saying that most of those people will, at some point, ask about a regulator. Since there is none mentioned, it looks like there isn't one. So, I'll be the first of many to ask: "Are there any rumors or any talk about providing some kind of regulator for it? If there is, even if it costs up near $100, I might be talked into trying one of these. So ... a regulator for it?
asked John Emm from USA
What does the pump cost?
asked Robert
What pump do I need? How much will this pump cost?
asked Force Recon-USMC from USA