Rain down a shower of lead with the Diana Stormrider!
Diana has been a leader in the airgun industry since 1892 and the Stormrider marks the company's first foray into budget-friendly PCPs—and they've really created a real contender! With repeating shots, great features, and a no-frills design, the Stormrider is sure to create a new generation of PCP shooters.
The first thing airgunners will note is the sturdy and sleek design of the Monte Carlo beech stock. With a unique checkering on the grip and forend, shooters should have no trouble finding a secure hold. The stock is only 1.5 inches thick, so airgunners young and old can easily maneuver its lightweight 5lb body.
Airgunners get into PCPs for their ability to fire shot after shot and the Stormrider does not disappoint. Simply load up the magazine and slide it into the breech where it clips into place magnetically. With 9 shots in .177 and 7 in .22, cycle to a new round with a quick flick of the bolt action. Once you charge up the 200 BAR (2900 psi) cylinder you can send rounds downrange at 1,050 fps (.177) and 900 fps (.22). Additionally, if you want to shoot one shot at a time, a single-shot tray is included. To sight up your shots, use the included open sights or mount your own optics to the 11mm dovetail rail.
If the price point has held you back from diving into PCP shooting sports, the Stormrider is sure to please with its price point and reward the shooter with features that hold up to Diana's standard.
Diana Stormrider Air Rifle Features
PCP
Bolt-action
Repeater
Up to 26 FPE in .22 / 20 FPE in .177 with lead pellets
Up to 900 fps in .22 / 1050 fps in .177 with lead pellets
Manual safety
Single-stage, non-adjustable trigger breaks at ~3 lbs
Also available with a 2-stage adjustable trigger
Checkered beech stock
Raised cheek piece for right-handed shooters (stock still usable for left-handed shooters)
Fully adjustable rear sight
11mm dovetail
Integrated manometer (pressure gauge)
200 BAR/2900 psi fill pressure
9 shot magazine in .177 / 7 in .22
Includes fill probe with male quick disconnect fitting
Includes rotary magazine and single-shot tray
Specs
Manufacturer

Diana

Caliber

.177

Velocity

1050 fps

Condition

New

Ammo Type

Pellets

Action

Bolt-action

Barrel Style

Rifled

Fire Mode

Repeater

Gun Weight

5.00

Overall Length

40.50

Barrel Length

19.00

Loudness

2-Low-Medium

Magazine Capacity

9

Mechanism

Pre-charged pneumatic

Rail

11mm dovetail

Safety

Manual

Front Sights

Blade

Rear Sights

Adjustable for windage & elevation

Shots per Fill

40

Trigger Adjustability

0

Trigger Action

0

Use

Small game hunting/target practice

Warranty

1-year limited warranty
Reviews
Average Customer Review
4.1
4.0
27 Reviews
5.0
By Gregory
USA
June 24, 2020
Verified Purchase
This is an entry level rifle. The barrel alone on my AA S510 XS costs more than this rifle, so make your expectations appropriate to what you are buying. As an entry into the PCP gunning sport, it is a great choice. You can definitely get better rifles if you want to spend a few hundred dollars more but that is true of everything. Also, this is a great youth rifle. Light and easy to shoot. So here are a few things in other comments that annoyed me. First the floating barrel; so what? Somehow people new to the airgun world who do not understand the dynamics of airgun design get all twisted over a floating barrel. Um, Hello! Take a look at virtually every FX rifle, the gold standard in long range competitions. Notice anything? Floating barrels. The harmonics are tuned for that barrel to float. Second, loading wad cutters. No rifle that uses a spring operated rotary magazine will cope well with wad cutters. They are intended for short range competition and single loading.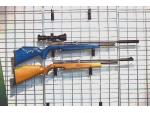 Pros
I used an airgun store and sold many Stormriders, bot 1st and 2nd generation. I am writing this review because of what I believe is a lot of bad information in other reviews, mostly from new shooters who clearly did not understand the rifle. The rifle, at the price point, is probably hands down the most accurate and user friendly PCP on the market. Easy to fill with a hand pump, super light weight and the 2nd gen with the improved suppressor are very quiet. The photo I've included is two 1st gen Stormriders. The blue one was a custom build I created for my wife who wanted something light and with a shorter LOP for herself. So in addition to being a great entry level PCP yo can see that the rifle can be modified to fit your desires if you have the skill.
Cons
I never had an issue with any of the Stormrider triggers but it would be nice if they would charge a few more dollars and use an adjustable 2 stage trigger. The magazine does have, in my opinion, a bit too much spring tension and at least one gun I tuned had a breach that was just tight enough that I decided to lap it after which it was smooth operating.
1.0
By CARLOS
USA
February 29, 2020
Verified Purchase
Get the Gamo Urban .22 . This rifle is not good. Dont waste your money on it.
Pros
If you want a junk rifle this is it.
Cons
Better barrell construction were pellets are loaded so they dont get stuck and deformed. Better breech and bolt system so it wont get stuck so much. Better bolts so they dont loose thread so quick. Better fill valve cap so it wont leak so fast.
4.0
By CARLOS
USA
February 17, 2020
Verified Purchase
I added a Hammers 6x32AO compact scope and still very light air rifle. If you install 2 small dovetail to weaver adapters on the 11mm rail when you install the scope you will not have to remove the rear sights. We will update this review later on .
Pros
Super Light weight. Nice lookin pcp rifle. Very small but easy to aim with it. Accurate for first 14 shots with JSB 15.89gr pellets at 25yrds. Backyard friendly. Budget friendly. Magazine worked ok. Single tray worked ok but loading pellets is difficult with big hands . Bolt mechanism is not smooth. Trigger is ok.
Cons
100cc tank is too small for use with heavy pellets. Shot 21 shots zeroing the scope. Noticed that the last 7 shots dropped down from dead center to one dot low for 3 pellets and the other 4 pellets two dots down. Zeroing distance was 25yrds using JSB 15.89gr pellets. Noticed also the cocking and loading of pellets was not smooth. Had to use some force to pull back and to push in the pellets.
5.0
By Robert
USA
November 13, 2019
Verified Purchase
Just got today and running HnN sport pellets it smooth and dead.
Pros
great for the price, dead on at 50 out of box
Cons
A stronger magnet for the single shot adapter.
I dont own this gun but I had to leave a comment based off the review above. This gun would be so Insanely easy to pump. I have a marauder and a bulldog and can pump my marauders 215cc cylinder from 1,000psi to 3,000psi In 10-15 minutes, Or 20 minutes during warmer months due to a 5-10 minute break to let pump cool down. My bulldogs 340cc cylinder takes about 30 minutes from 1,000psi to 3,000psi with a 5-10 minute break to cool pump down. This diana (actually made by spa) has a 100cc cylinder. So obviously this guy On the other review had no clue what they were doing.
Pros
This Is a great package at a great price. This Is a really great gun. I dont own It but My buddy does and Its really accurate and after tinkering with It, tuning It down, hes got alot more shots and a better trigger. He actually removed the moderator by cutting it off, then re-crowned the barrel, finished it up nice, then polished trigger and sear.
Cons
I hooked my 120psi bike pump to the gun and Its not pumping It up! Lol jk. Haha ha. I had to leave a comment. I cant stand when people leave bad reviews, bad and Incorrect Information, due to there own stupidity. Airgun depot Is a awesome merchant and this Is a great package at a great price and contrary to what this other reviewer states, this gun Is soo easy to fill with a proper pcp pump! (Hooked up correctly)
4.0
By Grizz
March 27, 2019
Verified Purchase
i was suprised by the feel and ease of use. seemes to like every type of pellet I put into it, from an old tin of Daisy wad cutters to Predator Polymags. at 40 yards you can cover a 5 shot group with a dime.
Pros
light weight, size
Cons
could use a front barrel band
4.0
By Jimmie
USA
January 11, 2019
I have the 22, nice rifle, this is my first PCP and very pleased with it. My first con is the barrel, didn't like it hanging in the air when I first saw a picture of it, when I ordered it I also ordered as Barrel ring, fit perfect over the air tank and barrel, it's tight and the barrel won't move at all now.The 2nd con is what some people have mentioned, the magazine, I had to cut the pellet to get the magazine out. I was using wad cutter pellets, I don't recommend them for this rifle, in any caliber, I only use dome or pointed pellets now. Everything else about this rifle I have to say it's excellent. Accuracy is excellent right out of the box, bought it with the pump, the pump is a waste of time and money, I ended up getting the Nomad compressor,1st Generation, that was money well spent. For the price, I'm considering getting another one.
4.0
By Nicholas
USA
December 19, 2018
Verified Purchase
I bought this as an intro to PCP airguns and as a pest control rifle, and it serves well in both roles. Shooting JSB Ultrashoks, it's dropped every rat I've hit center-mass in one shot. The nine round magazine is great for quick follow-up shots, too. The trigger's nice, especially compared to my old nitro piston rifles. It's also a lot smaller and lighter, very maneuverable in small spaces. Gets good groups on paper. Quiet enough to shoot in my backyard(maybe not if you have nosy neighbors). Add a flashlight, and it's a great little rat gun. Some cons: No front barrel band. The barrel has a little bit of play in front. There is a barrel band available, but that involves removal of the front sight to install. I rigged my own out of some wood and paracord, which seems to have fixed the problem. The magazine. It's pretty tedious to load, and tends to jam with flat-point pellets. I sometimes have two or three pellets per magazine jam. Would be better if it was throated out for more reliable feeding. The bolt handle is kind of delicate. Along with the magazine jamming, I've bent mine a couple of times. Might see if I can find something more solid to replace it with. Mine doesn't seem to hold air for more than a couple of days. Don't know if this is normal. Overall, though, a great buy. I'm never going back to break-barrels. It's small, light, accurate, fun to shoot, and great for pest control. For all that, I can live with the few cons.
Pros
Small and light Accurate Hard-hitting Price Multi-shot Fun to shoot
Cons
No front barrel band Magazine jams with some pellets Delicate bolt handle Leaks air?
5.0
By David
USA
November 22, 2018
Verified Purchase
I am very happy with the Diana Stormrider. It has plenty of power and is easy to fill. It isn't terribly picky about pellets and I really like the nice wood stock. Most of my actual rifles don't have a stock this nice.
Pros
Fills to 300 BAR 2900PSI Nice wood stock Good sights Comes with a magazine, single shot tray and fill adapter Light and easy to handle
Cons
Could use a cover or plug for the fill opening
1.0
By Arthur
USA
November 20, 2018
Verified Purchase
nice gun but contrary to advertised ease of filling with a hand pump, i found it impossible.even my 44 year old son had great difficulty .
Q&A
Question?
Login to ask someone who bought this product.
Airgun Depot's photos of the Stormrider show the front sight in one instance directly above the muzzle on the muzzle brake. Another photo shows it several inches back at what is likely the end of the rifling. Is this perhaps a difference between the .177 and .22 models? Either way the one above the muzzle appears to be problematic for the rear sight to have sufficient elevation.
asked John from USA
The older model we sell as refurbs have a muzzle brake w/sight on top. The Gen II model has a effective moderator that mounts in front of the sight on the barrel. That is the difference in the guns. The sights work well on both models.
Mark from USA
I see a mention of a "barrel band" for this air rifle .. but I cant see it on the website. Where is it listed?
asked Bernie from Canada