Diana Trailscout Features
CO2 power plant (Uses three (3),12-gram cartridges)
Repeater
Bolt Action
9-shot magazine (.177), 7-shot magazine (.22)
Max velocity 660 fps (.177), 560 fps (.22)
Adjustable trigger
Adjustable rear sight
11mm dovetail mount
2-year limited warranty

Specs
Manufacturer

Diana

Caliber

.177

Velocity

660 fps

Condition

New

Ammo Type

Pellets

Action

Bolt-action

Barrel Style

Rifled

Fire Mode

Repeater

Gun Weight

5.10

Overall Length

38.90

Barrel Length

19.00

Loudness

2-Low-Medium

Mechanism

CO2

Rail

11mm dovetail

Safety

Manual

Front Sights

Blade

Rear Sights

Adjustable

Shots per Fill

100

Trigger Adjustability

0

Trigger Action

0

Use

Small game hunting/target practice

Warranty

2-year limited warranty
Reviews
Average Customer Review
3.5
3.5
4 Reviews
2.0
By Charles
USA
December 5, 2020
Verified Purchase
After mounting a scope I turned the rifle over and the charging lever fell off. The screw holding it on had fallen out, and after carring it around for a bit I have no idea where it might be.
Pros
The gun is light, fits well to the shoulder, trigger pull is excellent.
Cons
a good parts list would be great.
4.0
By Phil
USA
November 2, 2020
Verified Purchase
Pros
Great looking, nice and easy to use. This is my first air rifle, and I love the ease of using it. No break barrell, this is a nice gun that allows multiple rounds to be shot without needing to break the barrel or pump anything up. It is also very quiet and perfect for a residential setting.
Cons
The c02 chamber valve cap. Aside from dry shooting the rifle to deflate and use up the gas capsules, there needs to be an easier way to dispense of the gas and unscrew the valve cap. I've run into an issue twice where the valve cap just would not get loose. Using a vice grip to loosen it, will ruin the black finishing paint on the valve cap and elsewhere if you aren't careful. If there is a pellet jam, or you need to clean the rifle, it will be impossible to open the valve cap without using up most of the c02 in it. I wish there was a better mechanism to get it loose all the time.
3.0
By Ziggy
July 11, 2020
Verified Purchase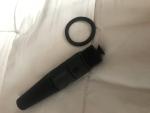 Pros
Amazing trigger. Gun shoots really accurately and can proficiently kill rats and small game. Bolt action is perfect for hunting rats, because you can put multiple shots into them quickly.
Cons
The seal on the Co2 compartment swole up to almost twice its size. Very odd. Dry firing to remove excess air is also annoying.
5.0
By francisco
USA
May 25, 2020
Verified Purchase
Q&A
Question?
Login to ask someone who bought this product.
Seal
asked Ronald from USA
Can you run 1 cartridge at a time with a spacer?
asked James from USA
What is the length of pull?
asked Perry from USA
Thoughts on a mid-cost scope and any other items needed?
asked David from USA
About how many usable shots from a full refill?
asked John from USA
Other sources say 100 shots, I haven't counted personally but I'd say that's about right before you start to *really* notice drop off.
David from USA
how many shots do you get with 3 co2 cartriges
asked Aidan from USA
What size o-rings to seal co2 chamber?
asked John from USA
The o-ring is 13 x 3 mm
Mark from USA
Is there any way to get a higher fps in 22 cal
asked Treyvin from USA
The physical limits of CO2 as a propellant pretty much limits the gun to what you get.
Mark from USA
have a trailscout diana I'm looking to install my bid red dot with built in lazer on side luger. mine is made to attach to weaver but diana 1mm dovetail and about a 4 inch block at the top brvae the opening for the magazine opening a shot tray, can u find me one that will adapt being dl short?
asked ty from USA
AGD-A7424 $7.99
Mark from USA