The single shot Evanix Rex PCP rifle is lightweight and comfortable to shoot at 5.5 lbs. It is a versatile hunting gun with up to 20 shots with the .22 and .25 cals. Operation is easy, with the unique trigger guard also the underlever cocking mechanism. The Rex rifle comes in .22, .25, and .357 calibers - features a integrated pressure gauge mounted on the rear of the metal stock. Plus, you'll appreciate the insulated air cylinder that detaches so that you can easily store & carry in the woods or to the range. The .22 caliber version with give you 44 foot-pounds of energy (fpe), .25 cal delivers 53 fpe, and if you pick the .357 cal, you'll get an impressive 146 fpe!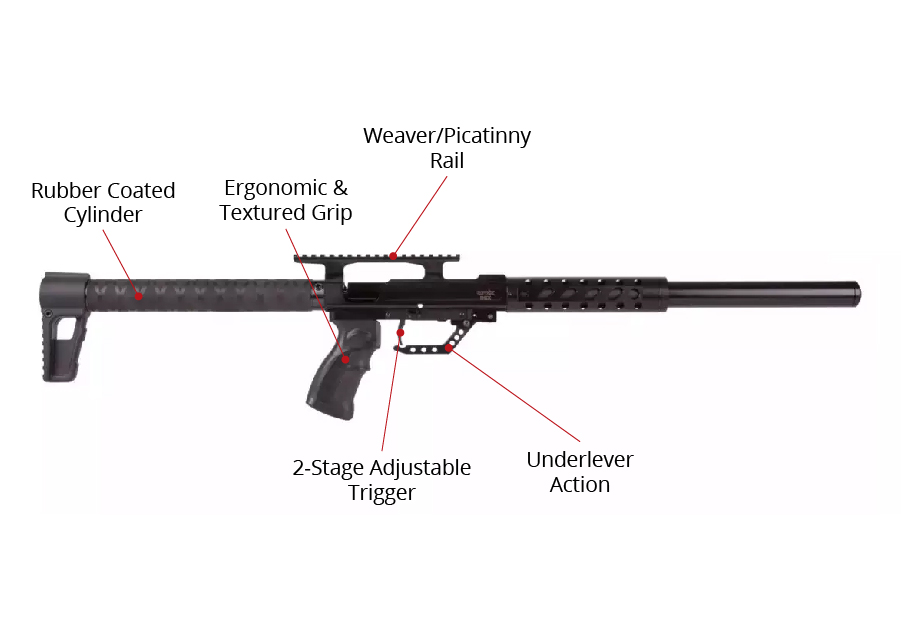 Evanix Rex PCP Air Rifle Features
Precharged pneumatic
Underlever cocking action
Single-shot
Fill pressure 220 BAR (approx, 3,190 psi)
Extremely lightweight, 5.51 lbs
.22/.25 = 20 shots per fill , .357 = 10 shots per fill
Ergonomic grip with finger grooves and texturing
Rubber coating on air cylinder, for more comfortable cheek weld
Integrated pressure gauge
Manual safety
.22 cal/1080fps, .25 cal/970fps, .357 cal/860fps
Unique cocking lever lock. Simply rotate out of the way when closing the lever to close the breech and make the gun ready to fire
Fill probe included (1/8" BSPP Male threads)
Specs
Manufacturer

Evanix

Caliber

.22

Velocity

1080 fps

Condition

New

Ammo Type

Pellets

Action

Underlever

Barrel Style

Rifled

Fire Mode

Single-shot

Gun Weight

5.51

Overall Length

35.82

Barrel Length

19.68

Loudness

5-High

Magazine Capacity

10

Mechanism

Pre-charged pneumatic

Rail

Weaver/Picatinny

Safety

Manual

Front Sights

none

Rear Sights

none

Shots per Fill

20

Trigger Adjustability

Two-stage adjustable

Trigger Action

0

Use

Small game hunting/target practice

Warranty

1-year limited warranty
Reviews
Average Customer Review
4.5
4.5
8 Reviews
5.0
By Jerry C.
December 10, 2018
Verified Purchase
It took some time to get used to the trigger being so hard to pull, but after shooting a tin of JSB Match 9mm 81.2 gr I mastered it. I dialed it in @ 65 yards and continued to maintain a 2" groupe. statement. I shoot 6" dia steel plates painted bright yellow. The satisfaction of that big pellet going where you point it is like a high powered rifle that goes where you point it. Now the sound well it has quite a bark so if you are shooting in a closed area or next to a building the noise will be reflected and it is loud. I shoot in an area that has trees and bushes so it is not that bad.There is a somewhat token baffle at the end of the barrel but not a device to silence it.I mounted a Bushnell scope 18X50, so it is nice and bright. You need to purchase a adapter for your Foster air hose coupler mail 1/8" thewads with a washer, can be purchased with the gun.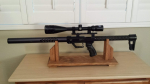 Pros
This rifle is so much fun to shoot, it is light , easy to load, good balance and is accurate very smooth action built sturdy the safety/fire lever is at your fingertip. Just a nice design
Cons
It has a air fill port and requires a special insert, but also you need a female male foster fitting so you can air up.
1.0
By Tim
September 7, 2017
Heard a lot of good things about the Rex. Wanted to continue shooting hogs with my Airgun but wanted to hunt Deer in Va. Nothing but good things about the service from AGD, but not with the Rex. Air fill probe orings kept getting cut off. Looked in the tank probe hole and it looked like a 6 year old drilled it out. Called customer service and they agreed it needed to be sent back. Again good service but horrible product manufacturing.
Pros
N/A
Cons
See above
5.0
By Jeremiah
USA
March 31, 2017
Since purchasing my .357/9mm rex rifle I haven't been disappointed. It's first kill was a giant Canadian goose. I took the goose with a single heart shot at 35 yards using the JSB exact 81 grain pallets. As far as shot count and accuracy the Rex delivers exactly what I expected. I get ten consistent shots on low power and four on high power. Using the JSB ammo I'm getting a ragged hole about the size of a quarter at fifty yards. At fifty yards you won't notice a difference between high and low power. Using .357 115 grain hunters supply hollow points the group opens up to silver dollar size at fifty yards. I recommend using .357 slugs because the air venturi ammo is loose in the breach and tends to slide back and forth in the action as well as 9mm.
Pros
The rifle is powerful, accurate, easy to fill with a pump, and very compact.
Cons
The trigger is stiff, but breaks clean.
5.0
By Jeremiah
USA
March 16, 2017
For $700 you can't go wrong with the rex rifle. I'm getting one ragged hole with 10 shots at 30 yards before refilling , and 5 touching at 50. It takes me about 3 minutes to refill using the g6 hand pump. I weigh 156 pounds and use all my body weight when I hit about 190 bar. Considering that this is a medium to small large game hunting rifle you are getting a lot of consistent shots for 3 minutes of effort. Ammo used so far is JSB and it is very accurate. The trigger is a bit stiff but very crisp and breaks clean. It is very predictable, and a true 2 stage trigger.
Pros
Powerful, accurate, and not as loud as people say.
Cons
None
5.0
By Neal T.
January 13, 2017
Just received a 357...very satisfied so far. A lot of power in a very light,compact package...about 6 1/2 lbs with a compact scope. Plenty accurate,and power levels are on par with advertised numbers.
Pros
Great compact hunting gun
Cons
Trigger a little heavy,but adjustable...
5.0
By Robert
USA
December 27, 2016
I love the power of the Evanix. Comparing the power of my bull boss and the Evanix, the Evanix trigger requires more intention when squezzing. But the power is obviously felt inside the mechanics of the Evanix. I haven't hunted with either weapon, but the bull boss feels as if you can guide your rounds. The Evanix requires more concentration on the trigger squezzing even though it weighs a whole lot less than the bull boss.
Pros
1. Less weight 2.More power 3. Faster to refill with hand pump 4. Both the HN Grizzly and the Air Venturi rounds fit well within the breach. Again my pros and cons are in comparison with the .357 caliber Evanix vs the .25 caliber bull boss.
Cons
1. I wish it came with a 3 round magazine. 2. Heavy trigger squezzing (Evanix) 3.at times there maybe fumbling, if you're trying to reload quickly after a shot, due to a small and narrow loading or breach environment.
5.0
By Len
November 23, 2016
This has become my favorite gun. I like it because it is light ,easy to load. ,very accurate and powerful. I use air tank to fill but have tried a hand pump and is not bad.
Pros
Light
Cons
None that I have experienced.
5.0
By Marilyn
USA
October 16, 2016
Love the lightweight simple style, I have a ATN Day/Night scope and 16,00 mah battery pack which weighs bout 3 pounds, so added to the gun weight of 5.5 pounds it works perfect for all day bush hunting coyote and Jack rabbits..The rabbit in the pic was taken with JSB 81.02 Gr. round out at 75 yards..I have dropped Coyote's out to 60 yards with 120 Gr. rounds from Mr. hollow point..I own a AirForce texan .45 and its great for blind hunting, but way to long and heavy to carry all day..sooo this works perfect!!!
Pros
Lightweight, simple design, yet powerful, accurate, durable hunting rifle!
Cons
None!!!
Q&A
Question?
Login to ask someone who bought this product.