The Gamo Swarm Bone Collector 10X Gen 3i gives you a sleek and lightweight multi shot breakbarrel air rifle for pesting and small game hunting with improvements to the loading technology. The 10X GEN 3i quick shot magazine gives you more precise loading with a lighter weight and lower profile, with 10 shots before reloading. Plus, the system loads pellets using the inertia from recoil, making double loading a thing of the past.
Instead of a standard spring piston, this rifle features an IGT Mach 1 gas piston, so you get the benefits of an inert gas technology powerplant. That means you get more power and smoother cocking and shooting, improved performance in cold weather, the ability to leave the rifle cocked for longer periods without damage, and less vibration.
The Gamo Swarm Bone Collector gives you a comfortable hold by cutting down on felt recoil by almost 75% with the Shock Wave Absorber recoil pad. It also gives you the sharp and consistent break you need for accuracy because it lets you separately adjust each stage of the 2 stage Custom Action Trigger.
You'll appreciate the Whisper Maxxim noise suppression technology Gamo gives you on this rifle, because it uses two noise dampening chambers so you won't scare game, and a muzzle break design that helps you by reducing recoil. The high quality beechwood stock features a laser engraved Bone Collector logo, and checkering on the grip and forearm means you don't have to worry about losing your hold.
You also get a 3-9x40 scope with rings that's waterproof, fogproof, and shockproof. If you've been searching for a break barrel air rifle with a wood stock and a smooth and reliable multi shot magazine for pesting or small game hunting, get the Gamo Swarm Bone Collector 10X Gen 3i at Airgun Depot now.
Gamo Swarm Bone Collector 10X Gen 3i Features:
10X GEN 3i Quick-Shot inertia fed magazine
Max velocity: 1100 fps with alloy pellets
Breakbarrel
.22 cal
High quality beechwood stock
IGT Mach 1 gas piston
2 stage adjustable Custom Action Trigger (CAT)
Checkered grip and forearm
Whisper Maxxim noise suppression
Shock Wave Absorber (SWA) recoil pad
Recoil Reducing Rail (RRR) 11mm dovetail
3 year limited warranty
Scope Features:
40mm objective lens
3-9x magnification
1" tube
30/30 reticle with fine crosshairs to speed target acquisition
40' to 12' field of view
3.5" eye relief
21.6 oz
13.5" long
Shockproof
Waterproof
Fogproof
Includes lens caps
Specs
Manufacturer

Gamo

Caliber

.22

Velocity

1100 fps

Condition

New

Ammo Type

Pellets

Action

Break barrel

Barrel Style

Rifled

Fire Mode

Repeater

Gun Weight

7.00

Overall Length

46.00

Barrel Length

19.90

Loudness

3-Medium

Magazine Capacity

10

Mechanism

Gas-piston

Rail

11mm dovetail

Safety

Manual

Front Sights

none

Rear Sights

none

Shots per Fill

0

Trigger Adjustability

Two-stage adjustable

Trigger Action

0

Use

Small game hunting/target practice

Warranty

5-year limited warranty
Reviews
Average Customer Review
4.8
5.0
5 Reviews
5.0
By Randall
USA
July 23, 2023
Verified Purchase
So far I am loving this and glad I got it. Definitely recommend! 9/10
Pros
Beautiful rifle, well-balanced, especially for a breakbarrel. Good weight for carrying around all afternoon in the woods, even without a sling. Wood stock easily seems like it should be on a more expensive gun. Very good trigger, also nice to see on a breakbarrel. Cocking effort is smooth and will be easy for most users.
Cons
The entire magazine system on the breech is thin plastic and flimsy, so a little extra care needs to be taken when using this rifle. The new mags themselves are ok, but seem a little lighter than the Gen 2. And it has a bit of a sharp bark to it. Guess it's still what I would call backyard friendly, tho. That's the 2 negatives I can think of right now.
5.0
By Nichole
USA
June 11, 2023
Verified Purchase
This is my first break barrel. Overall I love this gun. It is good looking and very well made. The power is way more than I expected. And happily so. Out of the box and unadjusted I bagged 3 pests on the first day. Pleased is an understatement. If you are in the market for a less expensive option than a PCP air rifle, you really cannot go wrong with this gun.
Pros
Very accurate and powerful within 20 yards. The scope that comes with is perfect for my needs. The gun itself is very well made and I love the beautiful wood finish.
Cons
I'm a woman of large stature. I am much stronger than most women my age, weight lifter in college. But I am 57 now. The gun is much harder to cock than I was expecting. It is also heavyish. I am using it for pest control. So I usually grab the gun, cock it and step out the front door semi-hastilly. I am shoulder firing every time. It is deadly accurate, but again, upper body strength and steady arms and shoulders are key. This is not your childhood Daisy pee-shooter. If you are lacking in upper body strength, you might consider a differnt model. It is not a good gun for your kids. Also, the Gen 3 magazine and loader are very nice, except when for whatever reason the pellets simply do not load. I have had that happen at least 3-5 times so far out of 20 shots. Lastly, the stock scope cover will not come off the front of the scope unless the gun is slightly "broke" because the cap will it slid off due to the Gen3 magazine blocking it from sliding off. This is out of the box install.
5.0
By Jeremy
April 10, 2023
Verified Purchase
Pros
Get gun! Finishes are of that a gun worth a lot more. Very accurate once you adjust to shooting a break barrel.
Cons
I wish the trigger was more adjustable, but it is overall a decent trigger.
4.0
By Joseph
January 7, 2023
Verified Purchase
Overall its pretty cool to own one.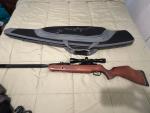 Pros
The style and the pellet cartridge. The power is pretty good.
Cons
The accuracy doesnt seem very consistent and its very difficult to sight in because of that. Also not sure about if you can load pellets one by one or if the cartridge is mandatory for shooting.
5.0
By Dennis
October 27, 2022
You will not be disappointed with this rifle.
Pros
Beautiful fit and finish and well-balanced rifle, very accurate for a break barrel. This thing packs a punch. Love the 10-round magazine. It comes with a cheap scope. But it holds its zero and has a clear picture, and you don't need to spend any money on a better one for this an air gun.
Cons
I would like to see a lighter trigger with a smaller 1st stage, It's not bad but I'm kind of a trigger snob. I wish it had a metal trigger instead of plastic.
Q&A
Question?
Login to ask someone who bought this product.
faut il un permis special pour acheter cette armme suis du canada faut t il un no de permis j ai un permis d arme d autorisation
asked steven from Canada
is it ambidextrous
asked kenneth from USA