The Gamo Swarm Maxxim 10X GEN 2 gives you an efficient and light repeater with key upgrades over the older model that won't break the bank. With speeds (using alloy pellets) up to 1300 fps in .177 and 1000 fps in .22, you get a breakbarrel air rifle that's great for pesting, small game hunting, or plinking.
The improved 10X GEN 2 Quick-Shot magazine attaches to the stock in a horizontal position and lays flat against the gun's body, so you get a compact profile for easy aiming and shooting. Plus, the grip features space for an extra magazine when the bottom cover is removed, and the Shock Wave Absorber buttpad means you'll feel over 74% less recoil.
The air rifle has a 2 stage CAT trigger that lets you adjust both stages for travel independently to get the break you want. It's also powered by an IGT inert gas piston, which gives you the advantages of less vibration, improved cold weather performance, smoother and quieter cocking and shooting, longer life due to the lack of spring fatigue, and the ability to leave it cocked for longer.
The stock is made of all weather nylon filled with automotive grade glass, and it has a textured rubber forearm and grip so your hold doesn't slip. So that you get quiet shots, this airgun uses Whisper Maxxim noise suppression technology and a jacketed polymer barrel.
To give you a combo with everything you need for accurate shooting, Gamo included a 3-9x40 scope that's waterproof, fogproof, and shockproof, and a mount. The 11mm dovetail also features Recoil Reducing Rail technology to keep your optics working for longer by almost completely canceling out recoil for scopes.
If you want an affordable repeating breakbarrel air rifle with upgraded features that gives you fast follow up shots, get a Gamo Swarm Maxxim 10X GEN 2 now at Airgun Depot.
Gamo Swarm Maxxim 10X GEN 2 Features:
Breakbarrel
Repeater
Max velocity*: 1300 fps (.177), 1000 fps (.22)
IGT Inert Gas Technology gas piston
Automotive grade glass filled nylon all weather stock
Horizontal magazine orientation
2 stage independently adjustable Custom Action Trigger
Whisper Maxxim sound suppression system
Textured grip with magazine storage inside
Textured forearm
11mm dovetail Recoil Reducing Rail
Shock Wave Absorber recoil pad
Length of pull: 14.4"
Barrel length: 19.9"
Overall length: 45.3"
Weight: 5.64 lbs.
3 year warranty
*Max velocity with alloy pellets.
Scope Features:
3-9x magnification
40mm objective lens
1" tube
40' to 12' field of view
3.5" eye relief
30/30 reticle with fine crosshairs to facilitate target acquisition
Fogproof
Shockproof
Waterproof
21.6 oz
13.5" long
Includes lens caps
Specs
Manufacturer

Gamo

Caliber

.177

Velocity

1300 fps

Condition

New

Ammo Type

Pellets

Action

Break barrel

Barrel Style

Rifled

Fire Mode

Repeater

Gun Weight

5.65

Overall Length

45.30

Barrel Length

19.90

Loudness

3-Medium

Magazine Capacity

10

Mechanism

Gas-piston

Rail

11mm dovetail

Safety

Manual

Front Sights

none

Rear Sights

none

Shots per Fill

0

Trigger Adjustability

Two-stage adjustable

Trigger Action

0

Use

Small game hunting/plinking

Warranty

3-year limited warranty
Reviews
Average Customer Review
4.2
4.0
29 Reviews
5.0
By Bob
October 23, 2023
Verified Purchase
Thanks again for replacement of defective one/customer service A1/New one works great.
Pros
Tack Driver
Cons
none
1.0
By Drew
October 14, 2023
Verified Purchase
I wouldnt buy this gun. Not accurate even at 50 yards.
Pros
Looks cool
Cons
Totally inaccurate. Would get dialed in for about 9 shots. Then would be a foot off in another direction.
4.0
By Natalie
June 27, 2023
Verified Purchase
I would recommend buying and if you use the .177 I personally recommend heavier pellets (13+ grain)
Pros
Simple to use effective accurate and fun for plinking/getting rid if pests. Not much to say just works how you think it would.
Cons
Out of the box the scope was crooked and had to be fixed and the mag was broken and required disassembly to be fixed. I don't have issues with this but I am concerned that if this happens to people who do not know how to fix these things. Granted given the quality I've come to expect from Gamo's stuff I assume that mine was just some one in one thousand minor defect. The most important part (The gun) works perfectly.
4.0
By Braden
USA
June 25, 2023
Verified Purchase
This is an awesome rifle, especially at the price tag on this site. Scope took a few more pellets to zero in than I thought, I dont think the reticle was moving for every click like it shouldve. Could be slightly hard to cycle for someone with shorter arms who cant grab the very end of the barrel to break it. For the money spent I cant be mad about anything really. It will take care of the squirrels in the yard, and is pretty fun to shoot.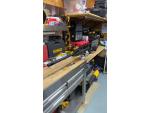 Pros
Very well built, solid construction. Scope has crystal clear quality at lower zoom levels. Pretty quiet, a little louder shooting the Raptor PBA pellets. Packs a lot of punch, will definitely take down any small game with a well placed shot.
Cons
The Gamo Red Fire pellets will not cycle or load in this. It was really disappointing since those were what I was looking forward to the most. The rifle is very, very front heavy, the stock needs more weight to it, even if it makes the rifle a few lbs heavier, it is not balanced well at all. The picture quality through the scope really diminishes after 6x.
5.0
By Mark
USA
May 26, 2023
Verified Purchase
Recommend getting an additional cartridge at the start.
Pros
#1 - deadly accurate right out of the box. Easy to use, very simple mechanisms. Great for beginners who want to curb a rabbit or squirrel problem. Excellent overall gun at a reasonable price. Customer service and support is proactive and very responsive - they emailed me to see if everything was satisfactory with my purchase and delivery.
5.0
By Terry
April 29, 2023
Verified Purchase
Would buy again
Pros
Good value, great gun for the price
Cons
Could be lighter
5.0
By Jennifer
USA
April 26, 2023
Verified Purchase
I am able to hit dots with this right out of the box and my dove and squirrel hunting needs are fulfilled
Pros
Very silent, accurate out of the box, recoiless, very powerful if you get .22, cool looking muzzle brake, comes with good scope extra mag storage (bottom of pistol grip)
Cons
Trigger pull is long which is not a problem for me but for people it may be a problem it should show a picture of extra mag storage in the store because it is hard to find
5.0
By Jay
April 17, 2023
Verified Purchase
This thing is accurate out of the box. Lots of fun, plinking or hunting, dont get much better!
Pros
Right out the box, mounted the scope, and sighted it in 8 shots with 5 in the 10 ring! Extremely impressed and pleased!
Cons
Would be better if there were 2 magazines, too much fun for 10 shots!
4.0
By ANTHONY
February 20, 2023
Verified Purchase
Decent gun, Good gun for a beginner
Pros
Good power for a break barrel, accurate,
Cons
Cocks a little hard, needs to include 2 magazines.
1.0
By Ken
USA
February 15, 2023
Verified Purchase
I TALKED WITH AIRGUNDEPOT AND EXPLAINED THAT IT WAS ONLY THE MAG THAT NEEDED REPLACING, BUT THEY INSIST I SEND THE ENTIRE UNIT BACK FOR REPLACEMENT. WHAT A WASTE OF POSTAGE, TIME, AND THEIR MONEY.
Pros
I LIKE THE GUN WHEN I CAN LOAD PELLETS TO MAG
Cons
AFTER ABOUT 80 SHOTS, THE MAG WILL NOT ALLOW THE PELLET TO SEAT PROPERLY, IT STICKS UP AND TAKES A SMALL OBJECT TO PUSH PELLET IN.
Q&A
Question?
Login to ask someone who bought this product.
Is it accurate and good opitics with stopping power
asked Christopher from USA
what model and manufacture of scope
asked Irv from USA
The rifle comes with a Gamo scope.
Adam from USA
H, I would like to know, what is the Minimun Muzzle Energy in this rifle? I dont know why they dont write it in the specifications.
asked Nelson from USA
Where do I find the serial number
asked Frederick & Stephanie from USA
Right under the loading mechanism on the barrels left side. It also shows the caliber
Bryce from USA
DO I NEED TO GET EXTRA AIR PISTONS FOR THE GAMO SWARM MAXXIM ?
asked MIKE from USA
How difficult to mount the scope
asked Phantom from USA
Its pretty easy, I even did it. take your time and you tube as others have said
Frederick & Stephanie from USA
Is this a green band gun? picture has green band in one pic and red in another....thank you.
asked Leroy from USA
Hi, the green band is for a .22 caliber and red is for .177.
Nelson from USA
xes tu mieux en .22 0u en .177
asked steven from Canada
qu elle est la meilleur palette pour la chasse pour ce model
asked steven from Canada
Can this Gun use this Magazin Gamo Swarm Magazine Available in .177, .22
asked Binh from USA
This will use the Gen 2 mag only. They are hard to find but I have the .177 and found one.
James from USA
How many pounds to cock the barrel?
asked Malcolm K from USA
30 lbs. This is the Maxxim/Fusion piston. Going higher from here are Bone Collector (about 35 lbs. cocking force), then Magnum (about 40 lbs. cocking force).
Kent from USA
What is the diameter of the scope mounts?
asked Zak from USA
Does the Moderator at the barrels end unscrew? It appears to be seperate.
asked Henry from USA
I got a swarm 10 gen 2 and bought a cheap laser scope sighter to site in the scope but the barrel insert is not long enough due to the muzzle...is there a different option?
asked Don from USA
I would like to add iron sights to my Gamo swarm 22 caliber Maxxim Gen2 can anyone help with how to and what sights to use
asked Slick from USA
I am also curious about how to do this.
Reagan from USA
is it possible to ship here in the Philippines? Is it free to shipping fees?
asked Miguel from Philippines
pouquoi on paye les frais de douanne ces pas ecrit sur la facture veiller l ecrire a l avenir sur la facture donc pas de surprise a la livraison mercie
steven from Canada
Were can I find magazine for it?
asked Max from USA
Got mine on Gamo's website .
Stanley from USA
How well do the H&N Slug HP, .218 Cal., 21 Grains, Hollowpoint perform through this gun?
asked zachory from USA
What's the return policy ?
asked Atif from USA
How many pounds of effort to cock action?
asked Jerome from USA
Closer to 50 pounds of effort .
Stanley from USA
I'll to. Buy a magazine for gamo swarm maxxim gen 2 22. Can't find any. Can you please send me a link. Thank you
asked Max from USA
How difficult is it to mount the scope? I am not tech savvy. That is the only thing keeping me from purchasing. All scopes I have have been pre-mounted. Thanks
asked Phantom from USA
pretty simple even for me
Frederick & Stephanie from USA
You tube it, that's what I did
Don from USA
It's not hard..you can do it..just take your time
Max from USA
This is not a Picatinny rail?
asked Dale from USA
11mm dovetail Recoil Reducing Rail
Roger from USA
what poundage is the brake action.
asked Barton from USA
The break on the barrel takes 30 pounds to cock it. And the clip when u load it make sure it is lined up if a pellet is in a little off it does throw the clip off a little
Jeff from USA