A lot of air gunners love their break barrels, whether it's nostalgia, power or accuracy - break barrel airguns have won the hearts of many over the years. But one thing has almost always remained the same with a break barrel, you can only load one shot. The Gamo Swarm Maxxim air rifle builds upon previous attempts to create a multi-shot break barrel rifle that lives up to its promise. Customary with many Gamo rifles, the Swarm Maxxim is has a gas-piston powerplant featuring Inert Gas Technology (IGT). This technology will give airgunners up to 1300 fps with only 30 lbs of cocking effort, but the real excitement is in the 10 round Quick Shot rotary-style magazine. So if you're looking for a break barrel that gives you more shots with less hassle, check out the Gamo Swarm Maxxim air rifle!
Gamo Swam Maxxim Air Rifle Features
Gas-piston powerplant (IGT--Inert Gas Technology)
Breakbarrel
Single-shot
Rifled steel barrel
11mm scope rail with scope stop
SWA (Shock Wave Absorber) recoil pad reduces felt recoil by up to 74%
All-weather ambidextrous stock with vertically adjustable cheekpiece
Custom Action Trigger (CAT) independently adjustable 1st and 2nd stage, allows you to tailor your trigger.
3-9x40 scope
Specs
Manufacturer

Gamo

Caliber

.22

Velocity

975 fps

Condition

New

Ammo Type

Pellets

Action

Break barrel

Barrel Style

Rifled

Fire Mode

Repeater

Gun Weight

5.64

Overall Length

45.30

Barrel Length

19.90

Loudness

3-Medium

Magazine Capacity

10

Mechanism

Gas-piston

Rail

11mm dovetail

Safety

Manual

Front Sights

none

Rear Sights

none

Shots per Fill

0

Trigger Adjustability

Two-stage adjustable

Trigger Action

0

Use

Small game hunting/plinking

Warranty

3-year limited warranty
Reviews
Average Customer Review
4.7
4.5
49 Reviews
5.0
By Orlando
USA
March 22, 2020
Pros
It is my first rifle and I am very happy with it ... Strength and precision in shooting, excellent design and very good weight
5.0
By Random b.
December 30, 2019
Great pellet rifle. It has good power and is very very accurate I can hit a marble at 25 yards every time with the stock scope that I haven't even sighted in before but have killed many squirrels with. Also using cheap crossman domed pellets witch work great in this gun. Also the 10 shot magazine makes this a perfect gun for hunting and target shooting and the gun is very quiet and I can shoot in my suburban backyard with no problems. Cocking effort is not much at all and a 9 year old could do it, though the gun is a little heavy but it makes it feel more sturdy and expensive. I also killed a pigeon at 65 yards but after 75 yards I think it would become inhumane.
Pros
All
Cons
No iron sights if you like iron sights
5.0
By Robert
USA
November 13, 2019
Verified Purchase
Extremely accurate piece. Quality scope that sights in easily. Magazine is awesome. Domed, Hollow Point, Pointed, High performance pellets all work perfectly in this mag. Terrific velocity. Pricing for this product is as good as it gets.
Pros
Scope Weight Accuracy Easy cocking effort
Cons
None to speak of!
5.0
By Naeem
USA
May 9, 2019
Verified Purchase
Got this Air gun today from Airgun Depot in .22 Very fast shipping. Man you will see the power of this airgun when pellet hits the target,realy good built quality and price Man they sould sale it for $400. But its only $200....
5.0
By John
USA
May 9, 2019
Verified Purchase
I am an avid shooter but never owned a Air Pellet Rifle or Pistol. I did not want to mess with CO2, Air Cylinders or pumps. That left a quality barrel break. After doing research, I settled on the Gamo Swarm Maxxim in .22 Cal. I was not disappointed. It zeroed quickly, the scope is easy to adjust for zeroing and it maintained its accuracy at 25 yards. I also purchased 3 additional magazines. The magazine reload and pellet loading system works extremely well. This is a quality Rifle and system. I plan to use it to hunt small game and target shoot. I expect, based on the quality and rugged manufacturing, the Rifle will last.
Pros
Design, construction and quality Pellet loading system Magazine Operation Adjustable 2 Stage Trigger
Cons
(1). Not really a CON but cocking the break barrel for the next shot could be tough for some shooters. (2). Scope mounting. Again a nit. Gamo gives you a Scope Lens Cover(s) but you have to break open the barrel to get the front cover off. Moving the scope back slightly fixes that mounting flaw. Or, you can just live with breaking the barrel to remove.
5.0
By Alan M.
May 9, 2019
Verified Purchase
Nice to have a repeater with 10 shots with this much power.
Pros
Multi shot. Lightweight. Powerful.
4.0
By george c.
May 3, 2019
Verified Purchase
i,am 76 years old.hunted all my life for bear deer turkey and small game.I stopped at age 65 because of health issues.I,am familiar with firearms [retired police officer] easy to assemble and sight in.accurate and powerful at 30 yrd and cheap to shot.good deal.
Pros
accurate and good deal for what it cost
Cons
arm gets sore after a coupe hours of cocking [ 76 yrs.old]
5.0
By Jerry
April 23, 2019
Verified Purchase
Very nice air gun,a very accurate gun.Air gun depot was a pleasure to deal with.
Cons
Gun has to be cocked open to get scope caps on and off.
4.0
By Roger
January 11, 2019
Verified Purchase
Upon receiving my Swarm, I started out getting the scope sighted in. After running thru the first mag I loaded up the spare I got and NOTHING, stopped shooting pellets, nothing but dry fires. Took out the mag and double checked it, all seemed OK. Full of pellets all facing the right way, but won't fire. Wound up dry firing the rifle maybe 20 times with no luck. On a lark, I took my first mag and reloaded it to try it in the gun, don't know why, if it won't fire one full mag, why would it fire this other one. Well guess what, it didn't misfire, worked OK. Could not find anything wrong with the first mag but it wouldn't move past the first load. So if you are having trouble with yours not firing, try another magazine as apparently they can and do fail for no reason at all. Only time will tell if GAMO is right about it being OK to dry this thing after dry firing as many times as I did.
Pros
Love the ability to continue shooting without loosing sight of that prey you just missed, or just staying sighted on a target.
Cons
Watch out for faulty magazines.
5.0
By Esteban
USA
December 19, 2018
This is my 2nd air rifle and for far the best one, from the moment you open the box and see it, it looks nice than the weight it's just perfect, than ones you put the scope on, from there its game on, 10 shots mag, been a cal 0.22 gives me the power to take down squirrels like nothing and the scope it's great as well, I have no complaints, I almost forgot the trigger it's so light that you feel like a pro.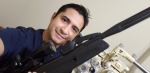 Pros
Weight 10 shots mag Soft trigger Barrel easy to break
Cons
Not really for the price
Q&A
Question?
Login to ask someone who bought this product.
What would be a good ammo for the Gamo swarm maximum igt
asked Leau from USA
A mid weight domed pellet in either calibers, JSB's,Air Arms,H & N. These are good brands to try.
Mark from USA