Hatsan�s has entered the fray of affordable PCPs with the Flash. The Flash strikes just in time to join the ranks of accessible PCPs that don�t skimp on accessories and quality features. Silenced by Hatsan�s QE suppression and fueled by a fixed 165cc volume aluminum air cylinder, this backyard friendly rifle slings pellets downrange at speeds up to 1250, 1120, and 900fps in its .177, .22, and .25 calibers. This power delivers hard-hitting muzzle energy of 29, 38, and 40 FPE in .177, .22, and .25 caliber. Each Flash features a rugged synthetic stock is ideal for all weather conditions, and skeletonized to keep the weight down to a light 5.9lbs. Each Flash includes a Weaver/Picatinny accessory rail that begs for a bipod, and a combination Weaver/Dovetail mount is ready for the optics system of your choice. The Flash features Hatsan�s 2-stage fully adjustable match Quattro trigger system, ensuring your trigger pulls break clean and smooth. Each caliber includes two indexing magazines and a single shot tray for placing precision shots. If you want to finally own your own PCP gun that won�t sacrifice power or quality features, make a bolt for the buy button, and make the Flash yours.
Hatsan Flash QE PCP Air Rifle
Pre-charged Pneumatic
Bolt action
Skeletonized synthetic stock
QuietEnergy fully shrouded barrel
Includes 2 indexing magazines and single-shot tray
Includes quick-fill nozzle
Adjustable cheekpiece with integrated adjustment wheel
Precision rifled and choked barrel
Anti-knock system prevents gas wastage when rifle is knocked or bounced
Combo Picatinny and 11mm dovetail rail
Quattro Trigger: 2-stage fully-adjustable match trigger
Fixed 165cc air cylinder, 200 BAR, 2,900 psi
Specs
Manufacturer

Hatsan

Caliber

.177

Velocity

1250 fps

Condition

New

Ammo Type

Pellets

Action

Bolt-action

Barrel Style

Rifled

Fire Mode

Repeater

Gun Weight

5.90

Overall Length

42.30

Barrel Length

19.40

Loudness

3-Medium

Magazine Capacity

14

Mechanism

Pre-charged pneumatic

Rail

Weaver & 11mm dovetails

Safety

Manual

Front Sights

none

Rear Sights

none

Shots per Fill

35

Trigger Adjustability

Two-stage adjustable

Trigger Action

0

Use

Small game hunting/target practice

Warranty

1-year limited warranty
Reviews
Average Customer Review
4.5
4.5
20 Reviews
5.0
By Jonathan
USA
June 28, 2020
Verified Purchase
Pretty powerful lil gun and deadly accurate even out to 100 yards!
Pros
Lightweight, powerful, and accurate when walking fields. No need to second guess when talking aim.
Cons
Could shoot more per fillup
5.0
By Thomas
USA
June 17, 2020
Verified Purchase
I bought this rifle a couple months ago as my first purchase of a PCP and I've got to say that overall I'm very impressed. I paired this gun with a Mantis 3-9x32 scope and it does everything I need it to do. I bought this rifle predominantly for taking care of squirrels and other pests at my house in the city. I can't fire a traditional .22 where I live but this gun is easily quiet enough to shoot in my yard without disturbing the neighbors. I've been extremely impressed with the accuracy and power this rifle has. I've killed 12 squirrels (all head shots and all dead on impact) and a bunch of invasive birds (starlings and grackles). I am shooting the Predator Polymag 16gr ballistic tipped pellets and they seem to run great in the rifle. The only issue I have is getting it filled. It's a little tricky to get filled but that could be an adaptor issue or user error. I purchased a GX pcp compressor from amazon that works great for much less than the ones sold on airgun sites.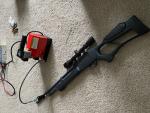 Pros
Accurate & affordable
Cons
Magazine is a little funky
4.0
By joel
USA
April 25, 2020
Verified Purchase
I have put around 1000 rounds through the flash and have found it to be a tack driver and shoots most quality ammo very well. It has a lot of power compared to most entry pcp's. I also have a Gamo Urban which I would recommend over the Flash due to more consistent shots and an overall better build IMO.
Pros
Fast, lightweight, quite and accurate
Cons
Magazines are finicky and jams occur if not careful
2.0
By Timothy
USA
January 13, 2020
Pretty accurate rifle. I had issues with it after putting less than 100 pellets through it. I found that there were flat spots on the barrel o rings. They had to be replaced. Since this was the case, I ended up with a pellet jam that I had to clear. I cleaned everything up and replaced the o rings. Then I found that the QE aluminum nut was missing its o ring and it was not tightened when it was assembled. The nut also had metal left over in the holes and I had to clear it out. After all this it seems to be working ok. I sent in a request to return the rifle, but I have not received an RA and I did not want to wait any longer so I had it fixed instead. I'm not real happy with how all this turned out.
Pros
Accurate rifle
Cons
There were issues with the manufacturing of this rifle which took away from the quality of the rifle.
5.0
By Phillip
December 25, 2019
This was my first pcp love it after shooting springers really easy to shoot.I have a 4 inch gong I shoot at a 146 yards 9 out 10 times Taken bird and squirrel out over 150 yards.
Pros
Easy to shoot accurate and powerful
Cons
None
5.0
By joe w.
November 22, 2019
Verified Purchase
I bought this rifle from airgun depo. delivery was prompt. gun arrived in good shape no problems. I also bought a satcom night vision scope. this rifle shoots 5 shots in one hole at 30 yards with 18 grn. pellets. seems to have plenty of power.gets 3 full mags on one fill and still accurate.no reason to spend more money on 22 cal air gun this gun is lighter than more expensive guns easy to hold on target
5.0
By Kevin
September 30, 2019
Verified Purchase
After having break barrels I just had enough of the BULL' so read a lot of reviews on the Hatsan Flash QE .25 , never had a PCP gun so I said it has to better then want I have now . So I got one form AGD I ask them package it well an they did a great job / the guncame to me perfect -- Thank You AGD .After shooting it 10 to20 times I am very impressed the accuracy is crazy 1 hole @ 25 yards an @ 40 yards it's dime size hole - goes clean though 3/4" plywood LOVE IT . Rabbits & Coons do not stand a chance .
Pros
All
Cons
None
5.0
By Allen
USA
August 2, 2019
Verified Purchase
I have been shooting for about 3 years ,I have a few springers and A ()( .45 cal pcp , this is my first .22 pcp . Man I would trade all my springers for another Hatsan Flash QE . this thing is not pellet picky , after mounting a scope ,I was shooting nickle sized hits with in less than 50 shots , I read a lot of reviews before I bought this flash , It is a hole in hole at 26 yds , I have a 4inch x14 steel swing target set at 60 yds 15 grn. will swing it 6to 7 inches on impact .I still want to do more shooting with different pellet weights . and name , but as of now love the Hatsan Flash QE . If you do get one of these , I do hope it is as well built as the one I have .
Pros
Its light , quiet , accurate with 4 different pellets so far,will test with others . it hits hard , it is a very good plinker , also a very good hunter , I haven't shot a squirrel yet , but i am very sure at 60 yds I can have squirrel for supper , LOL
Cons
No iron sights , should have iron sights for shooting flying targets
4.0
By Seth
USA
May 23, 2019
Verified Purchase
My brother in law loved my Benjamin armada. So I got him this in .22. Great value for the price. A perfect entry level PCP gun. Accuracy is great for the price. It shot .6" to 1" groups at 50yds with jsb jumbo express 14.35gr, jsb jumbo RS 13.4. (seems to like the lighter pellets. It has great ergonomics, it's light, well balanced and great to shoulder fire. Not mouse quite but not to loud either
Pros
Price Accuracy (for price) Ergonomics Comes with 2 mags
Cons
Magazines are a bit loose and temperamental Cocking lever is not as smooth as like a Benjamin, or high end air gun Wish it came with a mini foster adapter, most PCP bottles use the foster. No front sling lug, u will need a rail adapter for a sling or sling mount bipod
5.0
By Jason
USA
March 14, 2019
I got this Flash QE in .25 cal refurbished great deal. Bought 2 extra magazines, open sights and foregrip bipod setup is good enough. Love the power, accuracy, ultra lightweight and value. This will go through an inch board so loud and easy. So I tried with 20 layers of cardboards stuffed in a box for test run and I love it. Very low noise from the QE rifle and pellet hit the target didn't make loud noises no more and didn't go through those cardboard boxes. This become my go-to air rifle for all purpose fun and pesting or just simply scaring night owl on my chimney. Lol.
Pros
Value for powerful entry pcp, feather light like I can hold it with 1 hand and swing it around, accurate even with open sight setup, I use fore grip bipod by Hatsan and work well so far.
Cons
None actually after I clean the barrel, lube the cocking lever and breech area, dap a bit of lube also in safety lever not the trigger.
Q&A
Question?
Login to ask someone who bought this product.
do you shipping this to canada?
asked Tran from Canada
Can anyone recommend a good scope for this rifle.
asked Greg from USA
You can mount any scope on a PCP. Get one with the AO focus to 10 yards or less.
Mark from USA