The FlashPup PCP platform strikes just in time to take advantage of a slew of accessible PCPs that don't skip on accessories and quality features. Fueled by a fixed 165cc volume aluminum air cylinder with a 200 BAR fill pressure (2,900psi), the FlashPup spits rounds at speeds up to 1250, 1120, and 900fps in its .177, .22, and .25 calibers. This power corresponds to and FPE of 29, 38, and 40 in .177, .22, and .25 caliber. Each FlashPup features a finely grained ambidextrous hardwood stock that includes a pistol grip and adjustable cheekpiece for proper eye relief and a comfortable hold. Right under the foregrip is a Weaver/Picatinny accessory rail that begs for a bipod, and a combination Weaver/Dovetail optics rail is ready for the scope of your choice. The FlashPup features Hatsan's famed 2-stage fully adjustable match Quattro trigger system, ensuring your trigger pulls break clean and smooth. Each caliber includes two indexing magazines and a single shot tray for placing precision shots. Rounding out the package is Hatsan's QuietEnergy (QE) system, a fully-moderated barrel that makes the FlashPup ideal for backyard target shooting and small game hunting. If you've wanted to enter the world of PCP airguns and love the idea of a powerful and highly-mobile shooter, make a bolt for the buy button and make the FlashPup yours!
Hatsan FlashPup Features:
Precharged Pneumatic
Bolt action
QuietEnergy fully shrouded barrel
Includes 2 indexing magazines and single-shot tray
Includes quick-fill nozzle
Adjustable cheekpiece with integrated adjustment wheel
Precision rifled and choked barrel
Anti-knock system prevents gas wastage when rifle is knocked or bounced
Combo Picatinny and 11mm dovetail rail
Quattro Trigger: 2-stage fully-adjustable match trigger
Fixed 165cc air cylinder, 200 BAR, 2,900 psi
Specs
Manufacturer

Hatsan

Caliber

.177

Velocity

1150 fps

Condition

New

Ammo Type

Pellets

Action

Bolt-action

Barrel Style

Rifled

Fire Mode

Repeater

Gun Weight

6.10

Overall Length

32.00

Barrel Length

19.40

Loudness

3-Medium

Magazine Capacity

14

Mechanism

Pre-charged pneumatic

Rail

Weaver & 11mm dovetails

Safety

Manual

Front Sights

none

Rear Sights

none

Shots per Fill

35

Trigger Adjustability

Two-stage adjustable

Trigger Action

0

Use

Small game hunting/target practice

Warranty

1-year limited warranty
Reviews
Average Customer Review
4.5
4.5
18 Reviews
5.0
By Farrell
USA
August 8, 2020
Verified Purchase
Hatsan listened to critics and provided better instructions for loading the magazines but YouTube provides useful instructional videos for those unfamiliar with the magazine.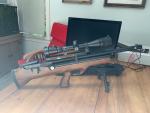 Pros
I bought the .25 Flashpup QE and love it. It came pre-filled and I was able to shoot it out the box. It's quiet relative to my spring gun and perfect for backyard pesting and target shooting.
Cons
The safety does not automatically engage between shots.
Pros
Well balanced, lightweight, very accurate and hits so, so hard.... I got this in .22 and strait out of the box, no cleaning this thing is a TACK DRIVER!! I sighted in at 25 yds and am getting 1inch 5 shot groups out to 80 yds. This gun drops pigeons at 70 plus yards no problem. Mine loves JSB Diablo Exact Heavy 18.13 gr pellets. Although the H&N Crow Magnums are great as well. With 35 plus ft. Lbs. of energy, this gun is a beast. You won't be disappointed for the $$.....P.S get a used scuba tank for $100 and forget the pump.
Cons
None
5.0
By Mark
USA
January 22, 2020
Verified Purchase
After doing a lot of research, I decided to purchase the Hatsan Flashpup .22 with wood stock as my first PCP rifle. AGD had a great deal on the Flashpup at the end of the year that included a free scope. (Optima 3-12x50 AO) The rifle came filled to 200 bar with no leaks and the fill probe fits perfectly with no leaks. The rifle has a beautiful wood stock and is very comfortable to shoulder and is very well balanced at the grip. The two 12 round magazines that came with the Flashpup work flawlessly. I am very pleased at how quiet this gun is and how much power it has. I have other air guns, but the Flashpup is the most quiet and powerful by far. I started out shooting .22 JSB jumbo express 14.35 gr at around 1100 FPS. I am getting about 40 shots at max velocity per fill with no change in point of impact. After shooting 3 mags or 36 shoots, the pressure drops from 200 bar to 125 bar and I refill at this point. I sighted the scope in at 40 yards and I'm getting sub 1/2 inch groups and many hole in hole shots. The first thing I did before shooting this rifle for the first time was clean the grease from the barrel. Cleaning the barrel is a good practice before shooting any new gun. After taking a few shots and trying to sight in the scope, I discovered the scope sits so high on the rail that the elevation on the scope bottoms out and I had to aim 6 inches high to hit the bullseye at 40 yards. I had to shim the rear end of the scope rail with two strips of plastic cut from a black plastic coffee can lid. The plastic is 36 thousands of an inch thick so a total of 72 thousands of an inch. I reset the scope elevation to factory zero and my first shot was 1 1/2 inches low at 40 yards. 14 clicks up in elevation put my next shot dead center in the bullseye. This was a very simple scope rail modification. The two allen head screws that hold the scope rail are 2.5mm. Low profile scope rings might eliminate the need for this modification. I purchased this rifle for target and small game hunting. This is a great choice for a first PCP rifle. Out of the box the bolt operates smoothly and the two stage adjustable trigger is set to about 2 1/2 pounds of pull and is a true pleasure to shoot. The Optima scope that came with the rifle works very well. It has good solid clicks when adjusting elevation and windage and I like the mil dot reticle and AO. I am using a Hatsan spark compressor to fill the 165cc air reservoir and you will need to purchase a quick disconnect adapter for the gun's fill probe. Filling from 125 bar to 200 bar takes about 1 1/2 minutes with the spark compressor. I found a lot of in-depth info on the Flashpup at Brothers In Air on YouTube.
Pros
Great value at the $400 dollar price point. beautiful wood stock, very powerful and extremely accurate. Smooth bolt action and great trigger.
Cons
Had to shim the back end of the scope rail but low profile rings on the scope might eliminate the need for this modification.
5.0
By William
USA
December 18, 2019
Verified Purchase
I bought the Hatsun Flashpup QE, Hardwood! WoW! Who needs a firearm when you have (1) of these! Actually, it caught me by surprise of the power and penetration point that will take care of business if your hunting for food. It also is accurate for all target shooting. This is a serious piece of hardware and I recommend it to the active sportsman!
Pros
All good!
Cons
None!
5.0
By Carlton
USA
October 28, 2019
Verified Purchase
Nice light weight wood with plenty of accuracy. Uses the Flashpup magazines which is a real plus. Have this in .22 & .25. Hard hitting, relatively quiet, rail for scope. Good purchase.
Cons
No real cons at this time.
4.0
By Jeff
USA
August 7, 2019
Verified Purchase
I actually bought this for my son. He really likes my BullBoss but wanted a little smaller bullpup with a wood stock and less expensive. it shoots under 2" groups at 50 yards with Benjamin Discovery 22 cal. 14.3 gr pellets
Pros
Powerful and very accurate, Fast handling
Cons
magazines can be a little touchy to get in.
5.0
By Verdell
USA
July 2, 2019
Verified Purchase
This is a great little gun that carries allot of power in a small package. This is very accurate and easy to fire. Great for pesting and small game. This is a well made gun and will be your favorite. Excellent buy for the money.
Pros
Very accurate, easy to load and fire. Nice trigger
Cons
Not enough magazines with gun.
5.0
By Michael
USA
June 11, 2019
I am new to the PCP market and bought my Flashpup in .25 from a local distributor for the money I got a real diamond I had a large mean raccoon that was terrorizing my kids and wife the other night and wouldn't let them in the house I shot it with the Flashpup at about 20 yards and you could hear the impact and it was done in one shot unlike the .22 pellet rifles I have . If you want a great and well balanced rifle this is the one for you it will work well for small game hunting and pest control also .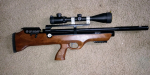 Pros
Awesome power , nice picatinny rails for accessories , well balanced and very very affordable !!!!
Cons
NOTHING !
Love this gun, have two of them now... loads of power and light and easy to maneuver. A Bullpup gun that works well for us lefties! Loves Crosman premiers ... dead accurate to 50 yds. Get one, you'll fall in love
Pros
Light weight, well built, loads of power, easy to tune, accurate, low price.
Cons
None
1.0
By John
USA
February 12, 2019
Verified Purchase
Just got mine in 177 have not been able to shoot it the bolt won't close with the magazine in it! I have many airguns so I am not a new cummer, but these are the crappiest fitting mags I have ever seen! It is going back, I think it was shipped with the old black mags. Very frustrated.
Pros
Nice looking, light,
Cons
Magazines are unusable, I read past post regarding issues, but assumed all the newer ones had the updated mags, guess not.
Q&A
Question?
Login to ask someone who bought this product.
How many pumps does it take from 120 bar to 200 bar with a hand pump.
asked Robert from USA
I want to get this gun. Will it come with updated magazines? I see that the old ones are a con for some folks. Or maybe there are no updated ones?
asked jason from USA
Bought one in September have had no issues with magazines
Gary from USA
What is the true barrel length? Some sites say 17" and some others say 19.4".
asked Eddy from USA
The Hatsan website and ours says Barrel Length 19.4.
Mark from USA
Which is the best caliber for hunting grouse. small game. .22 or .25?
asked Dick from USA
22 cal will be fine.
Mark from USA
is this shipping to canada?
asked Tran from Canada
does the benjamin pump fit this
asked Alexis from USA
Yes. But you need an adapter for the fill probe PY-A-3550 $9.99
Mark from USA
Can the cocking lever be changed to the left side for left handed shooters? Being so far back it looks like it will dig into the left cheek. Is it regulated?
asked Edward from USA
There is no left handed action for the Flashpup. It is not regulated from the factory.
Mark from USA
A newbe to PCP, whats the best way to fill the air cylinder for a new comer
asked Robert Allen