If you find it difficult to shoot precharged pneumatic airguns in your home or backyard because the loud sound disturbs others, then the new Hatsan Quiet Energy (QE) series of rifles should be on your short list. The silencer is quite effective and integral to the gun (it cannot be removed). It's also a real boon to hunters, especially when trying to dispatch pest animals that tend to gather in groups...rats, birds, mice, rabbits, etc. That way, you can more easily dispatch each one without alarming the others in the pack. The Galatian is an incredibly powerful rifle, and you'll get a lot of shots between fills. In fact, just get an extra tank, fill it with air and carry it with you. Then, when you run out of air, you can just unscrew the empty tank and screw in the full one. When you open the box, you'll immediately notice the attention to detail that went into the design and manufacture of this air gun. This is a quality rifle made by a company founded by an airgunner.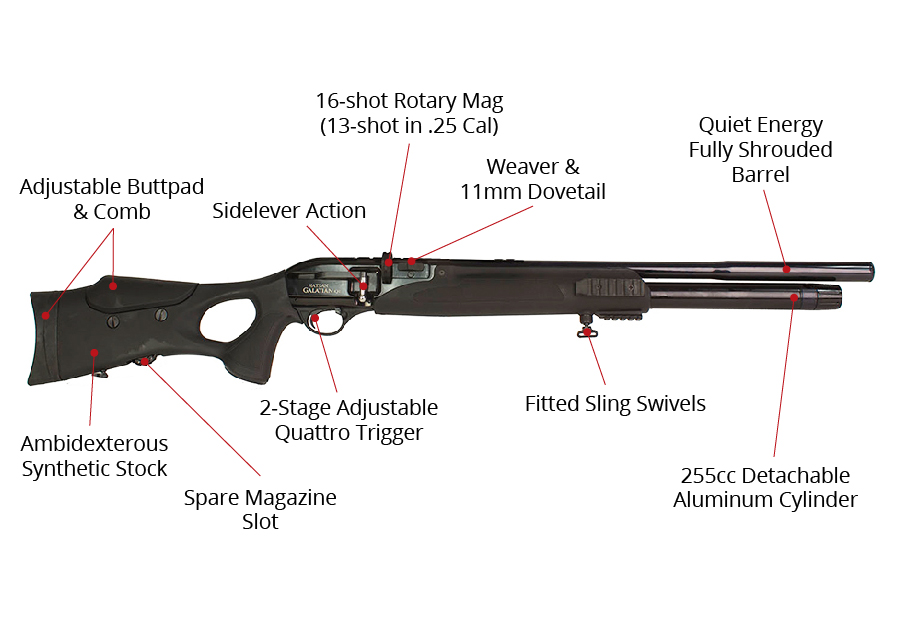 Hatsan Galatian QE (Quiet Energy) Air Rifle Features
Precharged pneumatic
Repeater (16rds in .177- 14rds in .22- 13rds in .25)
Sidelever bolt-action with cocking indicator
200 bar (2-900 psi) max fill pressure
Ambidextrous synthetic stock
Vertically adjustable comb
Textured grip and forearm
Fully shrouded with integral silencer (approx. 32% quieter than unsilenced Galatian)
Integrated rail accepts Weaver* or 11mm mounts
3 Picatinny rails on forearm
2-stage adjustable Quattro trigger** (adjustable travel and pull weight)
Metal trigger and triggerguard
Anti-double-feed mechanism prevents more than one pellet from loading when gun has been fully cocked
Adjustable recoil pad (vertical- horizontal and angle)
Extra mag storage in the belly of the buttstock
Mounted sling swivel studs
Removable air reservoir has built-in manometer (air pressure gauge)
255cc air reservoir volume
Rotating dust cover protects the fill port on the air reservoir
Aircraft-grade aluminum alloy receiver
Up to 48 optimal shots per fill in .177 caliber
Up to 42 optimal shots per fill in .22 caliber
Up to 39 optimal shots per fill in .25 caliber
Up to 24 ft-lbs. of energy in .177 caliber
Up to 36 ft-lbs. of energy in .22 caliber
Up to 40 ft-lbs. of energy in .25 caliber
Ideal for hunting up to medium-size quarry
Includes hard case, various O-rings, reservoir bleed valve, 1/8" BSPP probe with male threads, 2 rotary clips, sling, sling swivel studs, sling swivels and owner's manual
*Weaver mounts are not standard. We do not recommend using them.
Specs
Manufacturer

Hatsan

Caliber

.25

Velocity

950 fps

Condition

New

Ammo Type

Pellets

Action

Sidelever

Barrel Style

Rifled

Fire Mode

Repeater

Gun Weight

8.60

Overall Length

43.30

Barrel Length

17.70

Loudness

2-Low-Medium

Magazine Capacity

13

Mechanism

Pre-charged pneumatic

Rail

Weaver & 11mm dovetails

Safety

Automatic

Front Sights

none

Rear Sights

none

Shots per Fill

39

Trigger Adjustability

Two-stage adjustable

Trigger Action

0

Use

Small game hunting/plinking

Warranty

1-year limited warranty
Reviews
Average Customer Review
4.9
5.0
7 Reviews
4.0
By Andres
USA
December 22, 2017
Accurate, well built and nice looking
Pros
The stock is solid with a rubberized coating. No cheap plastic feeling. Adjustable to fit any shooter The blueing is dark and even The action works smoothly but a bit hard Mounted a 6x24-50 Hawke Vantage scope, cleaned the barrel and sighted it at 50 yards. Within 15 minutes I was shooting 1" groups consistently using JSB 18 grain pellets. Will be trying 100 yards next. Looks nice and overall construction is good Trigger was hard but was able to adjust it to my liking with no trouble Automatic safety feature is nice, safety latch could be more ergonomic
Cons
It is heavy, get a bipod or sticks Filling with a G6 air Venturi pump takes 100 strokes from 100 to 200 bar (green range), so it is a workout. Loading the magazine takes some practice
5.0
By victor
USA
July 10, 2017
Wow what an airgun once I found right pellet and zeroed in scope was hitting dime size groups at 30 Yards. Power is awesome. Will be taking it to range to te long range lets see what it ca do.
Pros
Powerful and extremely accurate great looking Easy to shoot and load works as I thought
Cons
Little heavy once you add scope. I see as bench rifle so it isn't a big problem. Going to see how it feels hunting.
5.0
By Dave
February 26, 2017
This is one of the best air guns I have ever owned, it has a lot of power and very accurate
Pros
Accurate,powerful
Cons
Big heavy clunky gun
5.0
By clayton
USA
October 5, 2016
I have the black carbine And it is amazing gun It is worth the money And anything you point it at and it's cited in its hitting it great gun took deer with it in head at 65 yards I know I shouldn't be shooting deer with a 45pound muzzle velocity only at 790 fps with 46 grain pellet but it worked and I had food on table for weeks to come.
Cons
Little heavy
5.0
By David
USA
September 15, 2015
Received my galatian 25 cal a couple of weeks ago and I have to say, what a mean looking air rifle..... ordered it with an extra air cylinder, six tins of Benjamin pellets, an Air Venturi and an extra magazine. I cleaned the outside of the rifle, mounted a 3x9x50 Pentax rifle scope to try out the power and accuracy. Wow, this caliber, velocity, weight of the rifle is incredible !!! I also have a Benjamin discovery 22cal and I was very impressed with the lightness of the rifle and accuracy plus penetration of the pellets (have killed a lot tree rats, doves, rabbits and a 90 yrs shot at a jack rabbit) but after sighting in the rifle @ 15 meters and tweaking @ 40 meters, shot a quarter size group.. Did try it on a tree rat and well, u know the rest of the story.. oh, I didn't have problems loading the pellets into the magazines, very impressed and easy
Pros
At first the weight of the rifle I thought that I may not have a good and steady balance. The balance is great especially with the thumb hole, good feel to the grip and hold steady... The unlocking of the magazine and setting back in took a little practice. The side lever loading, man this is really great an easy. The noise suppressor does it job! I decided to pump up one cylinder after it dropped to the yellow Mark and it took 300 pumps strokes but I got 4 1/2 magazine shots before reaching the yellow mark of the gauge. Since 22 ammo is getting scares and expensive, I would recommend this brand and rifle, very impressed by the difference in the pellet size and weight compared to the 22 cal and without a doubt, I know this has great killing power...
Cons
My order was incomplete but calling in my order was sent out (I did get confused on my magazine order because I received on magazine and in the accessories pic, it shows two magazines). My sling did not come with clip to attach to the sling holders but instead, shackles, yeah, shackles!! I called and asked about this and the customer service said that he didn't know anything about this and this was how it was shipped out. Just to let u know, I asked for management to call me but this never happened. The case I don't not like, hard to work the locks and rifle fits to tight at the ends... one more thing, on the magazines I placed a white dot mark on the outside and as I set it in I aligned it so on my last shot this would show I reached empty ( Hatsan to my opinion should consider this for all magazines and spare the counting ur shots)!!!!
5.0
By ALIN
USA
August 4, 2015
I got this after 3 weeks of scouring the internet about PCPs This is the best saddle point of PCPs price, quality, customization, rounds per magazine
Pros
In cal .25 you get 13 rounds per magazine Trigger adjustment is easier with removing the air cylinder Accurate Not too noisy - shot it empty inside the room not painfully loud Double rail 11 mm and 20 mm - for scope and accesories 2 magazines sling case and accessories for emptying the air cylinder if you want to put a regulator on it fill probe
Cons
Magazine doesn't accept Eun Jin pellets - those pellets are protruding out of the magazine- had to file the tip down did not test the accuracy yet
5.0
By ALIN
USA
July 26, 2015
Love the fact that it holds 13 pellets in the Magazine. it is so nice to just keep on reloading. The rifle feel heavy. I have been shooting some JSB .25 calliber and zeroed in a cheap scope at 25 yards or so. Today I shot a beer cap from like 25 yards - put a hole in it. I think I need to stop drinking coffee so my heart stops bouncing in my chest. I think i shot 200 Pellets already. And I keep on shooting. I have to order some more pellets, I am already running low. I have been doing mostly plinking with the gun. and I am looking for a new scope for as much distance as possible. It's nice the gun has a sling, but I do't keep it with the gun.
Pros
I like the fact that the air cylinder is removable, so when I was adjusting the trigger sensitivity, I could remove the cylinder and I did not have to loose air. - Not sure if other guns have a way of preventing air lose if you can't remove the cylinder. One thing. if ever get the gun, when you adjust the trigger, if you make it to sensitive, you wont be able to cock the gun - it will discharge. Also if you make it to sensitive, you can just hamer it with your fist and if it discharges, then the gun is not safe -too sensitive. just an FYI. I like the the dual rail so you can mount the 11 mm and 20 mm scope mounts. That is nice flexibility, however there are some rings that might not work on the 20mm rail, because the 20 mm rail is lower than the 11 mm one, and some mounts the screw goes from one side to the other.. I like the fact that it comes with it's own case - did not have to buy a whole case. I have been shooting it in the back yard no one complained so is pretty quiet.
Cons
I am not thrilled that the EUN Jin Pellets do not fit properly they are a tad longer then the magazine. But I think I can file the tip a bit. not that important, unless you really hunt and you need the impact from a 40 or so gr pellet.
Q&A
Question?
Login to ask someone who bought this product.
What is the longest pellet/ slug that will fit the magazine? Has anyone used slugs?
asked Derek from USA
Is it interally regulated
asked Rodrick from USA
Is it necessary to empty the tank after use?
asked larry from USA
good-day, is this a smoothe bore barrel?
asked Mark
Exceuse the newbie question but why do I need a scuba tank when I have a large air compressor in my workshop? Is it some massive pressure, or what?
asked George from USA
The maximum capacity of most home air compressors will not come close to attaining 3000 lbs of air pressure. Those pressures just aren't needed to fill tires and run pneumatic tools. About the only places where compressors capable of those pressures are scuba / dive shops, places that fill paintball guns air supplies, or a fire department. The fire departments sometimes have compressors like this to refill their SCBA tanks. No garuntee that your filling adaptor would be compatable with their's though.
Mike from USA
Most PCP air rifles have an operating pressure between 2500 and 3000 psi so a standard air compressor will not fill them. A scuba tank or a HPA compressor or hand pump is required.
Scott from USA
Does this version of the Galatian include a case
asked Matthew from USA
hi there i live in the uk and you get hard case 4manual catches plus 2 padlock holes for extra security [flight approved]+ trigger lock + filling adapter +sling+a box off assorted seals and a set off keys for adjusting the trigger and but plate and comb and stock and a brass degas cap for emptying your cylinder hope this helps alex jarre
ALEXANDER from USA
Yes it does.....at least mine did.
Darren from USA
I want one of thease guns right now I have a Gammo 177 caliber if you were me what caliber would you get 177 , 22, or the big one? Please let me know as I am just getting into sir rifles I am 60 years old so need all the help I can get Lol
asked michael from USA
Depends on what you are using it for. .177 pellets are too lite for this gun. If you buy .22 you might want to use at least 21 grain or heavier. I have the .25 because I can shot longer shots with less problems with wind blowing pellets off target.
Gatorproof
how do you fill the air cylinder?
asked robert
how does the pnuematic cylinder charge?
asked robert
you can use an SCBA tank also. i got one off of ebay for about $50.00 Your local fire dept.may fill it for free or a small donation.
Ty from USA
U can use a scuba tank or just use one of the pumps hatsan has to offer but i would go with the scuba tank u can get one at your local dive shop.
Jon
Why don't you show the velocities and speed of ant of thease 3 guns
asked michael from USA
Mike, We apologize for not having that information available on our website. It is due to the fact we are still testing the product to get that information. Here is what we do have: Up to 48 optimal shots per fill in .177 caliber Up to 42 optimal shots per fill in .22 caliber Up to 39 optimal shots per fill in .25 caliber Up to 24 ft-lbs. of energy in .177 caliber Up to 36 ft-lbs. of energy in .22 caliber Up to 40 ft-lbs. of energy in .25 caliber Hopefully that helps for the time being. We will continue to update as information comes available. Sincerely, Airgun Depot Customer Care Team
Scott from USA
On the 25 Caliber apx. how many shots per fill ? How accurate at 50-70 yards?
asked David from USA
what is the speed of the lead pellet when shot in feet per second?
asked Dick Hess
40vrgrain in 25 is 745 to 755 and spot on at 50yards got to go test100 yards by then I will have camara soon so you can see how good this gun is.
clayton from USA
950, all hatsan speed values are done with lead pellets in call their guns. Hatsan is the only company that does this.
Thomas sireci
950fps, hatsan lists all their fps values using lead pellets so you know exactly what you're shooting, not useless pba pellets can't hit the side I of a barn with, they're the only ones that do this, pretty cool and honest
Thomas sireci
If you gow to pyramid air .com you will find every thing you need to know.
not available