Serious, Solid, Impact. ┬аIt's more than a just a catchphrase for the Hatsan MOD 130S QE Breakbarrel. ┬аWhile other breakbarrel airguns suggest use as a small game hunters, you feel confident the MOD 130S is more than capable for pest elimination and small game hunting with it huge .30 cal ammo. Built for the trail, each 130S features an all-weather stock with integrated swivel sling mounts. ┬аThe stock includes an adjustable comb to ensure you get your ideal cheek relief with each shot. ┬аAlthough a long gun, the 130S is easy to control with checkering on the grip, and a rubberized buttpad with inserts for achieving a customized length of pull. ┬а To begin slinging serious lead, break the barrel and load up your .30 caliber round. Return the barrel to firing position and take aim with the easy to read fiber-optic open sights. ┬аIf you don't prefer open sights, mount a scope to the ┬а Each 130S features a 2-stage Quattro trigger that can be set to your preferred pull. ┬аOnce you pull the trigger your .30 cal will be hitting speeds as high as 590 FPS to dump an authoritative 34 ft-lbs of energy into your target. Each 130S features an 11mm Dovetail/Picatinny combination rail for the most versatility in your optics choices. Loaded with innovative breakbarrel features, the rifle includes Hatsan's Quiet Energy integrated suppressor to reduce the sound of its report and features a Shock Absorber System (SaS) to reduce the recoil and reduce stress on the scope.
Hatsan MOD 130S Vortex QE Big Bore Breakbarrel
Breakbarrel
Vortex Gas Piston
SaS Shock Absorber System reduces recoil
Quiet Energy (QE) integrated suppressor
Anti-bear trap safety
Tru-Glo Fiber optic sights
11mm Dovetail / Picatinny Combo Rail
Automatic safety
Integrated swivel slings
Specs
Manufacturer

Hatsan

Caliber

.30

Velocity

590 fps

Condition

New

Ammo Type

Pellets

Action

Break barrel

Barrel Style

Rifled

Fire Mode

Single-shot

Gun Weight

9.60

Overall Length

47.20

Barrel Length

10.60

Loudness

3-Medium

Magazine Capacity

1

Mechanism

Gas-piston

Rail

11mm dovetail

Safety

Automatic

Front Sights

Fiber Optic

Rear Sights

Fiber Optic

Shots per Fill

1

Trigger Adjustability

Two-stage adjustable

Trigger Action

0

Use

Small game hunting/plinking

Warranty

1-year limited warranty
Reviews
Average Customer Review
4.7
4.5
15 Reviews
5.0
By John
USA
February 26, 2021
If this country goes to hell, this gun is going with me to put food on the table.
Pros
This gun packs a serious punch. Preppers would have no trouble bringing this gun into their arsenal. I'm shooting the H&N Vortex Strike @ 48.50 grains with devastating results. This rifle is serious on squirrels, the slam is way more than you need. Rabbits, coyotes, even deer in a life or death situation (headshot). I have placed a 3x9x50 Bushnell on mine, just a lot easier on the eyes. Very well built, worth every penny.
Cons
It's surprising how hard it is to cock the first time and a noticeable heft to it. All that being said, you get used to it quickly and it doesn't bother you. I don't think cocking is getting easier, I think the shooter is getting stronger.
4.0
By R
USA
January 16, 2021
Verified Purchase
Pros
Plenty of punch, for a springer, decent price, well constructed. It's also surprisingly quiet.
Cons
Not very accurate past 50 yards or so. Also it's pretty heavy and might be hard to cock for smaller shooters. Limited ammo options.
5.0
By Joe
USA
December 28, 2020
Did a test shot on a button buck I harvested with my hunting rifle . So I tried the hatasan 135 .30 Diablo 54 grain pellet. Head shot between eyes saw .30 cal hole through stuck pencil inside It was inside brain cavity. So lead me to believe head shot is the way to go when shtf need meat to live and no bullets available. The hide neck area was to thick and tough acted like bullet proof vest pellet dropped down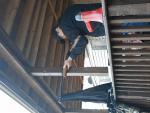 Pros
Nice wooden stock. Heavy but you feel the power this rifle can have.
Cons
Cocking it is a bit tiresome shot after shot you get worn out.
5.0
By Jeffrey
USA
December 21, 2020
Verified Purchase
Looking forward to this gun being broken in. After the first 100 or so shots I hear it gets easier to break. ... This is a serious air gun rifle. Seems well made. It is heavy and packs a wallop. I do recommend it.
Pros
A quality product.
Cons
It's a bear to break the barrel brand new.
5.0
By Sean
USA
December 18, 2020
Verified Purchase
Pre-CORONA, I had a cheap multipump .177 rifle (location: 2 decades unknown) and my dad's CO2 1950s era BB pistol. I started with getting my deceased paternal grandfather's .20 Sheridan fixed earlier this year. Now, I have .177 CO2 Peacemaker replica, two .22 rifles, and now this .30 bad boy. Tis the season, so it was quite impressive seeing what this 130s Vortex did to pumpkins compared to those other 4. She was on back order for a month or two; totally worth it!
Pros
I'm a fan of the sights on this model. I considered, and looked, at scopes, but now that I've had it in hand... I don't expect to add a scope or alter sights. I had some buyer's uncertainty regarding ease of breaking the barrel, but it is definitely reasonable. For your kid... no, but I doubt you want them to have this model anyway.
Cons
weight. It is what it is. Lighter would be nice (like always) but I do enjoy how solid/sturdy the build feels on this Hatsan. I need to order a sling though for when I'm Elmer Fudding after city rabbits.
5.0
By Richard
USA
October 6, 2020
Verified Purchase
I'm really happy with this air rifle, and it is priced nice too. I recommend it, especially for people that don't want to buy the cartridges, pump, air tank or compressor, but want a powerful air rifle.
Pros
The power of this breakbarrel is amazing! I put my paper targets onto 3/4'' plywood, and every shot blasts right through it. Its fiber optic sights are pretty accurate right out of the box. It's nice to have so much power without having to buy any air cartridges, pumps, tanks, or compressor. one pump and you're ready to shoot.
Cons
This gun is not for young shooters, it's pretty big and heavy. Some people say it is too hard to cock, to them I say... hit the gym. If it isn't hard, it's too easy. This is a man's gun and if you are not very strong, then it may not be for you.
4.0
By Swamp Angel
USA
June 18, 2020
Making the barrel short sometimes increases velocity, depending on the pellet, but it's a trade off with accuracy and cocking effort.
Pros
Good Value, Styling
Cons
The reason this gun is hard to cock is because the barrel is too short-- 10.6". And it doesn't help to have a sharp front sight right where leverage is best. My Hatsan Striker has an 18" barrel, and my HW 35 barrel is 19".
5.0
By Edward
USA
April 27, 2020
Nothing
Pros
Don't try to shoot a Coyote or Racoon with this air rifle. Unless you are very close and hit it in the head you will only wound the animal.
Cons
Nothing
5.0
By Brandon B.
December 26, 2019
I got one of these babys for Christmas I love hatsan airguns this is the most Powerful Gas ram out there it's perfect for coyote huntin and racoons at 40 to 50 yards groping tightly for perfect shots its very well done with a polymer stock switch swivels added from the factory its 10 pounds with a scope added but the pellets are the same diameter of a 30-06 bullet so Enough said on power I actually prefer this over my P.C.P because it's a brake barrel totally the perfect Airgun for hunters
Pros
A Very powerful and accurate big bore for under 300$
Cons
Nothing bad about it at all in my opinion
Q&A
Question?
Login to ask someone who bought this product.
I just bought this gun can it kill a turkey sized bird
asked Wallace from USA
Can this air rifle safely shoot slugs?
asked Rex from USA
To heavy & to much barrel drag contacting the rifling. Pellets have a smaller area engaging the rifling
James from USA
Will this rifle accept conical slugs like those sold by Griffin and Apex?
asked Rex from USA
Does this pellet rifle create enough fpe to humanely eliminate foxes and coyotes ?
asked Joe from USA
I noticed inside of the hatsan 130 & 135 there is a PCP style port near the rear of the compression tube.. over the trigger assembly that a PCP fill probe goes into that allowed me to pump up the gas ram to 200BAR! the FPS went from the factory 550fps to .. now the 44.75 grain pellets fly at a constant 610fps... Almost 37fpe! On PA's calculator.. but the cocking effort is definitely increased... Not for the weak.. It's now worth taking out hunting medium sized game out to 75yards.
James from USA
No, not unless you're very close (10 yards) and hit them square in the head. You need a .45 or .50 for that.
Cory from USA
yes https://www.google.com/search?q=fpe+chart&safe=active&sxsrf=ALeKk02yw-x-IfkkF7V388EZOMGr-Mke4w:1610315312479&tbm=isch&source=iu&ictx=1&fir=iQDFYdcQfijkWM%252CeCDZW_bWA_NVXM%252C_&vet=1&usg=AI4_-kRTA797kBTd2gvAvFZ6rTEPsQ_unQ&sa=X&ved=2ahUKEwj0uLSBrJLuAhVBYs0KHb8MDdsQ9QF6BAgLEAE&biw=1920&bih=1007#imgrc=iQDFYdcQfijkWM
Jack from USA
Hello I bought a hatsan .30 air rifle and What Type of scope do you need for a hatsan mod 130s vertex QE. 30 caliber because I bought a scope and it didn't clip so please can anyone answer my question
asked Edy from USA
u need a scope with 11 milimeter fittings for the gun fitings as in the clamps holding in to the gun
Nick from USA
My box shows the max velocity at 550fps, it shows it here as 590fps and elsewhere I've seen a different box showing 600fps, I know the fps varies by why is it stated differently? Are they all the same make of the model?
asked Cameron from USA
It depends on how much psi (bar) the ram is pumped up to. I used a PCP fill probe to bring my 135 & 130 up to 200bar.. shooting 44.75g at 610fps.. right at 37fpe.
James from USA
Negligible differences. Don't sweat the small stuff.
Cory from USA
Whats a good scope to put on this rifle thats stays sighted
asked John from USA
Any good scope. Nightforce, Leupold, Nikon, Redfield.
Cory from USA
Is this rifle strong enough for deer hunting? I am new to the air gun world and looking for an affordable deer hunting rifle.
asked Frank from USA
This rifle with the "gas ram" pumped up to 200 bar.. using the 44.75g pellets can take ANY small & medium sized game within 50 yards (instantly) with a head shot! No guesswork, actual facts!
James from USA
Absolutely not.
Cory from USA
No where near enough power You'd have to go PCP and a bigger bore like the Air Force brand ones; and it probably wouldn't be legal to in your state anyways. Most states don't allow any air guns for deer. Look up your state or country's hunting laws surrounding air guns.
Jamie from USA
no the best pellet gun for deer hunting is the AirForce Texan LSS Moderated Big-bore PCP Air Rifle .50 cal
Jack from USA
By all accounts, this is not a deer gun.
Colin from USA
If your state allows big game hunting with air rifles, there will be a minimum fpe requirement. At the stated 34 fpe produced by the Vortex, it's almost certainly illegal to hunt deer with it no matter where you are. To hunt big game where I live an air rifle must produce no less than 215 fpe. You may want to consider shopping for a PCP rifle, which will be more suitable for hunting deer. And remember to aways check with your local Department of Wildlife for hunting regulations. Your state may not allow big game hunting with air rifles.
Rex from USA
Will this rifle fire one of the arrows like some of the other's I have seen? I think it takes at least a 30 caliber to do that but not sure about the barrel length.
asked Will from USA
Airbolts do not shoot out of break barrel guns. Only PCP airguns have the power and barrel length to shoot airbolts.
Mark from USA
How exactly does the buttpad adjust exactly
asked Derrick from USA
There are different thicknesses of buttpads that can be popped in and out of the stock.
Mark from USA
Was wondering if this gun comes with a sling ? If so because mine did not thank you.
asked Michael from USA
What is the maximum range of the rifle
asked Brandon from USA
With accuracy 60 yards. Free flight 200 yards.
Mark from USA
What is maximum yards the gun will shoot
asked Brandon from USA
With accuracy 60 yards. free flight 200 yards.
Mark from USA
What makes the FPS specs slightly higher on the mod 130S versus the model 135 with the walnut stock? Thinking that they are the same gun other than the stocks?
asked Scott
What scope would be compatible?
asked Carlos from USA
Is it really getting 40 for more than the 135 .30???
asked Randy Job
This uses .30 caliber bullets as in a bullet you would reload with, or do you need to buy special .30 caliber airgun pellets? Could this be used to down fox or coyotes out to say 50 yards? This doesn't require a scuba tank, but is a cocking barrel type air rifle? Piston?
asked Tim
How powerful is this?
asked Alex