One of our best selling break barrel air rifles! With the Hatsan Vortex Gas Ram system the model 95 just got an upgrade. The model 95 Vortex features a beautiful Turkish Walnut stock, fiber optic sights, and a 3-9X32 scope and rings. This gun shoots a true 1000 FPS with lead pellets. The model 95 comes in three caliber choices (.177, .22, and .25) that are perfect for pest control, small game hunting or just plinking around the yard. The vortex system will give you a smoother shooting cycle, extended product life and fewer moving parts. Try the new model 95 Vortex air rifle today.
Hatsan Model 95 Vortex Features
Turkish walnut stock
Quattro Trigger System
SAS(Shock Absorber System)
Ambidextrous
Checkering grip and forearm
TruGlo Fiber Optics
Hatsan Vortex Gas Piston utilize regular air instead of any other type of gas
Vortex Gas Piston technology is developed and manufactured by hatsan to be specifically used in most Hatsan break barrel/under lever airguns
Gas piston powered airgun eliminate most of the vibration caused by the oscillation of the heavey springs used in spring-power airguns
Gas piston models produce much more steady consistent power between consecutive shots versus spring-powered airguns
Includes 3-9x32 Scope
Specs
Manufacturer

Hatsan

Caliber

.22

Velocity

800 fps

Condition

New

Ammo Type

Pellets

Action

Break barrel

Barrel Style

Rifled

Fire Mode

Single-shot

Gun Weight

7.80

Overall Length

44.50

Barrel Length

17.70

Loudness

3-Medium

Magazine Capacity

0

Mechanism

Gas-piston

Rail

11mm dovetail

Safety

Automatic

Front Sights

Fiber Optic

Rear Sights

Adjustable for windage & elevation

Shots per Fill

0

Trigger Adjustability

Two-stage adjustable

Trigger Action

0

Use

Small game hunting/plinking

Warranty

1-year limited warranty
Reviews
Average Customer Review
4.3
4.5
63 Reviews
1.0
By Paddy
April 23, 2020
I didn't fire more than 100 rounds over a year's period as I live in the city and don't get out to the country (Florida Everglades) very often. After sitting in closet for 4 months I got it out and....thunk. Dead air piston. Purchase price of $200+ and I barley got a year and 100 rounds but to drive it home Hatsan said pay for shipping both ways and all repairs and we'll be happy to help you out. Never (Hatsan) again.
Pros
Liked the heft and feel as I grew up hunting with powder rifles
Cons
Included scope will not handle the recoil.
5.0
By Buffalo J.
May 28, 2019
Bought my hatsan Mod 95 Vortex to clear varmints from a distance, and it didnt take long to become a proficient shooter. The gun shoots straight and is extremely powerful for a 22 cal, 14.3g pellet. I can't believe the long range shots I make consistently, even with the cheap scope. The quality of this Hatsan rifle is excellent compared to firearms and is not at all a toy, and the scope is ok at best but it works well for me for my long range, humane shots at mice and grey squirrels, and now targets.
Pros
This hatsan rifle feels good with proper weight and balance, its very solid and has really nice finish materials. I've gone through a couple thousand shots now, and its perfect with common crossman Premier Hollowpoints. Its still like brand new after two years or so later, I'm happy.
Cons
The scope isn't as nice as the Hatsan rifle, but my only problem with it is the cheap elastic straps for the very nice tinted glass lens covers. not much of a complaint... I recommend the Hatsan Mod 95 Vortex, and now I'm looking into a .22 pellet pistol to go with it. Maybe a sig...
4.0
By david
March 13, 2019
Verified Purchase
It does what I needed it to do. I like it.
Rifle works fine. Heavy and requires some strength to cock. Little kid will have hard time cocking. Scope is worthless. Will not hold zero.
Pros
Accurate seems well made.
Cons
Scope will not hold Zero.
1.0
By La_Swampfox
February 17, 2019
This recommendation is based on Hatsan service and not standing behind their products. I bought 2 Model 95 Vortex .22 rifles at the same time. Right out of the box you could tell by the sound and cocking effort one was different. Chronograph showed one averaging near 820FPS and the other barely breaking 600FPS. Sent to Hatsan and they returned (WEEKS LATER); claiming it was repaired. Chrono showed it shooting average of 815FPS. I am not into just shooting air rifles and this was bought for pest control. Went several months of not shooting, and when I tried to use it, I found the gas cylinder was completely dead. Contacted Hatsan and they said I would be responsible for all repair costs and shipping as it was out of Warranty. After much arguing and showing this rifle was defective when purchased, they agreed to fix it; but stated "Never Again"; and were actually quite rude. I sent it in, and they returned it (WEEKS LATER). This time Chrono showed about 800FPS velocity. I shot it for a while and noticed it seemed to have lost that "crack" sound and was losing velocity; but did not dig out the Chrono. Put away for several months until a Opossum problem popped up. Found out the gas cylinder was completely dead again. The other rifle I gave to my son nearly 2 years ago is still shooting fine; this one has supposedly been "repaired" twice and is now dead again. They did not repair or replace anything in my opinion! They merely recharged the cylinder and sent it back with the same leak and defective cylinder. When working it was a great rifle; but this one is/was defective from day one, and they did nothing to correct it, or stand behind it. Choose another Brand!
Pros
Good looking and accurate; when it was working.
Cons
Poor quality control; and even worse Customer Service and Warranty/repairs.
5.0
By Marcus
USA
December 10, 2018
Hard hitting, accurate well made. This is really a great gun at a great price!
Pros
Very accurate out at 50 when dialed in with a proper scope
Cons
The scope that it comes with is not the best and has trouble holding zero
2.0
By Bailee
November 29, 2018
Verified Purchase
It's and good gun for the money shooting 1in groups at 20 yard but it's sucks cause the front iron sight and barrel act like there unscrew from the gun I can trin the front sight up side down and the other thing is I bought a few different pellets to try and half of them wouldn't shoot out the gun a little disappointed in the gun it would pinch the pellet when you close the barrel and shoot it would make a ball dropping sound if you didn't get something to push it down farther.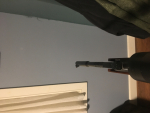 Pros
Okay gun for the money
Cons
barrel screws all the way around and some pellets don't shoot
5.0
By Anselmo
USA
September 10, 2018
Verified Purchase
The gun is handsome. Smooth shooter. Quiet. I have not broken it in yet, but it kills! Got my first varmit at 50 yrds with the stock scope. A must have gun! The only other gun i'd like to have after this one would be its sister gun the 87 model with synthetic stock.

Pros
Everything!
Cons
The scope only because it is not a mildot.
5.0
By CJ
July 23, 2018
Verified Purchase
While this is heavier than my Remington 700 .270, for its intended range it is just as accurate. Quarter size group at 100 feet and with enough power to punch through a piece of scrap shed siding. The scope is perfectly adequate. The trigger has a lot of side to side movement but that is the design and after a few shots you don't even notice. Highly recommend.
4.0
By Harry
USA
July 20, 2018
Verified Purchase
Received this pellet rile in a timely manor I shot it with open sights and I found it to be close on out of the box with a few minor adjustments it was shooting in the black at 25 yards it seams to be very accurate the over all quality seems to be quite well made for price it is a heaver rifle but very stable the break is kind of tuff at first. Now the scope is a different story it was difficult to sight in the optics are very poor over all the rifle is a good buy but I would not recommend it for younger shooters works very well as a squirrel killer.
Pros
fells like a quality product shoots very well
Cons
scope is junk
Q&A
Question?
Login to ask someone who bought this product.
I have the Mod 95, .22 cal. I had to take the scope off because I could not keep it sighted in!! Likewise with the open sights!!~ I have tried everything to keep the rifle sighted in, but the recoil keeps knocking the sights off. Anyone have any suggestion short of taking it to a gunsmith? John
asked John Leyendecker
Use Loctite on the scope mount screws and put a little tape over the rear sight adjusting screw.
John Sholl
The piston seals can be a little undersized on these and the piston will slam home hard. ARH makes a good seal for these and you can clean up the internals while it is apart...These still are great rifles and well worth a little finessing...
John
.....Hello....At what distance can you hit a 6 inch circle over and over.......and how far away are you going to kill a squirrel.....or rabbit ???
asked john from USA