One of our best selling break barrel air rifles! With the Hatsan Vortex Gas Ram system the model 95 just got an upgrade. The model 95 Vortex features a beautiful Turkish Walnut stock, fiber optic sights, and a 3-9X32 scope and rings. This gun shoots a true 1000 FPS with lead pellets. The model 95 comes in three caliber choices (.177, .22, and .25) that are perfect for pest control, small game hunting or just plinking around the yard. The vortex system will give you a smoother shooting cycle, extended product life and fewer moving parts. Try the new model 95 Vortex air rifle today.
Hatsan Model 95 Vortex Features
Turkish walnut stock
Quattro Trigger System
SAS(Shock Absorber System)
Ambidextrous
Checkering grip and forearm
TruGlo Fiber Optics
Vortex Gas Piston technology is developed and manufactured by hatsan to be specifically used in most Hatsan break barrel/under lever airguns
Gas piston powered airgun eliminate most of the vibration caused by the oscillation of the heavey springs used in spring-power airguns
Gas piston models produce much more steady consistent power between consecutive shots versus spring-powered airguns
Includes 3-9x32 Scope
Specs
Manufacturer

Hatsan

Caliber

.22

Velocity

800 fps

Condition

New

Ammo Type

Pellets

Action

Break barrel

Barrel Style

Rifled

Fire Mode

Single-shot

Gun Weight

7.80

Overall Length

44.50

Barrel Length

15.90

Loudness

3-Medium

Magazine Capacity

0

Mechanism

Gas-piston

Rail

11mm dovetail

Safety

Automatic

Front Sights

Fiber Optic

Rear Sights

Adjustable for windage & elevation

Shots per Fill

0

Trigger Adjustability

Two-stage adjustable

Trigger Action

0

Use

Small game hunting/plinking

Warranty

1-year limited warranty
Reviews
Average Customer Review
4.3
4.5
73 Reviews
5.0
By George
USA
October 13, 2021
Verified Purchase
I own three .22 cal air rifles. I also have a Benjamin Prowler and a Gamo Maxxim Swarm in addition to the Hatsan 95. The Gamo is the lightest in weight. All three are good in my opinion. All three shot more consistently with the heavier weight pellets. I would not go less than 16 grain pellets.
Pros
I have the 95QE 22 cal. version. Very nice air rifle. Good looking stock. I have not mounted the scope but dialed it in using the normal sights. The JSB Jumbo Heavy Diabolo 18.13 grain pellet was very consistent is accuracy. The H&N 21.14 grain Baracuda Match was also very consistent in accuracy.
Cons
It is a heavy rifle so sling mounts would be great if they could be attached.
If I had a chance to test try it I would have not bought it. In my opinion there are better options. And if you are looking to shoot this in your suburban backyard look for something else! This gun is loud.
Pros
It has a very nice walnut stock and I like the safety mechanism. It seems solidly build.
Cons
Something I don't like it that is frekin' loud - almost equivalent to 22 pistol. The QE version is just for looks. Its also fairly heavy compared to other pellet rifles I have handled and the weight is in the beginning of the stock - for me personally its uncomfortable especially when shooting without resting the rifle. Another noteworthy aspect is the recoil from the gas piston - simply put my shoulder is bruised. The precision is also not great with pellets spreading in a radius of 2 inches from a distance of 10ft (hopefully this would improve as the rifle is worked in).
In .25, this gun offers smashing power for pests and varmints, hits like a .22 Short! Very accurate once sighted in. I haven't even scoped mine yet... no need to. The wood grain is very nice. Hatsan employees should be very proud of their work... I'm impressed a rifle this nice can sell at such a low price point. This was a gift from my best friend... I guess he was worried I would ask to "borrow" his Hatsan .25. LOL!!! My Benjamin .25, I'll likely sell as it's so damn big and heavy. The Hatsan 95 is very handy, easier to carry... its a keeper!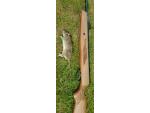 Pros
.25 caliber Power with a gas piston?Superb accuracy, rugged, well built with nice wood grain and low price? Oh Hell yes!!!! This a high value pellet gun for a reasonable price. Look out Germany, Turkey is turning out some sweet shooting airguns! Mine sighted in easily. I may scope it later, no need so far as most of the varmints I take are under 25 yards, so open sights work well. Wish I had this in the late 70's / early 80's as a kid! .25 caliber is an Incredible jump up in pesting wallop from the .177 Crosman 766 Pump rifle I had as a kid. The Hatsan 95 is stiff to cock, but you will get stronger as it's tough to stop shooting it as it's so accurate. Will shred through both sides of a metal tin can full of water at 25 yards. Yes, this will take bigger game such as raccoons, fox, woodchucks, etc., even coyotes... provided you utilize proper shot placement. It's that powerful. Not too loud either if you have neighbors or live in the suburbs.
Cons
Offer without scope at a slight discount, or sell with an upgraded scope at a higher cost.
4.0
By James
December 4, 2020
Verified Purchase
Pros
Like one of the previous reviews I am 60 years young and my last pellet rifle was the Daisy 880. I had my Daisy for over 40 years and it still shoots! The Hatsan 95 really looked good to me from the video's and reviews. The rifle has a nice solid feel to it and it appears to be very well made. Getting the pellets in the gun was some what awkward, but the purchase of a pellet pen fixed that. I bought a nice scope for the Hatsan and that was well worth it. I can consistently hold groups in less than an inch with a "flyer" or two. I am really happy with the accuracy.
Cons
The scope that comes with the rifle is simply inadequate for it. The vibration of the rifle loosens the mounts after a dozen shots or so and with that goes the accuracy. I put the included scope on my old 880 where it will do just fine. Sell the rifle without the scope and include some recommendations for a decent one in the sales info. The rifle is really awesome. Without the included scope it's five stars easy.
4.0
By Gary
USA
November 19, 2020
Verified Purchase
To Hartsan's credit, when I sent them a picture of the grip and receipt they sent me a brand new stock within a week.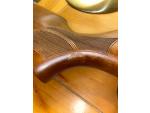 Pros
Beautiful rifle, the wood stock looks as good as any rifle I have seen. The iron sights are great and the gun is very accurate. The .22 really hits with a punch.
Cons
The only reason I didn't give it 5 stars is because of its weight. I understand that it helps with the recoil, but still, it weighs close to what an M1 Garand weighs. I also had some issues with the finish on the stock. After about 50 pellets, the finish began to bubble on the grip, see pictures...
5.0
By Michael
USA
November 16, 2020
People bad mouth the Hatsan BUT I own two of them and have NEVER had a problem in the 10 years I owned them , They are well built and will last a lifetime . My son will get this handed down to him when I pass this world and I hope the girls don't get offended lol .
Pros
The wood stock is just beautiful it looks like something you would find on a more expensive rifle , I have the Vortex 95 in .25 and what a beast ! It is spot on open sights right out of the box I do not intend to use the scope . This is going to be my pest control and daily hunter now the trigger is so smooth I am going to order one in .22 for the wife she doesn't want to shoot my regular guns BUT loves this one . The images are of my rifle and the can was shot at 20 years right out of the box all five pellets went into the same hole about .
Cons
A little better scope and maybe some way of attaching a sling .
5.0
By Jack
USA
October 29, 2020
Pros
My brother got this gun and I have fired it a lot of times it works great, fires great!
Cons
None
5.0
By Mitchell
USA
August 25, 2020
Great gun! Can't find a major flaw with it!
Pros
The wooden stock and quality of the gun are great
Cons
The safety might seem a little bit weird at times.
5.0
By Travis
USA
June 10, 2020
Verified Purchase
So there one more thing worth mentioning. The first gun I got from Airgun depot was defective. It worked but it kept progressively shooting lower, and lower. Not sure why, maybe the seals? So I contacted Airgun Depot and I sent it back to them and they sent me a brand new gun at no cost to me. It did take a couple weeks to get the new one but I was very happy to see they stood by their products. The customer service was very good, Which I was worried about when I started having problems as it's not a super cheap gun. The second gun I've received has had no problems. To be sure I've waited quite a while before writing this review and it is still going strong. So overall I'd say this for me inspires confidence with airgun depot as I have seen first hand they stand by what they sell. So going forward airgun depot is going to be my go to, as airguns are expensive and no one wants to be left with a lemon.
Pros
I love this gun. First off it is a beauty, pictures cannot do this justice. The checkering and finish of the wood is very nice. The gun is very accurate, it's powerful enough to hunt small game and not so powerful you won't wanna shoot it in the backyard. I don't hunt but I'm sure you could with this. I got it to penetrate through 5 cans filled with water. I got the QE and it helps keep this gun be backyard friendly. However it's not super quiet. The cocking effort is not to hard and I'm not very strong. The cocking effort is enough though that you know this gun has got some power. It's a lot of fun to shoot and gives the feel of a real rifle. The fiber optic sights are a real nice touch and honestly my favorite open sights of any of my pellet guns. Also this is much less finicky about the artillery hold then other break barrels.
Cons
This gun is a bit heavy. In reality though because it's a break barrel this is a good thing as it helps absorb the recoil well. If it was too light it would be a pain to get repeatable accuracy with the double recoil of break barrels. The weight is probably what makes this less finicky about the way you hold it. It's not so heavy it's burdensome but it is something worth mentioning. Not for children. Also the scope is not very good. It seems to vary in quality. The first scope I got actually worked quite decently but I had to send that gun back ( see last part below). The second scope doesn't work as well and I have to put my eye right up on it. It is usable but nothing to write home about. Mostly I shoot iron sights though so this doesn't bother me but if you mainly use a scope you will probably need to upgrade.
I have had this gun for 2 weeks now and shot about 200 rounds through it. I am very pleased with my choice and the price point is excellent.
Pros
Hatsan 95 My airgun was shipped quickly and arrived well packaged. Upon unboxing, I was nicely pleased and impressed with the quality. I am 60 years old and this is definitely a nicely manufactured airgun from quality materials. Initially it feels heavy; however, after shooting 100 rounds through it. I can easily produce 1" groups at 30 yards. Now, I am no trained marksman! I think this airgun makes me look good. The stock feels nice in your hands. Initially the heavy feel has gone away and the "louder that expected" seems fine. This Is my first real air rifle at .22 caliber. Initially I was shooting a Crosman 880 .177 caliber, so you can see that this is a big change for me. I would highly recommend the Hatsan 95 as a good choice. Thanks Airgun Depot for such good service!
Cons
It's a little heavy. You have to reload the pellet each time. You have to cock the barrel to load the air piston for each shot. Well, I think these are the exact reasons I purchased a break barrel air rifle to start with.
Q&A
Question?
Login to ask someone who bought this product.
Can someone who has purchased this rifle mod 95 Vortex QE in .22 cal recently, how is it holding up. Has the velocity diminished or has the accuracy. I am in a waiting list for over a month now and would like to know if its worth the wait. And if anyone has changed the scope for a better one for less than $100. I plan to shoot it with the open sights to break it in, before mounting in a better one. Thanks for your time and help.
asked Juan from USA
Can I buy this gun without a scope.
asked Douglas from USA
Will it hurt the air rifle to fire it without a pellet loaded?(dry fire)
asked Kenneth from USA
What pellets shoot the best. I would tend to a heavier pellet for hunting. and a light pellet for in buildings, where they would carry less energy to distance.
asked Gerald Dyck
What is a good replacement scope?
asked Chris
My Hatsan 95 worked great when I purchased it....I ran about 20 rounds through it and put it away. when I took it out recently and attempted to use it, it did not expel the 22 pellet and it felt like a weak spring uncoiling when the trigger was pulled. I have had it over a year and need to fix it myself....can anyone tell me what it needs?
asked Randy
Probably a new spring/piston
John from USA
What common sound would this gun's noise volume be compared to when firing? And does this gun have sufficient FPE to dispatch a raccoon? Thanks.
asked Mitchell from USA
How is this different than the mod 95?
asked Shahin Gransar
What is the cocking effort of this gun?
asked Kyle
I'm losing power and accuracy after 1year Does it need a tune up?
asked Bill
How many pounds required to cock?
asked Dillon
How many pounds required to cock?
asked Dillon
Can you see through the scope rings to use the iron sights.
asked John
I have a Hatsan Mod 95 air gun, but it can't hit to target actually. I am trying to zeroing this with proper way but I am fail to understand the problem.
asked Moslah Uddin Siddiquee
Hatsan model 95 QE Is it normal for the trigger to have side to side movement
asked John from USA
I've never owned a pellet gun; so, please pardon my ignorance. Would it be smart/needed to add a four screw Weaver scope adapter with a droop compensation, like this one: http://www.airgundepot.com/utg-drooper-scope-rail--11mm-to-weaver-adapter.html I'm looking at the .25 cal and wondering if the relatively low muzzle speed might need something like this to help with aiming
asked Christoph from USA
I need to take out ground squirrels in a quiet neighborhood, will this do it?
asked Al
I'm interested in buying he Mod 95 vortex but would like to swap out the scope for the Leapers/UTG 3-9x50, is that possible?
asked AV Bob
Does this use regular air? Are what? David
asked David
I have the Mod 95, .22 cal. I had to take the scope off because I could not keep it sighted in!! Likewise with the open sights!!~ I have tried everything to keep the rifle sighted in, but the recoil keeps knocking the sights off. Anyone have any suggestion short of taking it to a gunsmith? John
asked John Leyendecker
Use Loctite on the scope mount screws and put a little tape over the rear sight adjusting screw.
John Sholl
The piston seals can be a little undersized on these and the piston will slam home hard. ARH makes a good seal for these and you can clean up the internals while it is apart...These still are great rifles and well worth a little finessing...
John
get a better scope most of the pellet rifles come with a scope that is sub par but look cool. this rifle needs a quality scope than your world will change.. hope this helps..
robert from USA
I would install a Leapers 11mm Dovetail to Weaver Adapter and blue loctite it and use UTG 30mm Low Profile scope Rings. A Leapers 30mm UTG SWAT IR 3-12x44 AO this should solve your problems . Its whats on my gun and I have shot about 1500 pellets with no problems, except for operator error on occasion
Mark
First what pellets are you using?, the lightest 14gr, try 18 or so grains up to 20grs or so, will help with the recoil with heavier pellets, it will sound less and maybe get tighter groups. Try doing the artillery hold, so it will just float in your hand as to not have so much resistance. If you can do a tune up would help allot to make it smoother. Hope this helps. Cheers Adrian
Adrian from USA
All reviews said the scope that came with the gun are junk .I would take money a gunsmith would charge you. Buy a better scope and mount may start with better mount.
mickey from USA
All reviews said the scope that came with the gun are junk .I would take money a gunsmith would charge you. Buy a better scope and mount may start with better mount.
mickey from USA
Purchase a BKL 460 , 4 in long dove tail mount. , use a Wheeler F.A.T torque wrench, set it for 15 pounds. Use blue loctite on the screws.
MICHAEL from USA
I own this gun. It is excellent. 1 inch groups at 50 yards from a bench. Some air guns are very sensitive to pellets. I'm not sure what yoyr experience level is with these rifles but: Let the gun pick the pellets (hundreds of pellets at hundreds of weights- stay above 15 grain domed) Artillery hold is a sad truth shoot 100 rounds for fun, then start sighting in when you get solid groups, buy a new scope!!!! They move around in cheaper versions When ypou get a new scope get new rings!! They move around in cheaper versions Keep the bolts tight! They move around in cheaper versions Indoors? Outdoors? Wind? Simply put, this gun is accurate, consistent with guns twice the pay. Its the hard wear that is causing the issue
kevin
Buy a Hawks scope and use BKL momts.
MICHAEL from USA
Have you tried different pellets? They will all shoot, but some wont be as accurate as others. Also check the screws holding the stock and rifle (the working part of the gun) screws to make sure they are tight. You might also see if the barrel is loose. Just try to wiggle it at the end where you cock it.
Jerry Rose
Check your stock screws,especially the one in the trigger assembly. Remove and apply blue Loctite. reinstall and let sit till next day. Should solve problem
Bob
You may consider buying a one piece scope mount and a better scope that can handle the recoil. A decent scope option would be the center point 3x9x40 mil-dot scope which usually retails for around $50.
Ryan
I use Peep sites by Williams. A front stop & rear stop w/ Peeps inbetween & Loktite on My Hat 150.
Lorne from USA
This is not uncommon with air rifles. The solution is to use a different scope. Folks who have run into this have reported that switching to a different scope stopped this from happening.
gmeades
The first thing I do with a new air rifle is to take off all of the screws on the scope mounts and clean them with 91% Isopropyl alcohol. A weaker solution will work as well, but that's what I have here. I also use denatured alcohol as well. I clean the screws using an old tooth brush, roll them in an old rag, then allow them to dry for about an hour. I reassemble the scope to the gun and put a nice drop of Permatex Purple threadlocker on all of the screws, including any screws for the mount to the gun. Set the screws firmly, then let the gun sit overnight for the Permatex to dry. I also do the same with the body screws of the gun at the same time, as these will loosen as quick as the scope mount screws, and will throw your scope off. I check my body screws after about every 100 pellets, and particularly when the gun starts shooting "off." The body screws actually loosen more frequently than the scope mount screws. Give that a try ans see if your problem doesn't go away.
Joe V
Hi John, don't know how old this post is, so I just saw it and decided to answer best I can. I have same rifle and love, love, love it. Mine has been a peach. But, do this. make sure all screws attached to the receiver (three) are tight and stay tight. the big one at the forearm, the two that share the trigger housing, and then allen screws on scope rings, and mounts. Tighten all these, and don't worry about hitting a bullseye, say about 20 yards. Just grouping. Aiming at the same spot 10-15 times, each time making sure all screws are tight, to eliminate that as a source of inaccuracy. If you group within 2' at that distance, then you are ready to start dialing in. If you still hit outside that 2" area (with exception of a flier or two) screws being tight all through cycle, then assume you have a scope problem or pellet selection. Trust me on this...each gun has a favorite and like mine, they hate those that aren't. I went through all this, and just couldn't group. Then tried Crossman Premium Hollow Pts, 15.3 grain, and wow, what a difference. I had to ditch (or give a way) about 3-4 other tins of pellets, one being a Crossman Premium round nose, that it still didn't like, even same brand. Go figure. But its true, true. One last thing...my groups got even better when I stopped shooting from a prop, (pillows on a table) and started holding it military style. again, huge difference, and whatever I didn't shoot well, was me, not the gun. I began shooting instinctively, timing my trigger pull (another issue, triggers and adjustment) with my timing of being in that sweet spot then pull. Just a marriage between gun and holder there. So, begin with all screws, tightening every 3-5 shots (and if that is the problem, you can use lock tight for permanent fix). Then, to right pellets, then to hold. If that doesn't help, send it back and get another one. It could be the scope or the gun or both. Most sellers will not take the scope back without the gun...package deal. Hope that helps. my email is [email protected] Let me know how you are doing with this gun. Ray
Ray
I would suggest using permanent lock tight on your screws.
james downs
buy bkL scope mounts,and use red loktite on the screws. Buy a leapers scope, and you won't be sorry!
GorgeousGeorge
Try tightening any screws once it is how you want it, and if that doesnt work, consult hatsan, or contact a gun smith
Dylan
Have you tried the military hold of the rifle? Usually you can get a better grouping by utilizing that particular hold.
Terry
.....Hello....At what distance can you hit a 6 inch circle over and over.......and how far away are you going to kill a squirrel.....or rabbit ???
asked john from USA