If you're looking for a PCP that you can take into the field, without hauling a pump or tank….then look no further. The Seneca Aspen is a multi-pump PCP that means you technically can stay out all day and night. Obviously you will be able to fill it with a tank or hand pump, up to 3600 psi (250 BAR). This on-board filling system will give you approximately 17 shots with 40 to 60 pumps, requiring only 28 lbs of effort per pump. The rifle includes a 4x32 AO scope and one multi-shot magazine. The Aspen features a two-stage adjustment, allowing one to control the power of each shot. You'll be able to go from full power knock down to minimum target practice with the turn of the dial.
Seneca Aspen Air Rifle Features
Pre-charged Pneumatic (PCP) Air Rifle with built-in pump
Sidelever Action
Two Stage Velocity Adjustment
Fires up to 17 Shots with 40-60 Pumps
Two-Stage Adjustable Trigger
Synthetic Stock
250 BAR / 3,600 PSI Fill Pressure
On Board Pressure Gauge
Automatic Overpressure Air Release
Manual Safety
Fully Shrouded Barrel
Rifled Steel Barrel
Pump Lock Carry Handle
Overall Length: 43.3 Inches
11mm Dovetail Rail
Includes one 10-Shot Rotary Magazine (.177 & .22), 8-Shot (.25)
Includes Fill Probe
Includes Single-Shot Tray
Two Stage Velocity Adjustment
.177 Caliber: Low Power= 800 fps, High=1,000 fps
.22 Caliber: Low Power= 700 fps, High=900 fps
.25 Caliber: Low Power= 550 fps, High=800 fps
Specs
Manufacturer

Seneca

Caliber

.177

Velocity

1000 fps

Condition

New

Ammo Type

Pellets

Action

Sidelever

Barrel Style

Rifled

Fire Mode

Repeater

Gun Weight

8.00

Overall Length

43.30

Loudness

3-Medium

Magazine Capacity

10

Mechanism

Pre-charged pneumatic

Rail

11mm dovetail

Safety

Manual

Front Sights

none

Rear Sights

none

Shots per Fill

0

Trigger Adjustability

Two-stage adjustable

Trigger Action

0

Use

Small game hunting/target practice

Warranty

1-year limited warranty
Reviews
Average Customer Review
4.4
4.5
17 Reviews
5.0
By Jack
March 10, 2020
Verified Purchase
Best air gun around for the money
Pros
Excellent riffle for the money driving tacks at 45 yards no problem best trigger pull love it
Cons
Nothing
5.0
By Jay
USA
December 27, 2019
Verified Purchase
Love it well built and very powerful.
5.0
By Jaime
USA
November 7, 2019
Verified Purchase
This is the second Seneca Aspen rifle the first one I put about 4000 rounds and the pumps started to jam up. But airgun Depot take care of all of that got the second rifle has a replacement. Once I got and aftermarket scope dialed it in it is extremely accurate at 35 yards pallet on palette just take your time breathe squeeze a trigger exactly the same every time. For the money this is definitely worth it. For Target and pesting I shoot the jsb jumbo Diablo 15.89 grain and the jsb heavies 18.13 grain. That trigger breaks clean and predictable for me it is very easy to pump. If you're someone who exercise on a regular basis this will be nothing for you to pump up manually. I have a hand pump that I use now and I saved the pumping but when I'm out and about. Thinking maybe that might save the pump not using in 100% of the time. Guys at airgun Depot have been very helpful thank you again Depot.
5.0
By Dean
USA
November 2, 2019
Verified Purchase
I'm no expert at air guns but since January 2019 I have learned a lot about the air gun and the projectiles they shoot. After hundreds of rounds and a couple scope upgrades I believe I have this gun shooting predictably. I shoot paper off a bench and rest, mostly 50 feet and when I can 70 and 100 feet. Using the single shot tray I found that the Match grade Dome or Pointed, 10 to 11 gr. pellets, perform the best. (My Aspen is a .177 caliber.) My best shot string is between 3000 to 2000 psi, 20 shots. I shoot 10 shots at my target but no more than 2 shots at the same point on the target. I expect and achieve 2 pellet holes touching, if not 1 holing, 4 of 5 times. Another thing I like I didn't have to spend money on a pump, tank or compressor.
Pros
It's self sustainable, no external air supply is required.
5.0
By James
October 7, 2019
Verified Purchase
I've been watching this air rifle for a while I wasn't sure about quality or if they would make the 25 cal well I'm glad they did I'm an avid hunter I spend a lot of time in the woods it's a great rifle for that no tank or compressor needed just grab it and go accuracy is good weight isn't bad easy to carry mine is holding up well no leaks or issues the included scope will work but I would upgrade to get the most out of the rifle overall quality is good I'm not disappointed at all for the price
Pros
Accuracy Very quiet Built in pump Easy to carry
Cons
None yet
1.0
By Gerald
USA
September 8, 2019
Verified Purchase
This Gun could be an Icon in the Hunting Air Rifle Line up but IMO is a Flop. There is a seeming common failure in it's 3 stage, on board pump and mine proved to follow suit in this regard. Construction seems hurried and none to concerned with Quality or longevity of service for this Rifle. The trigger flops side to side sloppily. The end of the barrel is simply rough sawed off instead of receiving a finished machine cut let alone crowning. The Big failure is the High Pressure Pump. It simply Fails in Pretty short order, either locking up so it will not feed the reservoir, will start delivering wildly different pressure to the pellet, or will not feed any real significant pressure per pump. In a Nut shell the pump fails or locks up rendering the rifle inoperable, useless If the gun is not dependable and becomes un-shootable at any time in a ridiculously short period, it is worse than useless. This is tragic as this rifle if built right is an amazing and I would dearly love to own one. Seneca needs to correct any design or material flaws and get very serious about their quality control. If they do they will have a big winner and a large market for this gum for a long time to come. I hope they do.
Pros
Light enough even with on board pump to carry and shoot well off hand. Very accurate, 2 level power control and sliding bolt are very nice and practical features. Trigger is very good but needs solid mounting to action.When working properly the pump feature is nothing short of great. Quiet shooter.
Cons
Loose trigger assembly mounting, No crown or even machined surface other than a saw cut on end of barrel. Install cylindrical baffling attached to inside of shroud cap to slip loosely over end of barrel thus further quieting this gun.(not bad as is but could be easily made better. Do whatever necessary to improve reliability and longevity of this Rifle. Sheridan's pumps were exceeding reliable The Aspen's can be as well but they are failing far too often.
5.0
By Joseph
August 31, 2019
Verified Purchase
Iv had this gun for almost a year its been through alot and I have no problems with it.
Pros
Its held up and and still shoots strong. Its very ccurate
Cons
Cant find any
3.0
By Tim
USA
August 20, 2019
Verified Purchase
Only too 8 shots to zero in
Pros
Very accurate
Cons
The pump system seems to be coming apart though still waiting for a response
4.0
By Richard
July 22, 2019
Verified Purchase
My first one I received leaked like a flat tire, Customer service was great and sent a second one. Pumped it about 75 times and thought my arm was going to fall off. Used the provided silicon lube on the compressing parts and gun oil on the hinges hoping it would help which it did a little. pumping is a little strange, first 1-3 strokes fell like you are not doing anything with a little spring back, next pump is heavy and gets things going. takes about 120 pumps to get to 3000 psi and another 40+ to get to 3500 psi. I'm hoping that it loosens up after break-in period. I sight in at 25 yards, provided scope is not the greatest, replaced it with a 4-9X scope and at 25 yards from the bench, I got dime size groups with the 4 brands of pellets I have. WOW, makes my nitro piston break barrel look like a shotgun. Overall, great for my 70+ year old body.
Pros
1.Very accurate and ergonomic. 2.Quiet and hard hitting. 3.A real pleasure to shoot and light enough not to make you shake in offhand.
Cons
1. REAL hard to pump and takes a lot more pumps than advertised. 2. Scope not the best for much more the 15-20 yards.
5.0
By Heath H.
May 10, 2019
Verified Purchase
I think some of the reviews are misunderstood on this rifle. 1. 60-70 pumps to fill the rifle is one of them. Maybe they mean from 3000 psi to 3625 psi because it took exactly 150 pumps from dead zero psi out of the box to reach max pressure or really close to it. The gauge is upside down on my rifle and that's driving my OCD BS crazy but it's a very small gauge and a little hard to read. The best way to shoot this pcp is to pump up to max Q and the shoot a mag then pump it back up to max. This gun is so very quite on low power and still quiet enough on high your not going to piss off the neighbors. Scope that came with it is a mill dot 4X32 AO scope and not terrible for basically a package deal as they go. I put a 4X16X44 AO on it as soon as the gun arrived because a 4X just isn't gonna show this guns full potential. Get a good bullet trap cause this things gonna destroy a pellet trap period. This gun is what it is, accurate, quite, a hell of a good deal, and most of all not relying on a bottle or pump to be dragged around everywhere you go when out hunting. If you want to spend a day at the range...get a pump and a bottle unless you're in really good shape and if you don't you soon will be cause it's quite a workout putting 150 strokes back in this gun if you let the pressure get down to zero. Shot a mag put 60 ish pumps in it till the pressure is back up to max and you still get your cardio for the day but beats 150 if shot down to zero. I am very happy with this purchase and it fits my needs perfectly. Some of the features on this gun you can only find on higher priced guns and the side leaver cocking is one of them. Another nice feature on this pcp is the use of Benjamin Marauders magazine which is used on several other pcps. I bought two more on amazon for like 9$ each. All in all this is a great deal and perfect for a minimalist who doesn't want to drag around all the extra stuff most pcp hunters do when hunting. On a scale of 1-10 this rifle deserves a solid 9. Keep in mind that the only other pcp with a built in pump costs around 1800$ and I simply won't spend that on a pcp to sling pellets around... thumbs up to those who have but if I'm gonna spend that much I will get a electric compressor and a scuba tank and a smaller bottle and a semi automatic pcp and have fun lots of fun.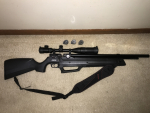 Pros
Awesome package for the money.
Cons
Not really any for the money and what you get and what it?s capable of.
Q&A
Question?
Login to ask someone who bought this product.