The Seneca Dragonfly Mk2 is a multi pump air rifle that gives you important upgrades over the first version that make it easier than ever to pump. With 15 pumps, you get speeds up to 950 fps in .177 and 800 fps in .22 with alloy pellets, so you have plenty of power for small game hunting, plinking, and pesting.
If you just give this rifle a quick look, you might think it's almost the same as the original model. The first time you pump it, you'll realize it's so much nicer to use. The pumping effort has been reduced by 50%, and that effort stays the same from the first pump to the last, thanks to the patented butterfly high efficiency pump system.
You can change the power level of the Seneca Dragonfly Mk2 for different uses because it's a multi pump rifle. That means you can easily use it for convenient small game hunting or quick pest control by pumping it 15 times, or get quiet shots for backyard plinking without bothering your neighbors by pumping it 3 or 4 times. You can also get even quieter shots by adding a moderator, because this new version has a 1/2 UNF threaded muzzle adapter.
The airgun gives you a rear sight that adjusts for elevation and windage and a fixed fiber optic front sight, so you'll get accurate shots right out of the box. And if you want to add a scope for extra flexibility in sighting choices, there's an 11mm dovetail scope rail as well.
If you're in the market for a multi pump pneumatic air rifle with wood stock that's easy enough for adults and kids to use it for handy and fun plinking, pesting, or small game hunting, get the Seneca Dragonfly Mk2 at Airgun Depot now.
Seneca Dragonfly Mk2 Features:
Patented Butterfly High Efficiency Pump System
Multi pump pneumatic
Max velocity (alloy): 950 fps (.177), 800 fps (.22)
Max velocity (lead): 850 fps (.177), 730 fps (.22)
Bolt action
Hardwood stock
1/2" UNF threaded muzzle adapter
Magazine capacity: 9 rounds (.177), 7 rounds (.22)
Variable power: 3-15 pumps
Checkered grip
11mm dovetail scope rail
Fixed fiber optic front sight
Elevation and windage adjustable rear sight
Textured rubber buttpad
Weight: 6.5 lbs.
Barrel length: 22.75"
Overall length: 40"
Specs
Manufacturer

Seneca

Caliber

.177

Velocity

850 fps

Condition

New

Ammo Type

Pellets

Action

Bolt-action

Barrel Style

Rifled

Fire Mode

Repeater

Gun Weight

6.50

Overall Length

40.00

Barrel Length

22.75

Loudness

3-Medium

Magazine Capacity

9

Mechanism

Multi-pump pneumatic

Rail

11mm dovetail

Safety

Manual

Front Sights

Fiber Optic

Rear Sights

Adjustable for windage & elevation

Trigger Adjustability

Single-stage

Trigger Action

0

Use

Small game hunting/target practice

Warranty

1-year limited warranty
Reviews
Average Customer Review
3.7
3.5
12 Reviews
2.0
By Mike
USA
August 15, 2023
Verified Purchase
be aware of the pump system failing and breaking
Pros
it was shooting good but the pump system literally fell apart out of nowhere.. :(
Cons
make the pump system with better parts mine broke apart and pieces went flying. kinda dangerous. Its also made in china so its not that nice of a gun sadly
5.0
By Brando
August 6, 2023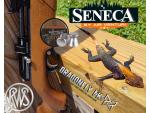 Pros
I needed a 2-pump rifle for invasive lizards in my yard, and this excels at that! Easy to hit one at 50 ft with match ammo. A huge upgrade over the plastic Daisy I used before.
Cons
The forend to buttstock fit could be more seamless, though the wood grain is continuous,which is very nice, nicer than the grain in the photo in the box, which is also nice.
5.0
By Jack amlin
May 23, 2023
Verified Purchase
Very nice gun
Pros
Super fast shipping and a great website. Very happy with the product.
Cons
Really there were no cons. The only thing I would say is it needs to be sited in. No big deal
1.0
By Andy
USA
March 23, 2023
Verified Purchase
This is an update to my pervious Dragonfly MK2 review. Unfortunately the replacement MK2 has also failed. After shooting a tin of pellets the bolt suddenly became sticky and would not close. After two consecutive failures I decided to request a refund rather than a replacement. I returned the rifle and Air Gun Depot promptly refunded my money. 5 Star review for Air Gun Depot. Due to reliability issues I am moving on from the Seneca Dragonfly Mk2.
Pros
Easy to pump, good accuracy and a wooden stock.
Cons
Poor reliability. Two guns, two failures.
4.0
By Andy
USA
February 8, 2023
Verified Purchase
I had my first DragonflyMk2 for a couple weeks before the trigger stopped working. Sent it back to Airgun Depot and receive a replacement about 7 days later. It was a very easy return & replacement process. Five stars to Airgun Depot. After four weeks there are no problems or issues with the new gun. This is a fun air gun, easy to pump and very respectable accuracy. A couple coats of tung oil on the furniture make the wood shine and it looks much better (richer) than it does out of the box. One thing I observed that was not mentioned in any on-line review is that the threaded barrel adapter will screw all the way down onto the front sight/barrel band. Shooting will cause the adapter to loosen up and creep away from the barrel band which in turn changes the point of impact. I didnt want to put tension on the barrel so I put some Teflon tape on the barrel threads and left a small gap between the adapter and the barrel band. The Teflon tape keeps the adapter from moving.
Pros
Great value. Easy to pump. Very good accuracy. Wood furniture.
Cons
A better trigger would earn a 5-star review.
5.0
By Ray
November 26, 2022
Verified Purchase
This is a GREAT rifle for the $. A keeper. But, expect loose fasteners. Screw came out of bolt and wouldnt draw hammer back. Caused bolt to work hard prior.Guide screw for hammer was also loose. Repaired myself and loctited . Now no binding. Loctited other screws as well. Pump arm rough at start but butter smooth after break in. Using 30w hydraulic oil for lube. Safe for o-rings. But use own discretion. But those dime sized groups are sweet. Quite a few groups 3 pellets through one hole. Again - a keeper!
Pros
Mine will shoot dime sized groups at 20 yds with a number of different pellets. Easier pumping.Overall design of rifle. Moderator adapter. 11mm scope rail. Real wood stock. Trigger long pull but light and predictable.
Cons
Sights useable but better with smaller front blade or fiber optic. Rear sight works well but nicer if all metal.Perhaps a longer scope rail and slightly longer bolt handle( when scope mounted).
4.0
By Ian
September 25, 2022
Verified Purchase
Good gun, just not for me. John and Rome at Airgun Depot are very helpful and Ill be shopping with them again.
Pros
Great looking and compact. Good Machining on the bolt and generally good quality. Basically the rich mans Daisy 880.
Cons
Mag fit is a little sloppy and a single stage trigger isnt great. A pic rail would inspire a little more confidence.
2.0
By Joseph
August 19, 2022
Verified Purchase
I was really hoping to like this gun, but the heavy pumping stroke and front pin falling out, my first impression is disappointment. Maybe Seneca will make this right.
Pros
If looks are all that matter, then the Dragonfly MKII is a fine gun.
Cons
Monte Carlo stock is too high for a comfortable cheek weld with open sights. Pumping mechanism is unbelievably hard on the open stroke. Pumping mechanism on my unit makes a metal on metal popping noise on the opening stroke like something isn't fitting well. It pumps harder than my Crosman 362. The front hinge pin wasn't captured with an E-clip and it fell out while I was performing the initial thorough cleaning and oiling. I'm calling the Mfg today for warranty.
5.0
By Rodger
USA
July 27, 2022
Verified Purchase
Pros
Great rifle good looking and really easy to pump. Have a break barrel no comparison to this rifle. very accurate.
Cons
none at this time
4.0
By MATT
USA
July 13, 2022
I'm a break barrel guy but it's nice to have this option. It's nostalgic if nothing else. When I first saw it on Airgun Depot it wasn't yet available, but I knew I wanted one. I'm glad I bought it.
Pros
Well made, solid and looks pretty sharp. The wood stock is nicer than I expected. Pump action is a bit stiff but that should improve with time. Fairly accurate. I was looking for something I could plink with and not worry about collateral damage. A good buy for someone looking for a quality pump.
Cons
15 pumps to max fps seems excessive. My old Benjamin was, granted, harder to pump -- but 8 pumps on the Benjamin = 15 pumps on this one.
Q&A
Question?
Login to ask someone who bought this product.
Looking at the pictures, I do not see how you can mount a scope and still use the magazine. Is that indeed the case?
asked Henry from USA
You can install the scope, and still use the magazine, not an issue
Val from USA
Off set mount should work .
Stanley from USA
How many FPE does this rifle produce in the .22?
asked Dustin from USA
Up to 18 FPE, depending on the ammo
Val from USA
Depending on your pellet of choice , around 12 fps.
Stanley from USA
i see this is a routery repeator is the clip hinder sighting in anyway and is this a single shot as well if f you dont use the mag?
asked Joseph from USA
You can use a single shot tray, as well as the rotary mag
Val from USA
Has single shot tray .
Stanley from USA