Train like the pros! The Sig Sauer MCX is a near exact copy of the firearm used by law enforcement and military units around the globe. With similar weight, feel, and controls these make a great way to bring the practice range home. These compact semi-auto rifles feature adjustable flip up sights, Picatinny top and side rails, a mock suppresor, and a 30 round pellet magazine. They are powered by an 88g CO2 tank that fits within the stock. Available in both .177 and .22 caliber, these rifles are ready for action.
Calibers: .177 & .22 (Pellet Only)
CO2 (88 gr / 90 gr)
Semi-auto
Metal Housing
30 Round Magazine - Roto Belt Mag (Patented Design)
Integral Weaver/Picatinny Optics Rail and Accessory Rail
Tactical Foregrip
Flip-up Front and rear Sights
Adjustable Front Sight
Adjustable Rear Sight
Life Tested 15,000 Shots (Guaranteed)
Specs
Manufacturer

SIG Sauer

Caliber

.177

Velocity

700 fps

Condition

New

Ammo Type

Pellets

Action

Semiautomatic

Barrel Style

Rifled

Fire Mode

Repeater

Gun Weight

0.00

Overall Length

34.70

Barrel Length

17.70

Loudness

4-Medium-High

Magazine Capacity

0

Mechanism

CO2

Rail

Weaver/Picatinny

Safety

Manual

Front Sights

Flip-up, adjustable

Rear Sights

Flip-up, adjustable

Shots per Fill

0

Trigger Adjustability

0

Trigger Action

0

Use

Plinking/Fun

Warranty

1-year limited warranty
Reviews
Average Customer Review
4.6
4.5
33 Reviews
5.0
By RUSS-D
USA
May 8, 2020
Verified Purchase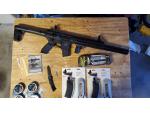 Pros
I like the looks and feel of this rifle. It is very accurate, using the iron sights, right from the factory. It has the weight and feel of a real Sig Sauer. So far it has been very fun to shoot. If you want an airgun with the look and feel of a real AR-style rifle this is the one.
Cons
The integrated keymod design on the handguard doesn't allow(easily) for mounting Picatinny rails as the plastic is too thick in those spots. The foregrip uses a special type of nut to make it work with the thickness of the plastic. And I can not find that fastener, anywhere online, to use. The magazine is a little too small and takes away from the looks of the rifle.
5.0
By Charles King
February 22, 2020
Pros
Love this air gun. Got it for my son's 6 birthday. I have the long one as well. Shoots awesome!
Cons
How can I get a stuck magazine out, I don't w9 to break anything?
5.0
By Charles King
February 22, 2020
Pros
Love this air gun. Got it for my son's 6 birthday. I have the long one as well. Shoots awesome!
Cons
How can I get a stuck magazine out, I don't w9 to break anything?
5.0
By Connor
USA
July 20, 2019
Verified Purchase
So far I have ran around 1000 rounds through the gun with no problems. Has decent power for a co2 gun and is relatively accurate with good pellets. 1" groups at 25 yards. I prefer lighter pellets in this gun to get the fps up. Really loving it with the utg red dot.
Pros
-Weight and feel is awesome -looks sweet -shoots good with no issues
Alright first let me just say this thing absolutely is awesome. But i have a couple small complaints, first the keymod rails are plastic which is cool cuz it keeps it light but, its too thick so every keymod attachment ive gotten for it ive had to basically file down the rail to get it to fit. Also me being an idiot i had mind leaned up against a walk while i was loading pellets into the mag belt and my pup knocked it over and it snapped a chunk off the front of the rail when it hit the ground. Luckily i was ablr to glue it together. And for my second small complaint, this also goes with the first one and its more of a suggestion than a complaint, sig either needs to make different rails and butt stocks for these or atleast make it so we can attach other ones to it. Idk if they can make and adapter or something but that would be amazing. Id very much like to get a butt stock with a cheek pad or riser. Other than that this gun is awesome. Extremely accurate with pretty much every pellet i put through it. I can get about 1 1/2 inch groups right on target from 50 yards pretty easily. And from 25 yards i can pretty much put the pellets right on top of eachother. I heard they were gonna come out with new mags eventually that hold more pellets and I'm extremely excited for that to happen.
Pros
Accurate Tons of fun As far as i can see it?s super close to the real one Easy to use
Cons
Rails are too thick Can only use the stock butt stock
4.0
By Greg W.
December 18, 2018
This gun is impressive in appearance, very quiet, and pure fun to shoot. The fact that it can be easily modified to use an air tank makes it particularly versatile and raises the possibility that it could be a short range pest rifle. Paired with a tactical red-dot holographic sight it is a perfect rifle for anyone who wants to do some plinking but has eyesight issues that make open sights problematic (raises hand). Full disclosure; I only had this rifle for about two weeks before a friend talked me into selling it to him so I did not have a chance to test some of my thoughts about this rifle. I will very likely purchase another one soon; it is that much fun. In the couple weeks I had the rifle I did not get a chance to test the trigger on my pull scale. I was concerned because I had seen reviews where they said the trigger was pulling in excess of 8 pounds. It might be but oddly it did not feel at all heavy to me for this type of double action trigger (if you didn't already realize it this is not a true semi-auto; it is a double action trigger equipped rifle). It was accurate well within the limits of what I would expect from this design and being CO2 driven (lots of velocity variation with CO2). And again, the darn thing is just plain fun. I may have missed the information in the manual but I did not see the instructions to use the probe on the little enclosed tool to seat the pellets all the way forward in the belt. In case I didn't miss it and that instruction is missing from the very abbreviated owners manual; lay the belt face down on a flat surface and use the probe or other tool to seat your pellets all the way into the belt. Before I realized this necessity I had jams twice and had to use a rod to push pellets out of the breach. Also well hidden in the instructions is the fact that that little tool is used to adjust elevation on the open sights by screwing the front post in or out. There is no elevation adjustment on the rear sight. I was concerned over a video review that I saw where the reviewer was reporting velocity up to over 600fps with lead pellets and thought it would make a small critter rifle. I tested it over my chronograph which has been tested against another chrony and established as accurate and the highest velocities I recorded with 7+ grain pellets were in the mid to high 400fps range. Personally, I consider this too low for reliable small game hunting. And unless you have converted to PCP, I would be very concerned about the big drop in velocity in very cold weather. If the hammer spring and valve can handle higher pressures from a regulated air cylinder this could prove to be a great field gun and if I do purchase another one I will definitely try running it with an 1100 or 1200psi tank. That may very well make it a nice little hunter but I have serious doubts about this rifle for hunting with CO2. Ultimately, in my experience, and that of my buddie who now owns the rifle, a very nice, impressive little rifle at a great price point.
Pros
Definitely high on on the "cool factor" looks. Well balanced and well made. Feels very sturdy in hand. Love the 30 shot capacity of the belts in the mag. Belts load easily into the magazine and function perfectly. Large CO2 cylinder gives you lots of usable shots for plinking. Very quiet / back-yard-friendly. Great adaptability with easy conversion to a PCP cylinder.
Cons
Manual is thin on detail. Open sights are very rudimentary; would like to see a better quality fiber optic sight assembly. Would definitely be worth a fwe extra dollars. IMO, underpowered for any hunting applications with CO2 (well, maybe rats at short range)
5.0
By PAUL
December 12, 2018
HAVE HAD TIS FOR ABOUT A YEAR AND A HALF. WHEN I BOUGHT IT, IT WAS OFFFERD IN .177 AND .22 CAL. THE RIFEL IS PRETTY QUIET FOR JUST HAVING A FAKE LOOKING SUPPRESOR, BUT I BOUGHT THE EXTRA MAG AND IT CAME WITH 4 BELTS. ITS A PAIN TO LOAD,AND YOU NEED TO USE THE SEATING TOOL WORKS GREAT WITH WADCUTERS AND DOMED HP'S,VERY ACCURATE. PUT A GREEN DOT CROSS HAIRS 3-9X30 BUSHNEEL SCOPE WITH ILLUMINATION. ACCUERATE OUT TO 30 YARDS WITH THE 11.2 GRAIN RWS HOLLOW POINTS. THEY DUE MAKE A SUPPRESOR WITH THE BARREL. THEN YOUR LOOKING AT ANOTHER $125.00. IT IS IN THE DECIBEL RANGE OF ABOUT 89 DECBL'S!VERY BACK YARD FRIENDLY AND WITH THE WADDCUTERS I TOOK OUT A OPOSSUM AT ABOUT 30 FEET. HEAD SHOT AND IT WAS VERY HUMAINE KILL. I BOUGHT THE TANK SO I CAN FILL IT WITH MY PCP 90 CUBIC INCH TANK, OR HAND PUMP.
Pros
FUN TO SHOOT, TRIGGER ON MINE WAS AROUND 4.85LBS. ACCURATE AND IN 22CAL, VERY QUIET. YOU CAN BUY THE TANK WITH THE BUT STOCK AND USE IT LIKE A PCP RIFLE.
Cons
LOADING THE PELLETS INTO THE BELTS IN THE RIGHT DIRECTION AND FEEDING THE BELT INTO THE MAG. KIND OF PAIN, BUT GET THE EXTRA MAG WITH BELTS.
5.0
By Wayne
USA
July 10, 2018
This air rifle is very accurate and has passed every test my dad and myself have put it through. Performance has exceeded in every aspect my dad and myself highly recommend this co2 air rifle.
Pros
One Awsome air fifle
5.0
By Adam
USA
March 23, 2018
Decent .177 semi-auto. Very few of this class, being ar-style. Very realistic eplica of the original MCX by Sig. Except for the screw through the ejection port, its a very faithful representation. Shooting it is fun. Signature is fairly loud for the caliber and actually has a lot of 'smoke' exiting the barrel with each round. Trigger is not delicate. With about a 7 lb. pull, it isn't touchy, and isn't very smooth. Lots of give. Some may find that good. The overall weight is not too heavy, and well balanced. Not sure why the advertisement for it states .22 cal pellets... This isn't true. Fortunately I have plenty of .177 ammo stocked. For the price, this gun is worth the purchase. The experience I had with shipping was terrible, had issues. Airgundepot made a bad situation into a good one. Craig helped make it so. Great customer service.
Pros
Fairly powerful. With 10.5 gr pellets im getting fps over 580. Some hitting 650. Authentic realism for a replica.
Cons
Not a .22.
5.0
By Steve
February 12, 2018
I bought this gun based on the positive reviews and I love it! Super fun to shoot and feels like the real thing.
Q&A
Question?
Login to ask someone who bought this product.
Is the silencer part removable?
asked Behrad from USA
Will a 20 oz CO2 tank fit and work on this?
asked Darling from USA
With the proper adapter . Yes PY-A-3899 $19.99
Mark from USA
Will it pass Canadian customs?
asked Matt from Canada
What's the shelf life once you insert and shoot a few pellets CO2 (88 gr / 90 gr) in this Sig Saur MCX just make sure it's working?
asked Marc from USA
The seals on the 90 gram CO2 are good. You can leave the CO2 charged in the gun for extended periods.
Mark from USA
if i buy the hpa tank with adaptor will it work plug and play kind....?
asked Reynaldo from USA
These do not come in .22 as stated in the ad, correct?
asked Phillip from USA
Can it shoot bbs?
asked Jerren Templeton
I heard this was going to be coming out in pcp version?? Do u have word of when? Thanks for fielding my Q
asked Ben from USA
What are the weights of the mcx and the pcx?
Jack
Yes, they will be, but it will not be out till next year.
Scott from USA
A few questions. Fps? Size? Is the stock changeable? Weight? Can you remove the mock silencer?
asked Mathias from USA
Sig has not yet released the specs for these guns. As soon as we have them we will update the sight. The models that we saw at Shot Show where only the first prototypes, once the production models hit we will have all the specs. Thanks!
Scott from USA