This SIG Sauer MCX Gen 2 Target Combo helps you get started on having fun right away because it comes with the exciting BadaBang Interactive Target Shooting System, plus a buttstock, and an Air Venturi air tank and adapter that turn it into a PCP. Just fill up the tank, load the magazine with pellets, connect the BadaBang to your compatible Bluetooth device, and get ready for hour after hour of fun and games.
With this kit, you get an updated air gun version modeled after the popular lineup of firearms. It's capable of reaching speeds up to 545 FPS for fun and excitement whether you're plinking, training for the firearm model, or doing light pesting.
This air rifle gives you plenty of powerful shots because it uses 88 or 90 gram CO2 cartridges, so you won't have to constantly swap cartridges. You'll find that especially useful when combined with the 30 round Roto Belt pellet magazine, which means you get lots of semi auto action before having to switch mags or reload the belt.
With the SIG Sauer MCX Gen 2, you get a rifled steel barrel that looks like a firearm with a long suppressor because of the shroud, so you get accurate shots and a genuine look and feel. This model has been upgraded to give you an improved flat blade trigger just like the powder burner, plus an updated textured pistol grip with a reduced angle that's easier to use.
If you want precise shots, you'll appreciate the fact that this air rifle comes with adjustable and removable front and rear flip up sights, plus a long Picatinny scope rail for your favorite scope or dot sight. Another upgrade on this Gen 2 model is the M-LOK handguard that lets you quickly and easily add accessories like lights and lasers.
If you're in the market for an upgrade package designed for fun and excitement right out of the box, get the SIG Sauer MCX Gen 2 Target Combo at Airgun Depot now.
SIG Sauer MCX Gen 2 Target Combo Features:
.177 caliber pellets
Semi auto
PCP and CO2
Max velocity: 545 fps
Rifled steel barrel
30 round Roto Belt magazine
Flat blade trigger
Improved textured pistol grip
Adjustable flip up front and rear sights
Long Picatinny scope rail
M-LOK handguard
Improved ergonomic buttstock
Manual safety
Barrel length: 17.7"
Bada Bang Interactive Target Shooting System
PCP Combo Includes: Air Venturi 13 cubic inch air tank and adapter, and buttstock
Specs
Manufacturer

SIG Sauer

Caliber

.177

Velocity

545 fps

Condition

New

Ammo Type

Pellets

Action

Semiautomatic

Barrel Style

Rifled

Fire Mode

Repeater

Gun Weight

15.00

Overall Length

35.00

Barrel Length

17.70

Loudness

3-Medium

Magazine Capacity

0

Mechanism

PCP & CO2

Rail

Weaver/Picatinny

Safety

Manual

Front Sights

Flip-up, adjustable

Rear Sights

Flip-up, adjustable

Shots per Fill

250

Trigger Adjustability

0

Trigger Action

0

Use

Plinking/Fun

Warranty

1-year limited warranty
Reviews
Average Customer Review
5.0
5.0
1 Review
5.0
By Joshua
USA
August 14, 2023
Verified Purchase
My gun prefers the 10.5 grain piranha. I've read alot 9f reviews that says this gun likes lighter grain pellets. My lower grains don't stay grouped. The piranha overlaps shot after shot for my device. It reacts to low pressure. I have the pcp conversion and it begins to stick a bit towards 1500 psi, a refill is necessary below that. Bought a hallnd pump at first. Don't, it take 500+ pumps to get to 2500 psi. Spend double and get a compressor. I promise you won't be disappointed. 8 minutes at zero effort to fill. It works and looks aggressive. Fantastic gun, after initial return for jamming/trigger sticking. Read and watch reviews, you'll learn how to circumvent those issues and find improvements. I have a number of additional optics and such on mine as of now. Strongly recommend at least 1 extra mag and belt set. Ammo can go super fast if you want it to. (3.5 seconds can push all 30 rounds). It's a bit weighty, but adds to realism. Accessories can tack on weight quickly! Have fun!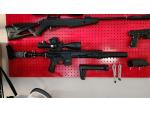 Pros
This is a super fun, semi auto assault style rifle with excellent accuracy, once you find out what pellet the gun wants you to use. Feel, details, experience all rate top of price class for thus type of item.
Cons
Had to send back once, but every auto or semi auto I have purchased had been sent back at least twice. All the others I gave up on. This was worth giving a second chance, by far.
Q&A
Question?
Login to ask someone who bought this product.