The SIG Sauer MCX Rattler Canebrake is a CO2 pellet rifle with many of the same features as the popular line of guns it resembles. It reaches speeds up to 711 fps and you'll find it to be a very capable air rifle for target practice, plinking, or getting familiar with shooting the firearm version.
The Sig MCX Rattler air rifle is powered by an 88-gram or 90-gram CO2 tank, which means you get more powerful shots and you don't have to swap cartridges as often. The MCX Rattler magazine holds 30 rounds of pellets, and it has rapid shot technology that lets you empty it in under 3.5 seconds if you can move your finger fast enough.
The tough polymer stock comes in flat dark earth and black colors, and the metal receiver and other parts of the stock are designed with the look of the AR platform in mind, so you get a solid rifle with a tactical feel. The trigger has a flat blade just like the real steel version, and the textured and ridged pistol grip gives you a secure hold.
This MCX Rattler has the same barrel suppressor feature that adds weight to the front that the powder burner does, so you can get used to what it would be like to shoot it with a real suppressor. The Sig Sauer Rattler has a long Picatinny scope rail that includes flip-up rear and front sights, or you can add a scope of your choice. Plus, the handguard gives you M-LOK slots for adding accessories like lasers and lights.
If you want a CO2 pellet rifle that lets you experience shooting this platform without having to buy expensive ammo, get a SIG Sauer MCX Rattler Canebrake from Airgun Depot now.
SIG MCX Rattler Canebrake Features:
.177 caliber pellets
Semi auto
Max velocity: 711 fps
Max energy: 7.1 fpe
30 round magazine
Textured pistol grip
Plastic buttpad
Flat blade trigger
Flip up front and rear sights
Long Picatinny optics rail
M-LOK handguard
Barrel Shroud
Uses one 88g or 90g CO2 cylinder
Weight: 7.6 lbs. (with magazine)
Barrel length: 12"
Overall length: 30.13"
Specs
Manufacturer

SIG Sauer

Caliber

.177

Velocity

711 fps

Condition

New

Ammo Type

Pellets

Action

Semiautomatic

Barrel Style

Rifled

Fire Mode

Repeater

Gun Weight

7.60

Overall Length

30.13

Barrel Length

12.00

Loudness

3-Medium

Magazine Capacity

30

Mechanism

PCP & CO2

Rail

Weaver/Picatinny

Safety

Manual

Front Sights

Flip-up, adjustable

Rear Sights

Flip-up, adjustable

Shots per Fill

170

Trigger Adjustability

0

Trigger Action

0

Use

Plinking/Fun

Warranty

1-year limited warranty
Reviews
Average Customer Review
4.9
5.0
9 Reviews
4.0
By Duncan
June 21, 2023
90 g co2 cartridges are something you won't like, and the regular co2 savers are too long for this airgun. An adapter for 12g cartridges could help a lot if you don't want to take 240+ shots every time.
Pros
powerful, feels like something real, accuracy is fine
Cons
the stock is absolutely ugly, and the quality of it is not very good. The barrel is unstable, it moves with light force on it and makes weird noise.
5.0
By Joe donoho
February 26, 2023
Verified Purchase
Definitely a must for air rifle enthusiast
Pros
Looks good and shoots good
Cons
Wouldn't change anything
5.0
By Arthur
USA
November 23, 2022
Verified Purchase
Pros
All around very nice and easy to operate. Highly recommend for the pellet gun fans.
Cons
Reloading takes a lil time but thats about the only thing that i could say about this overall experience with this set up.
5.0
By Jerry e
July 29, 2022
Feels like the real thing in hand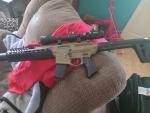 Pros
Has been a pleasure to own..Use Crosman premier 7.4 gram ammo and had no problems.Had for 10 months and fired 2,000+ rounds.Put scope on it and so accurate @ 50-70 feet.Great varmint rifle. Would highly recommend to anyone. I get around 230 shots per air tank.
Cons
Only problem I've had with it was an air leak inside around the trigger. Contacted Sig and they repaired at no cost to me.
5.0
By Ben
USA
October 20, 2021
Verified Purchase
Ran 500 7.8 grain pellets through it and it functions flawlessly. It is built super nicely and is decently accurate with the iron sights. Very happy with it
Pros
Co2 tank lasts very long. Built very well. Looks and functions perfectly
5.0
By Billy
USA
July 29, 2021
This is an absolute blast. Whether you are running simulation drills or just plinking for fun, this is going to make you smile.
Pros
Good feel, good action.
Cons
Larger clip availability, doesn't come in .22.
5.0
By James R.
June 25, 2021
This thing is a blast to shoot, really am enjoying it. I've got about 150~180 rounds thru it I'd guess maybe a 210 not sure. I'm still on the first tank I screwed on which is a 90 gram. I was worried it'd be a gas hog but so far so good and I've let the gun sit overnight a few nights with no issues, pick it back up and start shooting. I threw a UTG red do on it that they sell here for $80 that product is another story. Also not terrible but the POI will walk when you lock the turrets and/or reset their zero positions so it's a bit of an iterative process. I can get this thing to shoot 1" rested groups at 50 feet which is what I zero'd it at...I think it might be able to muster a bit better in a full rest. For $209 you can't go wrong, heavy metal build, made in Japan not much to dislike!
Pros
Nearly all metal build, realistic heft, consistent performance
Cons
Irons are badly adjusted out of box, trigger is consistent but rather mechanical feeling...it's not bad, but it's not crisp either.
5.0
By Jason
USA
June 19, 2021
This gun is heavy so make sure you have some sort of good rifle rest.
Pros
The quality of craftsmanship is amazing.
Cons
Minor, but wished it came with a little longer grip, if you have bigger hands it can get a little uncomfortable. The gun doesn't seem to like cheap pellets. Currently running falcon 7.9 gr through it right now, but those are pretty expensive at $17 for 500
5.0
By Michael j
USA
June 16, 2021
Pros
This is another beautiful sig product. Weight and handling are great!!! Accessories options great. The rated velocity Of 600 fps id be very suprised if this sig does not get whats advertised or very close to to it. Using a sig match lead pellet it gets there fast with a hard hit. Im looking forward to seeing the actual field test on this rattler
Cons
Hmmm metal mag??
Q&A
Question?
Login to ask someone who bought this product.
Can u switch out the .177 breech with a .22 breech?
asked Jake from USA
Can this shoot BB's?
asked Laurie from USA
Pellet only.
Adam from USA
Is it a simple valve change that allows it to reach 700fps compared to ak1 or mp40
asked George from Canada
What is different Inside that allows it to reach the higher velocity compared to the mp40 or ak1
asked George from Canada
Billy where did you get the extra rail at the front bottom where you mounted the light
asked Drew from USA
What is the trigger pull force for this airgun? Is it a double action trigger (pulling the trigger cocks and fires)?
asked Richard from USA
Can you increase the FPS somehow?
asked Ben from USA
Yes the first thang to do when you receive the rifle is do not unbox. Calculate the return postage, then send it back to the company. What you do is use the credit after restocking fees and take that money and buy something more powerful.
Don from USA
Can you hunt squirrels with this?
asked Ben from USA
Yes! So you best not let the wife get a hold of it!
Don from USA
whats the best laser sight to buy with this? and is there a "best" pellet for it? I dont care about price, I just want the thing to work well over time
asked Link from USA
Has anyone shot this female dog yet ( site made me clean the wording up ) Thats what I want to know. She sounds mean
asked Earl from USA
I got it n love it
Earl from USA
Yes, I've put 6 mags through mine. Shooting one inch groups on the move, targets varying from 10 yds to 25 yds away. I have a vertical forward grip, reflex sight, and laser on it with an AR magpul grip. No jams, emptied several clips at full speed.
Billy from USA
Is this legal in NJ? Does it come with smaller mags, e.g., 10-count?
asked Christopher from USA
How is the barrel length 4" on this & it's 30" overall The MCX has a 17" barrel /overall 34" & the MPX is 8" barrel / 25" overall? I mean compact pistols have roughly a 4" barrel... it looks like the measurement was maybe taken from end of handgaurd to end of shroud? If the measurement is correct than it's technically a pistol. Kinda like the MP5K/SP89 is.?
asked Mervyn from USA
It's referring to the mock suppressor that sticks off the end of the gun 4". I was confused by this same thing and didn't think I wanted one but ended up finding out that it actually has a 12.5" barrel length or around there. And i hear that it has better accuracy than the MPX or MCX.
Daryk from USA
Extra mags?
asked Josh from Canada
It takes the same magazines as the SIG Sauer MCX and MPX.
David from USA
How is this beastly looking gat? Thanx
asked Jeffrey from USA
How is she. She can whip some a$$in the back yard Im in love all over again lol And whats more. Its a Sig
Earl from USA