The Sig Sauer P320 CO
2
air pistol is a first-of-its-kind replica pistol featuring a belt-fed 30 round magazine that is capable of firing pellets up to 380 fps. Featuring a double-action trigger, this gun will blow through the magazine as quickly as you can pull the trigger. Don't forget to customize your P320 by adding an accessory or optic to the Weaver/Picatinny rail, found under the barrel. With this pistol, you not only get the Sig form/function but also the fun of an air pistol. Based on their world renown firearm lineup, the Sig P320 pellet pistol features a functional metal slide mounted to a polymer frame that blows back with every shot. Based on the P320 Nitron Full-Size pistol, this pellet pistol replica uses the same specs and build sheet, resulting in one of Sig's most accurate replicas to date!
SIG Sauer P320 Pellet Pistol Features
Uses a 12-gram CO2 cartridge
Semi-auto
30rd rotary mag
Manual safety
Fixed white dot sights
Blowback
Metal slide
Polymer frame
Weaver/Picatinny accessory rail
Same styling and trigger pull as P320 firearm
Specs
Manufacturer

SIG Sauer

Caliber

.177

Velocity

380 fps

Condition

New

Ammo Type

Pellets

Action

Semiautomatic

Barrel Style

Rifled

Fire Mode

Repeater

Gun Weight

1.81

Overall Length

8.00

Barrel Length

4.60

Loudness

2-Low-Medium

Magazine Capacity

0

Mechanism

CO2

Rail

No

Safety

Manual

Front Sights

Blade

Rear Sights

Fixed

Shots per Fill

60

Trigger Adjustability

0

Trigger Action

0

Use

Plinking/Fun

Warranty

180-day limited warranty
Reviews
Average Customer Review
3.8
4.0
30 Reviews
5.0
By Herbert I Burns Jr
June 16, 2023
Verified Purchase
Pros
Love, love love this air gun. Accurate and what ? 30 rounds. What a +
Cons
My old laser targeting unit would not fit on the bottom rail.
2.0
By Nate
March 6, 2023
Verified Purchase
Skip this one.
Pros
Nice look and feel
Cons
It jams more than Bob Marley. Not sure if its the pistol or the belt-mag.
1.0
By Osvaldo
February 15, 2023
Verified Purchase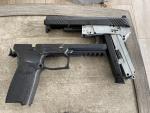 Pros
The size and weight true the real one.
Cons
The worst airgun pistol I have ever use! First the sights were not set right and can not be adjusted. Second, too many jams. I fire two or three shots and then it jams! Last night I used it for the last time! The magazine got stuck and I could not release it! I just destroyed the pistol on the concrete! And you know what? The mag still on!!!!!
3.0
By Jim
Canada
October 24, 2022
Verified Purchase
Pros
Realistic weight and feel and nice looking pistol overall. Clever pellet loading system is unique and different from other pellet guns. Decent blowback too.
Cons
Trigger is mushy and long, due to the pellet magazine design. You have to be patient otherwise you will end up with jams. I had a jam on my first try but was able to free the pellet by pusing a rod through the muzzle end. I recommend you use high quality pellets as well. Safety lock is fairly hard to push and I'm not a fan of the back strap release to access the CO2 chamber. It's easy to get off but finicky to put back on. Accuracy is not too bad buy mine shoots a little low and to the left. Adjustable sights would have been ideal.
2.0
By Warren
USA
June 4, 2022
Verified Purchase
Pros
Realistic weight, feel and price.
Cons
Fired a total of 3 rounds through it before it jammed to the point I could not get the magazine out. I still can't get it out.
1.0
By Larry
USA
June 19, 2021
Pros
The Gun seem to have Promise, It has Power and a Nice Draw Back when you shoot it.
Cons
Everything I sad about the Pros.... Erase it, because ultimately if the Gun keeps jamming what good is it, after about 7 shots it Jams, And I had to literally get some Wire Pliers to get it unstuck.. DO NOT BUY THIS GUN.. Your been Warned. ????
The Sig P320 is not a waste of money. It is FAR better than the Beretta 92 A1 for about the same $. But I'll admit I was hoping for a bit better.
Pros
Feels good in the hand. Realistic weight. Shoots ok and the blowback action is nice.
Cons
Slide does not lock back. Trigger is... meh. Jams and failures to fire are fairly common. This video is a very helpful "must watch" solution: https://www.youtube.com/watch?v=p9HdaAqxIBI
4.0
By lance
USA
October 24, 2020
Don't expect much from any Co2 pistol. If you want consistent power and accuracy, save up and get a PCP. Would make a great training pistol for a young teen looking to get into firearms.
Pros
Fun backyard plinker. I actually like the blowback. Purchased a 2 pack of 20rd clips. 70rds on 1 12gr Co2. Put 140rds though it without any jams first time using it. . Have to let the Co2 cart recover every ten shots. Co2 limitations are a pain. It's fun though to dump an entire clip rapid fire. Crosman premier destroyers 7.4gr. May try some 4.5gr wads next time.
Cons
It's Co2. FPS is more like the model number and gets worse if you don't let the Co2 cart recover after 10 shots. It's also October and in the low 50's.
After 100 rounds the Co2 won't seal. Went through 8 brands and watches every one leak. Problem is I didn't have time to even send in my warranty card over the weekend before it failed
Pros
slight simulation weight
Cons
better system
Take the $100 and buy some beer. Much better ROI. Mine jammed many times until magazine got completely stuck and had to remove mag release to get it out. I got it out, but never worked again. 1 star = 1 too many. Buy a Walther.
Q&A
Question?
Login to ask someone who bought this product.
Is it compatible with steel BBs because I see online it says most pellet guns are compatible with steel BBs
asked Reed from USA
Does the blowback actually cock the internal striker (so that the trigger doesn't have to do that)?
asked Edgar from USA
No, some CO2 guns do, but in this case the blowback is just for "show". The slide does not lock back, manually or otherwise. Related to your question, it might interest you to know that the trigger on this pistol actually has 2 distinct clicks when you fire it, as the trigger is doing two jobs: 1) advancing the pellet chain, and 2) firing the pellet. So it does make for an odd-feeling shooting experience. With this gun, you have to learn to pull the trigger half way, hold your half-squeeze, THEN reestablish your point of aim (if you are concerned with precision shot placement) , then pull the trigger the rest of the way to get it to fire. Awkward at first, but I got used to it and I find it to be an enjoyable enough shooter for what I paid that I'm still glad I got it.
Joy from USA
Need magazine for P320
asked Joe from USA
I broke magazine. Where can I get another
asked Joe from USA
can there be a red dot mounted on top? Does the rear sight come off from under the slide? If so, Ill take 1.
asked Anthony from USA
what pellets should I buy for this P320. Target practice and some wild life such as possom and squirrels, thanks appreciate your help
asked VIVIEN from USA
This is too weak for squirrels and 'possums. For a squirrel, a powerful springer (e.g., Gamo Swarm Magnum) in .22 would suffice. If you merely want to sting them, perhaps this pistol would be appropriate when loaded with these plastic 4.5mm BBs: ASG BLASTER AIRGUN .13G PLASTIC BB's 4.5MM .177 CALIBER
Edgar from USA
What are the best pellets to shoot in this gun?
asked Jeremy from USA
Shoot a light wadcutter. 7 grains or less.
Mark from USA
Anybody else had a problem with the gasket on the CO2 cartridge falling out?
asked Adam Olson
How many shots can you get out of a C02 cartridge?
asked Stan from USA
Which weight pellet for p320?
asked Terrance Bryant
Is shots per fill . The same as shots per C02 Cartridge?
asked Robert
How do I clean this thing? Just stick a rod down the barrel or does it come apart some how?
asked Chip
Bonjour, ce sauer P320 CO2, votre envoi vers France, combien de jours et prix ? Merci
asked CRINQUAND
Does it fire Plastic or steel/copper bb's?
asked Luke
What distance will this gun reach?
asked Pansy
what is the trigger pull of P320 PELLET PISTOL
asked BOB
I want to shoot squirrels in my area. Will I need to purchase the BB magazine for this or will the pellets do the job? Thanks!
asked Brian
Does the P320 have a polymer frame or Metal frame? Description is vague.
asked Frany
HOW ARE THE CO2 LOADED ON THE P320.
asked RICK
Has enyone attached a red-dot 1 x 20MM illuminated Scope to the P320?
asked Sid
Can you use the long pellets in this gun?
asked David
will this pistol kill rats
asked lynn
can you dry fire it?
asked jhon
Would this be a good choice for pesky chipmunks?
asked Mark
Aside from the magazine, home different is this from the P250?
asked Michael from USA
Will this airgun be delivered to Indonesia
asked Achmad from Indonesia
Worth the money?
asked John
What is a belt-fed magazine and how does it work?
asked Douglas from USA
What is the real Feet Per Second for BBs and Pellets
asked Norm
Extra magazines available?
asked Paul from USA
WHAT THE FPS WITH PELLETS AND HOW ACCURATE IS IT...THANKS,
asked GEORGE PHILLIPS
How the CO2 load like the P226 or the P250
asked Pete from USA
what kind of bb's does this shoot and does the slide lock after last shot?
asked Jason Morre
How many shots per co2 capsule
asked Stefan
Hello! How long a barrel? Thank you.
asked Vladimir from USA
What accessory can I attached or add for this item? Please advice preferred sight or laser that matches the rail. Thanks!
asked Jose from USA
Anyone know what the grip frame size is? As is with the real 320 there are Small, Medium, and Large. I'd LOVE there to be all 3 available, just like the real thing! Thanks
asked Murf
Will It lock back on the last round?
asked Luis
Ok, so the FPS rating is for standard BBs according to the description. What might it be for a standard PELLET, since this is advertised as a pellet pistol afte rall it might be useful to know how it performs using them.
asked Michael from USA
How many shots per fill?
asked William
can you disassemble this just like the real ones
asked cesar manrique