Smith & Wesson Model 5866 pellet pistol features a 6" barrel, and can shoot up to 426 fps. Its high quality all metal construction make this version a life long keeper. The weight and handling characteristics can only be described as remarkable. Blued steel and rubber grips accent this pistol. Once you handle this airgun, you will know that you have made the purchase of a lifetime.
S&W 586 Revolver Features
CO2 (12-gram cartridge)
10rd circular pellet clip
Double- and single-action
Blade front sight
Fully adjustable rear sight
6" barrel
Black matte finish
Includes foam-filled hard case with cutouts for revolver- clip (2 clips included) and 2 extra blade front sights
Specs
Manufacturer

Smith & Wesson

Caliber

.177

Velocity

425 fps

Condition

New

Ammo Type

Pellets

Action

Revolver

Barrel Style

Rifled

Fire Mode

Repeater

Gun Weight

2.80

Overall Length

11.50

Barrel Length

6.00

Loudness

3-Medium

Magazine Capacity

0

Mechanism

CO2

Rail

No

Safety

none

Front Sights

Blade

Rear Sights

Adjustable for windage & elevation

Shots per Fill

0

Trigger Adjustability

0

Trigger Action

Double-Action & Single-Action

Use

Plinking/Fun

Warranty

1-year limited warranty
Reviews
Average Customer Review
4.4
4.5
16 Reviews
1.0
By Michael
Canada
August 14, 2020
Verified Purchase
I should return this but I can't. I'm from Canada so the shipping which I will not be reimbursed is $40, I paid some kind of duty to ups for $85. So that is money gone once that I would have to pay again to get the item shipped back to me. Once I have returned it to the seller there is no guarantee there won't be an issue determined to be my fault (I mean I'm not there)meaning there will be no refund, no new item nor repaired item sent back to me unless I pay for a repair. In Canadian dollars I am out almost $500 for this, I can't even explain to you how ripped off I feel right now. I have no recourse this is a sunk cost for a gun that worked for 22 shots at over $20 per shot. Thank you for that. Anyway, I've been thinking of stopping pumping money in to this hobby and this seals it. Thanks again.
Pros
It came in a nice case, has a nice feel and weight due to all metal construction.
Cons
I am so angry right now I'm not even sure what to say. This revolver showed up at my house today, I was so excited, opened it up took it out of the nice case, read the manual, loaded it up and got precisely 22 shots out of it before the mechanism that turns the magazine when you cock the hammer stopped turning consistently. It sets up for the first shot but cocking the hammer for the second shot has not turned the magazine since my first 22 shot barrage.This is absolutely ridiculous. I had a Crosman revolver, a decent one but no where near as pricey as this one, that did the exact same thing pretty soon after I got it. It turned every now and then exactly like this one, I just cocked it, did not turn, nope, nope, yep yep yep nope nope nope yep. Awesome. My first 22!shots it already moved in to my top five favourite.
5.0
By Keith
USA
January 9, 2020
Verified Purchase
This is a wonderful gun to shoot. It shoots right on the mark at 30 feet and is a joy. It is very heavy so my hand starts to shake after a couple of sets of pellets. I love it.
Pros
Beautiful gun. Nice construction. Looks like it was real. Accurate.
Cons
None so far!
5.0
By Burt G.
October 9, 2019
Verified Purchase
If you want your air pistol to look and feel like the real deal, here's your revolver. Very picky about what you shoot thru it; when they say don't use pointed pellets, DON'T. I did; the gun did not like it one bit. But, this pistol is powerful and accurate with the recommended ammo. You might also call the build quality, "heirloom"; there is a reason this weapon is priced north of 200.00. This is a pistol that inspires respect; I'm taking my time getting to know it well.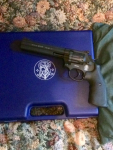 Pros
Very realistic, precision revolver, with flawless single and double action function. Beautiful case, just like real S&W revolvers. Fully adjustable rear sights (big plus here)
Cons
Uses a lot of Co2, just be prepared; I get 30-38 shots/cylinder(Crosman). hard to tell when cylinder is 'bout out.
5.0
By Karrie Booth
USA
December 14, 2018
This is one of my favorite guns. This feels like the real thing less the kick back, noise and cost of ammo. It is a little on the spendy side but as is true in life - you get what you pay for. Out of my 12 hand guns this one is in the top three. I added a touch of white nail polish to the front site and that really helped in zeroing in on the grouping. Treat your self to some fun plunking. It is a big, heavy gun so be prepared. Not for small hands or weak arms.
5.0
By bobby
September 29, 2017
I returned a different handgun because it was a lemon and upgraded to the 5866. The best move I could have made. trigger is 10x better and fullly adjustable sights with two extra front sights. Accuracy is excllent for these old peepers.
Pros
trigger, sights, 6 inch barrel, rubber grips
Cons
it likes to eat co2. after 45 rounds velocity drops quickly
5.0
By Paul
USA
December 15, 2016
I had the old school Crosman 357 when I was in my teens and it was okay I guess but this bad boy is just flat out mean ! The weight and balance are impressive the power is excellent and construction is second to none. My shooting buddy who also happens to be my boss says it feels much like his real 357 that he has had for several years. It shoots very accurately right from the case and sounds a bit like a .22 when fired. I like the idea of the extra front sites and the case it comes in is pretty nice as well and allows you to remove the pre-cut foam sections of your choice. I took out the two slots to carry 2 Co2 cartridges and the round section that holds the can of pellets. After doing extensive research on this pistol it lived up to all the reviews and videos that are on places like YouTube. Go and check those videos out and do your own research.so you know what you are spending your hard earned money on. Trust me when I tell you, the price reflects the quality of this pistol. It is rock solid bad ass and feels good in your hand and performs like it should. This is not some shotty slammed together piece of crap from China that wont make it a year without failure or complete replacement. Save your pennies and get one of these because there will not be any disappointment. The only things I would like to see from the factory is the hint of white at the bottom edges on the rear sight and the blaze orange on the lower portion of the front site as many of the real ones have. I plan to add these two things on mine but if it were already done that would be a nice bonus. I will look to Umarex again when purchasing any other guns in the future. Have fun and be safe Y'all !! Paulie
Pros
Well built and solid not a piece of crap.
Cons
None
5.0
By Corey
January 9, 2015
I have the 4" barrel version, and bought the 6" barrel and shroud. I can switch between either in minutes. This is simply the best pellet revolver available anywhere. For revolver shooters who don't have the time to get to the pistol range, nor wants to speed $100 in range fees and ammo, this is the ideal alternative. Weight is dead on to a real 586. The trigger isn't as good as the real revolver, but it is surprisingly close. This is a very high quality airgun. Accuracy is outstanding. Velocity is as advertised. Compare it side by side with Crosman Vigilante, and you'll understand why this revolver costs more than 4 times as much. You do get what you paid for. If you want to keep your handgun skills sharp and not spend a ton of cash on ammo, this is a near perfect alternative. Highly recommended.
Pros
Simply the best gas powered revolver available...
Cons
It's expensive. Quality doesn't come cheap. If you're on a budget, the Crosman Vigilante will serve you well. However, if you want the best.... This is it.
4.0
By revolver
January 14, 2013
I shot hollowed pellets into my fence about 10 meters away. The pellets completely went inside the wood of my fence. The temperature is about 0 C. The performance and accuracy are very good. In warmer seasons, it should have more power.

Pros
Accuracy and power.
Cons
It would be better if it was a .22' and 495FPS
4.0
By Joseph F.
April 26, 2012
Very nice pellet gun. A little on the pricey side but well made. Do not purchase extra magazines as they are not the same quality as those you will recieve with gun. You will end up only using the two mags that come with pistol any way.
Pros
Well made.
Cons
Price is a little steep.
5.0
By Bradda R.
April 10, 2010
I enjoy shooting this pistol more than the 4" version that I own. the co2 lasts for about 80 shots. The barrel is longer so there is a little more speed. You will like the weight of the gun. I have to qualify every year so this is a good practice gun. I don't have to go to the range every time I feel like practicing. I have friends come over and we have some shooting competitions. Great fun and cheaper than buying real bullets. Don't forget to order the extra three pack magazines.
Q&A
Question?
Login to ask someone who bought this product.
Does this pistol use the same pellet clip as the Crossman Vigilante? I understand they are different companies but hey both hold 10 pellets and look similar.
asked Dennis from USA
what are the magazines made of Metal or Plastic? or a Combination of the two
asked Gary from USA
How loud are these compared to the pump variants
asked Mike
DOES THIS GUN L0OKS LIKE ORIGNAL REVOLVER AND DOES IT MAKES A SOUND WHIKE SHOOTING AND CAN IT BE DELIVERED IN INDIA
asked PANKAJ from USA
do you ship this gun in india i stay in INDIA
asked Abhijit angre
Abhijit, Please contact our International Shipping Department at [email protected] They can answer any questions you might have. Sincerely, The Airgun Depot Customer Care Team
Scott from USA
The ad says the gun is made of steel with a blued finish! When I purchased the COLT GOVERNMENT 1911 A1, THE AD SAID IT TOO, WAS BLUED STEEL!!! IT IS NOT STEEL! I tested it with a magnet to make sure. Have you tried a magnet on the revolver? I would be interested to know the results myself.
asked JAMES L. from USA
Virtually all air gun pistols in this price range are made from "pot metal" (zinc alloy mixtures) because (a) it's cheaper, and (b) air guns do not go through the high-pressure, explosive abuse that powder burners do. Be that as it may, I agree that Air Gun Depot should correct that description error (which was probably copied right from the manufacturer's promotion material). Were I an Air Gun Depot staff member, I would have that change made as we speak.
Rusty
I tested my S&W was surprised that it is NOT steel. However I feel it does not affect the overall quality of the gun. I have very pleased with the weight and great performance of the gun. There is not a better pellet revolver out there.
Dewayne from USA
Is this pistol still available......my understanding was that S&W was not in the air gun business anymore.
asked Herb Moore
Herb, As far as Airgun Depot knows S&W are still doing airguns. We have a limited supply in stock right now (4). But we still have stock. S&W might not replenish stock once these are gone. So get one while you can. Hopefully this answers your question. Sincerely, Airgun Depot Customer Care Team
Scott from USA
Are there two extra sights included in the case, along with the tool, brush and mag as the photo shows?
asked Steve
Don't recall any extra sights, received 2 extra magazines.
Joseph from USA
Does the lever pull back when you shoot it?
asked Bobby
If you mean the hammer, yes.
Rusty
What holster best suits this gun?
asked Randy
Look for a holster on Amazon or eBay that's suited for a 357 magnum pistol. You'll likely be looking for one with an open toe to accommodate your manly six inches.
Rusty
Is there a specific type or brand of Co2 cartridges that I need to buy for this pistol?
asked julian
No, any standard 12-g CO2 cartridge will do.
Rusty
To avoid damaging the seals in the gun, is there a way to remove the CO2 charger that isn't fully used for storage of the pistol?
asked Tim Schroeder
If you're just wanting to remove the partially used cartridge, Just release the tension on the piercing mechanism until the tanks starts to hiss. When it stops, open it a bit farther until it stops hissing again. Repeat until you are comfortable with loosening the mechanism all the way to let the remaining gas out.
Rusty
No, you cannot remove a partially used cartridge and save it; once pierced, the cart must be used or discarded. Most experienced air gunners say storing your gun with a partial CO2 cartridge is fine between shooting sessions, but not advised for extended periods. I have five dozen air guns and I store them with partial carts all the time. No damage to report so far. Gun manufacturers tell you otherwise mostly for safety/liability reasons.
Rusty
How long does the CO2 cartridge last when you are not using the weapon and it is installed in the gun?
asked John
They can also last for years if the seals are good, but that length of storage is not recommended. However, to offer a different point of view from that of the "staff" member. Storing an air gun with a partial cart for a week or even two is n to holing to hurt an air gun with good seals. Just remember to use a drop of pellgun oil on the tip of each CO2 cart you install -- that keeps the seals well and the metal parts well lubricated,
Rusty
It can last a week or more sometimes. But it is not good for the seals on the gun. It wears them down a lot faster when stored for periods of time like that with co2 in the gun.
Scott from USA
Do pellets come with the case and the gun?
asked alec
No, but all the better. Many newer air gunners assume that if the pellets come with the gun, they must be the best for the gun. Not true. What experienced air gunners learn fairly quickly is that pellet guns usually do have a favourite pellet -- but you've got to find it. If this is you first air gun, pick up a couple of 250 tins of pellets to try out. Try a tin of Crossman Premier flat (wadcutter) or domed (not pointed, or destroyers, or any other fancy version) -- weight around 8 grains. These are pretty much standard pellets and must guns can shoot them well. For your second choice, try a JSB pellet, also with a flat (wadcutter) head or a domed head weighing in from 8-10 grains. JSBs are a premium brand, and are thought by many air gun shooters as being capable of improving the performance of any gun, once you find the right version of their pellets (there are dozens). You've only started to look for the best pellet for your gun, but unless you really get into this hobby, you won't want to be trying every pellet on the market. By trying these two, you will get a sense, after some practice, as to whether you gun favors the regular brands (or at least shoots them as well as the more expensive pellets), or if it displays, even through slightly better performance (muzzle velocity and accuracy) than when shooting standard, less expensive pellets If you can see no difference, or if you don't really care about the difference you saw. then you'll probably be happier buying the standard (Crosman Premier flats or domed) in bulk boxes and save a lot of money. If you see a difference that drives you to seek the best for your air gun, welcome to stage one of the sport. There are a dozen more JSBs to try and a dozen other available and excellent brands (and their different versions) to try. Just stick with the basics: flat (wadcutters) or domed, and to the standard weight of pellet for the gun (.177 = 7-8 grain) or one level above when your gun's fps is substantially above 400fps (.177 = 8-10 grain). Have fun. This is a great pistol.
Rusty
What type of battery does it have?
asked alec
what does the hard shell case look like
asked alec
Looks like a normal pistol case.
Steve from USA
I bought this gun and now it doesnt work. Where can I get it fixed?
asked Ben
If you are within your 30 day return policy with Airgun depot, contact our returns department using the link at the top of our website. If you are beyond the 30 days, you will have to contact the manufacturer.
Scott from USA
Can you attach a scope to this revolver?
asked Ryan
No it does not have a rail for mounting.
Steve from USA
I'm between the s & w 5866-6 revolver and the desert eagle blowback what is the better buy for acurisy and fun realistick shooting
asked Riley
I have a 4" version, but you can buy the 6" barrel and shroud for a bit more accuracy and velocity. As it is, I often stand a pellet up on the target board and try to shoot it at 30 feet, benching the gun. My best was four out of ten. It groups 10 rounds between .45 and .60 inches at 30 feet, dependent upon which type and brand of pellet being shot. Not target pistol accuracy by any stretch, but exceptionally good for a 4" barrel revolver.
Corey
Actually, the Desert Eagle is considered my most owners to be extremely accurate for a pistol, never mind a blowback (partial) pistol. I'll assume by accuracy, " close to where I was aiming," I would say the revolver would have a slight edge. But neither are stack-shot accurate. If you really, really want accuracy out of a pistol shooter, stay away from any replicas and start shopping for a target gun. In the meantime, take your choice with either of these two pistols -- it all depends on the style you rather have fun with. Caution, though; don't take this to mean all non-target pistols are equally accurate. You just happened to choose two pistols whose accuracy is usually rated high.
Rusty
For accuracy, get this one....it'll be more accurate since the top doesn't blow back.
Conor
what all is included with the s & w airgun 5866-6
asked jess
My gun included 2 cylinders, cleaning brush, 2 spare front sights, barrel wrench, and instruction manual, in a plastic, foam lined case. I ordered the package of 3 extra mags / cylinders, but one of those is defective, and the pellets just fall through the bored holes, so I will need to return it.
Michael from USA
This kit comes with the gun, two Clips/magazines, a cleaning brush, and in a nice hard shell case. it also comes with some tools for use on the gun.
Steve from USA