A good optic can make or break a set up. Many airguns (especially break barrels) will come packaged with a manufacturer scope, however the reality is that often the included scope it very basic and not suited for airgun hunting. You'll likely want to upgrade to something more durable and higher quality.
Even experienced airgunners remember the confusion felt upon first diving into finding the right scope. Its easy to be overwhelmed by acronyms and options that are thrust upon you as you browse for a scope without an explanation of what it all means. It's okay, we we've all been there, and that's why we created this reference list to help bring you up to speed and find the perfect scope for your hunting air rifle:
Adjustable Objective (AO) – For the purposes of hunting, an adjustable objective (also known as parallax adjustment/correction) gives you the ability to tune the objective distance of the scope and bring your target into focus. This is very helpful when identifying game, ensuring shot good placement and has the added benefit of helping estimate the distance to your target. Simply bring your target into focus by turning the parallax adjustment, once your target is in sharp focus, read the distance marks on the adjuster to get a better idea of about how far away your target is.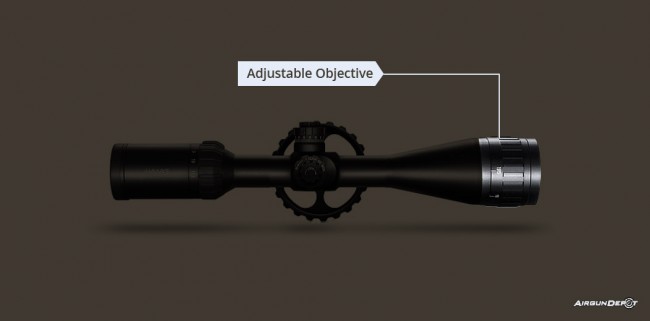 Side Focus (SF) – Moving the AO focus ring from the front of the scope to the side makes focusing the scope while in a hunting blind or while lying prone much easier. It also provides and easier way to read the range once your target is in focus.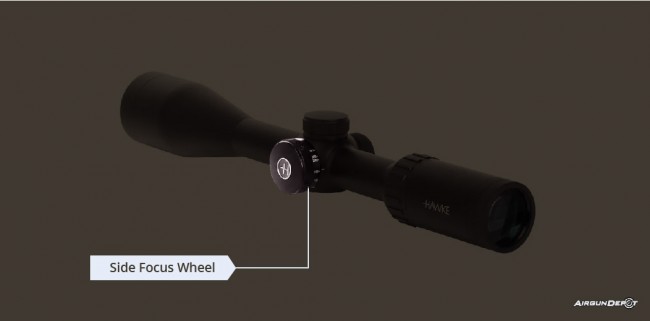 Ranging Wheel – Many side focus scopes also feature the ability to use an over sized ranging wheel. These have gained much of their popularity with field target shooters and are used to help estimate the range to a target with greater precision, the larger wheel equates to finer tuning and more precise distance marks. This makes it easier for the shooter to properly adjust their holdover for making longer shots.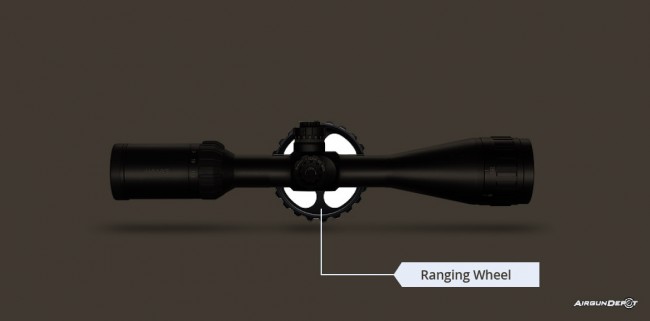 Scope Model Names – A standard name like 4-16×40 is broken down like this: The first number (or range of numbers) refers to the magnification power of the scope, in this case adjustable from 4x (or enlarged four times) up to 16x. The last position refers the diameter in millimeters of the objective lens or bell of the scope. The larger the lens, the greater the field of view seen in the scope. Larger objectives also collect more light allowing for a brighter, more crisp image in the scope. If you want to learn more, check out our post What Do the Numbers Mean on a Rifle Scope.
Reticle Options – There are many variations of reticles, but it really comes down to deciding these two questions:
Choose a thicker reticle to help show up better in low light / busy backgrounds, or pick a finer reticle in order to adjust your shot in minute increments.
Decide between a target dot reticle designed to help you get on target faster, or various mil-dot style reticles to help you estimate distances to the target as well as adjust for bullet drop and wind drift.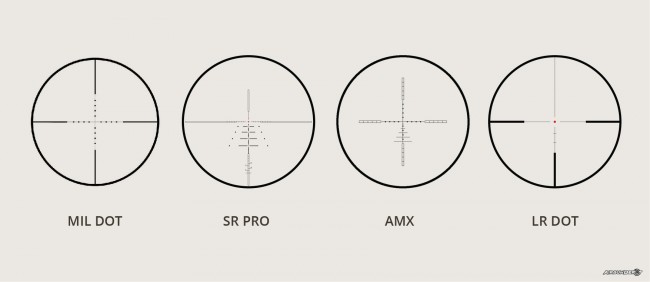 Illuminated Reticle (IR) – Illuminated reticles are a great choice for hunting optics, however be aware of your local laws and regulations as some states may not allow them for hunting. Illumination of the reticle is there to ensure that regardless of light conditions, target color or shading, the reticle is clear and visible. This allows for correct shot placement and a humane kill. And you can always turn it off when not needed for a traditional reticle.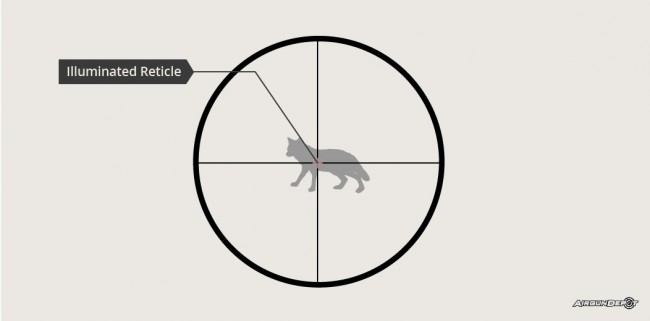 Wire vs Glass-etched Reticle – Standard wire reticles are cheaper, but are much thicker than the finer and cleaner glass etched reticles. And unlike wire, a glass etched reticle cannot be broken.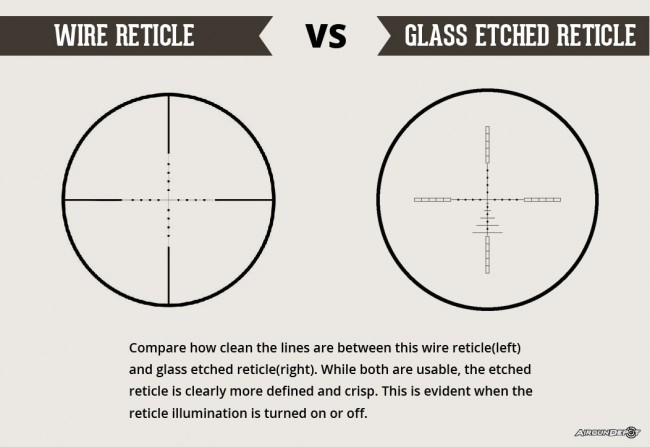 Airgun Rated – An "Airgun Rated" scope simply means the airgun has been tested to handle the double recoil of spring & gas pistol airguns (meaning break barrel and underlever airguns). PCP airguns do not require an airgun rated scope.
Traditional Sunshade – A device that attaches to the scope in order to reduce glare from the sun in the scope, they also help mask the visible glare off the optics glass that may potentially tip of more skittish game to a hunters presence. Many scopes come either with this optional accessory or have threads on the front bell of the scope to add one.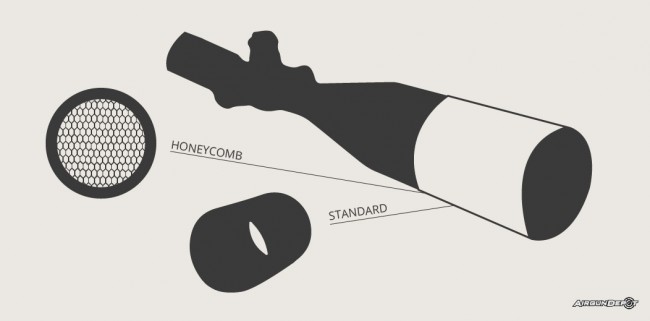 Honeycomb Sunshade – In recent years honeycomb sunshades have gained popularity. They give you all the same advantages of a traditional sun shade (by reducing the angle at which off-axis light reflects) but adds much less length to the scope.
Last note, with airgun hunting a higher powered scope isn't always needed. A moving target is much different than that stationary target in the backyard. Sometimes lower powers are ideal in that they offer a wide field of few and bright view to catch your prey as it moves. Really experience is really the only way to find what fits best for you (especially when it comes to reticles). But hopefully this can help narrow things down so you can make a sound decision.