The desire to shoot longer ranges seems to be a real trend in airguns right now. Where 50-yard groups were once the outer reaches for most shooters, today's airgunners want rifles that can consistently hit 100 yards and beyond. This is generally achieved by going to bigger calibers or heavier grain. But, can an off-the-shelf .177 do it too?
Conditions Need To Be PERFECT!
Long-range airgunners prefer bigger, heavier rounds because they buck the environmental elements much better than smaller, lighter pellets. A 34-grain pellet traveling at 900 FPS will hold its energy and trajectory better than a 10-grain pellet traveling at 900 FPS. That's just simple physics. So, if you are going to attempt 100-yard shots with a .177, make sure that you've picked the right day to try. Even a slight breeze will throw you off target.
Today's shooting conditions started out about as perfect as you could have them. Unfortunately, the wind started to pick up near the end of our testing, so our results weren't quite as good as we hoped them to be.
The Equipment
We'll be shooting the Air Arms S510XS Stealth Carbine in .177. The fully regulated S510 XS is an exceptionally nice, traditionally styled airgun. The regulator is one of the best on the market, with only a one or two fps variance across an entire string of 10 shots. It features a match barrel and trigger, ten shot magazine, a buttery smooth side lever cocking action, an integrated suppressor, and a five-way power adjuster.
On top of our rifle, we've mounted the new Hawke Sidewinder 4-15×50 FFP. Once you've had the chance to look through one of these new Hawke Sidewinder scopes, you're going to seriously want one.
We'll be shooting the Air Arms 8.4's, JSB 10.34's, and the 10.03-grain JSB Knockout Slugs for our test pellets today. The average velocity of each is as follows. The 8.4's averaged about 1065 FPS, the 10.34's averaged about 1005 FPS, and the 10.03 knockouts averaged about 980 FPS. This puts our energy in the 21 to 23 foot-pound range.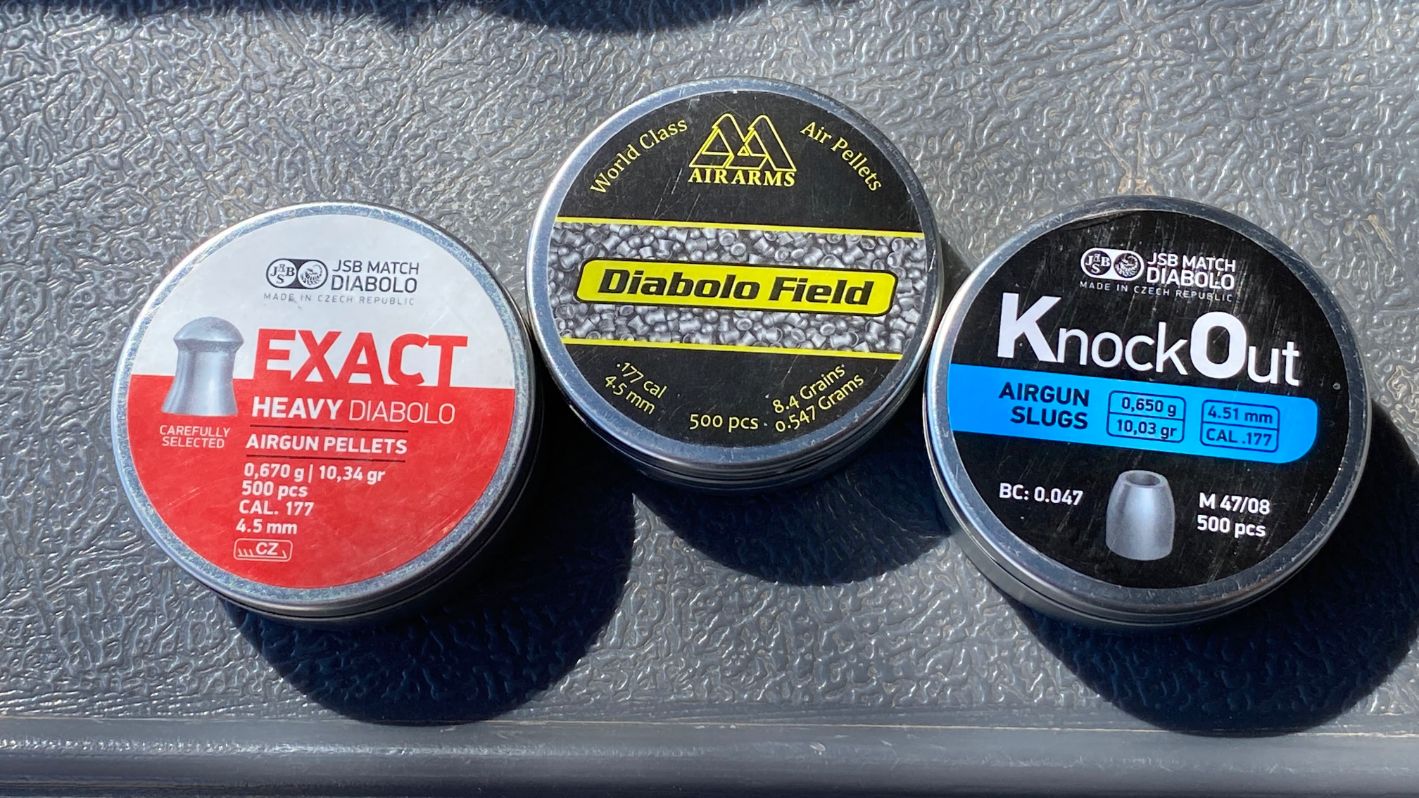 With all our test gear ready to go, we set up our table with our Caldwell rest and got down to business.
How Did We Shoot?
We conducted all our tests in the same fashion. First, we would shoot a few groups to get the feel of the wind and if there was any consistency to the flight pattern. Then we would settle in for a final 5-shot test group.
We shot our first groups with the 8.4 grain Air Arms pellets. While they are moving very fast, they are also very light. As the breeze began to pick up, we noticed they struggled to maintain accuracy past 50 yards. With our rifle zeroed for 50 yards, we found that the 8.4's needed a 1 3/4 mil-dot hold over to land on the target. We did get some variance left to right and found that trying to chase the POI resulted in worse groups than just holding steady and letting things fall where they may. In the end, we got a center-to-center group of about 2.33″. There were some variations, but this is a good representation of our results.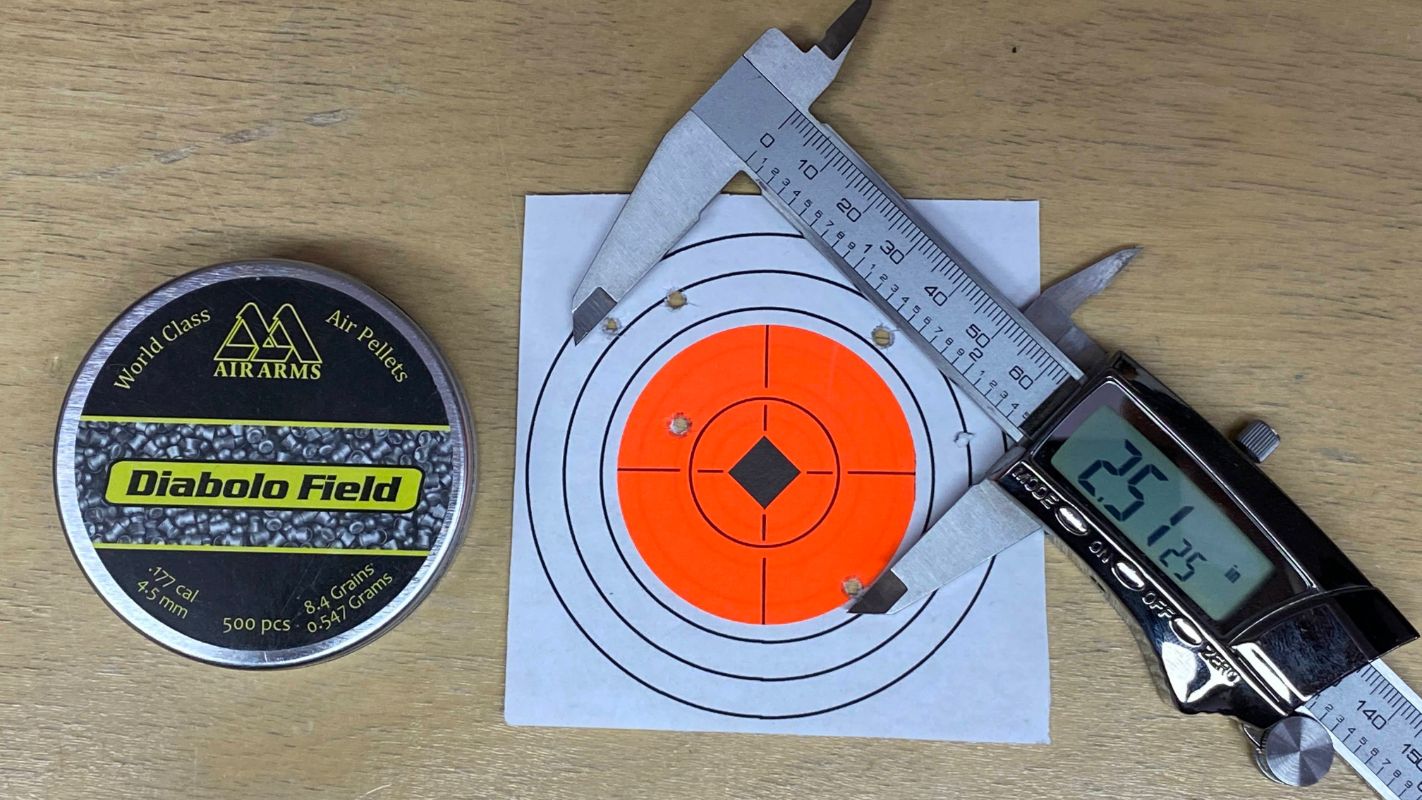 The 10.34 JSB's were up next, and they did not disappoint. Immediately we noticed they wanted to group more tightly, even though the wind had continued to pick up. We went through the same process of "feeling" how the wind would dictate any changes to their flight and then went for our 5-shot group. As a side note, the holdover was the same for the 10.34-grain pellets as it was for the 8.4's. The left to right was about the same as well. We're not sure if this is a testimony for the Hawke Sidewinder or the pellets, but we were very pleased not to have to re-zero our scope for each test.
We got what we were hoping for with a final group of 1.99″ center-to-center. While sub-MOA groups are certainly the holy grail, seeing under 2″ at 100 yards with an off-the-shelf unmodified airgun is exciting.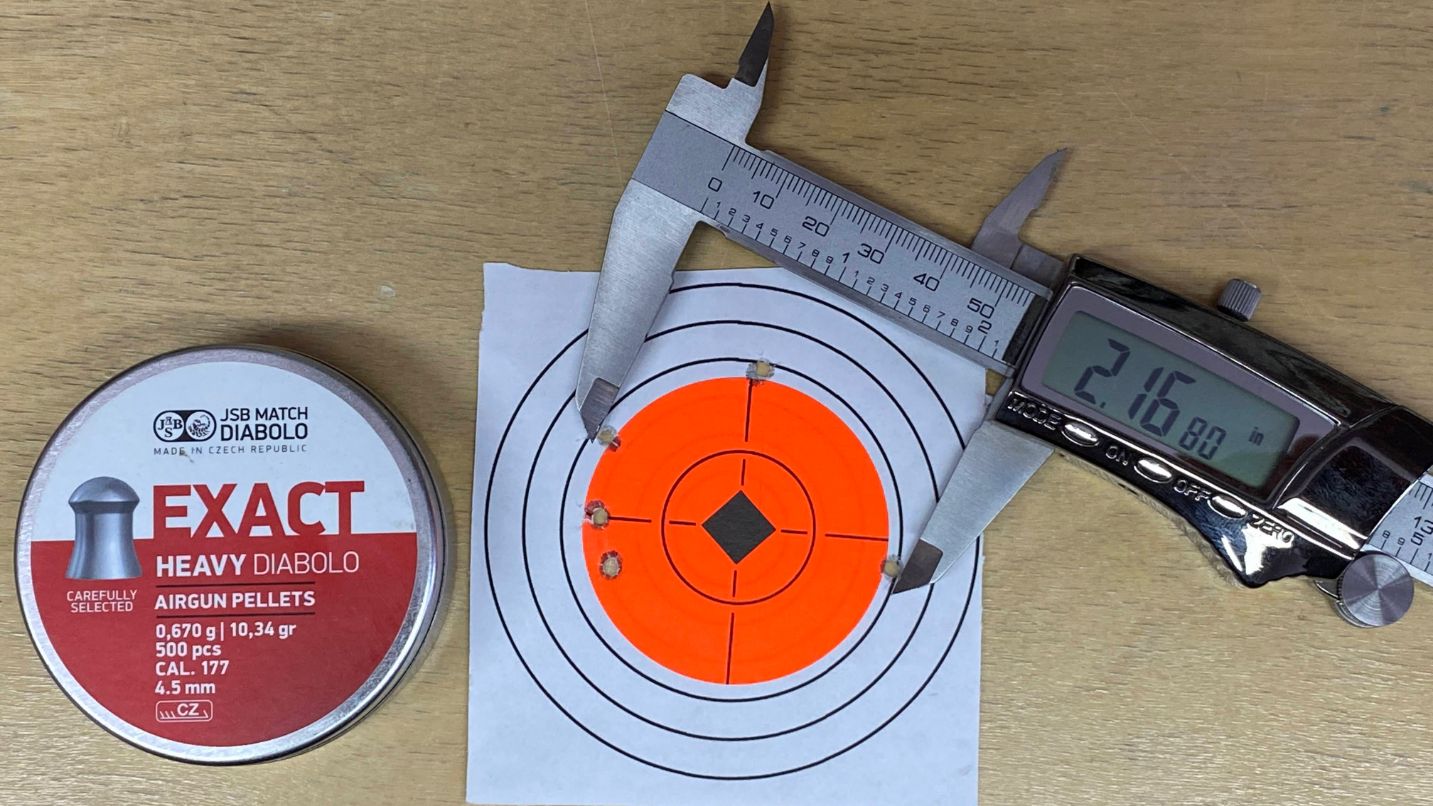 It's Time For The "Knock Out"
We are just getting familiar with how slugs will perform in "normal" airguns. Normally airguns have a "choked" barrel to help stabilize the pellet as it leaves the muzzle. Being hard-walled with more engagement in the barrel, slugs tend to react badly to being shot from a choked barrel. JSB and other mainstream pellet manufacturers are working to overcome this issue, and this is one of the first chances we've had to give them a try.
The wind was picking up a little more now with a constant tailwind at about a 30 degree right to left push. How was this going to affect our slugs? As we set up at the bench for another round of tests, we noticed, consistent with the marketing, that the slugs did not drop as much as the pellets. Our holdover was about 1 1/4 mil-dots vs. 1 3/4 mil-dots, even though we were shooting at a lower FPS.
We got our best results yet. The JSB 10.03 grain Knock Out produced a final 5-shot group of only 1.92 center-to-center. This confirms what we've been told about how slugs can shoot longer range while at the same time bucking the elements to maintain consistency.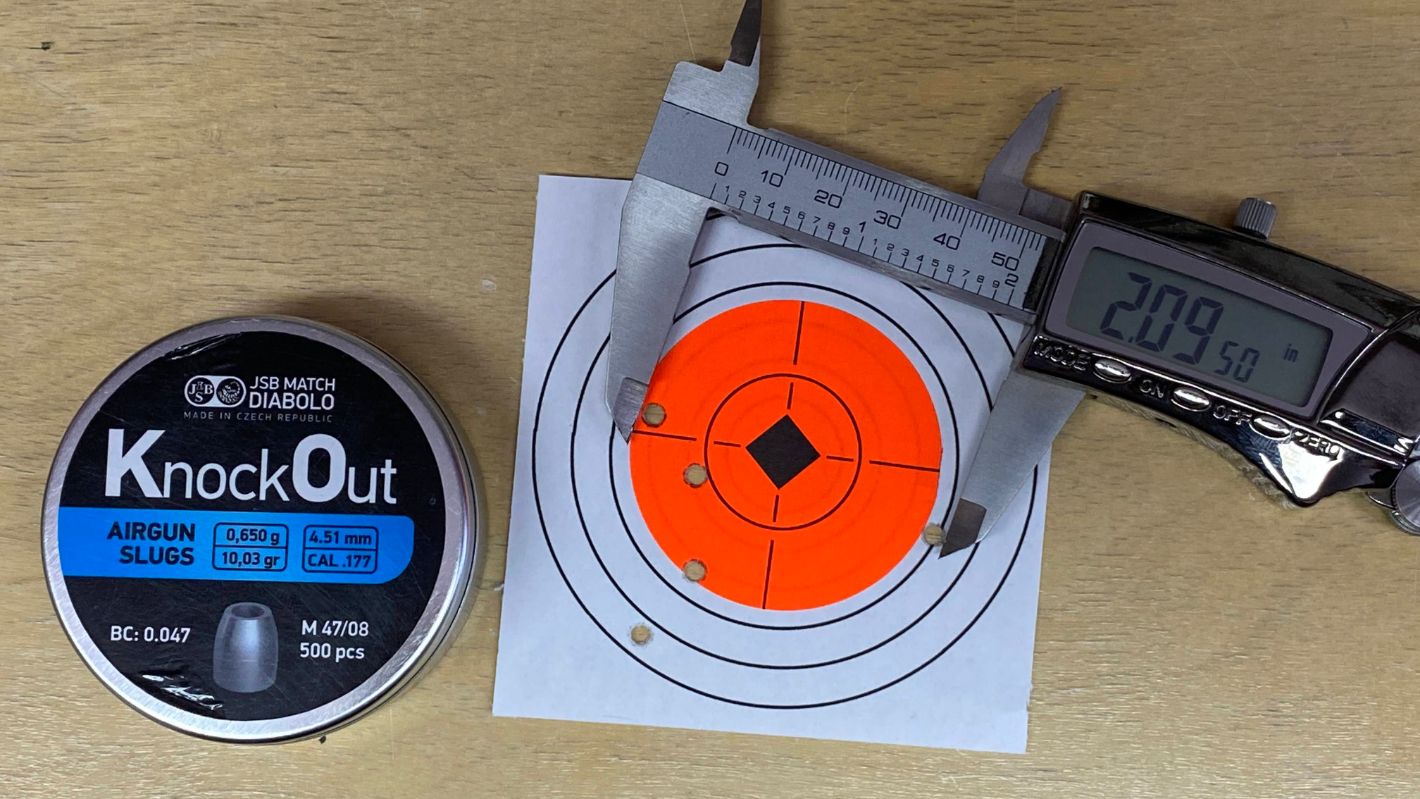 What's Next?
Well, it was a lot of fun doing these tests for this article. We'd certainly like to continue pushing the .177 with more customized airguns. Maybe it's something that we'll get to down the road. But, for now, we're excited to see that 100-yard accuracy is not only achievable but is achievable across more calibers than some shooters may expect.
If you want to shoot long-range and you're looking to pull together all the right gear to get it done, just give us a call. We'll be more than happy to help you put together the right package for your needs.