Being asked to pick out a favorite break barrel rifle is a lot like being asked to pick our favorite ice cream. Sure there are some flavors that we may like better than others, but the entire market is full of some really good airguns. We bet that you are having a hard time picking the "best" break barrel for your needs as well.
In this post, we'll do what we can to help narrow the field based on some specific criteria. We'll be looking at favorites in the following categories:
Wood Stocks
Hunting
Quietest
Most accurate
Favorite Combo
Let's get started.
Top Wood Stock Break-Barrel Rifle
Long live traditional airguns. Break barrels have been around for decades, and the old-timers amongst us probably knew about them long before they became commonplace. Traditional break-barrel rifles were steel and wood and used a standard coil spring versus a gas ram. Our hands-down favorite for this category has to be the RWS 34.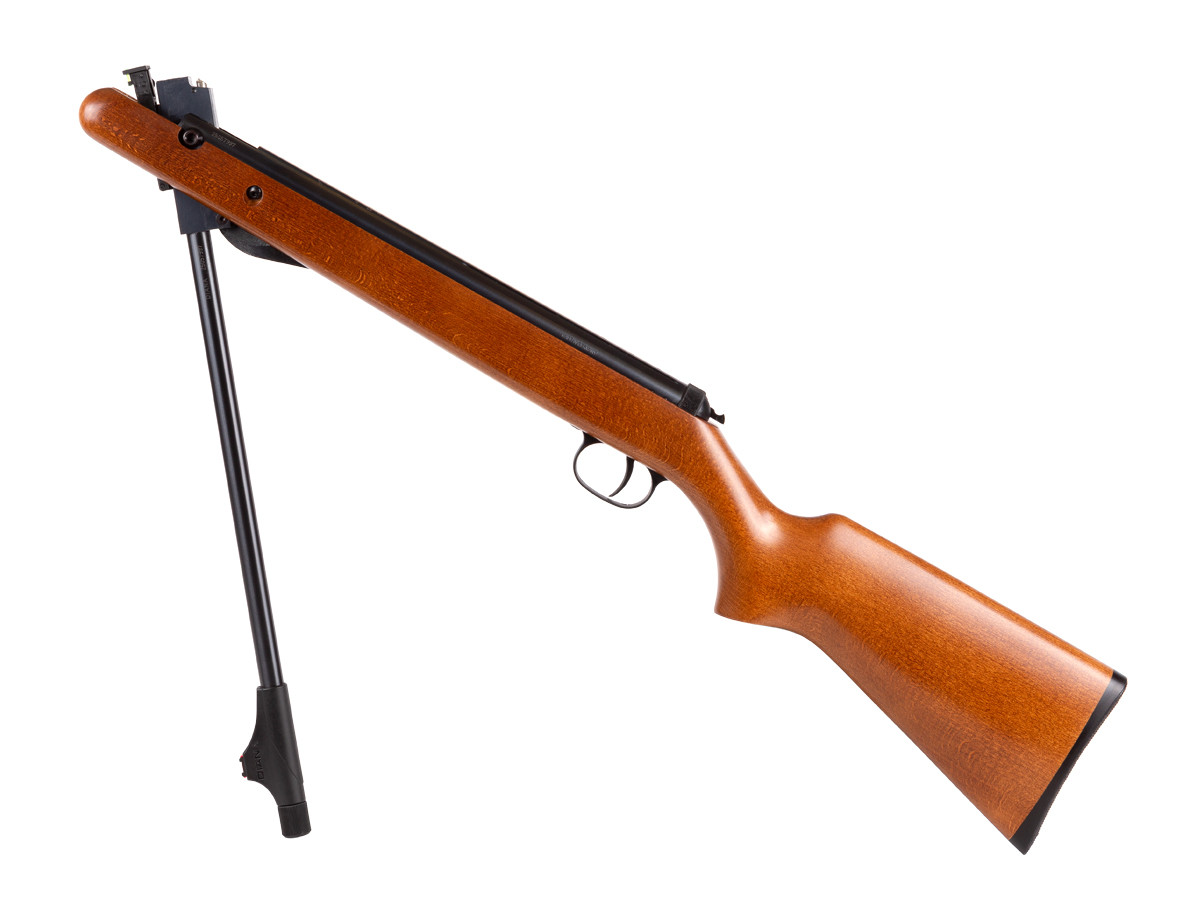 The iconic RWS 34 is about as old-school traditional as they come. It's available in .177 and .22. It has wonderful iron sights, slim profile wood stock, and the best trigger on a break-barrel that we've ever seen in the T-06 trigger. It's not a "powerhouse" by today's standards, but it's a wonderful airgun that every serious airgunner should have in their gun rack.
Top Hunting Break-Barrel Rifle
This pick would have been difficult a few years back. One of the things that hunters want is quick follow-up shots. That's not possible with break-barrel airguns, right? Wrong! Gamo changed that back in 2017 with their 10 shot magazine fed SWARM system. This puts ten magazine-fed shots at your fingertips. No need to fumble looking for pellets; just cock the rifle and take your next shot.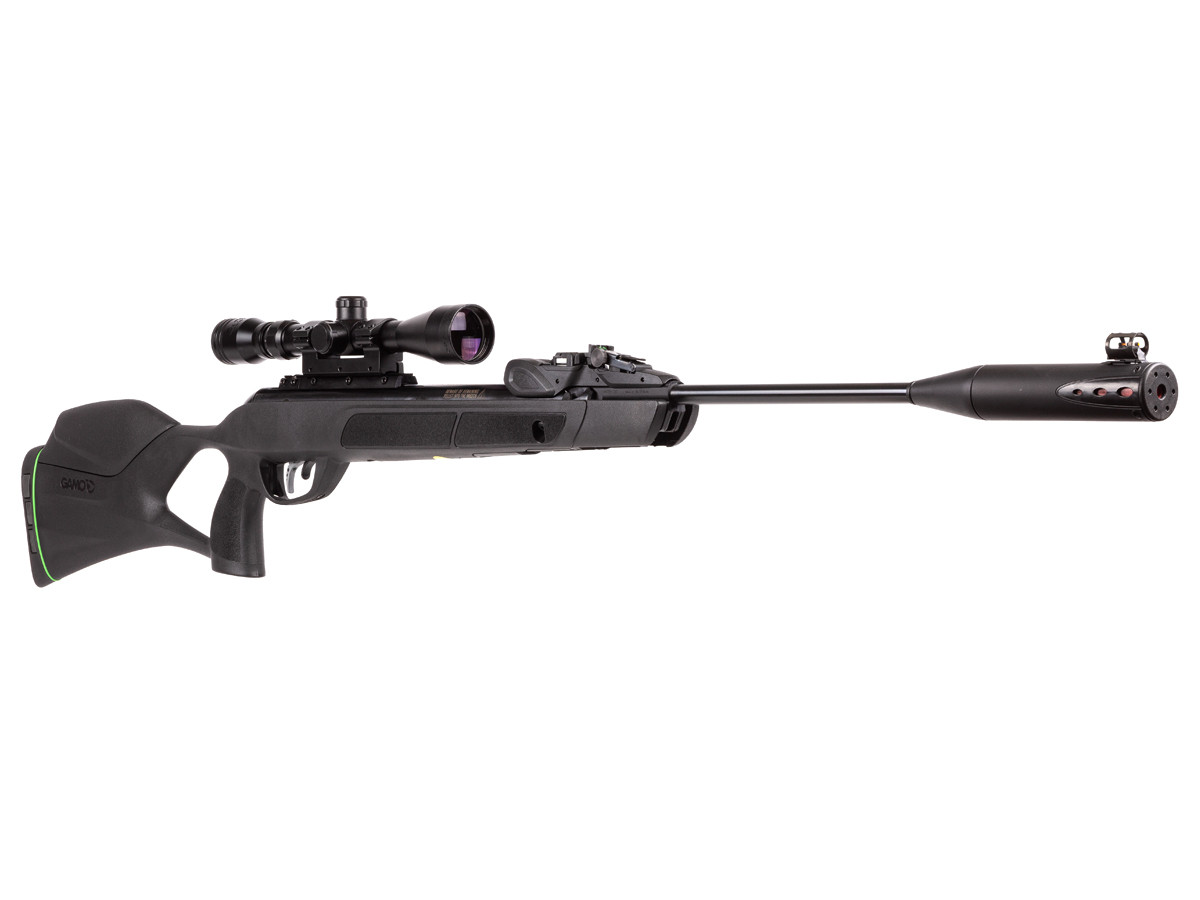 While there are many Swarm variants, the "hunting" Swarm will be the Gamo Swarm Magnum 10x Gen II (or Gen 2). This is Gamo's most powerful offering in a break-barrel, and it rivals PCPs for power and accuracy. It's capable of 50 and 75-yard accuracy, delivering plenty of knock-down power for small game, even at range. It's available in .177 and .22 and delivers close to 30 FPE in .22, sending lead pellets over 1000 FPS (depends on weight).
It's a beast of a break-barrel and our favorite for hunting small game.
Most Accurate Break-Barrel
You'd think that picking the most accurate break-barrel rifle would be a difficult choice. It's really not. There's one gun that continues to stand out, and it's another old-timer.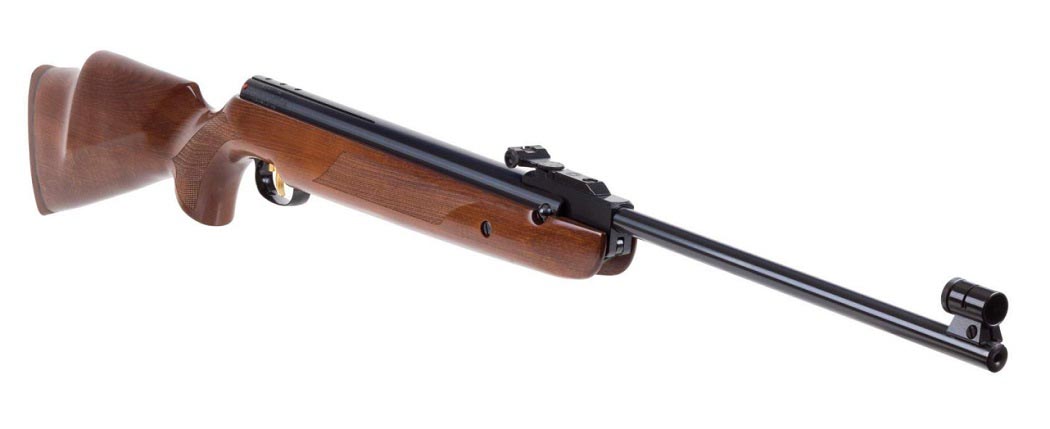 The Beeman R9, also known as the HW95, is made in Germany by Weihrauch and imported into the US under the Beeman name by Air Venturi. It comes with a limited lifetime warranty and is capable of sub .10″ groups at 20 yards. It incorporates the famous fully-adjustable Rekord trigger system, which is second only to the T-06 triggers from RWS (in our humble opinion).
The Beeman R9 is available in .177 and .22 and the highly sought-after niche .20 caliber. The .20 is by special order only, but you can certainly get one if that's on your wish list.
Our Favorite Combo
Picking a break-barrel combo is tricky. The gun needs to be good as well as the optic. Most bundled optics are what we call "less than." Fortunately, Airgun Depot builds our own special combos with great break-barrel air rifles combined with excellent optics. This brings us back to the R9 and our Elite Series combo with a bundled Mantis 4-12×40 AO scope. If you want something with a little less power, possibly for a younger shooter, we also have the Beeman R7 as an Elite Series Combo with the Mantis scope.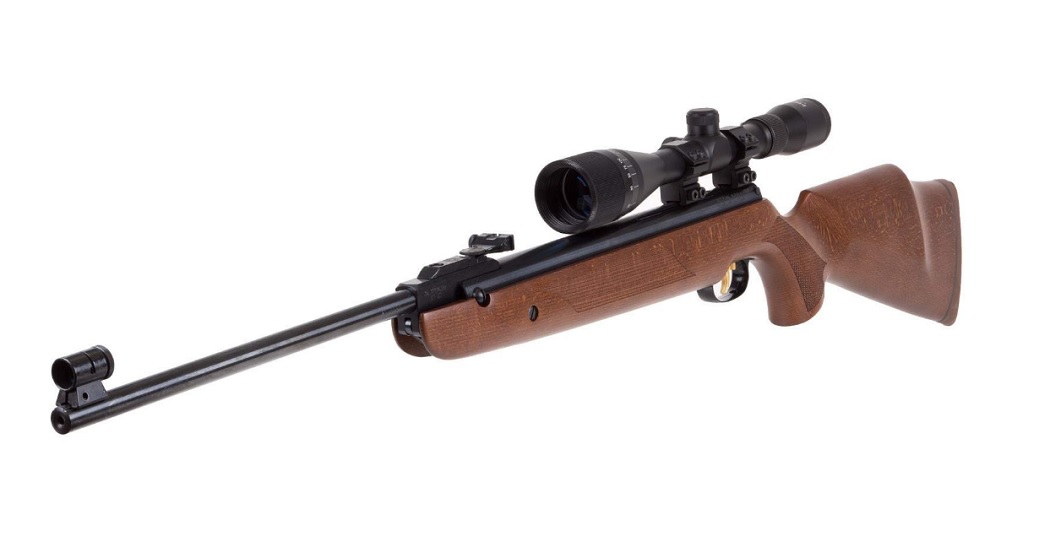 If those options are a little out of range for your budget, here's one quick tip. Whatever combo you choose, it's ideal if the scope has adjustable parallax. This allows you to focus the scope to whatever distance (min 10 yards generally) you are shooting and makes the whole combo more useful.
Final Thoughts
So those are our favorite break-barrel rifles for those categories. We could have gone into airguns like the HW97, Air Arms TX200, or Air Arms Pro Sport, which are all exceptional spring rifles, but they are all fixed barrel springers. If you would like to have us look at fixed barrel spring options, just let us know, and we'll get it on the schedule. And if you have any other questions, just give us a call, and we'll be happy to help.