Well, it's that time again, the most wonderful time of the year! It's time for SHOT Show 2017 and before we dig out of the Utah snow and jump on a plane to a snow free, and slightly warmer, Las Vegas I thought I would give you a quick rundown of some of the things that we are hoping to see at the show. From what we have heard so far it's going to be a big year and we can't wait to see what everyone has to offer. Here are just a few of the things that we are looking forward to!
AirForce Airguns
AirForce has been one of our favorite manufacturers for quite some time. In recent years we saw the release of the Texan at SHOT as well as the introduction of the new .357 models that happened last year. This year AirForce has promised us something big but they haven't just yet let slip what they are bringing to the table. We are very excited to see what it coming and expect it to be one of the first products that we spotlight at the show. AirForce has always produced a high-end US-made product and we know that they will not disappoint!
Umarex
Umarex has stepped into the PCP market in a big way. We have already heard rumors about the new Gauntlet. A fully shrouded, regulated PCP that comes in at just $299. Oh, and did we mention it has a rotary mag? This rifle is sure to be a hit the year with the airgun crowd and we really can't wait to get our hands on it. Is the Gauntlet the gun that finally dethrones the mighty Benjamin Marauder as one of the best PCP's for the money on the market? We shall see!
We are sure to see some great new products from Umarex in the CO2 pistol space as well. Umarex has dominated the CO2 replica market for years and they always deliver. Last year we saw the full-auto M92, this year, who knows what will top it. I know personally I am hoping to see more high-end WWII inspired replicas and maybe a CO2 replica rifle.
Crosman
We got wind of Crosman's new offerings and just like the Discovery before it, the new Benjamin Wildfire is looking to reinvent the entry level PCP game. The Wildfire is essentially a PCP version of the 10/77 repeater. It still takes advantage of the same trigger and magazine system but with the addition of a 2000 psi air reservoir. Some may think that 2000 psi is on the low side but we think it is perfect for those looking for a great gun to pair with a hand pump and at a reported 60 shots of .177 caliber pellets off one fill it's surely no slouch in the efficiency department. I think that the Wildfire is really going to take the shooting world by storm and may be the gun that really pushes PCP technology into the mainstream.
Crosman has also announced a new sound suppression system for break barrels that is touted as being extremely effective as well as an updated version of the Marauder and thought we don't have much info about these new products at the moment we will be sure to bring you all the details as they unfold.
Gamo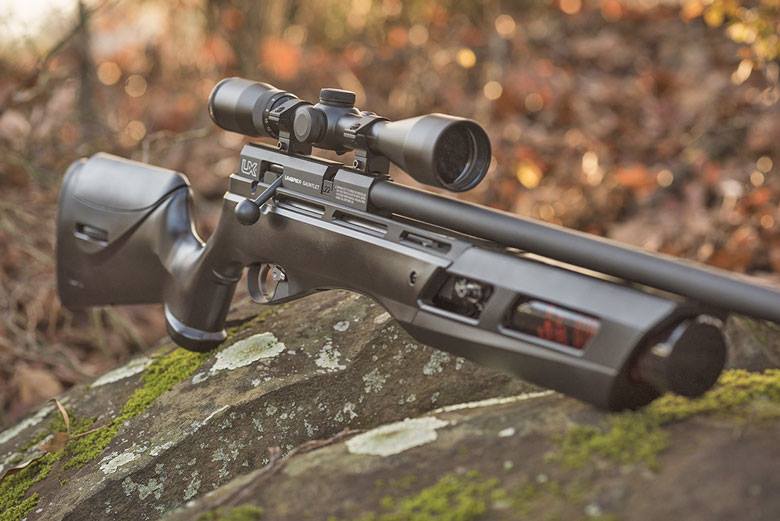 Gamo has released only limited info about its new line of break barrels for 2017. What we do know is that they will be debuting their new Swarm break barrel. The Swarm is a 10 shot repeating break barrel. Yup, you heard us right, a repeating break barrel. We aren't sure how it works but you can bet we are going to find out. We are very excited to see what else Gamo will have in store for 2017.
Hatsan
Hatsan was by far the biggest player when it came to new product releases at SHOT 2016. With tons of new models that have come out over the last year, we have been blown away by all that they have produced. Two bullpups, the highest shot count big bore on the market, the first big bore break barrel on the market and factory regulators for their existing models were just a few of the many innovations 2016 brought for Hatsan. 2017 promises to be a big year as well as we have heard a few rumors of some really awesome new guns coming for 2017. We can't confirm these just yet, but we are very excited to see what Hatsan has for us.
Air Venturi
We got a sneak peak at one of the new Air Venturi products last fall in a video we did with .22plinkster. Many of you probably saw it and know what I am talking about, if not head over to the video and we think you will be able to figure it out. Air Venturi also has promised a further expansion of its AirBolt line of airgun bolts and new wild west themed pistols to expand on their release of the John Wayne Peacemakers last year. Air Venturi has continued to add innovative accessories over the last 12 months and their line of airgun targets have been a big hit. Let's also hope we see more of those to come for 2017.
FX Airguns
We all know that the Streamline is going to be the Belle of the Ball this year at the FX booth, but is that all that they have planned for 2017? We are really excited to find out. Make sure that you tune into the daily coverage of SHOT on our Youtube channel to find out!
We are very excited to head to Vegas and meet with our fellow airgunners and shooting enthusiasts and see what 2017 will hold for the industry. We think it's going to be a very exciting year! Be sure to follow us on Facebook and Instagram for real-time updates showing off all the awesome products and check our Youtube channel for a few update videos as we review what we saw at the show. We are really looking forward to a great time at SHOT 2017!