It's that time of year again. Time to stuff the stockings and find that perfect gift for the airgunner in your life. Fortunately, there are a ton of things airgunners need and want on a regular basis. Here are some great ideas to get you started.
We Always Need Ammo!
Airgun Ammo is always a good stocking stuffer. This year, we have new options that you may want to try out. The new JTS airgun pellets are a good start. These precision pellets and slugs – coming soon – are going toe to toe with JSB and H&N. They are a serious contender for sure.
We also have the new Umarex Brimstone line of pellets and slugs, available in .22, .25, and .30 calibers. Lastly, H&N and JSB are always pushing each other to do better with slugs, precision domed pellets, and hunting pellets in most calibers.
If you're not sure which pellet or slug is right for your airgun, consider an H&N sample pack. Available in multiple calibers and head sizes, a sample pack makes a great gift.
Every Airgunner Needs the Beeman P17
The Beeman P17 single-pump pneumatic pistol is a real crowd-pleaser. It's a single-shot .177 that has one of the best triggers you can find on an airgun. How they are able to produce such a good product at such an affordable price is simply amazing. Some of its other features include fiber optic sights with a fully adjustable rear sight, a rifled steel barrel, and an 11mm dovetail for mounting an optic.
Stability is Everything
If you have a target shooter in the house, then this next item is a good choice for sure. The UTG Recon 360 TL bipod is an affordable bi-pod with a lot of great features. The all-aluminum construction also features three-position folding legs and a tension screw to help manage the 360-degree movement. The bi-pod is also center height adjustable from 8" to 12", making it very versatile across many airgun styles.
Having Fun in the Sun or the Basement
Shooting paper is always a good time, but how about picking something that reacts? Targets like the Birchwood Casey Airgun Gallery Resetting Target or the Air Venturi Rat-On-The-Run knockdown target provide a great challenge while delivering feedback with each shot.
If steel targets in the yard aren't the right pick, consider the Air Venturi Quiet Pellet Trap. This unique design incorporates reusable putty and a steel plate for backup to create a nearly silent pellet trap for indoor shooting. Ideal for airguns shooting under 20 foot-pounds, shooters can easily clean used BBs or pellets from the putty and repack it back into the trap for the next shooting session. A trap like this can last for many years and is a must-have for your indoor range.
If noise is not a concern, then consider the Firebird Targets. These targets explode on impact and work with airguns, bows, and firearms. They are fully biodegradable too. Have a "blast" this holiday season, and stuff those stockings with some Firebird Targets.
We Really Want to "Pump You Up"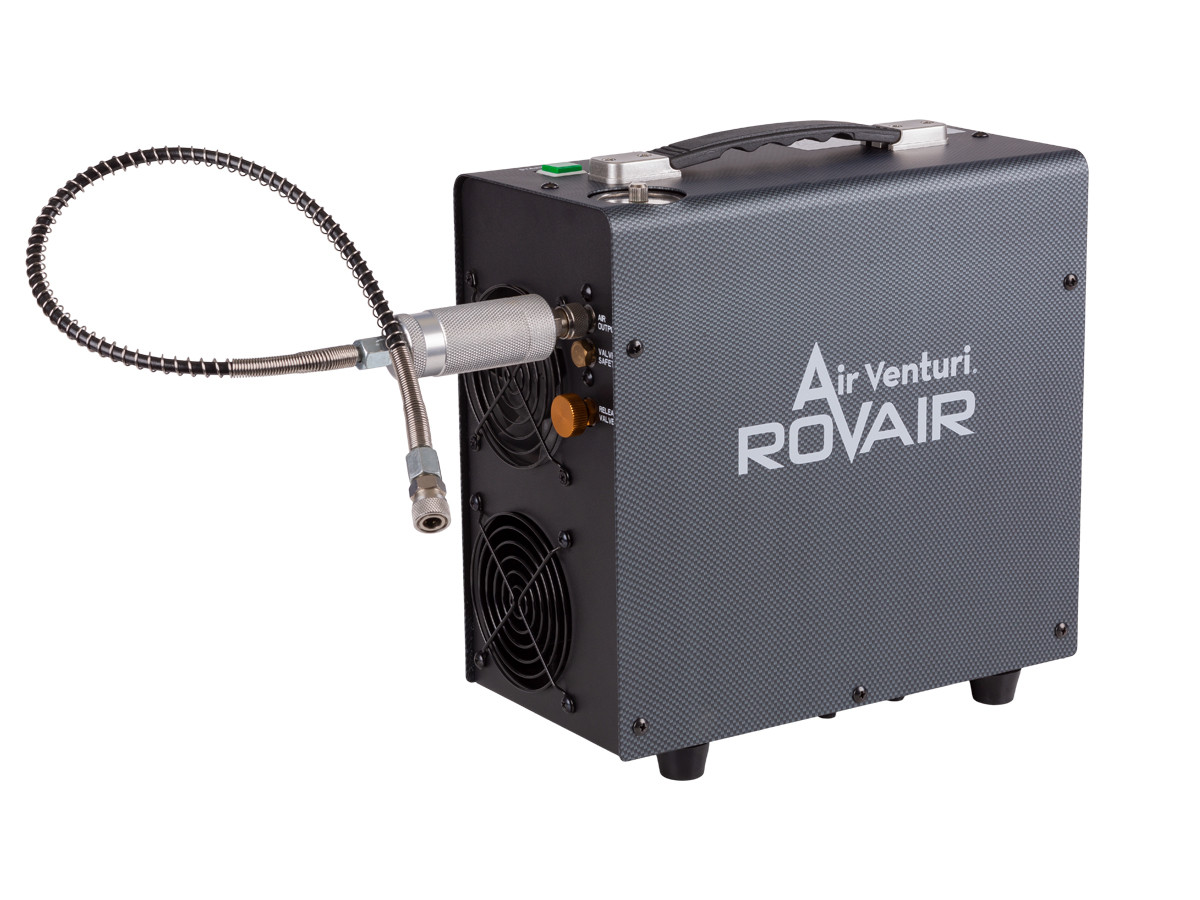 So our last holiday gift item probably won't fit in your stocking, but if your favorite airgunner loves to shoot PCPs but is always talking about how much time they spend filling with a hand pump or running to the scuba shop to get their tank filled, consider picking up the Air Venturi RovAir 4500 Personal Compressor.
This personal compressor is compact, runs on 110v or 12v, and can fill airguns up to 4500 PSI. Your airgunner won't have to hand pump or run to the store anymore. Not with the RovAir in the shop.
That's a Wrap
We have thousands of great gift ideas for the airgunner in your life. If you need help finding the right gear for your shooter, just give us a call and we'll work to make sure you have the best airgun holiday ever.